This post was most recently updated on March 7th, 2020
In this article: You'll find organization ideas for your home. This post is all about tidying up with baskets! I'm sharing 10 of my favourite decorative storage finds that will help clear the clutter in your home, in style. Whether you're a fan of the Konmari method of tidying up, or you simply want a stylish spot to toss stray toys and blankets at the end of the day, there's something in this round up just for you.
Happy New Year, friends! Today, I'm bringing you the first post in a new series I'm adding here on the blog called, The Tuesday Ten! Every second Tuesday, I'm going to post a round up of 10 of my favourite things in home decor and renovation, by a particular theme. Today, it's all about organization, and, specifically, tidying up with baskets! I don't know about you, but I always feel the itch to clear the clutter this time of year.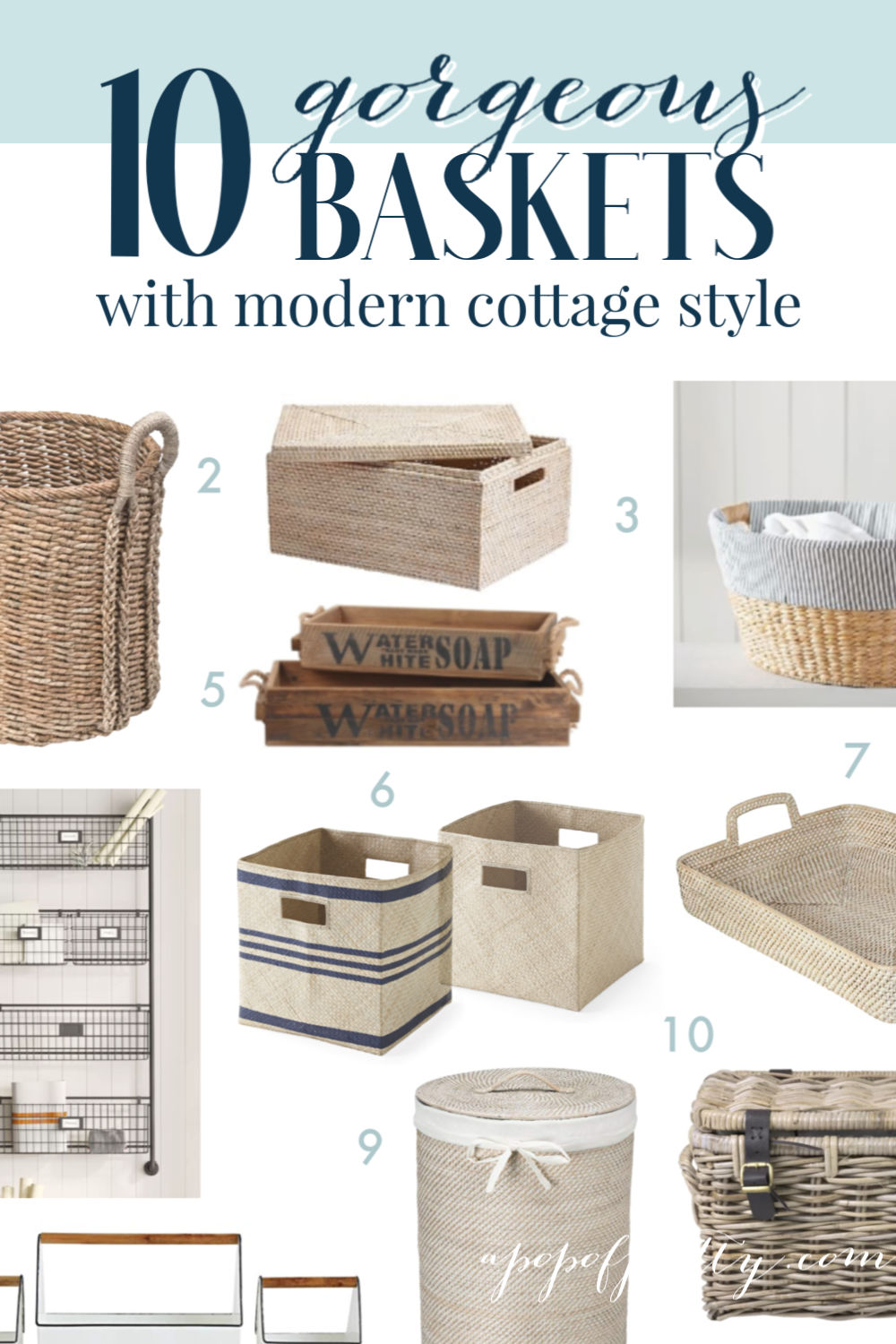 And, let's face it. Stylish and affordable baskets, crates, hampers and trays aren't that easy to find. It's one of the reasons I'm starting this series by sharing sources for 10 of my favourite baskets, all with a pretty modern cottage vibe, in whitewashed and graywashed hues and coastal textures!
Once the Christmas decor is put away, I usually go into organization mode. And, tidying up with baskets is one of the easiest ways to tame extra "stuff" in your home. With a great basket, there's no need to find extra closet space or use a fancy organizational method.
That's because pretty storage bins don't need to be hidden, and in fact, they can even add some visual interest to your space. They pull double duty by looking pretty, while being a perfect catch all for toys, books, blankets and mail.
The truth is, I've never met a basket I didn't love. And, throw in a white wash finish, navy blue accents, a lid or lining, and a modern coastal or farmhouse vibe? It's in my cart faster than I can say Konmari, lol.
Tidying Up: 10 Stylish Baskets to Clear the Clutter
My absolute favourite sources for affordable baskets is HomeSense (here in Canada), or HomeGoods. However, sometimes they don't have exactly what you are looking for when you need it. And, also, I am love online shopping this time of year. If you live in a cold climate like I do, I am sure you can relate!
So, I've rounded up these 10 gorgeous baskets that you can buy online, along with their sources below. This list contains affiliate source links for your shopping convenience. You can read more about affiliate links in my Disclosures Policy here.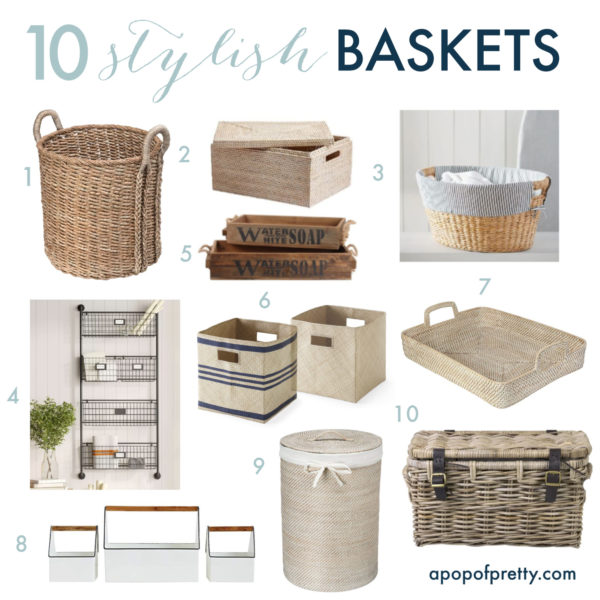 So cute, right? And, just for my coastal home decor living peeps, isn't this woven whale basket the sweetest thing you've ever seen? I'm wondering if I can find another surface in our coastal cabin just for this one. Hmmmm.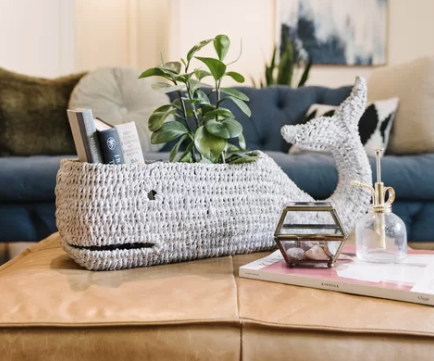 Stay tuned for some other great new series coming to the blog this year, including Mood Board Mondays where I'll share mood boards (and sources) for spaces and products I love. I'll also be posting more about renovation and building, as well as my regular home decorating ideas.
Share the Love
If you love this round up of stylish baskets, why not share it over on Pinterest so that others can find it to!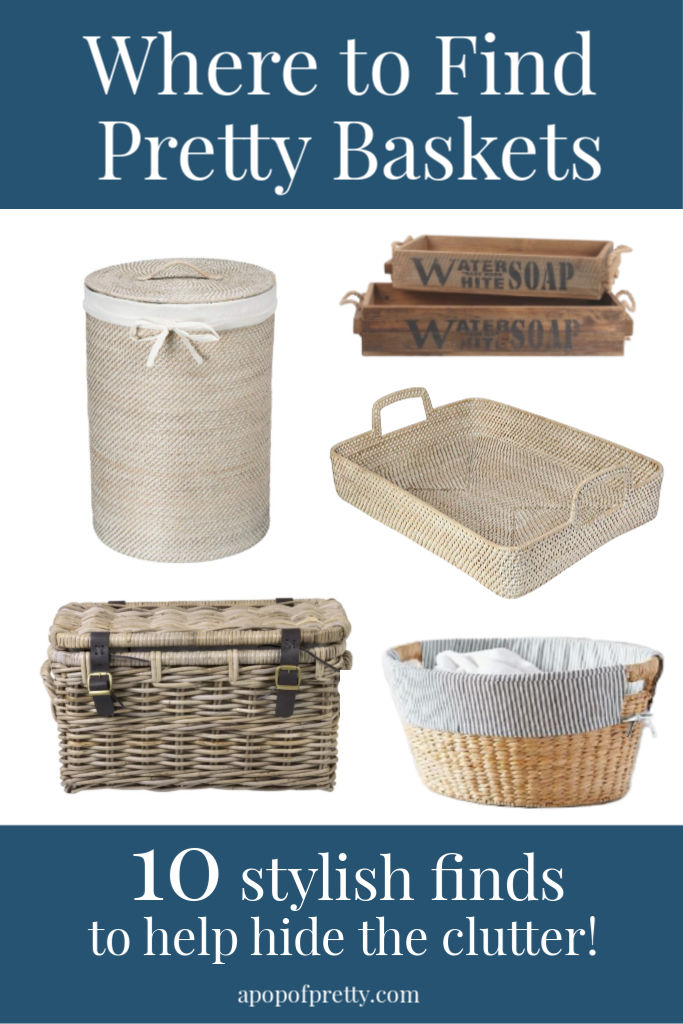 Also, are you following me on Instagram yet? If not, you can find me here: A Pop of Pretty on Instagram. I share lots of extra content there throughout the week.
Have a great week.
K.