This post was most recently updated on September 23rd, 2019
It's Day 5 in my series on Vintage Home Decor Ads, and today we're talkin' vintage Pyrex.  This 1950s Pyrex ad demonstrates that some things in home decor are timeless. Except maybe the price!
Pyrex mixing bowls are still a staple in today's well-equipped kitchens, although nowadays most of us (non-collectors) have to settle for plain old glass ones. I am lucky enough to have a yellow one that came from my grandmother's kitchen. I'm sure it is 30+ years old, and I still use it for just about everything.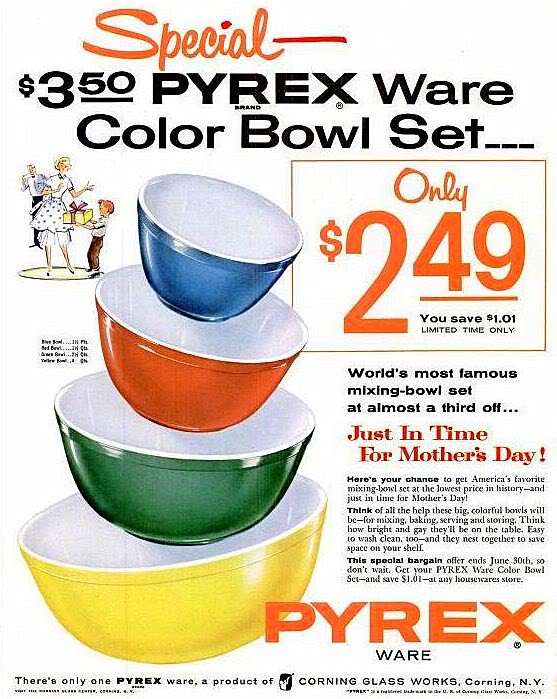 If there is any one set that embodies collectible vintage Pyrex, the set featured in this ad may very well be it (pyrexlove.com).  This primary color mixing bowl set, referred to as the 400 Series Bowls or the Primary Color Bowls, began to be manufactured in the early 1940s. Many Pyrex collectors consider the Primary Color Bowls to be the standard when it comes to collecting vintage Pyrex cookware.  Although the set is not considered rare, it is probably the most popular among collectors. (pyrexmixingbowls.com)
I love how even in the 50s, Pyrex recognized the value of both function and beauty in the kitchen.  The copy reads: "Think of all the help these  big colourful bowls will be – for mixing, baking, serving and storing.  Think how bright and gay they'll be one the table.  Easy to wash and clean too – and they nest together to save space on your shelf."  No wonder they're still the mixing bowl standard today!
And, how about that price?  At $2.49 – even considering inflation (which would make them just over $20 today) – you gotta love it.
Do you love vintage Pyrex too?  I found an awesome vintage Pyrex pattern guide at Pyrex Love.  (Yup, there is actually a site called Pyrex Love!).
Hope to see you again tomorrow!
Kerri