This post was most recently updated on September 23rd, 2019
I've been a naughty "31 Days" participant these past few days (tisk, tisk).  It seems that I can actually commit to a post a day…but when I have other things to post (like Halloween ideas!), it's hard to get back to my desk again to prep one for the 31 Days Series!  But enough with the excuses.  I'm still loving digging up and researching these vintage decor ads.  I've learned so much about past decor trends, and I hope you have too!
The other day when I shared some 70s shag carpet ads, I promised you at least one more 60s-70s decor trend: wood paneling.   Wood paneling was all the rage in mid-century decor.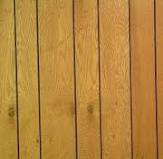 Millions of houses were covered in wood paneling which was seen as oh-so-modern at the time. It actually had its heyday beginning in the 1950s with the advance of faster and cheaper methods of producing particleboard and plywood. Suddenly, it seemed that every den and basement in the 1950s and 1960s had wood paneling. But from the 1970s onward, wood paneling was synonymous with cheap, slapdash, and ugly. (Source: About.com).
Paneling used back then was generally one of two varieties: knotty pine or pressboard panel sheets that were not real wood at all (Source: Architectural Wood Designs).  Often this stuff was installed right over wall studs without drywall, so replacing it can be tricky and expensive.  Our first fixer-upper starter home had it, and let me tell you, it took me but a nano-second to grab me some primer and start rollin' it on!
Here's a vintage 1960s ad for a wood-paneled kitchen…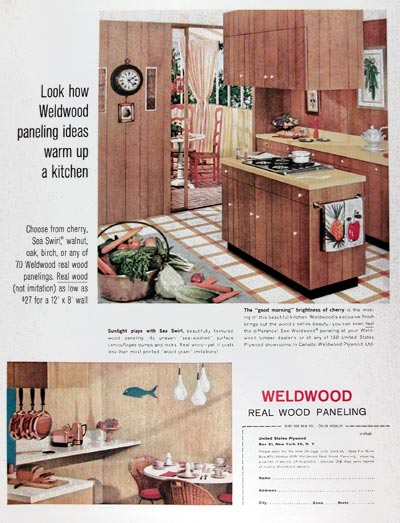 A far stretch from today's airy white and bright kitchens!  Faux wood paneling is one of those hideous retro decor trends that makes you scratch your head and say – "What on earth were they thinking?"  To each his own, but personally, I get a darting pain over my right eye just looking at it.
Do you have a room in your home with faux wood paneling from the 60s-70s?  If so, please run, don't walk, to the paint store.
Check out this E-How tutorial on how to paint it.  There's also a video tutorial from Better Homes and Gardens, which I've embedded here for your viewing pleasure.
There's some decor predictions that say wood paneling will make a comeback.  Oh gosh, I hope it's not in this century.
Until next time,
Kerri