This post was most recently updated on September 23rd, 2019
Guys, guess what? It's Spring!  OK, OK. Cue the laughing machines. Because if you live anywhere like me, it doesn't look anything remotely like Spring outside. But, I have faith that the remaining snow will melt soon.
In the meantime, I've joined up with my favourite Canadian home bloggers once again to bring you the Canadian Bloggers Spring Home Tour.  Thank you so much to our talented hosts, Christina and Shannon, for organizing this tour once again.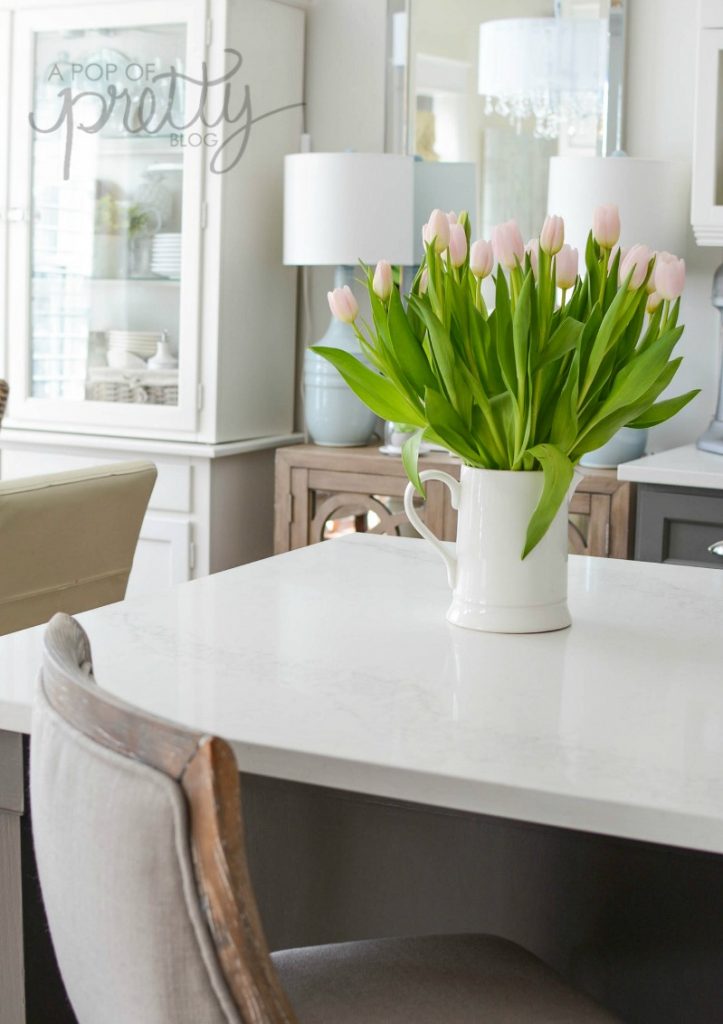 I must admit, I haven't decorated for Easter yet, but I am engaging in in some serious tulip therapy these days ;-). So, for this Spring tour, I thought I'd give you a sneak peek at our newly renovated kitchen – with some pops of pretty pink tulips.
Last Fall, we decided it was time to make some serious upgrades to our 10-year old home.  With 3 kids, it was starting to close in on us. So, the decision was either to renovate or to build again. We chose the first option. We did several major projects at the same time because we basically wanted to torture ourselves.
The main focus was on the kitchen. We already had a pretty nice kitchen with white cabinetry and a centre island. But we desperately needed more storage.  Our priority with the kitchen renovation was to raise our cabinets to the ceiling.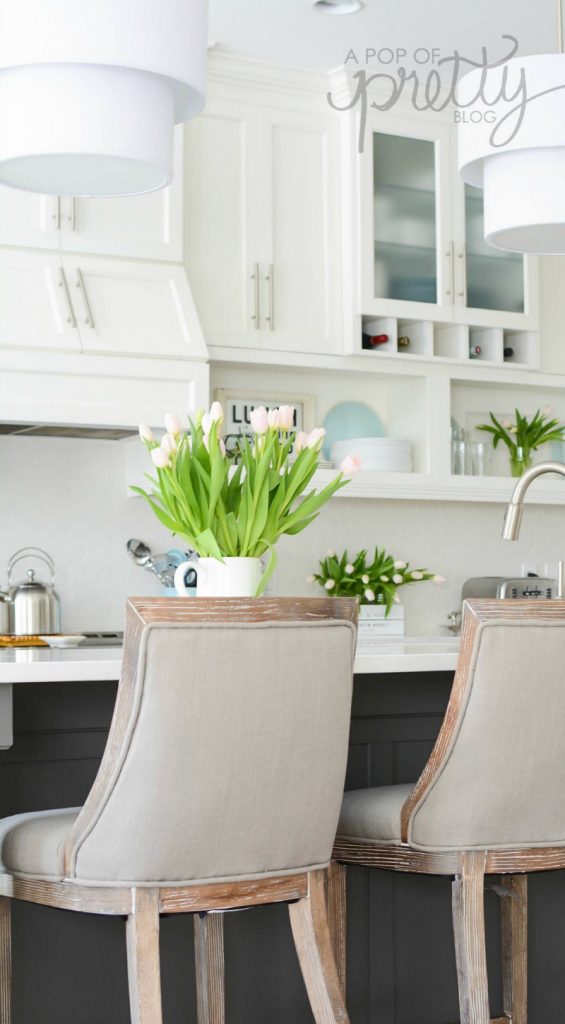 But you know how these things go, right?
Yup. By the end of the project, we'd closed in a wall, changed the cabinet configuration, re-painted the cabinets, added open shelving, upgraded our counters to quartz, changed our backsplash to white hex tile, changed the light fixtures, replaced all our appliances…should I go on?
Ok, I will.  Then, I 'needed' (not really) new island chairs because the other ones no longer worked. Then, ALL the pretty dishes in the land began calling my name.  Because, well, open shelving.  Then, my drapes got on my nerves because everything else had been upgraded.  And, on it goes. Basically, I avoid all eye contact with my husband these days.  As well as the doorbell, because that's probably Fed Ex.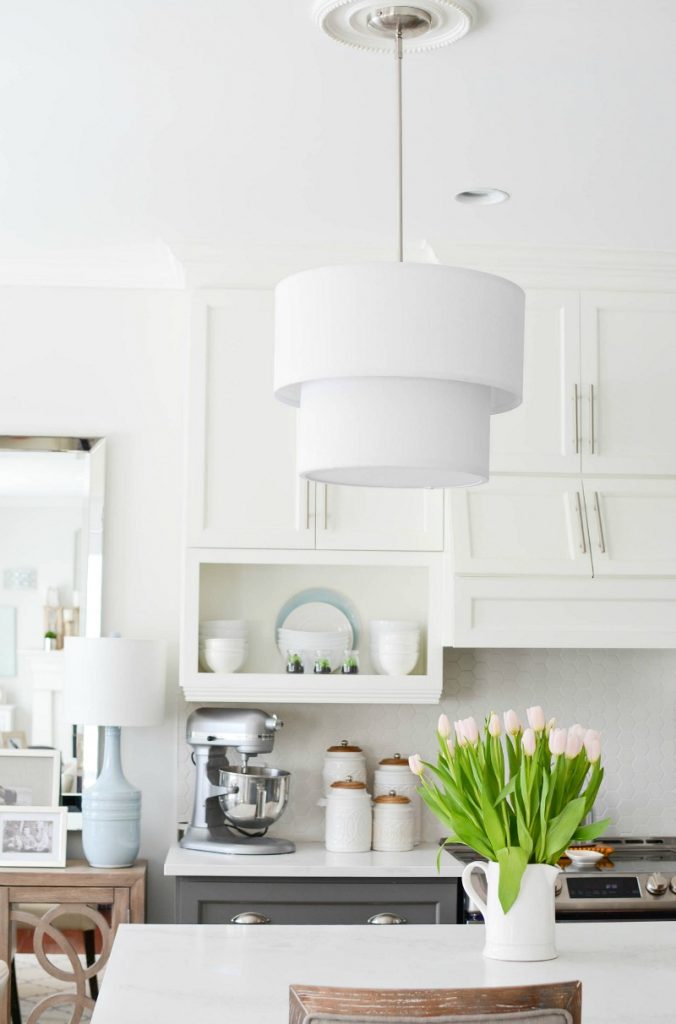 So really, the lesson of any kitchen renovation story is a lot like one of my kids' favourite books, "If You Give a Mouse a Cookie."  Have you read it?  If not, do yourself a favour. It's required reading before you embark on upgrading your kitchen. I'm the mouse. Raising the cabinets was the cookie. LOL.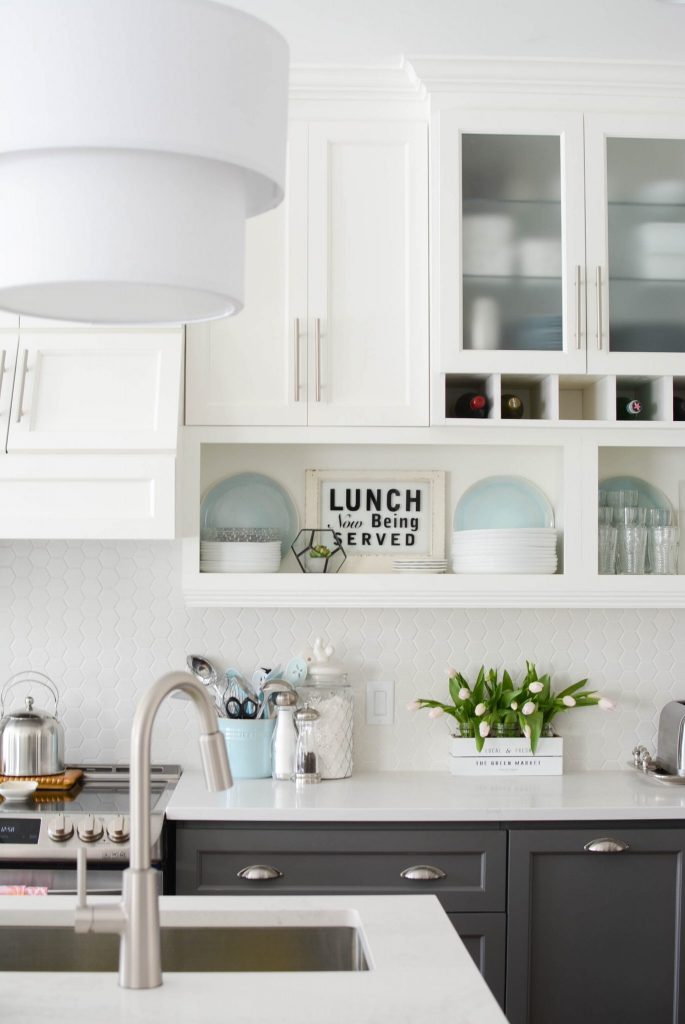 I plan to do a whole series of kitchen renovation posts soon.  Those will include all the details from our renovated kitchen, such as the reasons why we made some of the choices we did.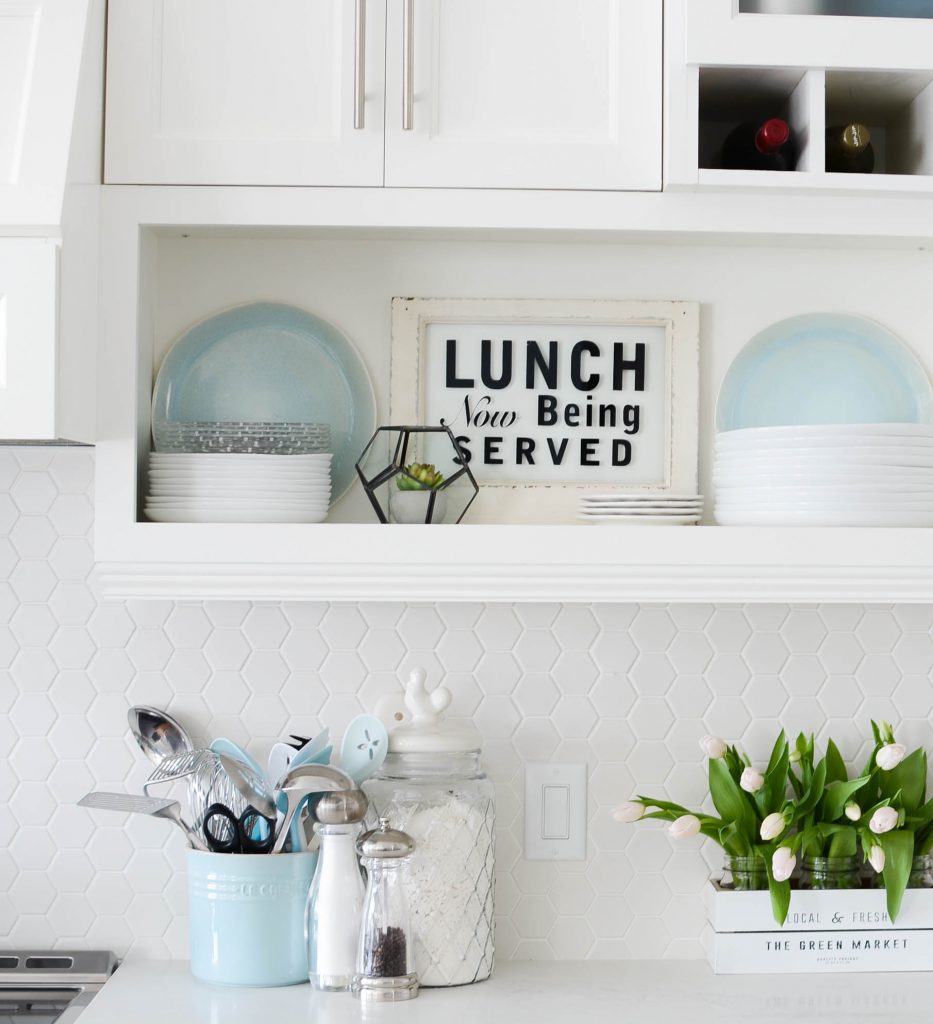 I'm not going to sugar coat it.  Living through any renovation is not easy.
For a couple of weeks, this area of our kitchen could have qualified for an episode of Extreme Hoarders.  I swear I'm not exaggerating.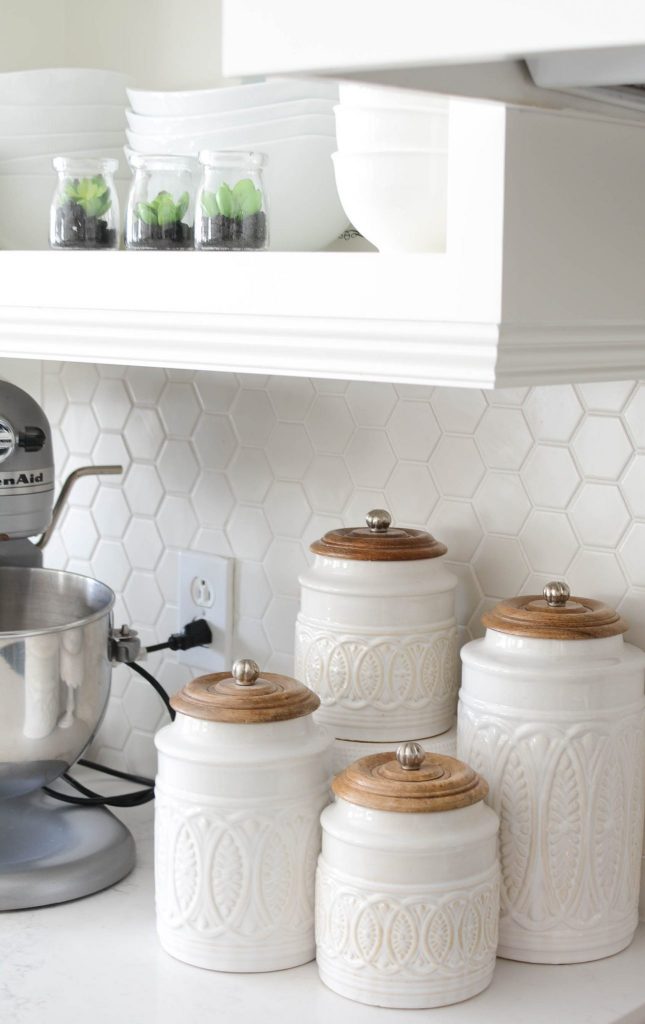 On top of that, those few weeks just happened to cooincide with, oh, you know, the 2 weeks before Christmas!  On December 23rd, the backsplash was completed, and the  hardware was drilled for the cabinets. Less than 24 hours later, I hosted my family for Christmas Eve. But, all of that aside, we are absolutely thrilled with the result.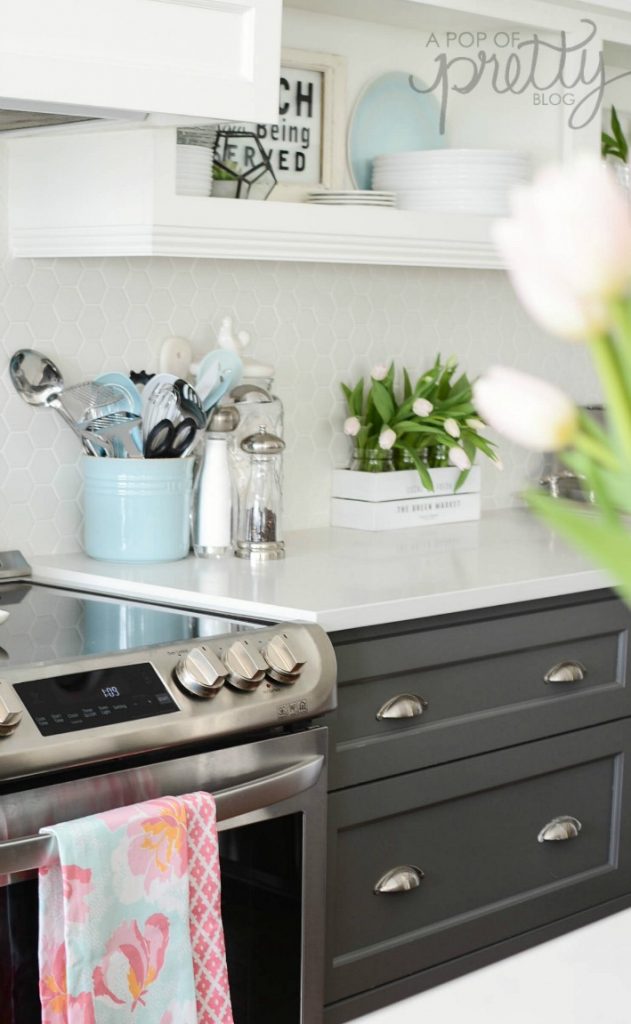 Yes, it's definitely prettier than it was. But, the best thing? We doubled our storage!  I used to dread emptying the dishwasher.  There was literally not a square inch of storage left for a dish. But now, we have ample storage, and everything has a place.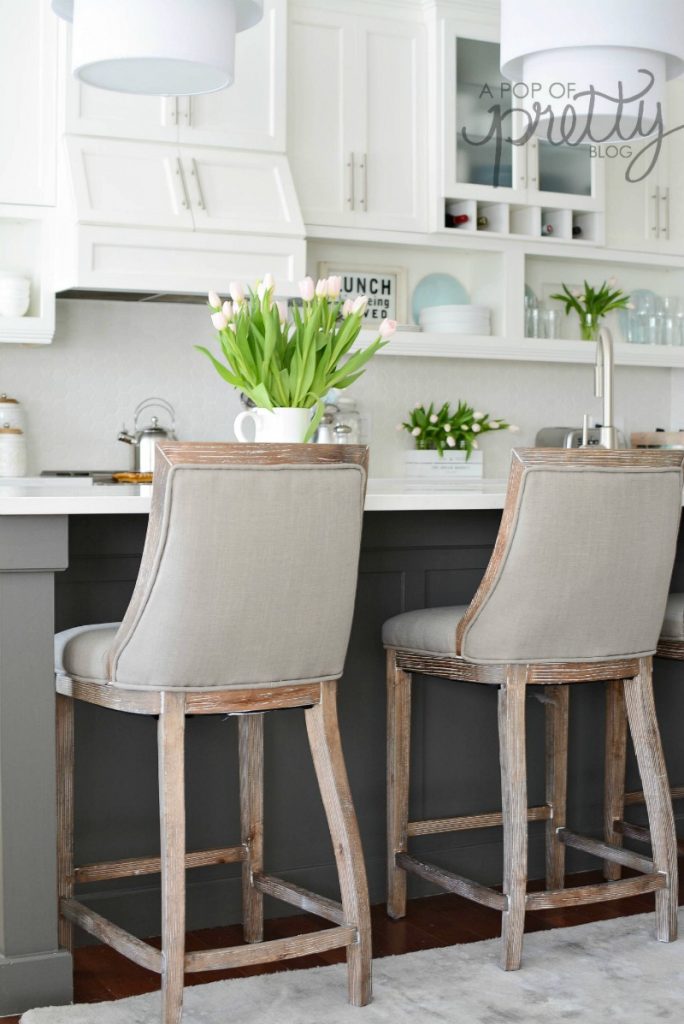 If you're not planning a kitchen renovation, but want to spruce up your home for Spring, there's lots of gorgeous Spring decorating inspiration to be found on the Canadian Bloggers Spring Home Tour.  Here's the links to my Canadian blogging friends:
MONDAY
AKA DESIGN – LIFE IS A PARTY – LEMON THISTLE – CLEAN AND SENSIBLE
TUESDAY
BROOKLYN BERRY DESIGNS – AMIDST THE CHAOS – THE HAPPY HOUSIE – PMQ FOR TWO – ELLIVEN STUDIO
WEDNESDAY
SATORI DESIGN FOR LIVING – SUBURBLE – SO MUCH BETTER WITH AGE – POP OF PRETTY – THIS LITTLE ESTATE
THURSDAY
THE DIY MOMMY – A PRETTY LIFE IN THE SUBURBS – WOMEN IN REAL LIFE – KIM POWER STYLE – THE LEARNER OBSERVER
FRIDAY
THE CREEKLINE HOUSE – LOVE CREATE CELEBRATE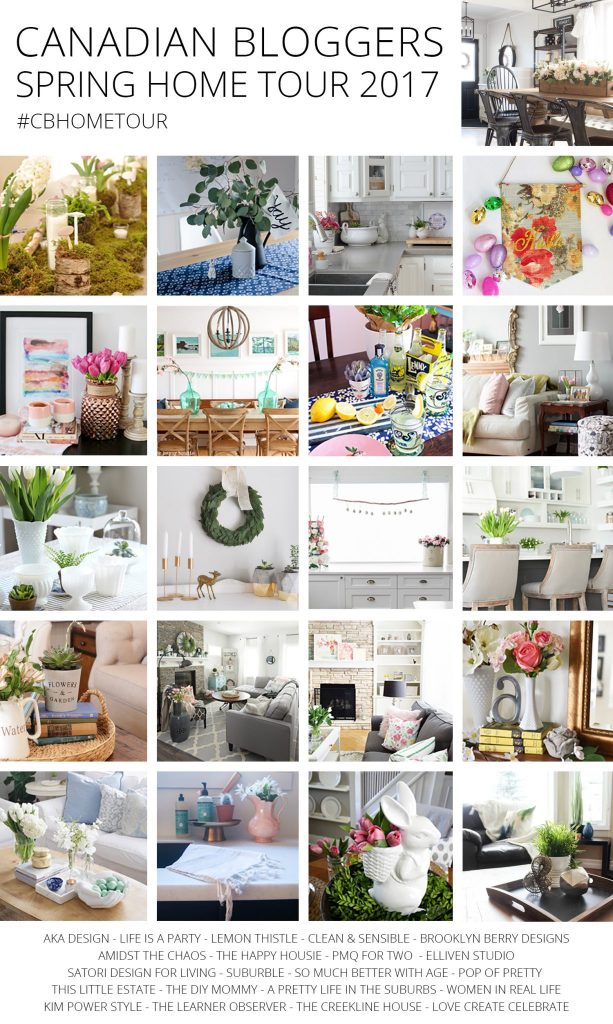 I hope you'll visit these lovely homes, and find some inspiration for spring decorating!
Until next time,
Kerri xo