This post was most recently updated on September 23rd, 2019
Hello friends! Happy Sunday. I hope you are enjoying a great summer. I've been working away at the details for our new cottage which is under construction. (In case you missed it, I shared 10 favourite cottage chandeliers last week.) The look and feel I'm aiming for this home is nautical cottage.
If you've ever designed or renovated a home, you'll know that the pace of decision-making can be overwhelming. I've felt that way more than once over the past month. So. Many. Choices. But, when I need to make a decision about this house, I try and remind myself of the feeling I want to create. I've always imagined our summer home having a nautical cottage vibe. Living on the east coast all my life, this style just speaks to my heart.
Yes, I love crisp navy and white stripes. And, you'll definitely find an anchor pillow (or two) in this home ;-). But, 'nautical cottage' is more than just an aesthetic to me. It is also a mood and a feeling. To me, quintessential nautical cottage style is simple, easy, and understated. It's a perfectly mix of crisp and timeworn/rustic. It's open and airy, and evokes a feeling of summer all year long.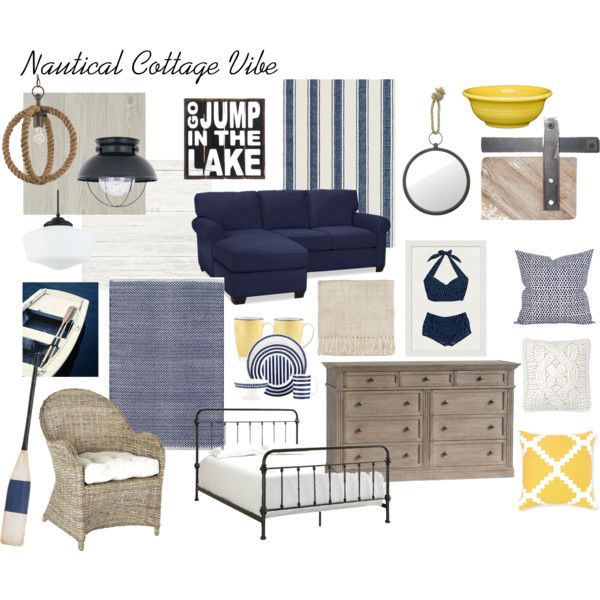 I want this home to be uncomplicated, just like time we spend there. It's as much about what this home is not going to be, as what it is. It's not going to be fussy or over-decorated. And, it's definitely not going to be cluttered or high-maintenance. Ironically, getting to that point is actually, well, kinda complicated. It turns out that creating am easy, breezy vibe actually takes A LOT of planning and foresight. Just take at look at my Nautical Cottage Pinterest board to see all the gorgeous inspiration I've culled through!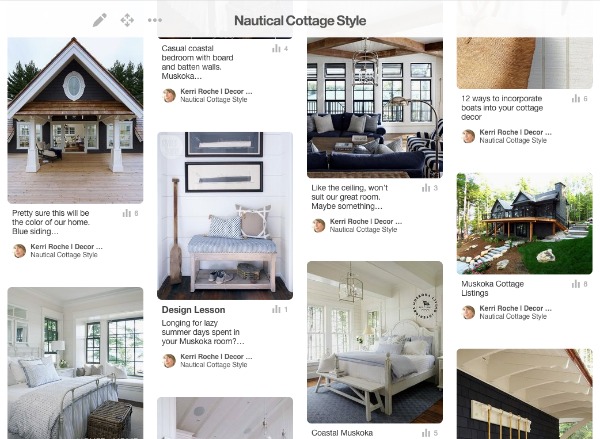 The volume of ideas of I have is why creating a mood board was such a huge help. To me, a mood board is like a compass. It's just a loose collection of images that, taken together, show the vision for a space. It won't help make every decision for you, but it keeps you moving in the right direction. This focus means that design decisions fall easier into place, whether deciding on siding or kitchen cabinets or light fixtures.
The nautical cottage mood board I created for our summer home (above) has already helped with many of my decisions. Of course, the house won't look exactly like the mood board. I still have to source A LOT of stuff. But it does give an overall vision, and conveys some key design ideas, like:
Simple, crisp colour scheme: lots of white shiplap and navy blue, accented with a few pops of happy yellow
Contrast: lots of nautical stripes, black light fixtures set against white ceilings and walls, modern b&w photo frames
Time-worn textures: pickled or distressed wood and wicker, shiplap walls, sisal accents, and cozy pillows and throws
Clean-lined furniture: unfussy lines and simple materials (like warm woods and black wrought iron)
Personality: some fun nautical decor touches
So, do you like nautical cottage style as much as me? If so, you can 'get the look' by using some of these same design principles. I can't wait to pull it all together, but I need to be patient. Patience is a virtue I don't have. But, unfortunately, the pace of construction doesn't move as fast as my ideas. Like, come on, already!
Until next time,
K.