This post was most recently updated on September 23rd, 2019
Last year it was Tangerine Tango. The year before, it was Honeysuckle.  Before that, it was my personal favorite, Turquoise.  So, by now, maybe you've heard that the Pantone Color of the Year for 2013 is Emerald Green? "PANTONE 17-5641 Emerald" is described as "a lively, radiant, and lush green"…"a color of elegance and beauty  that enhances our sense of well-being, balance and harmony."
The Pantone press release reads:
"As it has throughout history, multifaceted Emerald continues to sparkle and fascinate. Symbolically, Emerald Green brings a sense of clarity, renewal and rejuvenation, which is so important in today's complex world. This powerful and universally appealing tone translates easily to both fashion and home interiors." See more here.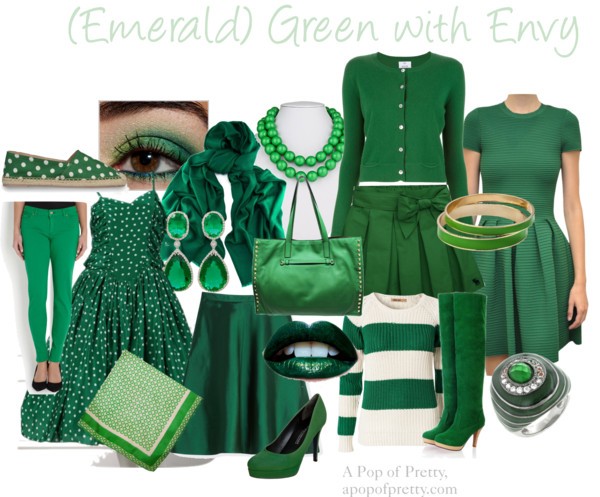 Personally, I've always been partial to Emerald Green because it's my birthstone.  Also, like another of my faves,
cobalt blue
, it's a color that  translates well in the world of fashion and beauty, as complements just about any skin tone or eye color.
But I have to admit that I'm a little apprehensive about how it might translate into home decor. Personally, I could never use it as a wall color. When we purchased our first home in the late 1990s, the previous owners had painted the walls a  semi-gloss dark green (with peach 80s carpet) throughout.  It literally makes me queasy just thinking about it!
Emerald Green is such a deeply saturated color, I'm curious how it might interplay with the neutral interiors that have been so popular over the past decade.  I think it's a hue that's going to be used in small doses – perhaps in a toss pillow for a pop of energetic color in an otherwise neutral room.  It would also be a great color to paint a piece of furniture like a console table or sideboard.  But I don't anticipate a run on Emerald Green wall paint! (Fingers crossed.)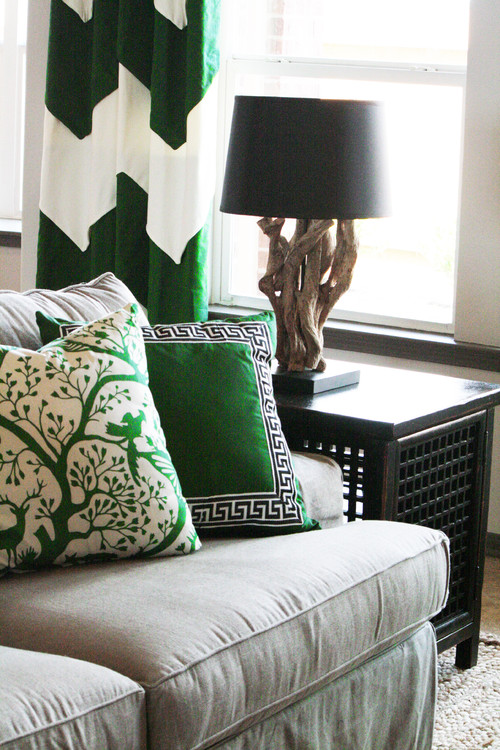 What are your thoughts?  Are you excited by Emerald Green?  Would you use it in your home?
P.S. You might also like: