In this article: Today I'm sharing pretty foyer decor ideas for Spring! You'll find three bright and pretty Spring-inspired mood boards for transitioning any foyer, mudroom or entrance area from Winter to Spring. And, the best part? I'll also show you how to easily transform the same space, 3 different ways, simply by selecting different wall art. (This post is part of my "Mood Board Monday" Blog Series, where I share an interior design mood board one Monday each month. The goal of these mood board blog posts is to help demonstrate how to pull a space together cohesively. )
Hello, friends! Hooray, it's Mood Board Monday! OK, so it's actually now Wednesday, lol, but I watched The Bachelor Finale and forgot to hit 'publish' on Monday's post. True story. Anyway, today, I'm sharing some pretty foyer decor ideas for Spring – or, for any time you want to brighten things up in your entrance area or mudroom!
To demonstrate how to pull a foyer space together cohesively, I created three interior design mood boards aimed at giving you foyer decor ideas and inspiration. No surprise, these mood boards are inspired by my love of all things modern cottage and casual, coastal style!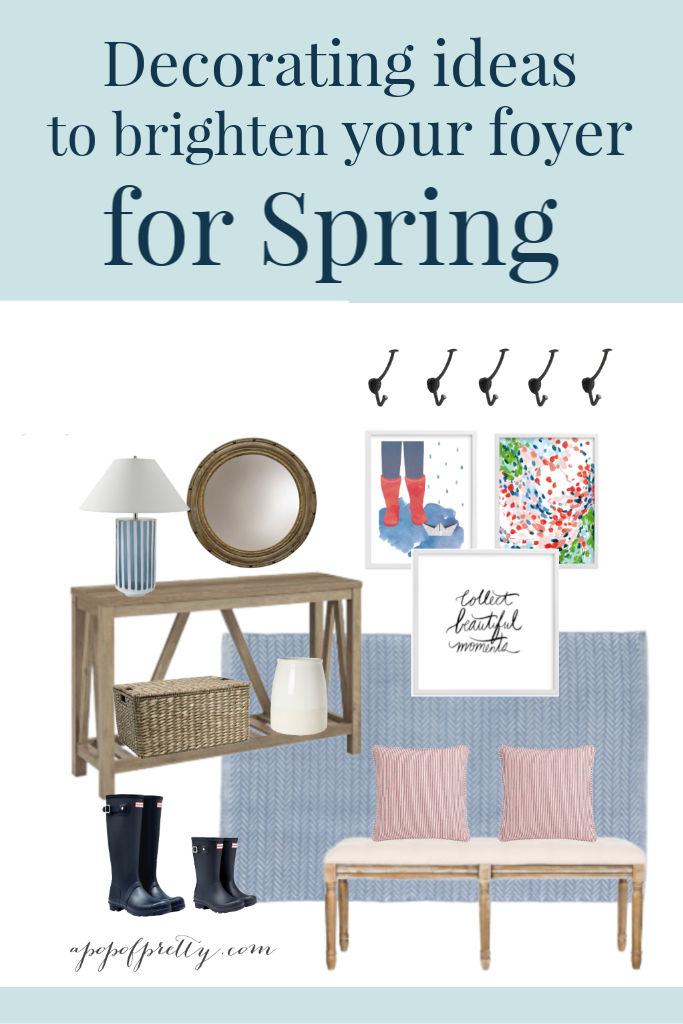 Why mood boards?
I recently started a blog series called Mood Board Mondays to help show you how to pull a space together. That's because many of you have told me that one of your biggest frustrations in decorating your home is not feeling confident in creating a cohesive look and feel. I get it. This part of decorating can be tricky, but it can also be the most fun! Luckily, mood boards are a great way to see how all the pieces of the puzzle fit together.
Today's foyer decor ideas, along with all my other mood boards in the series, are meant for general inspiration. In other words, you don't have to buy new things to achieve these looks. You can use them to mimic a similar look simply by using furniture and decor items already in your home. But, if you do love something you see, I share the exact sources via affiliate links at the end of the post.
Foyer Decor Ideas for Spring
OK, back to the foyer decor ideas for Spring! And, yes, I did say "Spring"! While it may not look anything REMOTELY like Spring here, I am praying that it is just around the corner. I don't know about you, but the entrance areas in our home are in desperate need of refreshing after a long, hard winter.
Tried & True Ways to Freshen Up Your Foyer for Spring
So are you wondering how to give your foyer a fresh look for Spring? Well, besides a good Spring cleaning (a must), you can also try using a some foyer home decor accessories. Whether you buy new things, or simply move around stuff you already own, here are 3 ways to inject new life into a run-down entrance area: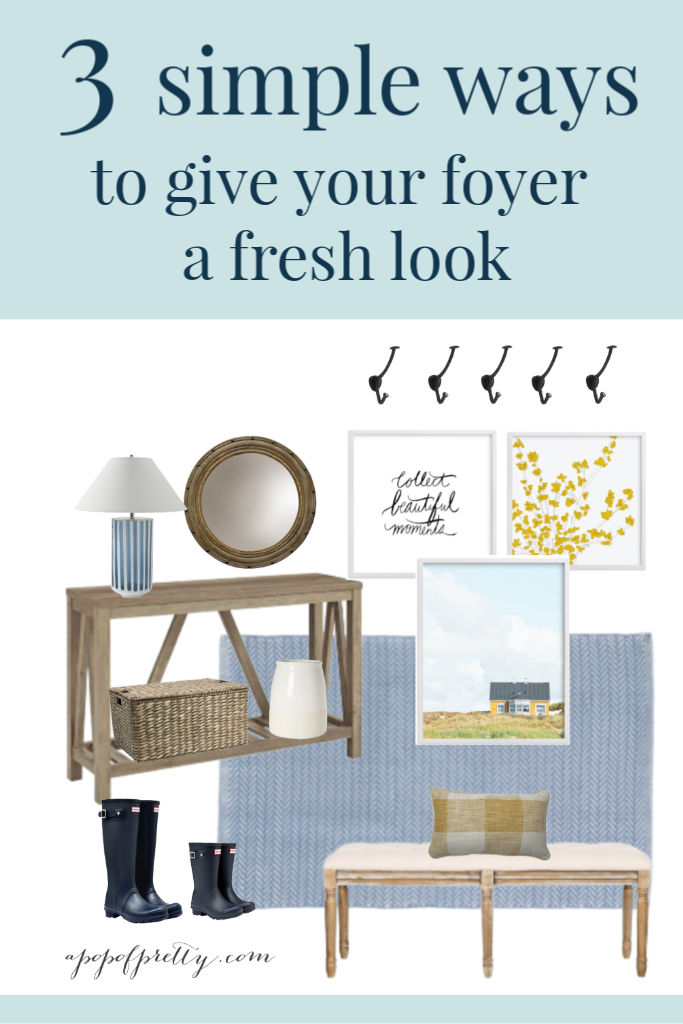 Add a mirror or seasonal artwork: One of my favourite foyer decor ideas is to change up artwork in the space by adding more brightly-coloured art for Spring. Or, if you're more into neutrals, you could add some Spring-inspired black & white art (maybe, a bicycle). As well, a mirror near the front door helps make a small or crowded space look bigger.
Change out your rug: If your rug is looking run-down and worn-out, invest in a new indoor-outdoor rug that has some colour or texture. There are some really pretty modern cottage style indoor-outdoor rugs on the market that can be hosed down from time to time.
Add some baskets or wall hooks: Baskets and wall hooks are a great way to control the clutter at the front door! If you have kids, they are a great ways to organize their stuff, and stash small outdoor toys and chalk. You can also use them to store winter clothing until next year. I shared a round up of pretty and stylish baskets a few weeks ago.
Spring-Inspired Foyer Decor Mood Boards
To show you how a great foyer space can come together, I created three pretty, Spring-inspired interior design mood boards. Adding some foyer decor ideas can help make the space feel welcoming again. And, since Spring is about pretty hues, I stepped out of my typical blue and white comfort zone and injected some gorgeous colour into the mix.
Foyer Decor Ideas Look #1: Neutral Mood Board
I know that I have a lot of neutral decor lovers that follow along here. So I thought I'd start with a neutral foyer decor board, and then show you how that space could be transformed with a pop of colour.
I LOVE how this mood board came together! The grey-washed wood console table and bench, and a chambray blue indoor-outdoor rug, were the starting point because I knew I wanted a coastal, modern cottage vibe.
Next, I layered in other accessories like the basket, striped lamp, vase and mirror. And, as artwork, I selected modern, black and white images that had a 'get outside' kind of message for Spring. The neutral pillow covers have a casual ticking stripe which amps up the coastal vibe in this space.
Foyer Decor Ideas Look #2: Mood Board with a Pop of Yellow
This second foyer decor mood board shows how you can transform a look simply by adding more colourful wall art and pillows.
Honestly, until I pulled this second look together, I thought nothing could top the first, more neutral one. I'm not normally a yellow lover, but it's SUCH a great colour for Spring decorating. And, it looks stunning coupled with blue and white. The space has a coastal-farmhouse, modern cottage vibe, without being over-the-top nautical.
Foyer Decor Ideas Look #3: Mood Board with a Pop of Red
For this third look, I decided to add a foyer decor ideas with a pop of red. This mood board has a whimsical, coastal feel. Think his would be a great look for a family with kids, don't you think? I know my 3 kids would love it!
For starters, I'm smitten with the red rain boots wall art, but that colourful, abstract art piece also rocks my world. And, paired together with the scripted word art, they look so cheerful. Finally, the red is also pulled onto the bench in the form of casual, red ticking stripe pillow covers.
Spring Foyer Mood Board Sources:
Wondering where to find the furniture and accessories used in my Spring-inspired foyer mood boards? You can find all the links to all my foyer decor ideas below. (Please note that these are affiliate links, which means I may earn a small commission if you choose to buy something, which helps to support my blog.)
All Mood Boards:
Indoor-Outdoor Blue Herringbone Rug
Neutral Foyer Mood Board:
Collect Beautiful Moments Wall Art
Pop of Yellow Foyer Mood Board:
Pop of Red Foyer Mood Board:
What's Your Favourite Spring-Inspired Foyer Look?
So, what do you think of the foyer decor ideas I shared? If you had to pick just one look, which would you choose? I know, it's so hard! All 3 looks are fresh and pretty and perfect for Spring! Let me know in the Comments!
You Might Also Like:
If you like interior design mood boards, you might like this blog post too:
Are you following me on Instagram?
I shared lots more home decorating ideas and inspiration over on Instagram. If you're not already following me, I'd love to see you over there:
Follow A Pop of Pretty on Instagram
If you have any questions about the mood boards I shared today, let me know in the Comments below. I hope this article gives you some new foyer decor ideas for Spring, and that it helps show you how to pull a foyer space together cohesively.
Until next time,
K.