This post was most recently updated on September 23rd, 2019
Today's been a busy one!  It's (Canadian) Thanksgiving Weekend…AND, my two little men turned two!
Let's just say I'm on a  combined turkey low and a sugar-high.  That's why I'm going to let today's ad do the talking for me.  Yes, folks, that means video!  I'm getting all techie on you.
And, even if I could string something sensible together, I'm not sure I can even find the words for this one.  It's a doozie! Today's 'ad' is seriously one of the craziest promotional pieces I've ever seen, but it's totally awesome in its vintage-ness at the same time.
It's a late 60s promotional piece for Westinghouse refrigerators with "mood-matching" DIY panels! Yippers, you read that correctly.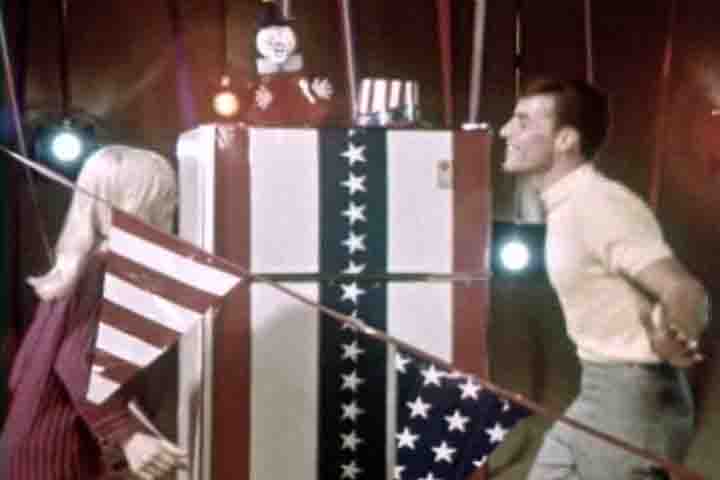 In 1968, Westinghouse realized a 'new approach' was needed to convince the 'youth market' to buy a refrigerator. The old sales talk and typical "Mrs. Happy Homemaker" images were out"  (Source: YouTube).  It appears that the "Match Your Mood" line of appliances came with adhesive panels  that allowed its groovy owners to style their appliances as they chose – with anything from faux wood to rattan to flower power!
This ad  wasn't shown on TV due to its length (6+ minutes!), but in Westinghouse showrooms and other 'points of interest' where a 16mm projector and screen were assembled.
If you can get past the first minute or so of the freaky lady walking through a forest, I promise you won't regret it.  It's absolutely hysterical…and totally psychadelic!
Signing off until tomorrow, Kerri.