This post was most recently updated on January 18th, 2022
Hello friends! I've been head down in the proverbial weeds these days, trying to pull together aaaaalllll the design details for our cottage build.  As I mentioned in my last few posts, I am aiming for a coastal or nautical cottage vibe with this summer home.  As I've been searching for coastal decorating ideas for the cottage, I couldn't help but notice how one simple thing kept appearing: rope decor!
I've always loved how some simple sisal rope can elevate a room from basic to deliciously coastal. But I had no idea just  how many different ways it could be used.  I thought I'd share 10 rope decor ideas that stood out to me. They'd all make perfect additions to a coastal cottage.
1/ Rope Decor Shelves
First up, in my rope decor round-up: shelves! These wooden shelves hanging from simple knotted rope feels quintessentially coastal cottage.  These would be an easy diy project!
2/ Rope Decor Drawer Pulls
Using rope as furniture handles is not only cheap, it's super stylish. These rope drawer pulls are pure genius!
3/ Rope Toilet Paper Holder
I love this simple rope toilet paper holder. Actually, I love everything about this nautical bathroom. Added bonus: The toilet paper holder always has some extras! (Moms, can I get a fist pump? lol)
4/ Rope Decor Staircase Railing
No rope decor round-up would be complete without a rope staircase railing.  A simple rope hanging in a staircase feels a little like climbing the floors of an old lighthouse.
5/ Rope Decor Bunk Railing
Just like on a staircase, knotted rope can also be used as bunk bed railings! This would look perfect in a lakeside cottage bunk room.
6/ Rope Lighting
 Speaking of 'twists' (see what I did there lol), these simple knotted rope pendants are a more modern take.
7/ Rope Bed Posts
Rope hung from the ceiling can help frame out a bed, and adds a decidedly nautical feeling to a cottage bedroom.
8/ Rope Decor Drapery 'Hardware'
This is one of my favourite rope decor ideas.  Drapery hardware can be expensive, so why not use some pieces of sisal to hang drapery? OK, so I wouldn't recommend this in a formal living room. But it rocks as a cottage decorating idea.
 9/ Rope Decor Mirrors
This rope-wrapped mirror feel like you're looking through a ship's porthole.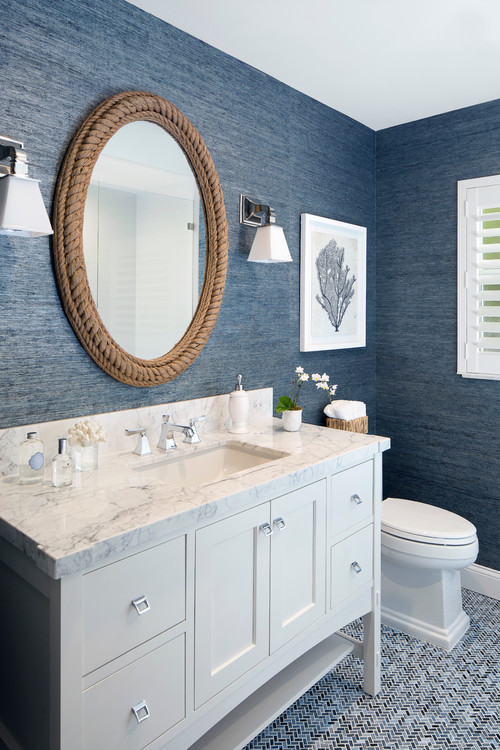 Source: Houzz, Photo by Lisa Michael Interiors – More powder room ideas
10/ Rope Decor Art
Rope art can be as easy as framing a series of art print of nautical rope knots.
 Or, you can even use some actual rope as art! Either way, rope art can make a real statement in a room.
The thing that strikes me about all of these rope decor ideas is just how easy and inexpensive they'd be as diy projects…if you're so inclined.  If not, they are easily sourced, but you'll definitely pay more than what you might think.  I guess the market has caught on to the idea that rope makes gorgeous home decor!
Until next time,
K.