This post was most recently updated on September 23rd, 2019
Hello friends! I haven't been around much since summer.  That's because things have been kinda loopy with our out-of-town cottage build, along with the whole business of raising 3 kids. (BTW, neither of these is for the faint of heart, lol.)  But we're finally in the finishing stage of the cottage. Things are starting to feel real, and we can't wait for it to be done. The space I'm most excited about is our navy and white cottage kitchen.
As I've mentioned before, I'm going for a simple, nautical feel in this house. So a navy and white kitchen seemed like the perfect choice. (See Why Two Toned Kitchens Rock.) The bottom cabinets and island are going to be painted a deep navy blue (BM Hale Navy), and the top cabinets are going to be white (BM Simply White).  I'm also planning to have a wall done completely in white subway tile with reclaimed wood shelves.
I thought I'd share my first mood board that helped me visualize how all the details would come together in this navy and white cottage kitchen space.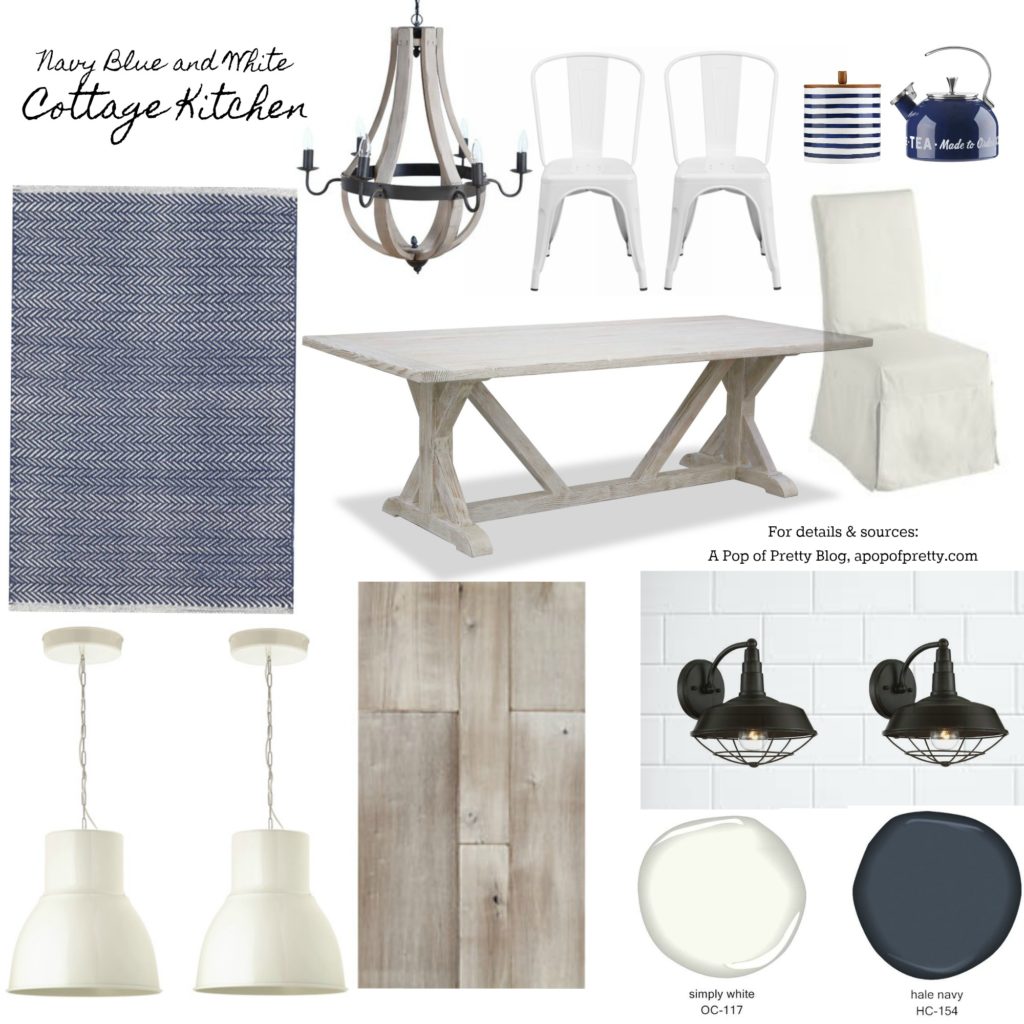 The kitchen's evolved a bit since I created this mood board back in the summer.  I actually ended up keeping this farmhouse table for our current house because I liked it so much. (Oops!) Plus, I decided to put a couple of these light fixtures in other rooms, and ordered different ones for the kitchen. (See 10 Cottage Chandeliers.  But, overall, the kitchen will still have the same look and feel.  I'll share an updated mood board before the kitchen is installed in just a few weeks.
If you like anything I've sourced, here's where you kind find it, clockwise from top.  (Note: List contains some affiliate links.)
Blue & White Striped Cannister: Kate Spade
Blue Tea Kettle: Kate Spade
Flooring: Home Depot
Oversized White Pendants: IKEA
Why does building a house always take WAY longer than you anticipate?  Realistically, we didn't think this house would be finished during the warm months of 2017 anyway. That said, we're now about 3 months later than our original closing date. So it's definitely colder outside than we had hoped it would be when it was finished. It's a year-round cottage though, so we are planning to enjoy it by Christmas or New Year's. We'll be skating on the pond and snowshoeing this winter, while dreaming of long summer dock days.
I had really hoped to blog my way through the building process.  But it's just been so darn busy!  Once everything's complete, I'll have more time to blog about the decor and all the things I learned along the way.
Until next time,
Kerri