This post was most recently updated on September 23rd, 2019
Hello friends! This week, we are rounding third base on our cottage build. This means our hardwood floors are being laid, and our navy and white kitchen is being installed. With any luck, we'll be able to move furniture in over the holidays. So exciting.
This is the point in a home build where you FINALLY get to see all the details coming together.  And, speaking of details, I shared my original mood board for this space the other day. For various reasons though, my vision this kitchen evolved a little over the past few months. I thought it would be fun to show you how it changed and why.
Here was the first mood board I created for the cottage kitchen during the summer. We are still doing navy and white kitchen cabinetry. But this first mood board is a little more light and airy than where we we ended up.  I included the sources for all the lovely things in this mood board in my last post. (See: Navy and White Cottage Kitchen Mood Board.)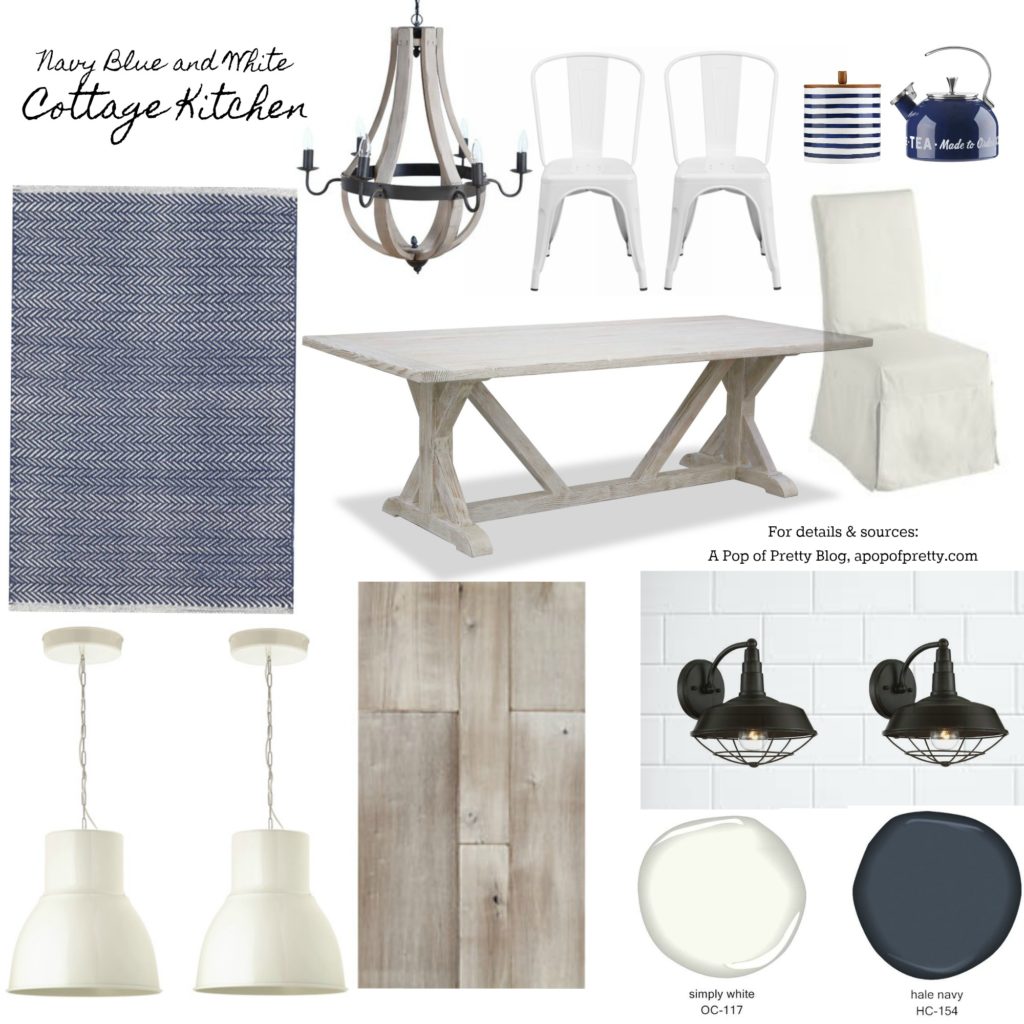 In fact, these items were so lovely that I ended up using some in other rooms.  For example, those awesome oversized IKEA pendants will hang in the bunk room.  And the white washed farmhouse table (<– affiliate link)?  Well, that's another story. When it was delivered, we liked it so much in our main house that we decided to keep it here.  We had a very small-ish dining table, so this longer one works so much better for our family.  The white-washed, farmhouse style also looks great in our recently renovated kitchen.
So where did we end up?  This next mood board in a compilation of my final decor decisions for this navy and white kitchen.  While I love a 'light and airy' feeling, I felt the kitchen needed a bit more warmth and richness.  So I chose some hits of black with the oiled bronze school house pendants, and some much needed texture with a rope chandelier.  The biggest difference comes from the warm tone of the reclaimed wood shelves and farmhouse table.  I'm also crazy about those navy grain sack striped chairs as they'll coordinate so well with our navy cabinetry.
Sources (note: contains affiliate links)
So, which navy and white kitchen mood board do you prefer?  I really love them both, but I'm really happy where we ended up.  I think the second one is a bit cozier than the airy, coastal vibe of the original.  It's amazing how just a few changes in colour and texture can create an entirely different feeling in a space.  It's all in the details!
I've been so distracted by this build that I haven't had a lot of time to focus on my favourite thing of all time: Christmas decorating!  But now that all the cottage details have been decided on, I'm going to be sharing some fun Christmas posts.  I've got a sweet one coming up later in the week. Stay tuned!
Until next time,
K.