This post was most recently updated on January 1st, 2020
If you're anything like me, you'd take a pretty, no carve pumpkin idea over a pile of pumpkin guts any day of the week.  It's not that we don't carve pumpkins around here; it's just that I save that messy job for my husband ;-).  He and Miss G have a standing tradition of carving the pumpkin and roasting the seeds the night before Halloween.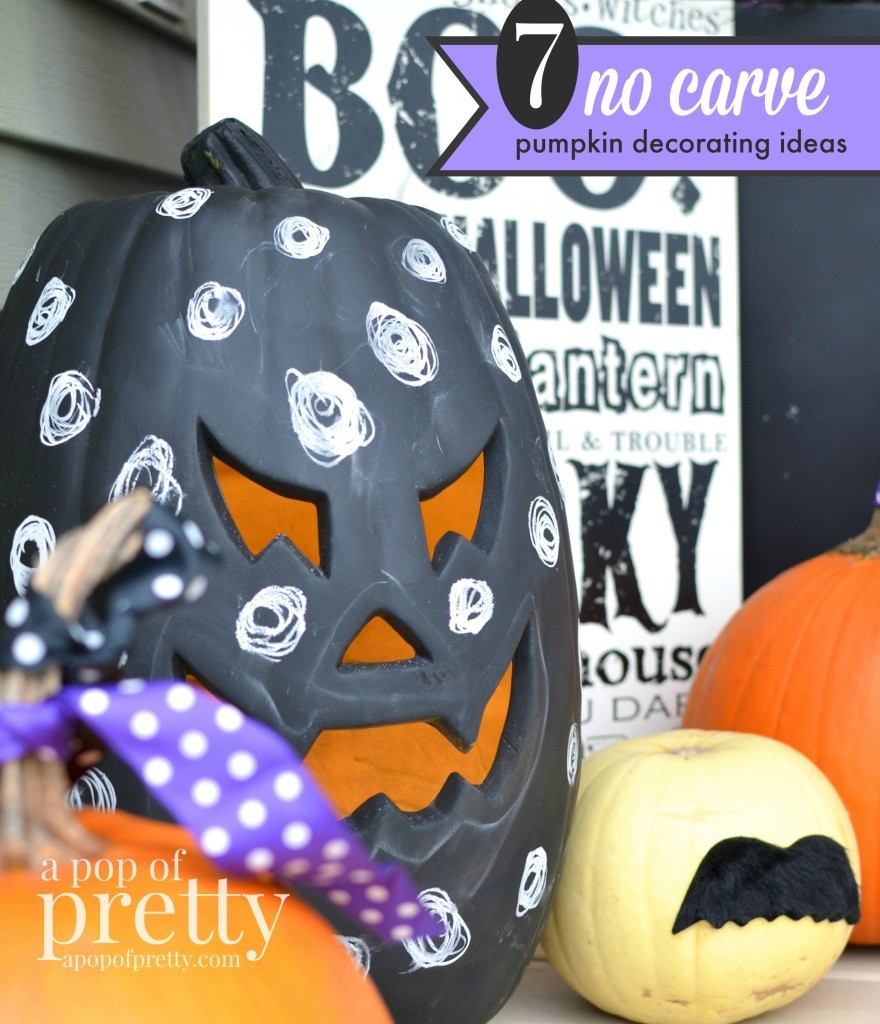 In the meantime, I usually have a little fun of my own. Here are some easier than easy, no carve pumping ideas I've tried over the past few years…
Easy, No Carve Pumpkin Ideas…
1. Monogram Pumpkin 
I made these pretties this year.  The monogram embellishments came from Michael's, but I'm sure you can find adhesive letters just about anywhere. I wrapped the stems with ribbon (secured with a bit of hot glue) for some extra fun.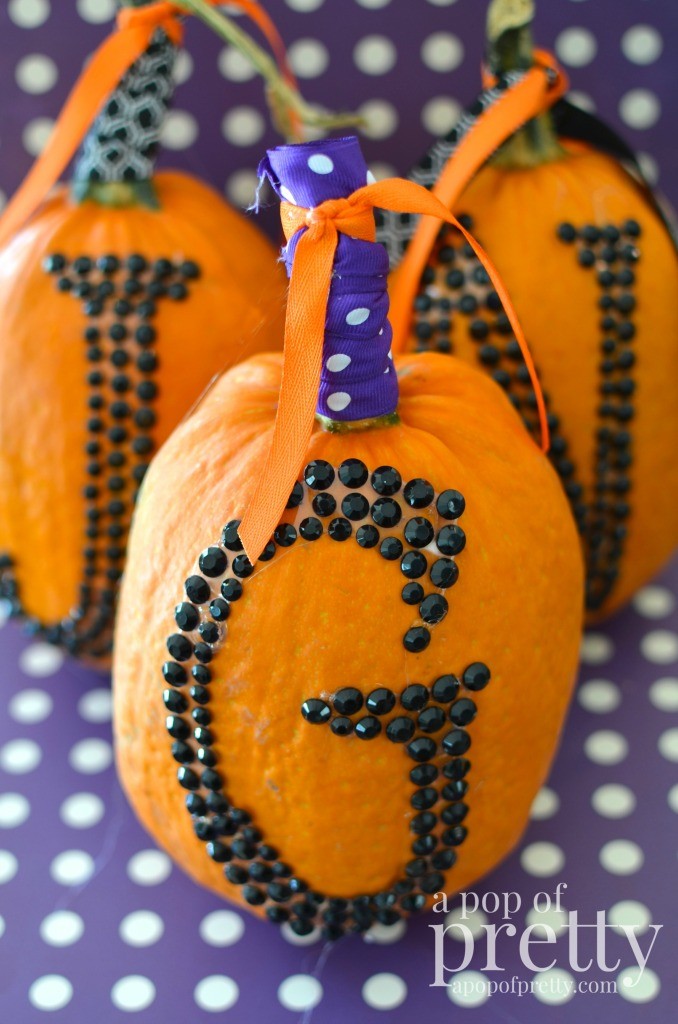 2. Moustache Pumpkin
Moustaches have been trendy for a couple of years now. I found a package of adhesive ones, and it took me all of 2 seconds to slap it on there. See, I told you easier than easy! If you can't find adhesive moustaches, just make some from black felt and secure it with hot glue or pins.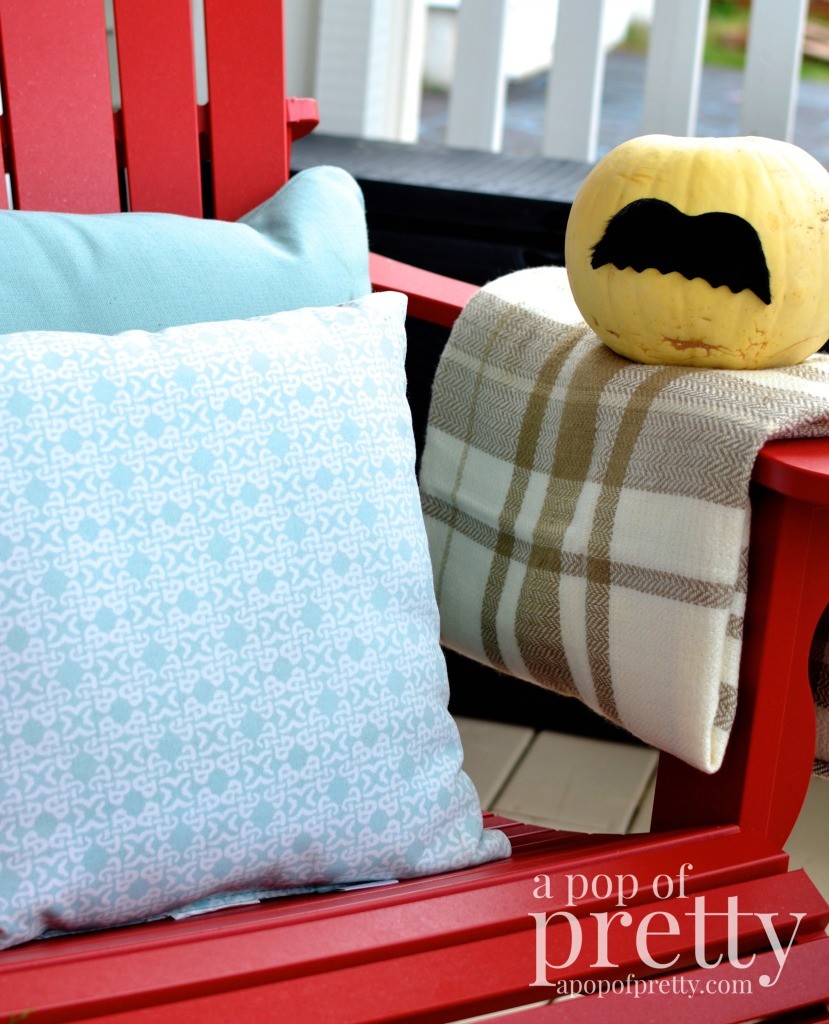 3. Chalkboard Pumpkin
A little chalkboard paint on a real or artificial pumpkin is also a great no carve pumpkin idea.  It's especially fun for kids who can use chalk to change the designs.  I spray-painted this guy, which was just your average plastic orange, light-up pumpkin before.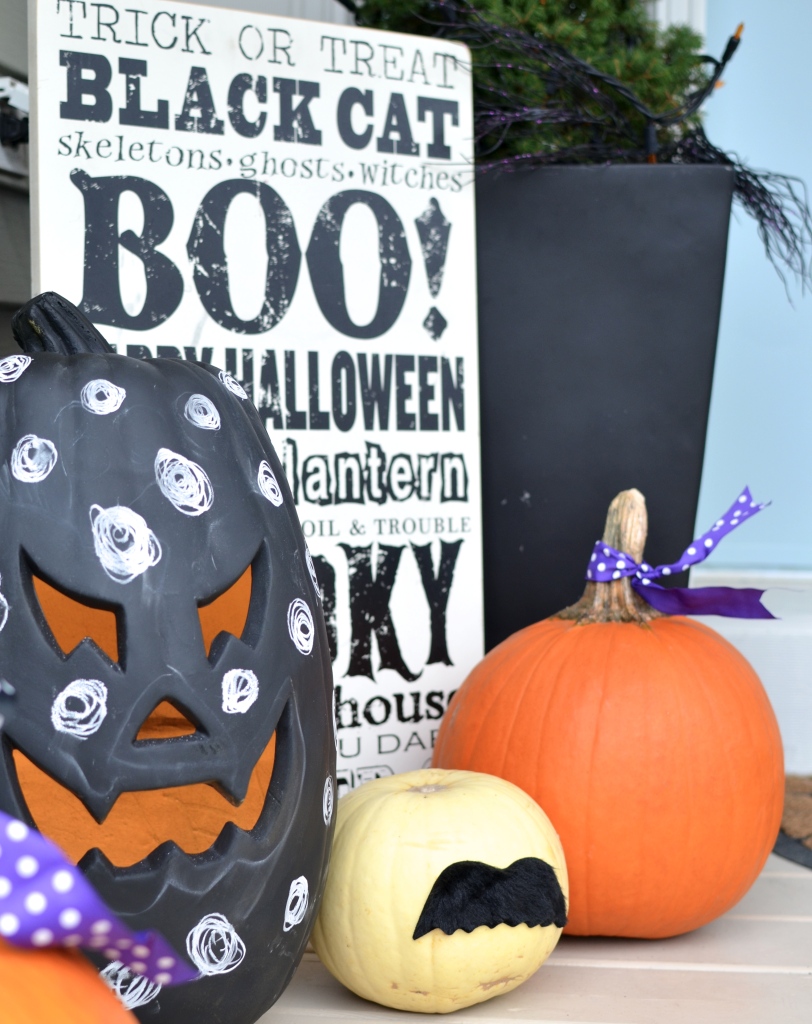 4. Masked Pumpkin
A couple of years ago, I used my staple gun to put pretty masks on these pumpkins – another no carve pumpkin idea that required absolutely no effort.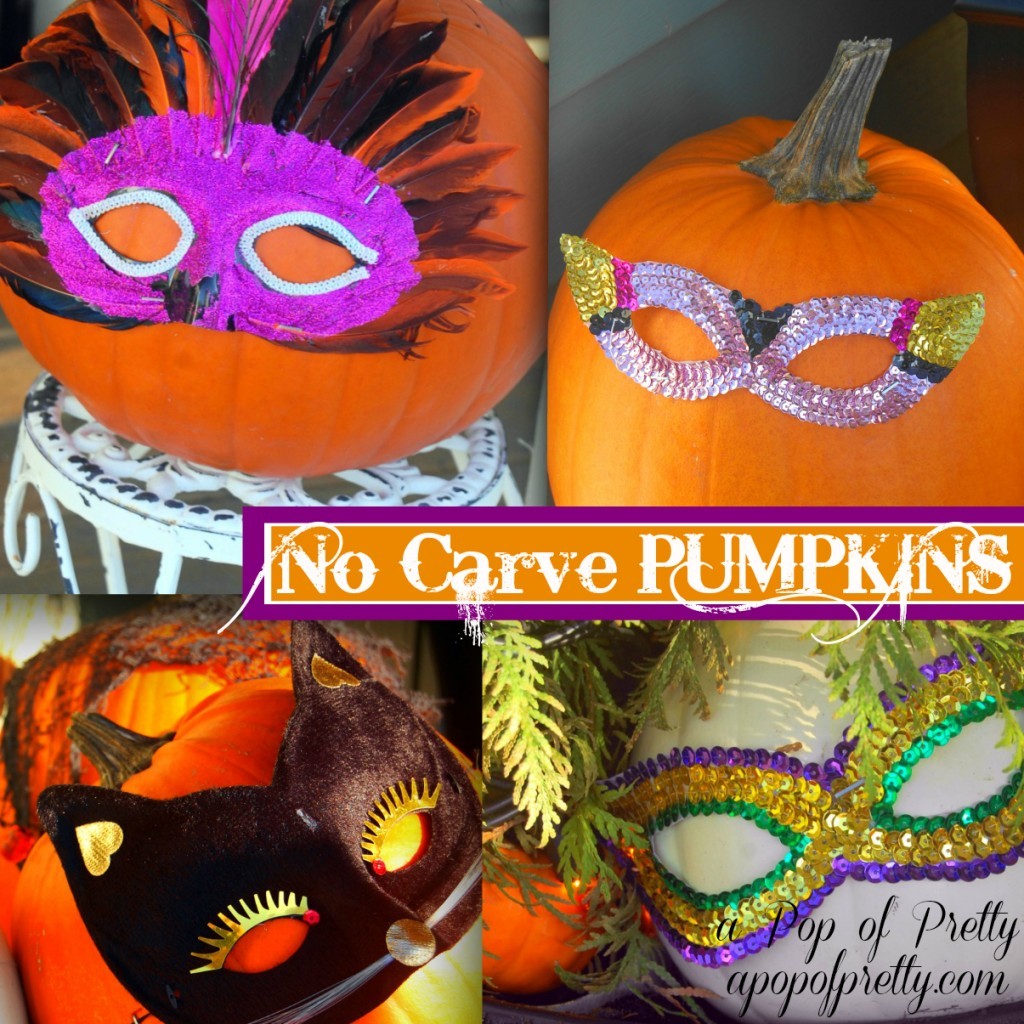 5. Rhinestone Embellished Pumpkin
You can find all kinds of cute Halloween stickers and embellishments at craft and dollar stores.  My favourite ones are rhinestones. Here's how one of my pumpkins looked last year.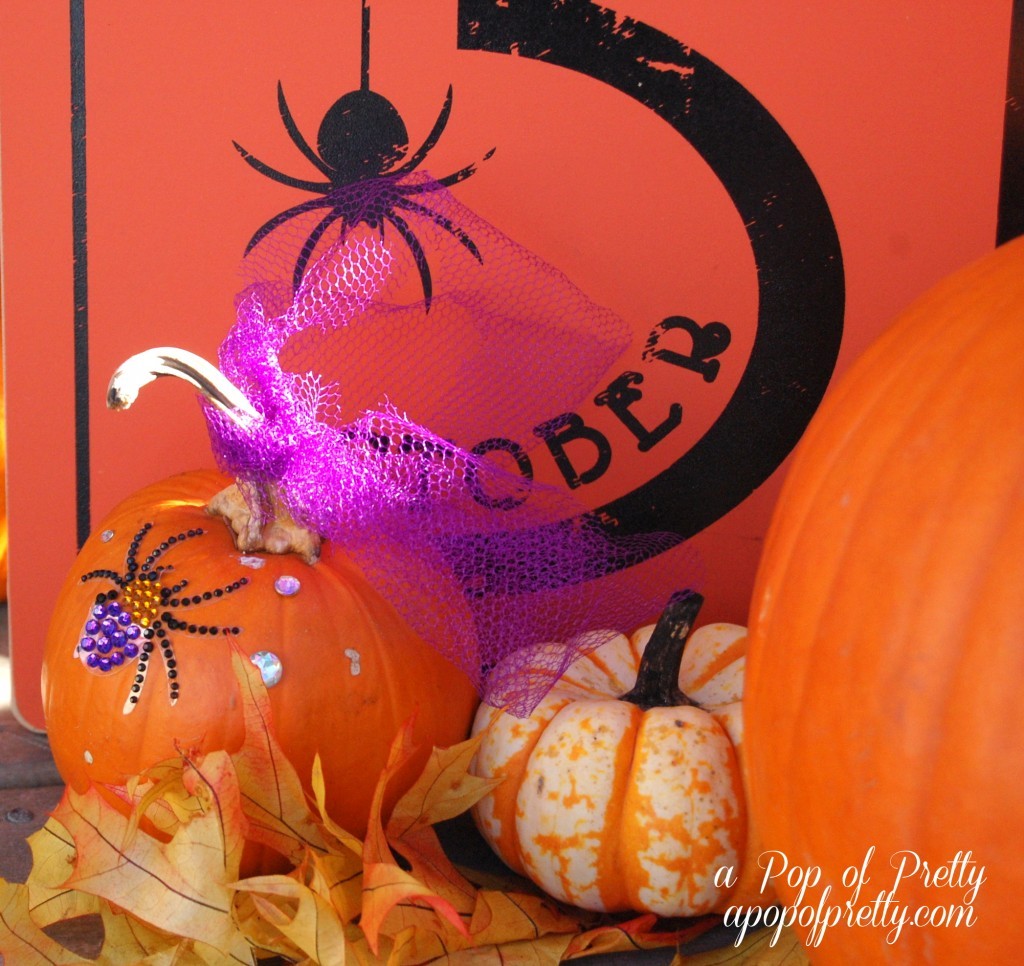 6. Pumpkin Monsters (with Googly Eyes)
You can easily create the adorable little mini pumpkin monsters with some googly eyes and craft paint.  The stems are wrapped in pipe cleaners for a little more cuteness. (Check out that post here: Easy Halloween Craft Idea for Kids: Mini Pumpkin Monsters )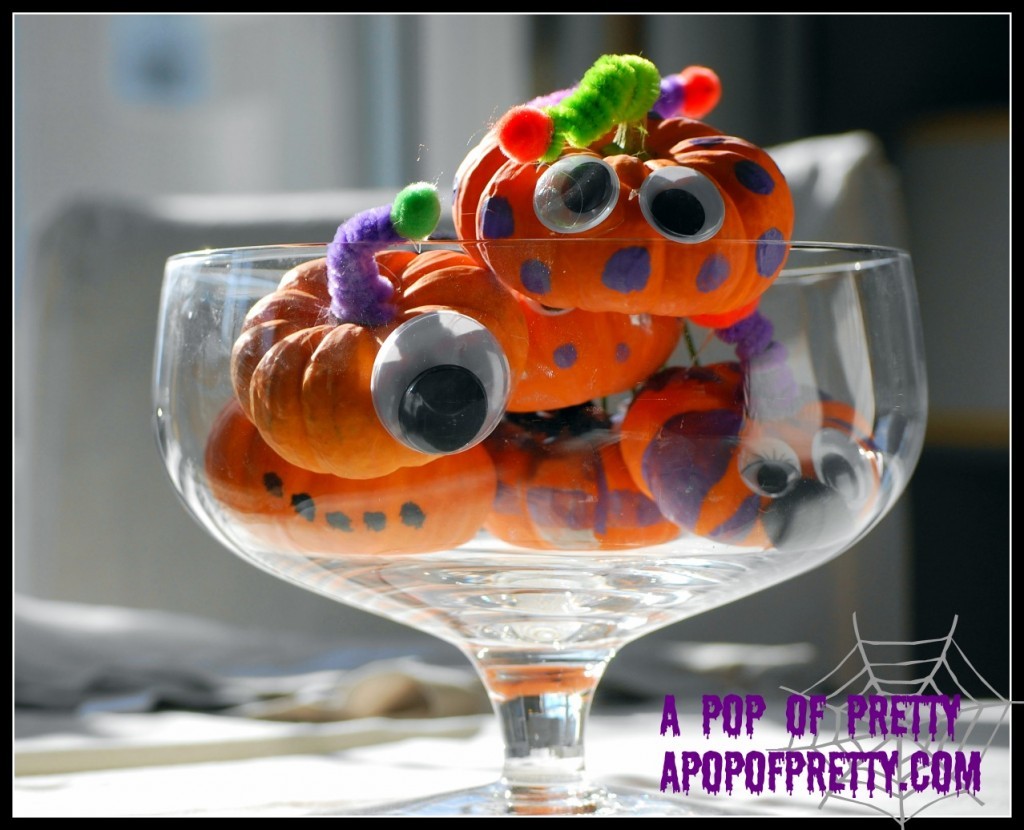 7. Spider Pumpkins (with cupcake holders)
Finally, this year I also used Halloween cupcake holders and mini pumpkins to create these little pumpkin spiders.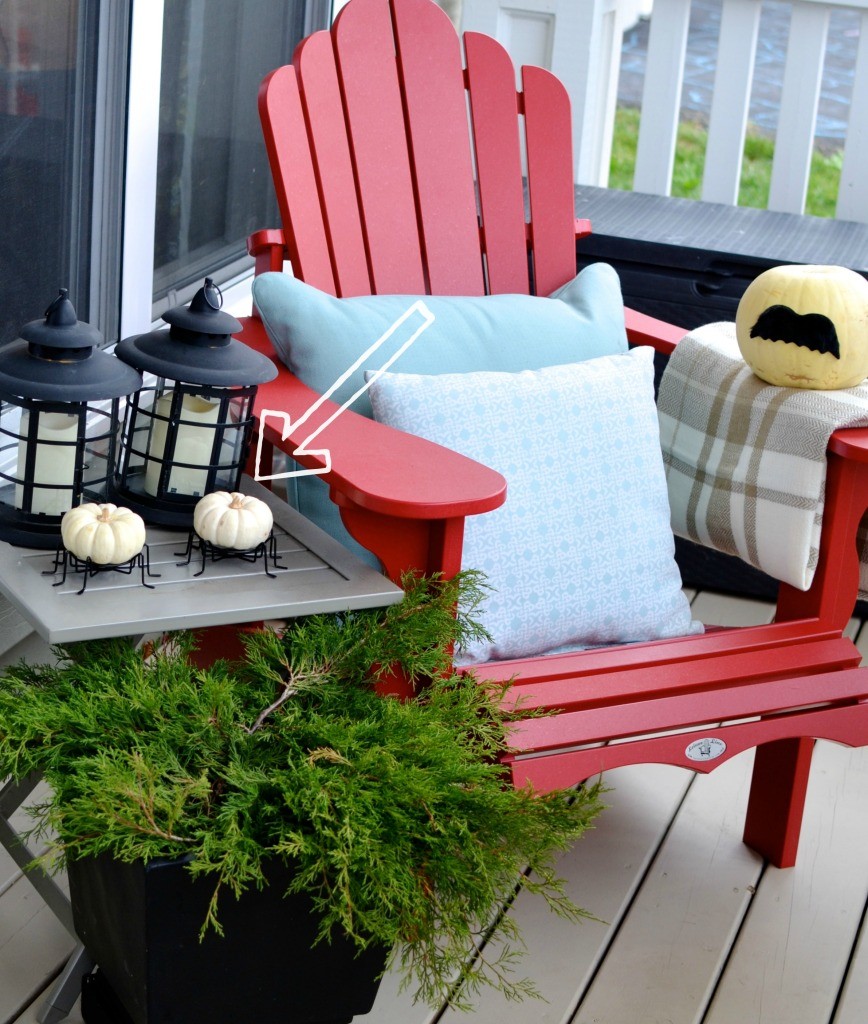 However you decorate your pumpkins, I hope it's lots of fun!
Have a great weekend,
K.