This post was most recently updated on September 23rd, 2019
Jewellery organization isn't something I've ever been great at.  I've never figured out how to organize jewellery in a way that makes it easy to find and wear. I think I had a jewellery box once upon a time, but it only fit a fraction of my stash of costume jewellery. So most of that stuff ended up in a tangled mess in a dresser drawer. You too?!?  (Phew!)
.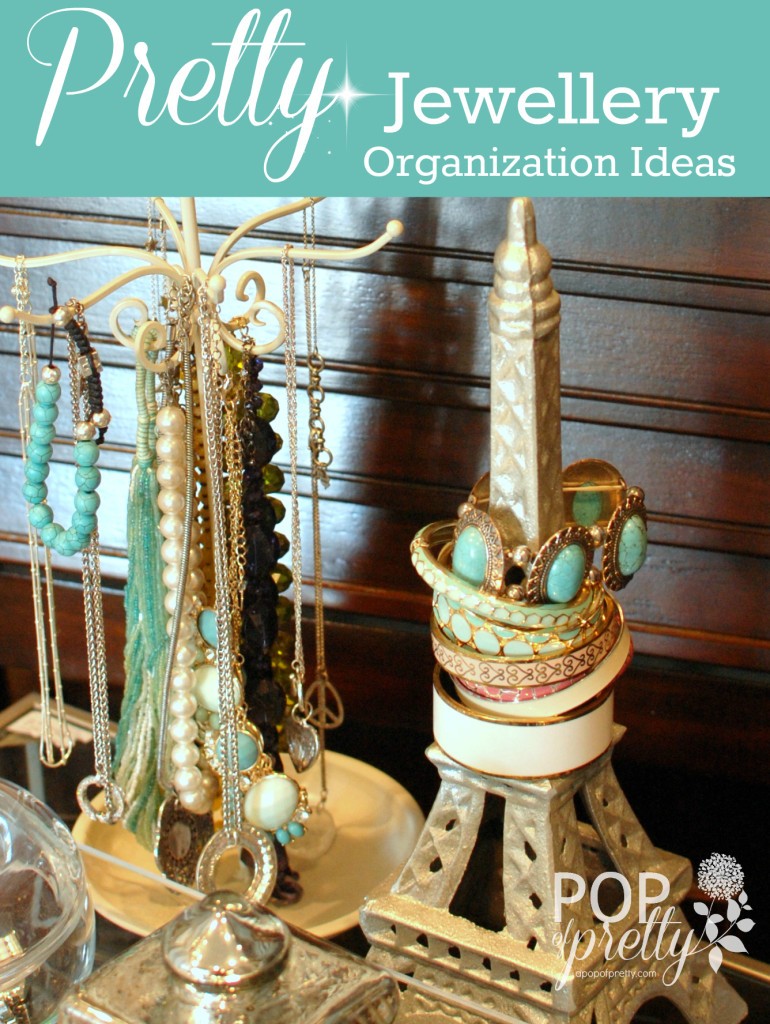 I recently made it my mission to rescue all these neglected necklaces and bracelets, and give them new life!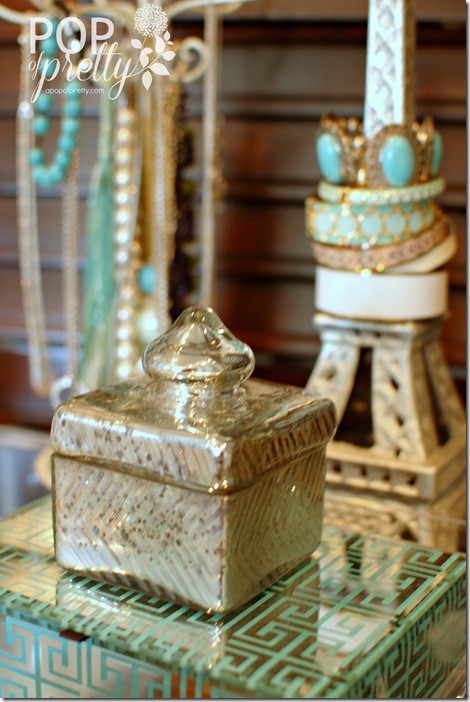 .
Over the past month, I've been working on a closet overall in our master bedroom which involved extending it into an area of our bedroom that was originally intended as a sitting area. This closet project gave me the incentive I needed, and the extra space, to FINALLY organize my tangled web of bibs and bobs and baubles!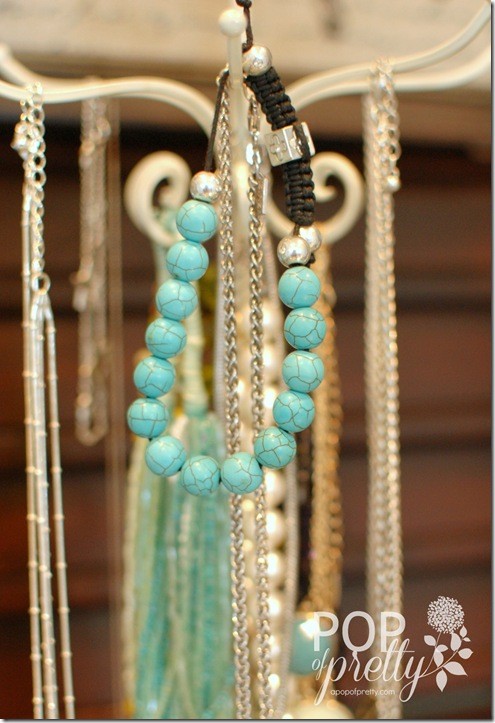 .
I wanted to organize jewellery to make it easy to find a piece when putting together an outfit. It seems I always stick to the same couple of pieces because it's  just too much trouble to find any others when I'm in a rush – which is pretty much all the time! (Oh, and there's only so many pieces you can rock with yoga pants…but I digress 😉 So instead of stashing it away, I decided to display it.
.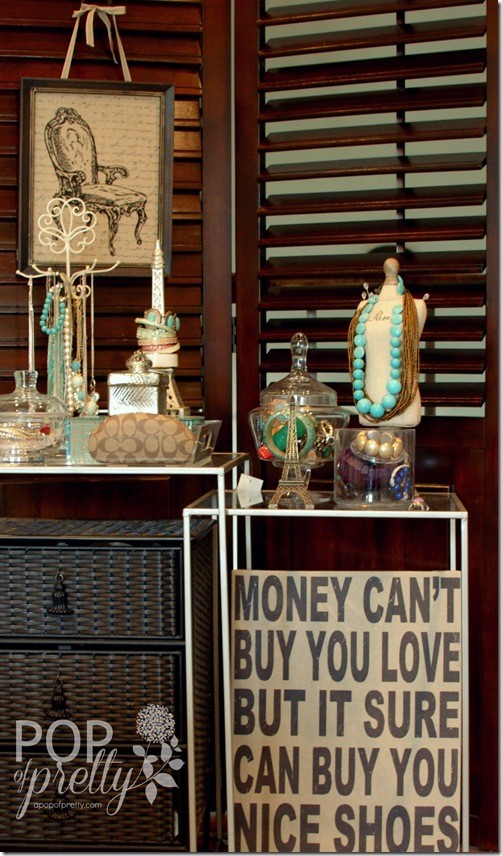 .
I gathered things from other rooms in the house that I could use to organize jewellery – like this decorative Eiffel Tower I've had for years.  It's the perfect shape to stack chunky bracelets, so I put it to more productive use than just looking pretty in the living room.
.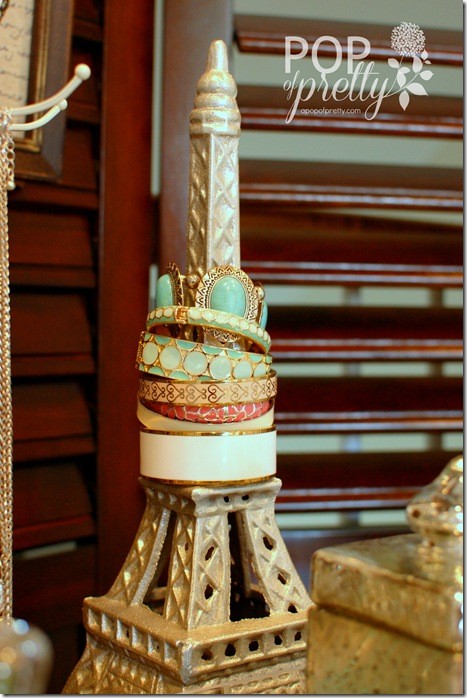 I stored my less-used bracelets and watches in glass apothecary jars and candy dishes. Now I can see everything, and I don't have to dig through a messy, dark drawer to find them.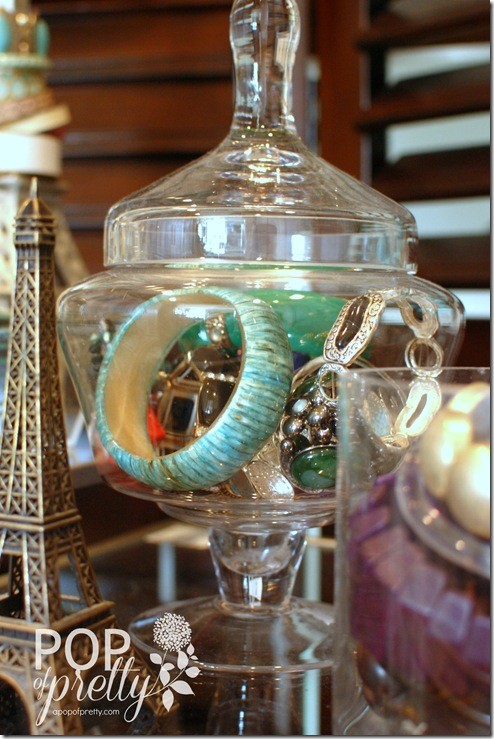 .
I put my thinner bangles together in their own dish so they wouldn't get lost among the others.
.
.
For my long necklaces, I invested in a couple of traditional jewellery holders to keep them hanging straight. (This one below is from here.)  Hanging them straight is essential! I might go bonkers if I ever see another necklace knot again after the work I put into salvaging these pieces. Seriously. I also have a necklace organizer with hooks attached to the wall.
.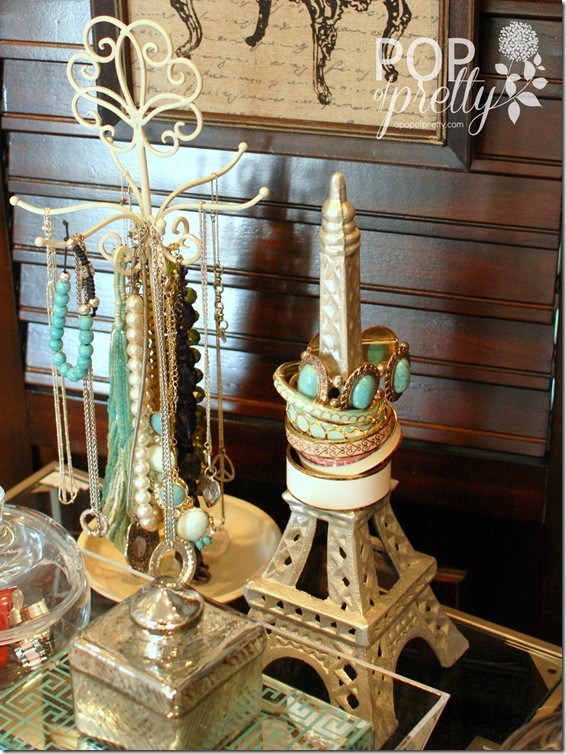 .
I used this cute mini dress-form to display some of my favorite pieces.  Um, can you tell from all these photos that my favorite color is turquoise?  (I love it so much that I made that chunky turquoise bead necklace below, and it was easier than you think.  Maybe I'll post a tutorial on that soon!)
.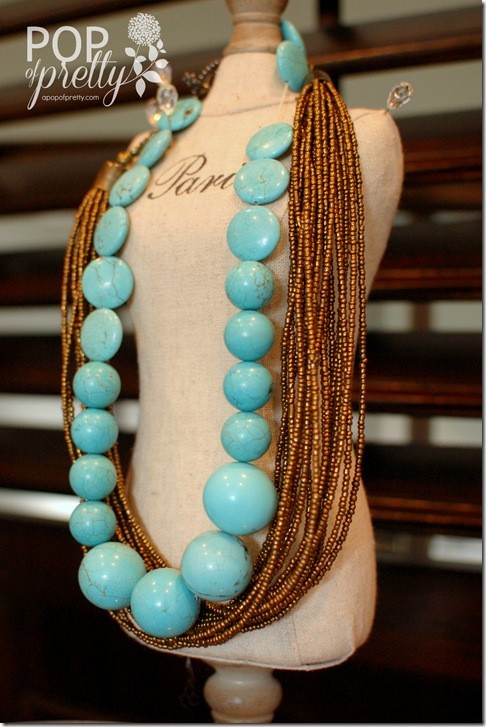 .
.
If you're inspired to organize your costume jewellery too, gather up some of these from around the house, and get started:
Pretty bowls
Decorative boxes
Glass candy dishes
Apothecary jars
Wall hooks
Decorative accessories (like my Eiffel towers and dress form)
Basically, anything that can be put to a new use!
..
And the best thing of all?  When I finished this project, it felt like I'd been on a costume jewellery shopping spree!  I found cute things I hadn't worn in years.  Now that's what I call a reward for all that hard work.
One final note: If you have good jewellery, it's probably not the best idea to display it.  I, on the other hand, have few pieces I'd consider valuable. I'm more of a costume jewellery girl. So, to the jewellery thieves ('cause I know lots of jewellery thieves read my blog

), don't bother with my closet.  Just saving you the time you'd waste at the pawn shop.  I'm nice like that.
 .
Until next time,
.
Kerri