This post was most recently updated on September 23rd, 2019
Well hello lovely friends!  It's been ages since I've blogged.  I've missed you guys.  So, when the lovely and oh-so-talented Christina from the DIY Mommy decided to host another Canadian Bloggers Home Tour, Summer Edition, I was excited to share my latest summer decorating adventures with you.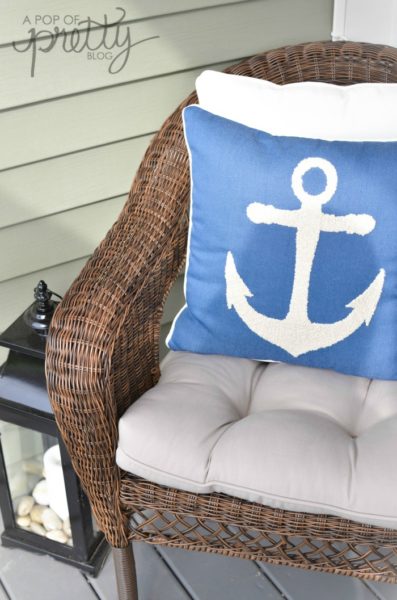 So do you do any summer decorating around your house?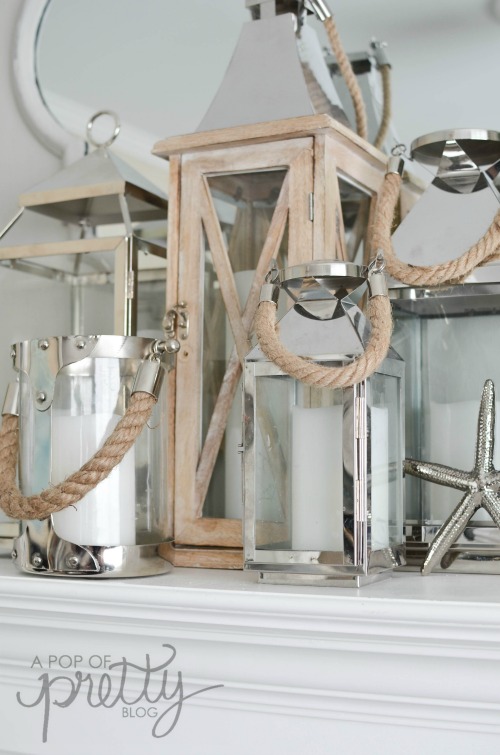 Well, at our house, summer decorating doesn't mean anything too fancy. I spend most of my decorating time and energy on our outdoor spaces. Summer is short around these parts. After a long, dreary winter, there's no better place to be than the backyard.  That's why, on this summer home tour, I'll spend most of the time showing you how I've spruced up our outdoor spaces.
Let's start with the front entry.  If you've followed A Pop of Pretty awhile, you'll know that my front porch is a bit of a decorating muse for me.  I love changing the door decor for each season or special holiday.  For summer decorating, I used a simple wicker basket filled with a casual arrangement of flowers, and hung with a nautical-inspired ribbon.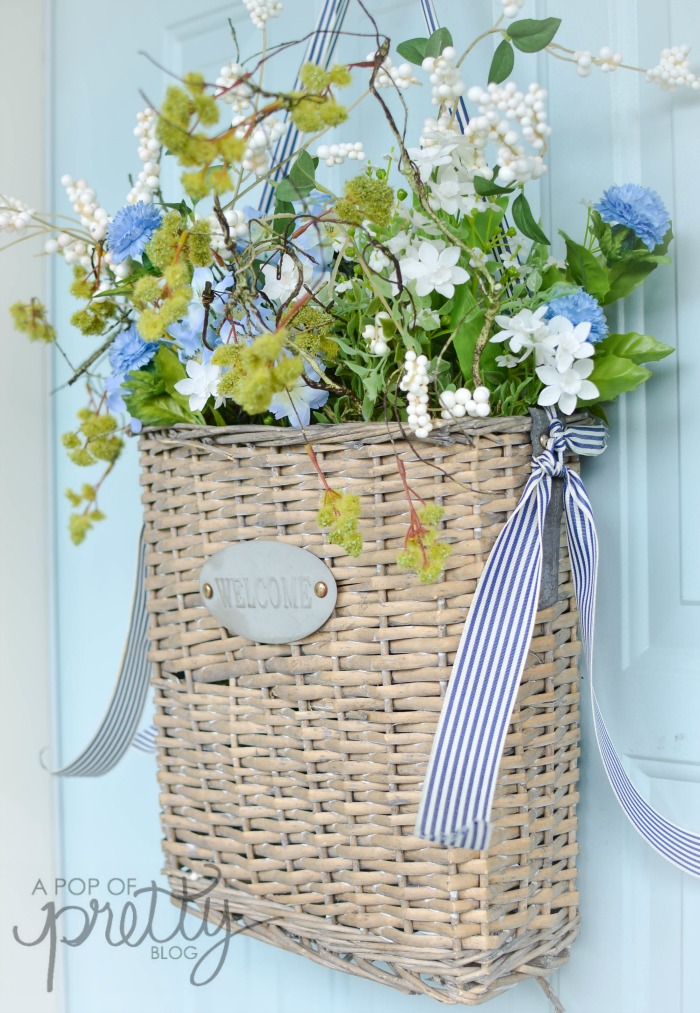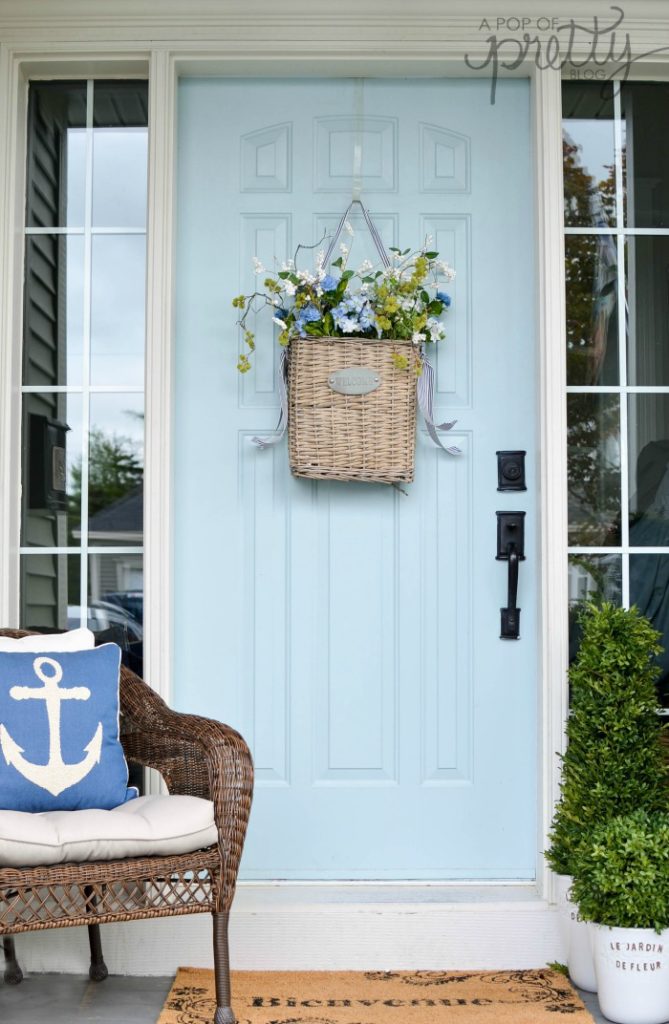 Living at the edge of the Atlantic Ocean, nautical decor touches are in my blood.  This toss pillow had me at anchor.  I love anchors. I think they speak to a carefree, relaxed vibe that can only be experienced in summer.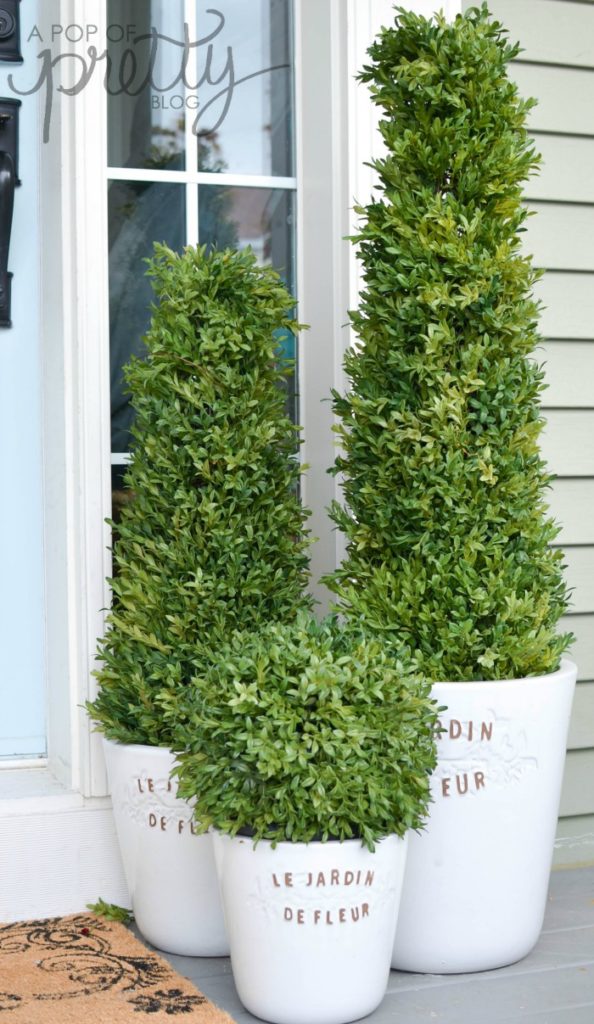 I normally use only muted and soft colours in my indoor decorating.  But, with outdoor summer decorating, I love to play with a little colour. These yellow- and-white striped toss cushions have a nautical vibe, and remind me of sunny days. They also make this little corner on our front porch a cozy spot to sit and have tea.  We get evening sun on the front of our house, so it's nice to have a front deck to enjoy it.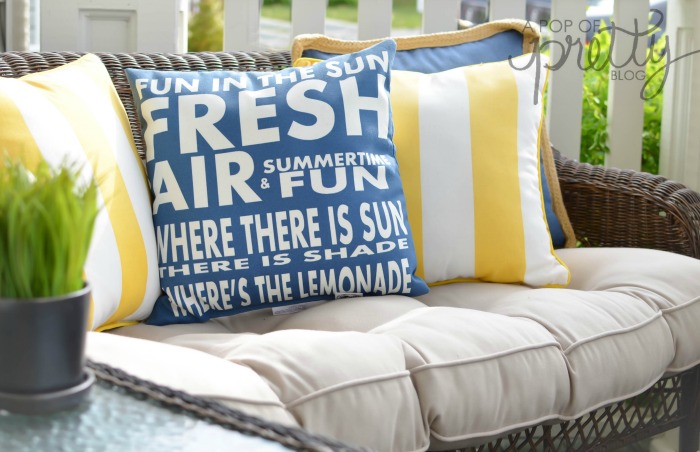 Inside, summer decorating mostly means just paring down and simplifying.  Basically, I store most of the heavy throws and toss pillows, and opt for lighter tones and textures.  Truth be told, because I favour airy colours (blues and creams) , our home kinda feels summery all year long.  I recently painted this extra large canvas to hang over the TV. It gives the room a light, beach-y vibe. 
In the same room, the fireplace mantel has a grouping of simple shiny lanterns.  (I shared this awhile back in Decorating a mantel that lasts all year.) The sisal rope detail, along with a little starfish, help to give it a casual, summer feel.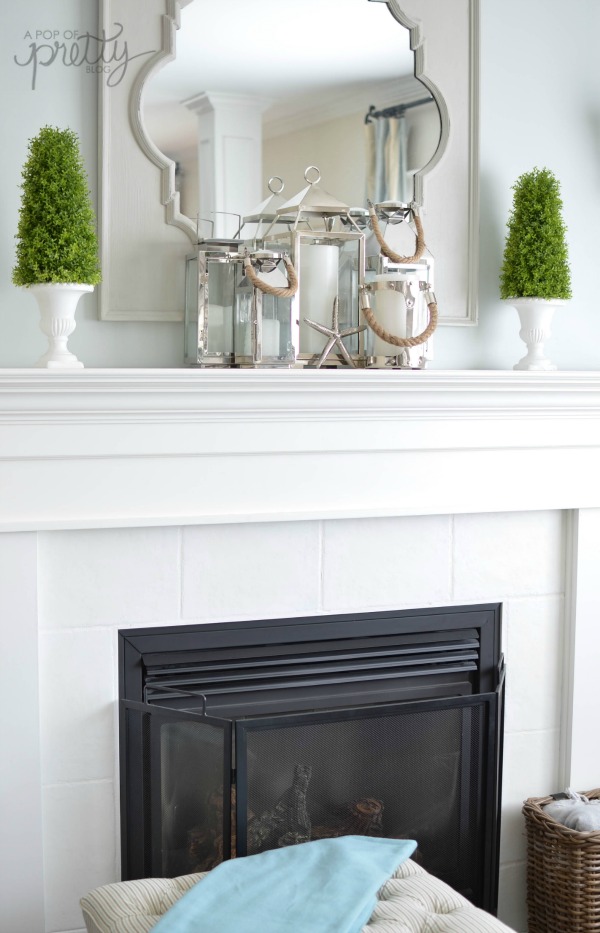 Our kitchen area has lots of sea glass blue, which helps keep a summery vibe all year.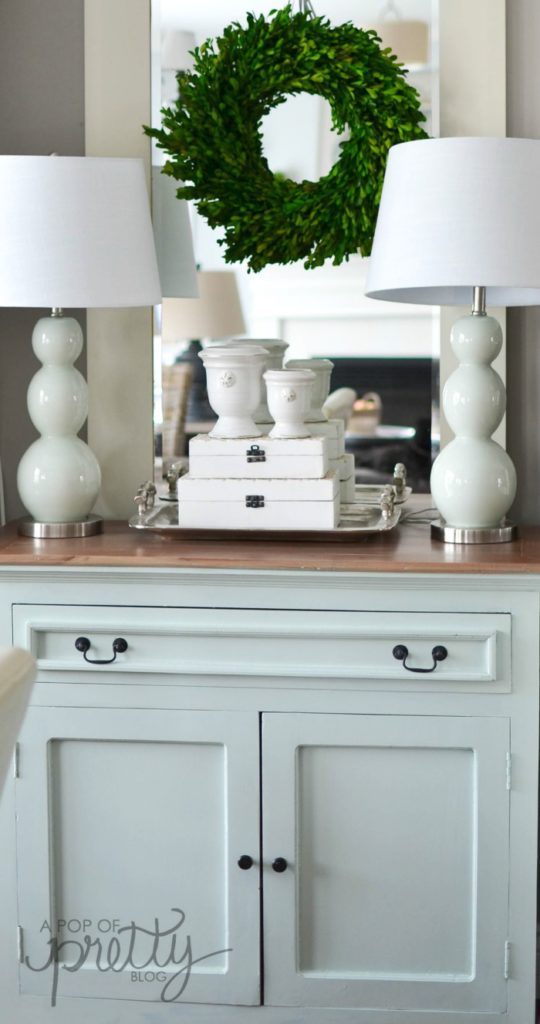 When we are having guests, I also like to set the table with beach-y textures and seashells.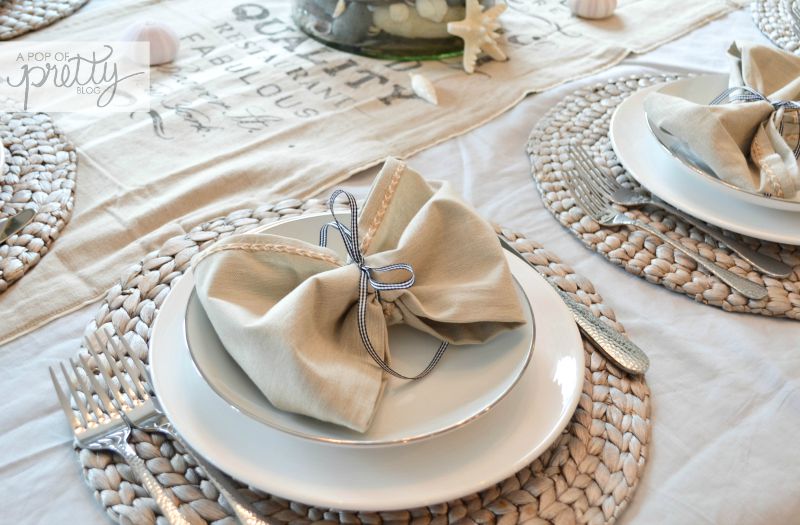 I also love to use boxwood year round in my decorating.  I know some people consider it to be more of a winter thing, but it provides a great punch of green and texture in the summer too.  I usually lighten it up but using white pots, or hanging it with a sumery ribbon.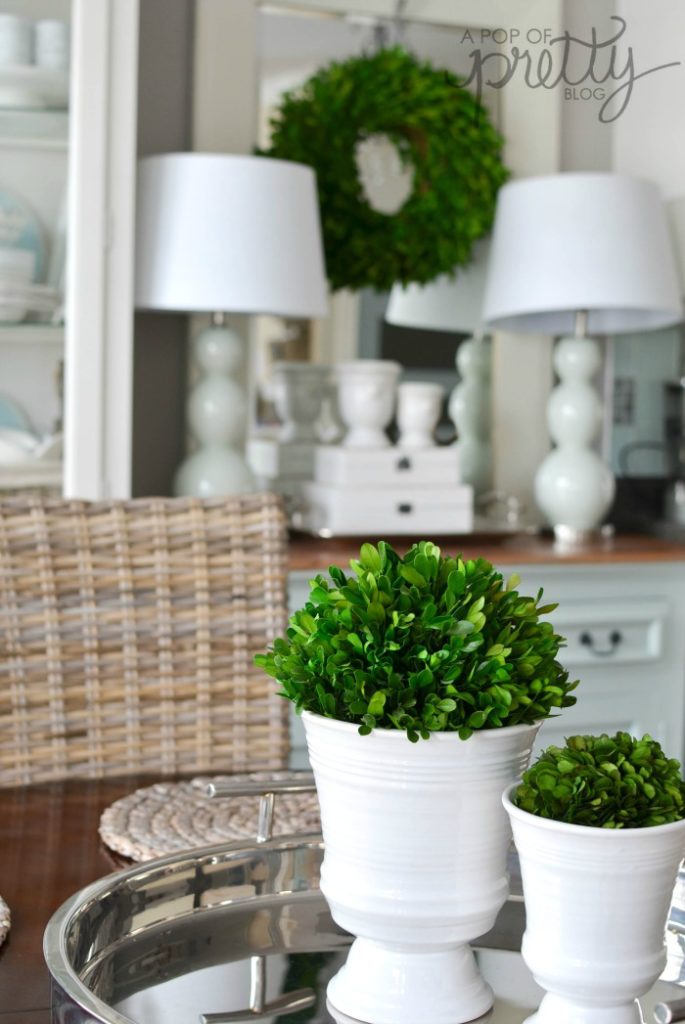 In the living room, most of the furry toss pillow covers have been replaced with linen or cotton ones.  I did leave out the blue velvet ones because, well, I love the intense pop of colour they give the room.  I also love how the texture contrasts with the linen pillows.  I left one furry throw on the sofa, also because of the texture it gives this room.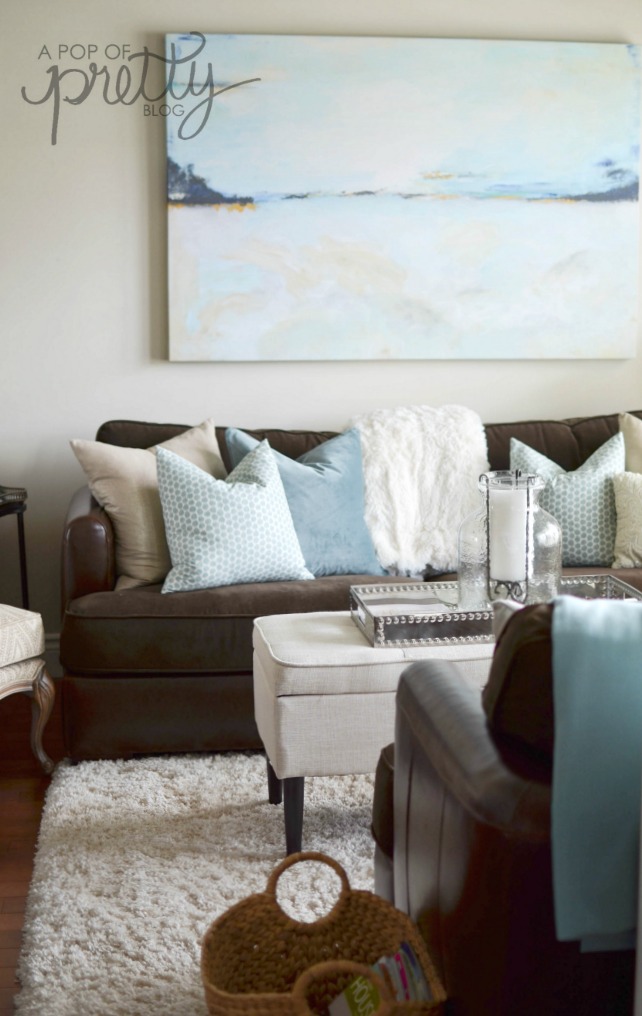 Now, on to the backyard! Since most of our family's time is spent in the backyard, my summer decorating tends to be focused out there.
We put a lot of thought into how to make our back deck a cozy gathering place. Our sectional sofa and propane fire pit are new investments this year.  I'm so glad we did as our family is pretty crazy about this space. From here, we can sit and watch the kids and their friends while playing in the trampoline or swing set.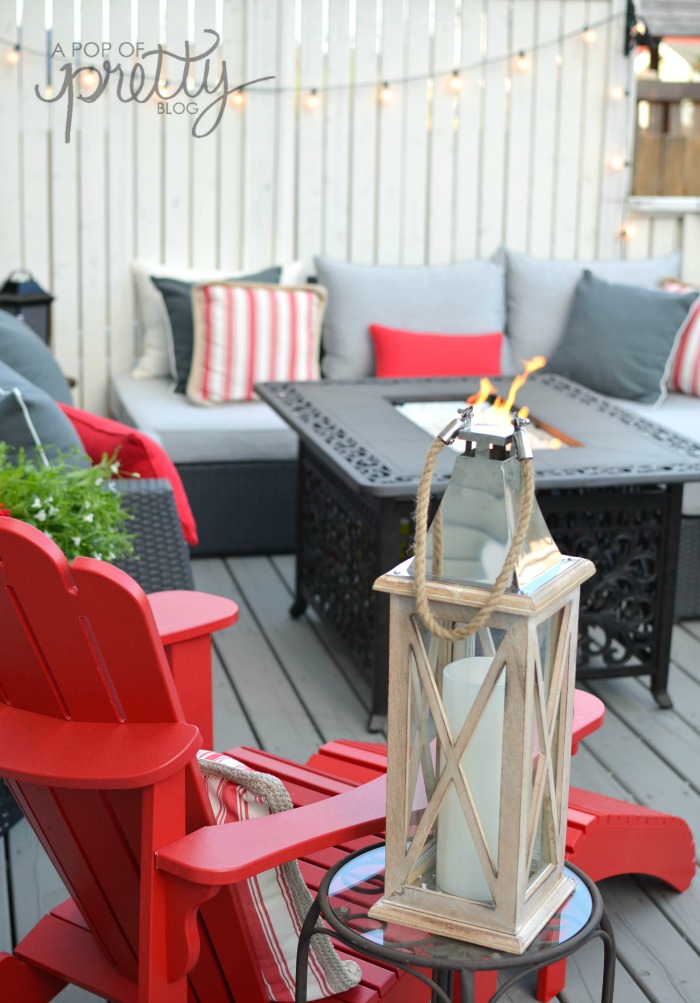 As you can see, just like the front deck, the back deck also has some fun colour.  I used our red adirondak chair as a jumping off point for the toss cushions.  I love how they accent the light gray cushions on our outdoor sectional.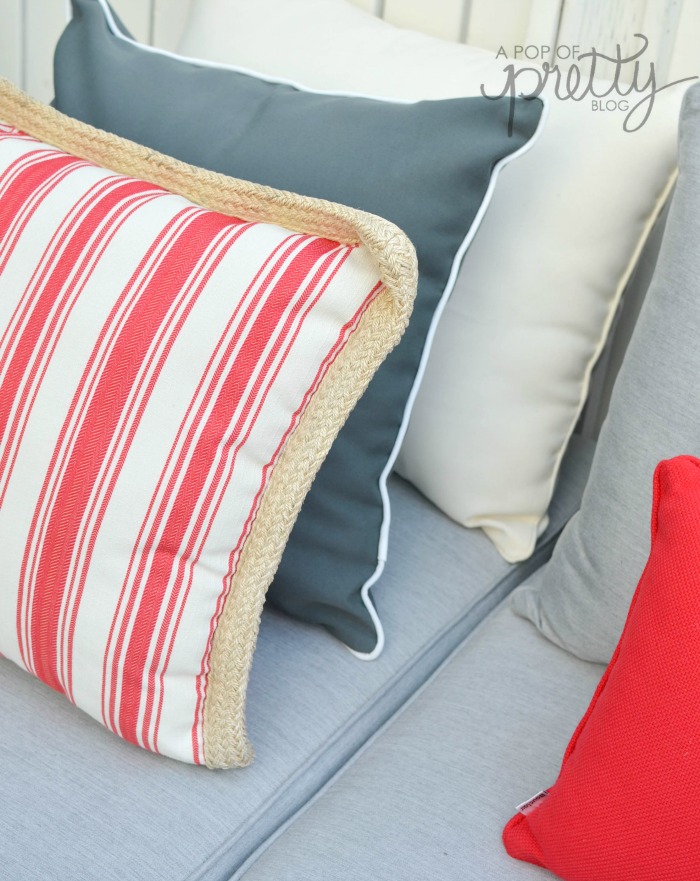 You'll find some nautical decor touches out here too.  I just can't help myself.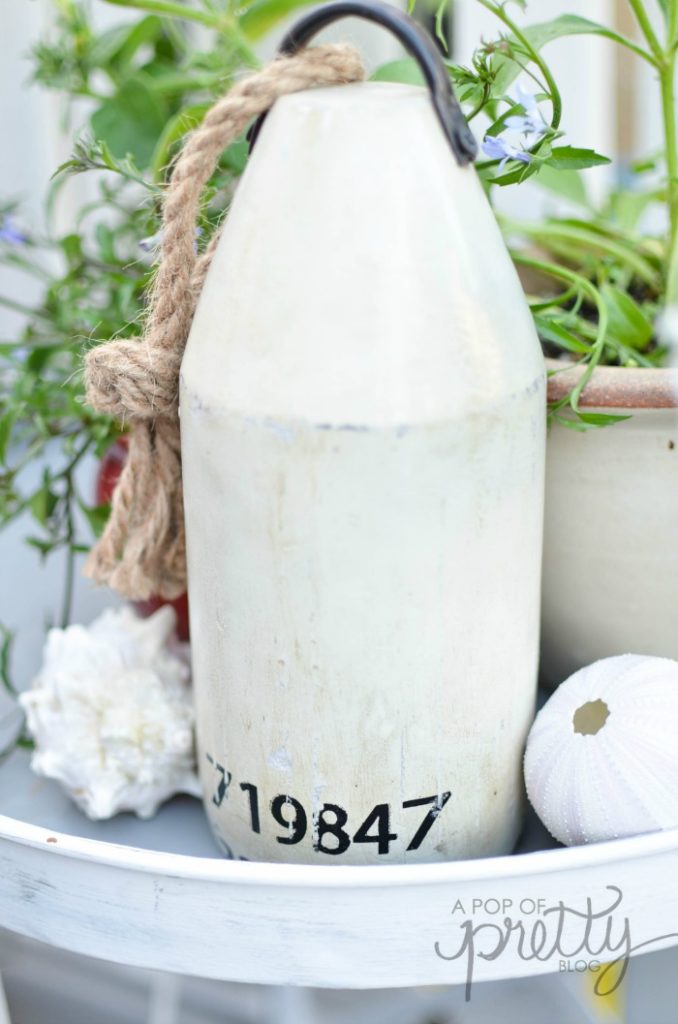 It was easy to add some cozy charm to the space at night with the glow from a simple string of lights (from Walmart) and the fire pit.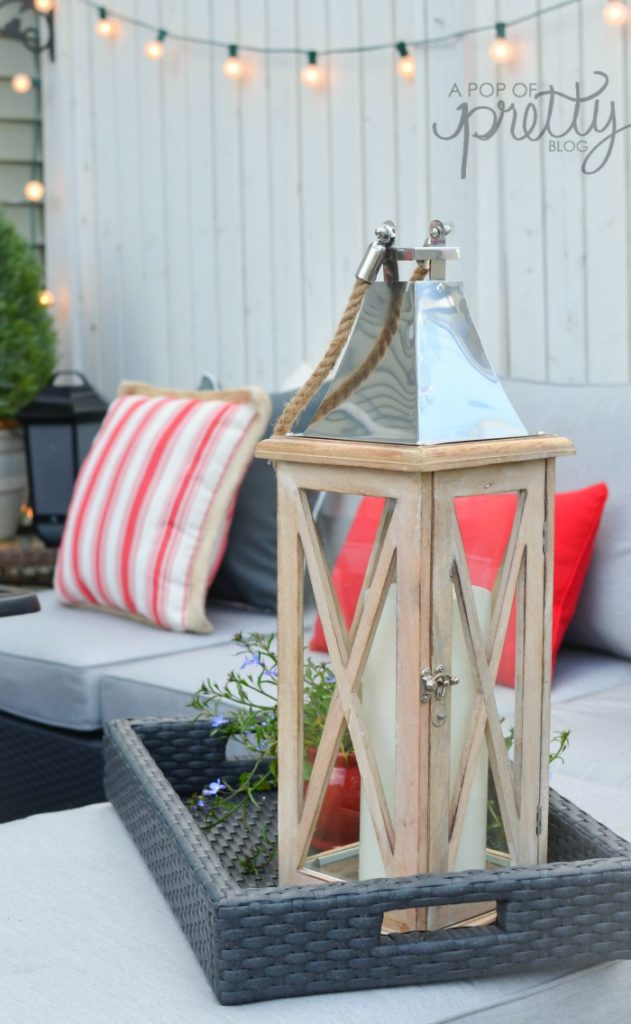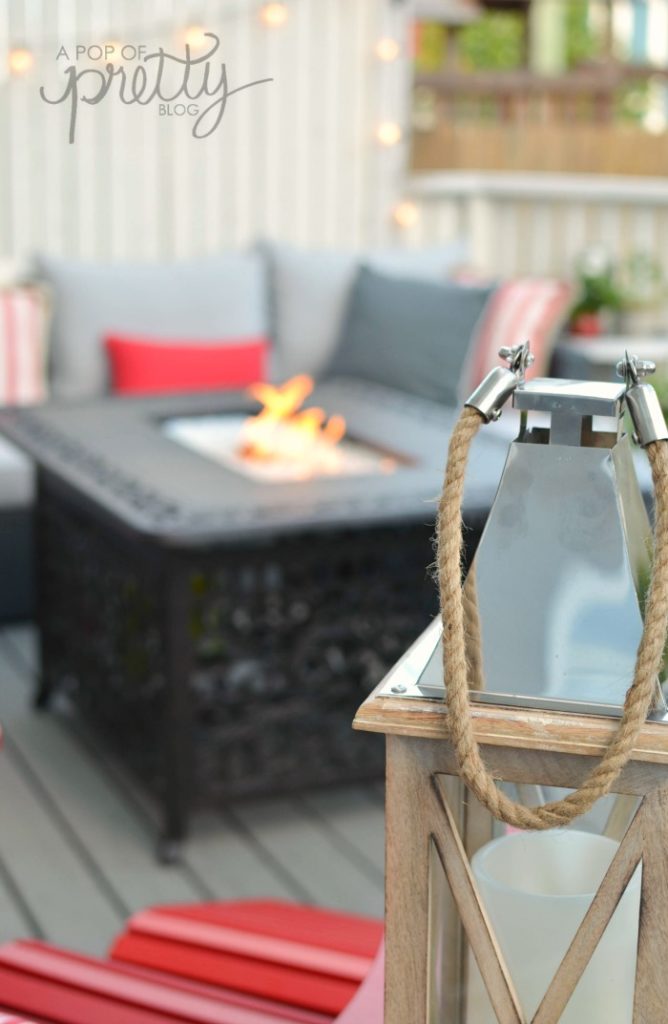 The fun thing about this fire pit (from Costco) is that it doubles as a table when the fire is not being used.  There's a cover that fits right over the fire area.  So the kids can have snacks or play with their toys on it.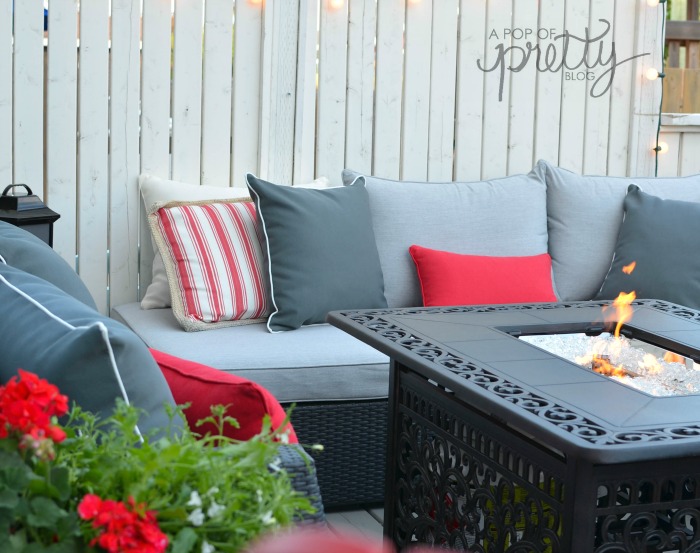 OK, and I have to ask.  Who else plants flowers that match their outdoor decor?  See, I knew I couldn't be the only one!  Is it so crazy to like things that match?  OK, well, maybe just a little.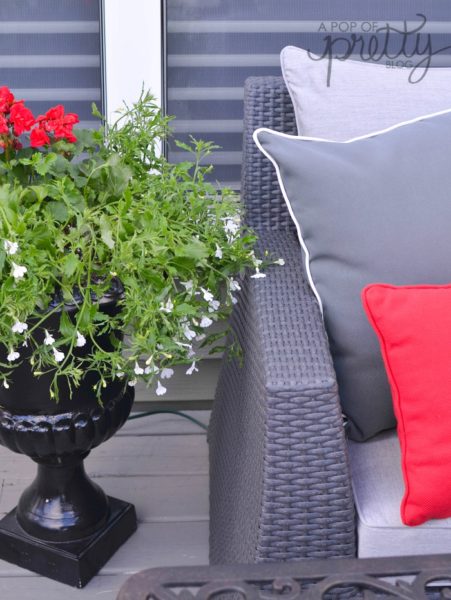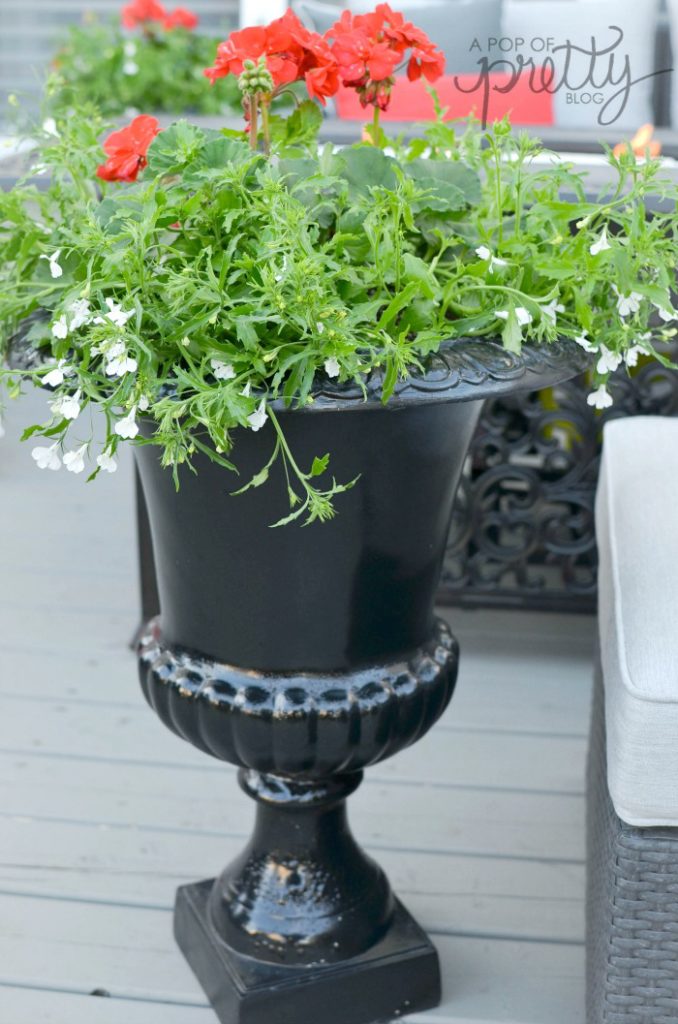 Even the flower box on our shed got in on the red and white action!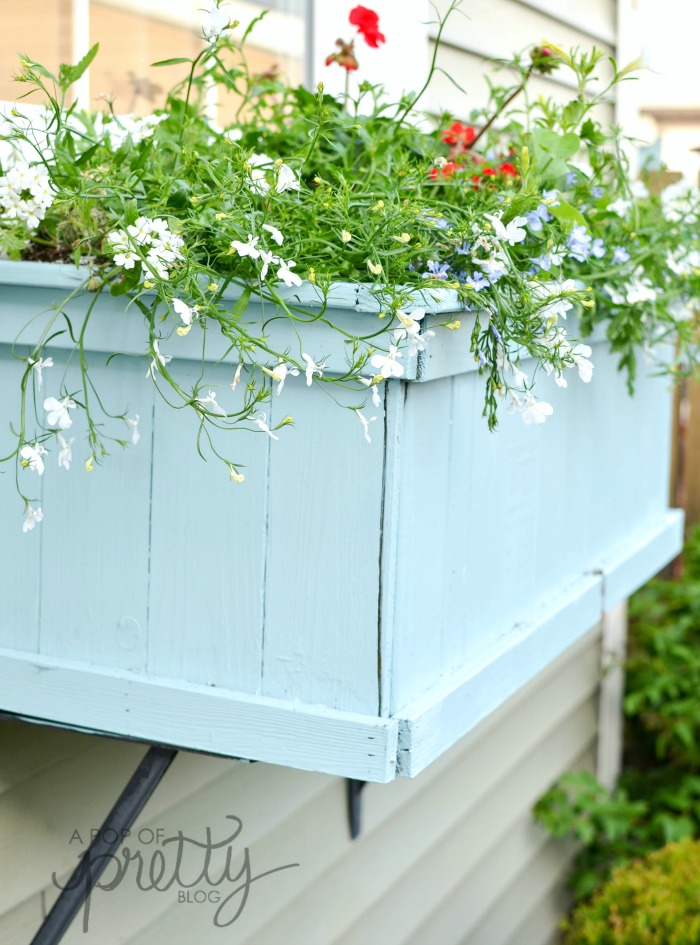 Thanks for taking the tour!
Did you see something you liked, and would like to pin it?  Here's a couple of easy peasy pinnable collages you can use that capture the details of both outdoor spaces.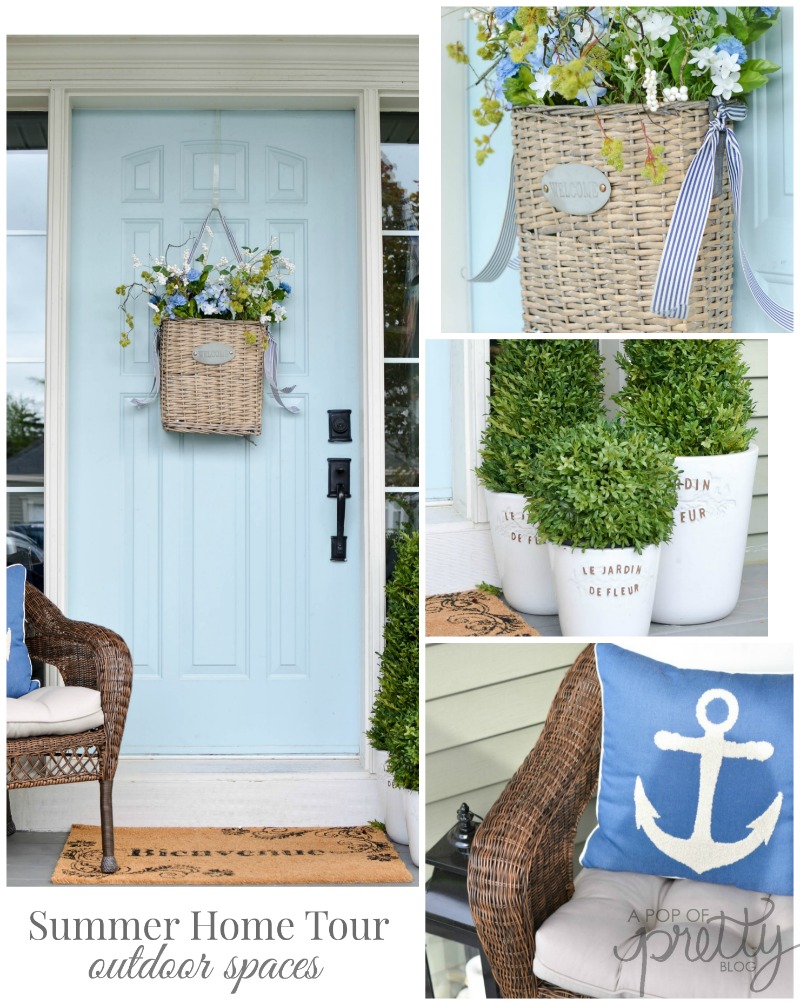 Now on to the really fun part! There's lots more summer decorating inspiration to be had at the other Canadian homes on today's Canadian Bloggers 2016 Summer Home Tour. You'll find all the links below to take a tour of my uber-talented Canadian blogging friends' homes:
A Pop of Pretty (Yup, that's me!)
So what kind of changes have you made around your home this summer?  Do you have an outdoor space that you've been sprucing up?  Do tell.
Until next time,
K.