This post was most recently updated on September 23rd, 2019
It's Day 3 of my 31 Days Series on Vintage Decor Ads! Today's home decor ads bring us back to the era when colored bathroom fixtures reigned supreme.
I've gotta tell ya, I had a hard time even bringing myself to post these two ads as I'm still pretty traumatized  by renovating the bathrooms in our last house a decade ago. It was a late 1960s bungalow.  Enough said.
Let's just say the fixtures in the main floor bathroom were salmon pink, and the basement's were a sickly shade of baby blue. That is, before we took a jack-hammer to them!
When you think about it, the whole concept of coloured plumbing fixtures is kinda perplexing.  I mean, shouldn't a toilet be inconspicuous?  But I guess it was a sign of the times. Although pastel bathroom fixtures had been around since at least the 40s, in the 60s, the colour choices were amped up (in obnoxiousness, lol). The '60s was a rebellious era of self-expression in all facets of life, so I guess it shouldn't be surprising.
This first ad (above), with the headline "The wild one", is for a "sporty" avocado kitchen sink – apparently one of 6 Fiesta colours available.  It even came with a "souped up instrument panel" that allowed you to "leave dullsville behind"!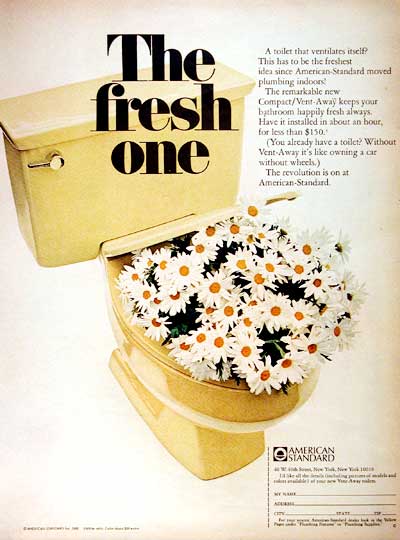 The second ad "The fresh one" features a lemon-coloured yellow toilet. (Because everyone should have a toilet the colour of pee, right?  Sorry, I couldn't resist.) But the real kicker isn't that it's yellow. Nope, folks, the real selling feature here is that it is a "self-ventilating" toilet.
The copy reads, "the remarkable new Vent Away keeps your bathroom happily fresh always."  It's too bad that American Standard invention hadn't lasted longer.  I think we'd all be lining up for one (but in white not yellow, lol).
(You might also like the first ad in my Series, one for the coloured toilet seats and adhesive toilet vinyl!)
I promise I'm not making this stuff up, people.
Hope you've enjoyed these!  Hope to see you again tomorrow,