This post was most recently updated on September 23rd, 2019
Welcome to the second ad in my "31 Day Series" on Vintage Home Decor Ads!
If you missed the first one, just click on yesterday's post when you're done here.
Today's ad is from the late 1940s and it's a blast (literally):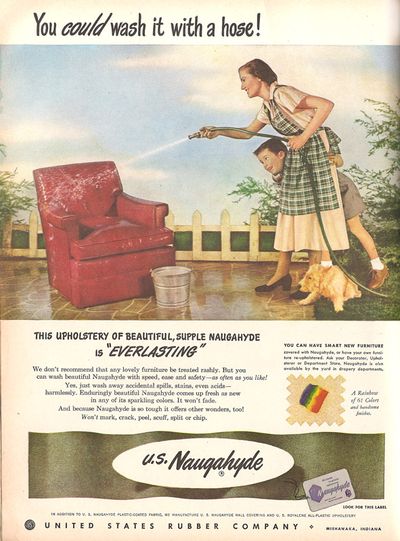 Upholstery that you can clean with a hose? Sign me up!  With 2-year old twin boys and two 80-lb furry beasts, I could use me some of that!  Funny, I checked their web site (yes, this fabric is still used today…and most of us have it!), and there is no mention of using a garden hose…wink wink…
For the most difficult stains:
1. Dampen a soft white cloth with a solution of household bleach (sodium hypochlorite); 10% bleach, 90% water.2. Rub gently.3. Rinse with a water-dampened cloth to remove bleach concentration.  4. If necessary, allow a 1:10 diluted bleach solution to puddle on the affected area or apply with a soaked cloth for approximately 30 minutes. Rinse with a water-dampened cloth to remove any remaining bleach concentration.
The exaggeration used in this ad is quite hysterical.  It clearly comes from a time when functionality and practicality trumped comfort and beauty.   Nope, no beauty shots here. But, by golly, when it gets a little dirty you can haul it to the yard (along with Sparky and little Johnnie is his dress shoes) and give a good ol' pressure washing with the garden hose. That's gotta count for something, right?!? Teeheehee.
In case you're not sure what Naugahyde is, its web site calls it 'vinyl-covered fabric'.  Wikipedia describes it as an American  brand of artificial leather – basically what we all know as today as "pleather". It's  basically a composite of a knit fabric backing and PVC plastic coating.
While this late 1940s ad is a bit hokey, I would imagine it was effective.  It's message was single-focused – tough upholstery that would even last through a hose washing – and, the imagery was unusual and humourous. (Although I wonder if it was as funny at the time as it is now?!? Probably not.)
Later, in the 1960s and 70s, Nauagahyde's marketing actually managed to weave its way into pop culture with a marketing campaign that asserted (again humorously) that Naugahyde was obtained from the skin of a horned monster-like animal called a "Nauga". (Source: wiki)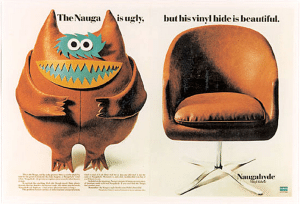 The campaign emphasized that, unlike other animals, which must typically be slaughtered to obtain their hides, Naugas can shed their skin without harm to themselves (Source: Wiki). OK, totally hysterical!  An elaborate version of this (fictional) story can still be found on their web site.  It's priceless and worth the read!
Fueled by this urban myth, the company even produced a line of Nauga dolls – ugly, horned monsters with a wide toothy grins – which became popular in the 60s and 70s.  And, yes, I checked it out…you get still get your very own Nauaga doll in contemporary colours!
See you again tomorrow when I'll throw another vintage home decor ad your way!
Until then,