This post was most recently updated on September 23rd, 2019
I'm still here!  It's been forever (2+ weeks?) since I last blogged. I've had some 'life stuff' going on, but that doesn't mean I haven't been decorating (or, I should say redecorating). Last Spring I posted a tour of our basement family room (which was later featured on Apartment Therapy Family). Back then, I shared my basement decorating ideas which included the use of colorful accents – like toss pillows and wall art – that helped made the space feel playful and fun.  I chose those bright and cheerful accessories at the time because our twins were just babies when we developed the basement, and I hung out with them in our basement family room much more often than the playroom.
.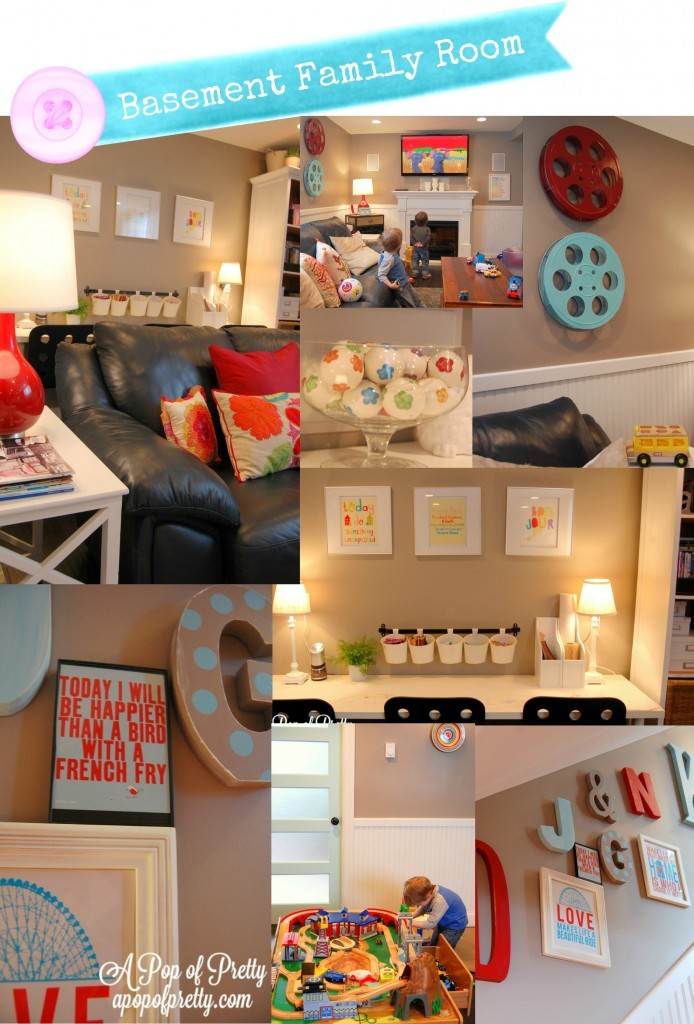 .
But, as our boys have grown from babies to toddlers and become more independent, they're now more comfortable using the basement playroom just down the hall.  That's not to say they still don't hang in the family room with their toys (we left the train table here), but the toy chaos is so much better than it used to be!
.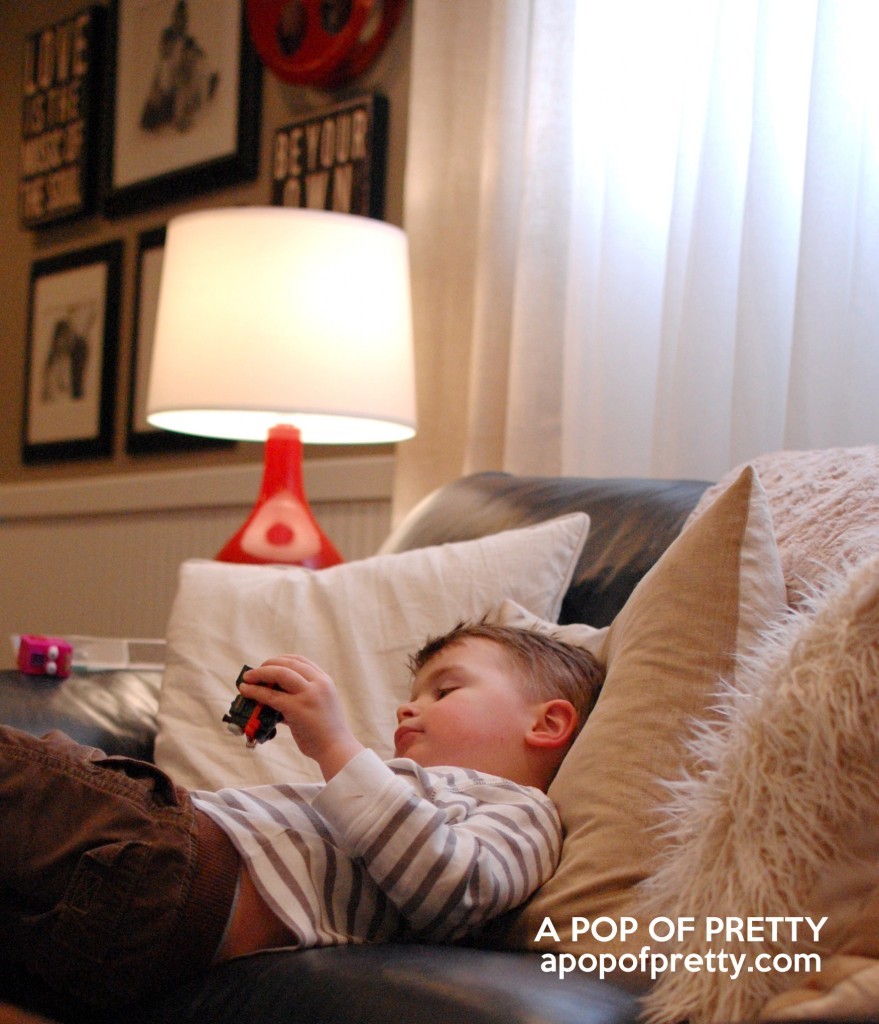 .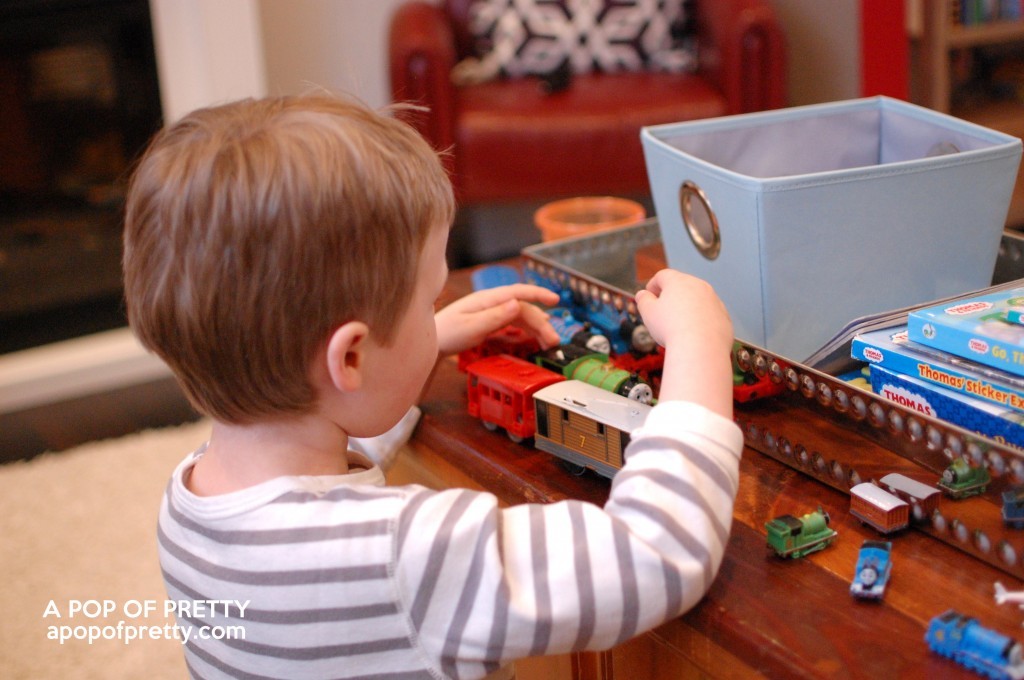 .
Since the basement family room is now used more for TV watching and hanging out than playing, I wanted to scale back on the bright accent colors, and add a bit more 'polish' to the space.  Our 10-year old leather furniture won't be changed any time soon (if ever, if my husband had the choice, lol), and we only recently painted the space, so I was limited with what I could change.
.
Some day when I can get better shots (natural light is such a problem in basements!), maybe I'll update my basement room tour. For now, here's a little look at some of the small edits that helped change the look of the room.  I bought very little; I just "shopped the house" for things I could use differently.
.
.
Toss pillows: I started by moving the colorful cushions to the kids' playroom, and rounded up these neutral ones from around the house.  Don't you just love how toss pillows can make the whole look of a room? I have an addiction to toss pillows, but they are the fastest and cheapest room makeover around!
.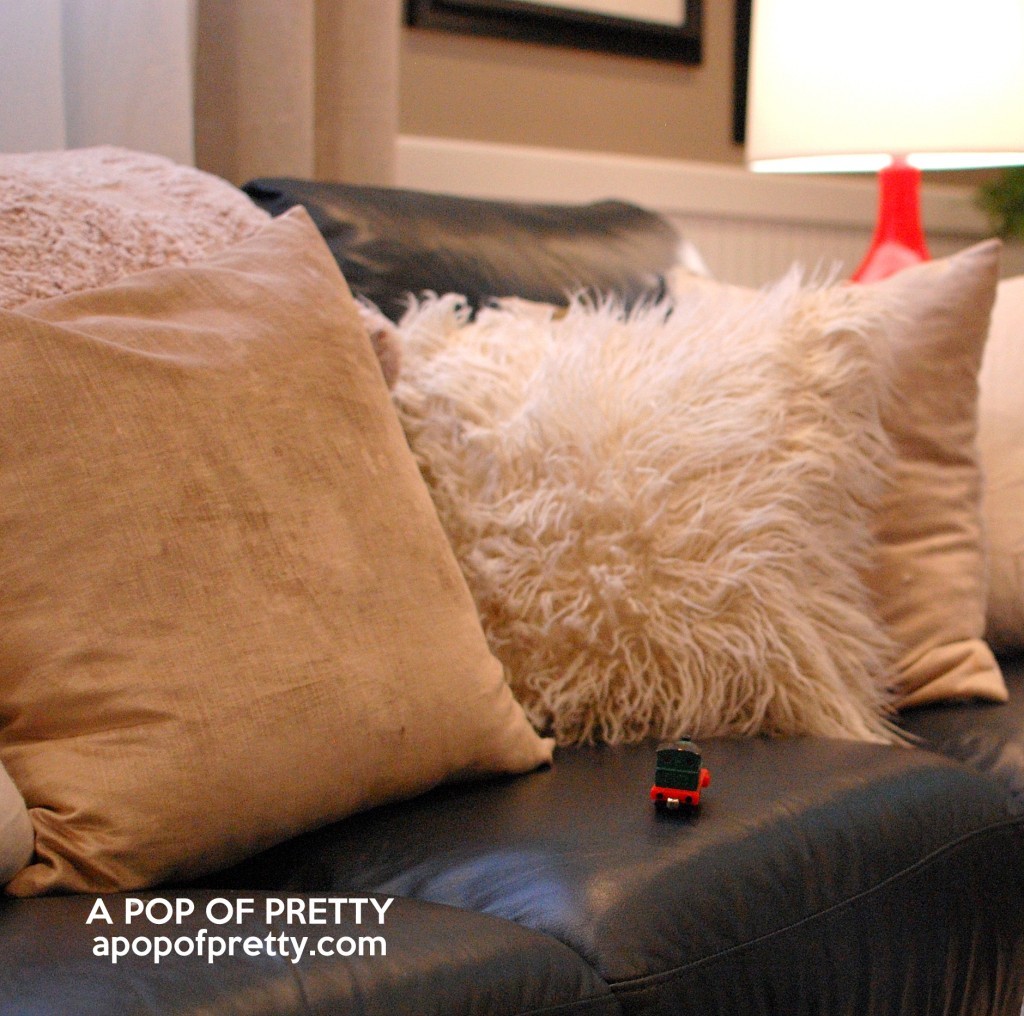 .
Rug: The rug that we had in the room before was 5×7 and was really too small for the room. An 8×10 rug helped define the space better, and the shag added additional texture and coziness to the space.  Our dog has taken a liking to it!
.
.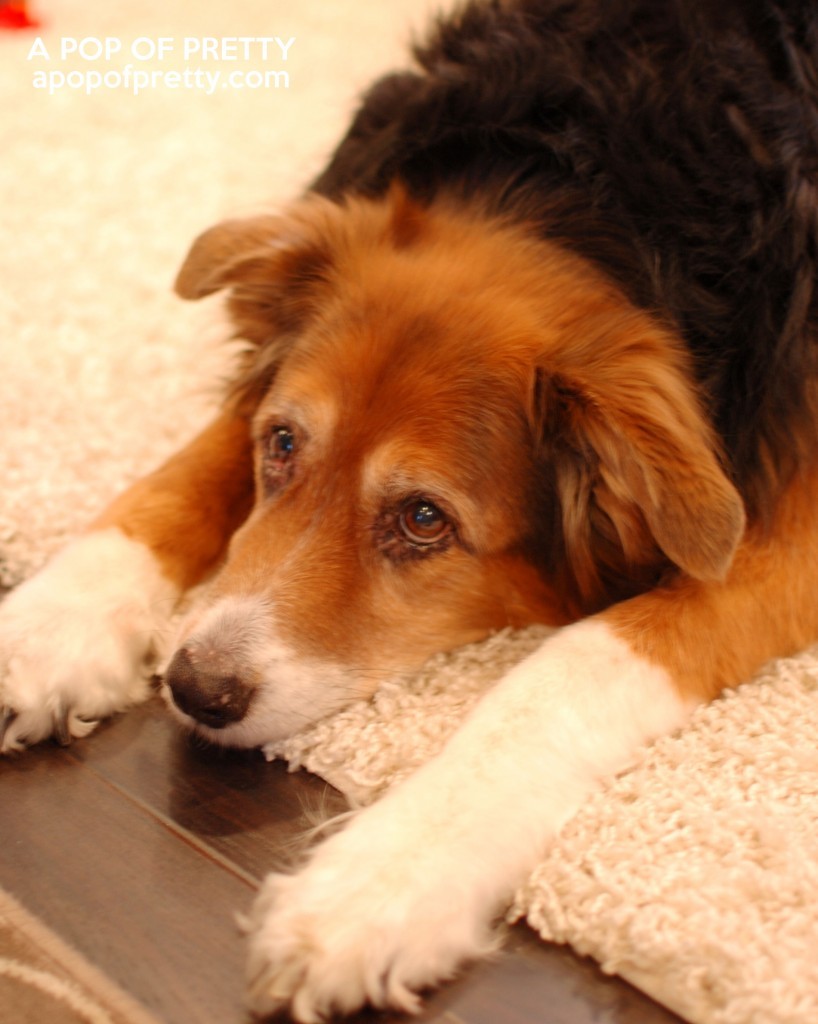 .
Drapery panels: I added neutral linen panels to each side of the window which helped to frame it better, and created some additional texture.
.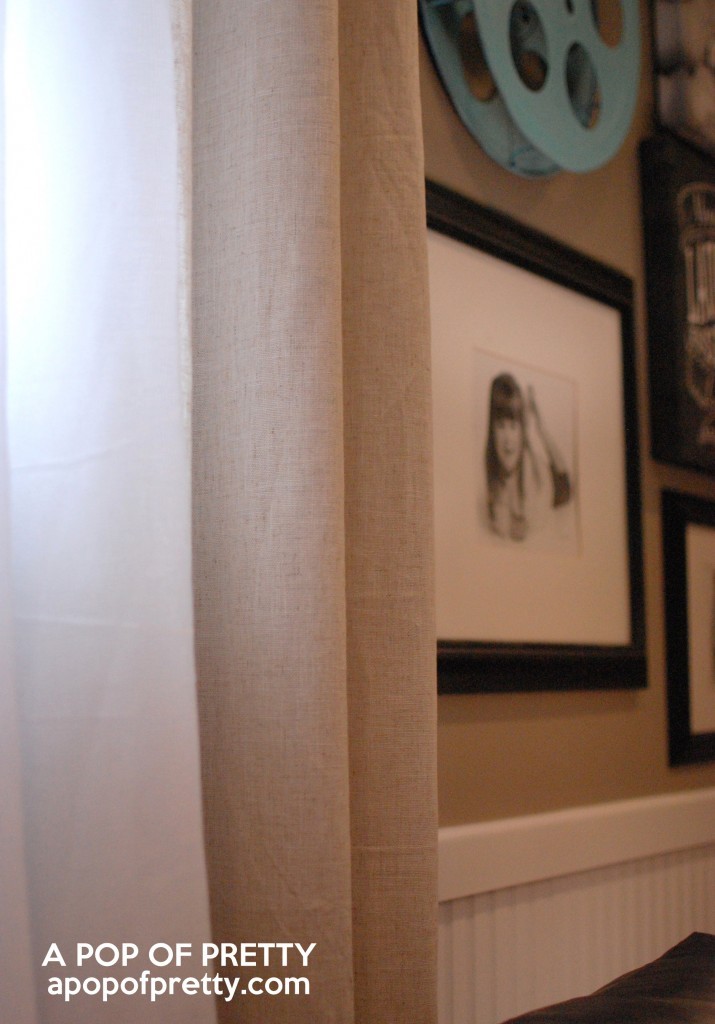 .
.
Black & White Wall Art: The colorful art that was on the walls before was super fun, but but didn't 'ground' the room like black and white art can. So I added a gallery wall to each side of the window with black & white canvases, and b&w family photos in gallery frames. I still love my colorful movie reels (which I spray painted in aqua and red), so I added one to each art grouping.
.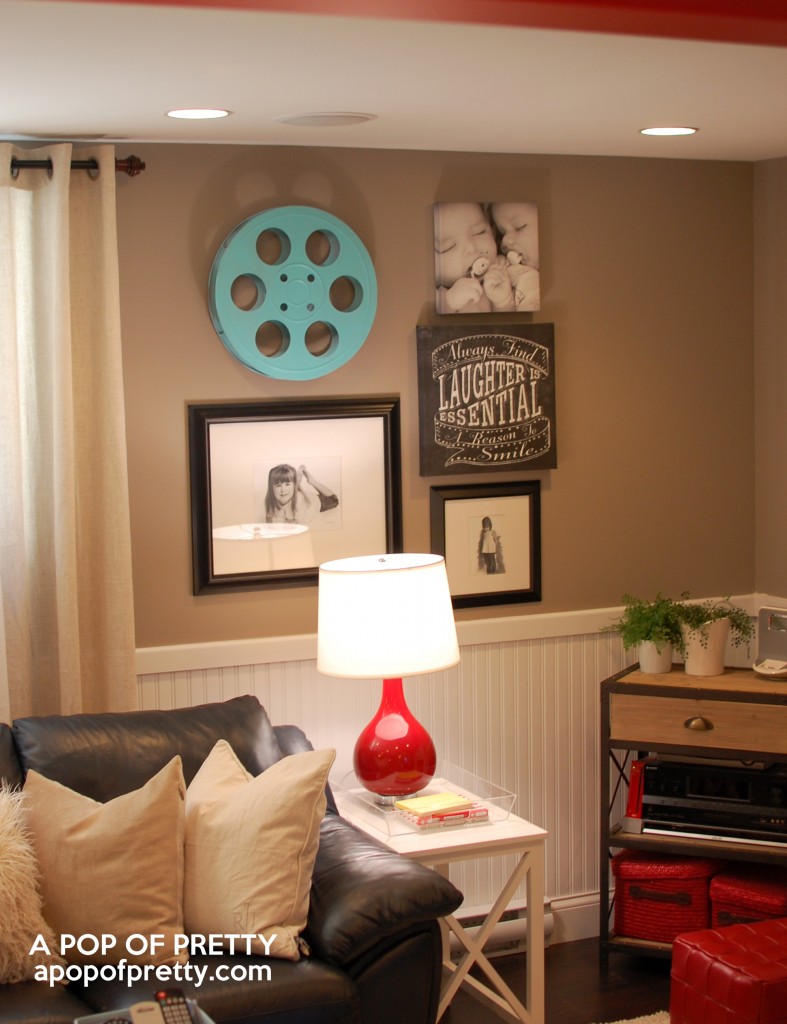 .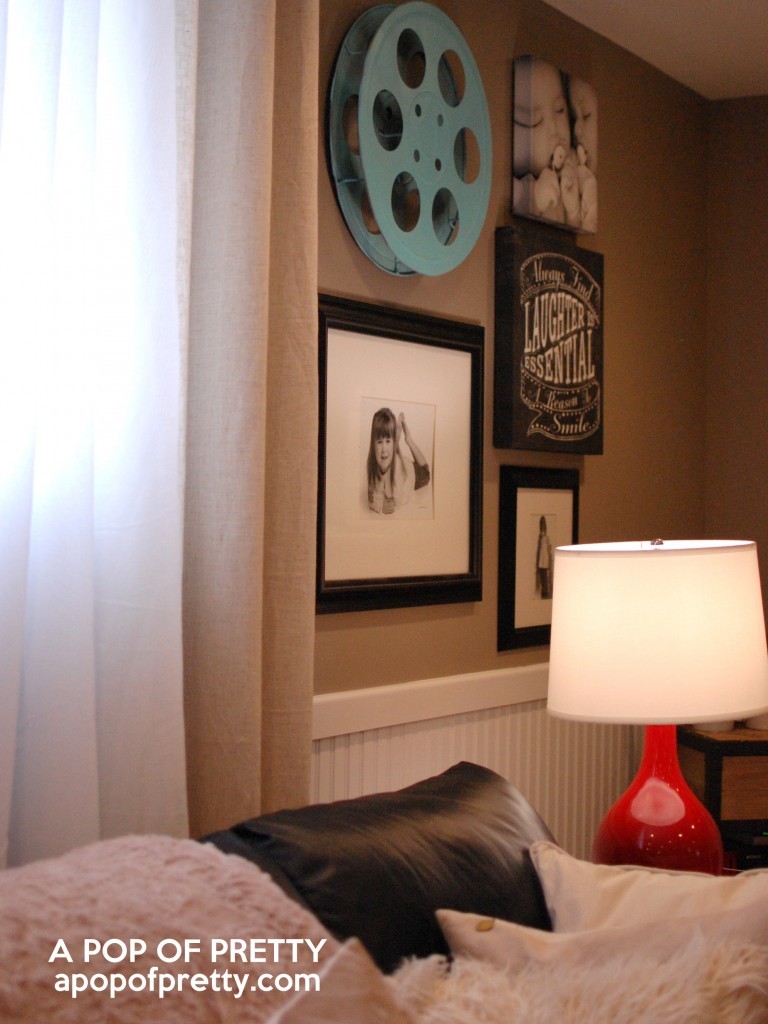 ..
.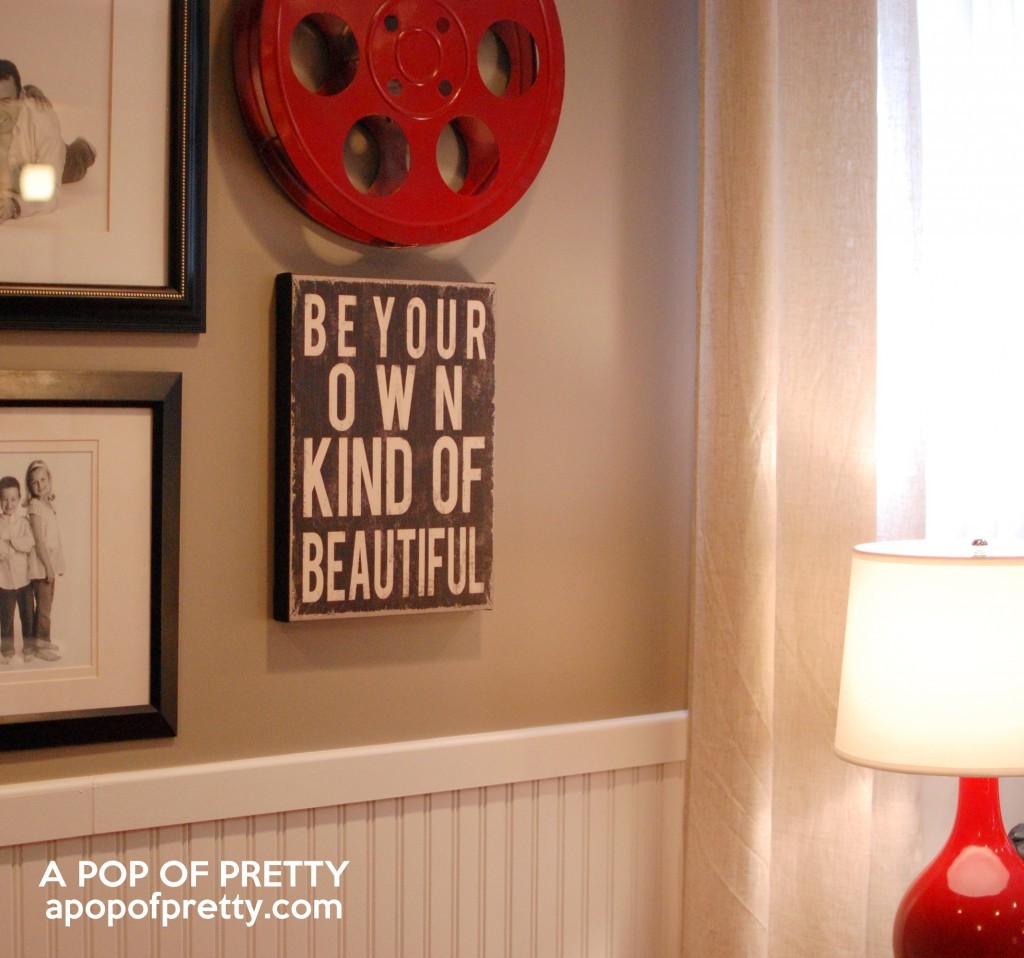 .
Reflective surfaces: Adding soft textures (like the linen drapes, mohair pillow, and a shag rug) helped to create more coziness, but to up the 'polish' factor, I also tried to bring in some pieces that had reflective surfaces.  I already had these red ceramic gourd lamps down here, but I added plexiglass trays on each side table.  They add a bit of modern flair, but their functional purpose is to help the lamps stay on the tables and not on the floor!  (I put non-slip rug liner under each lamp, and under the trays too.  I might even resort to my glue gun to keep them safe, lol.)
.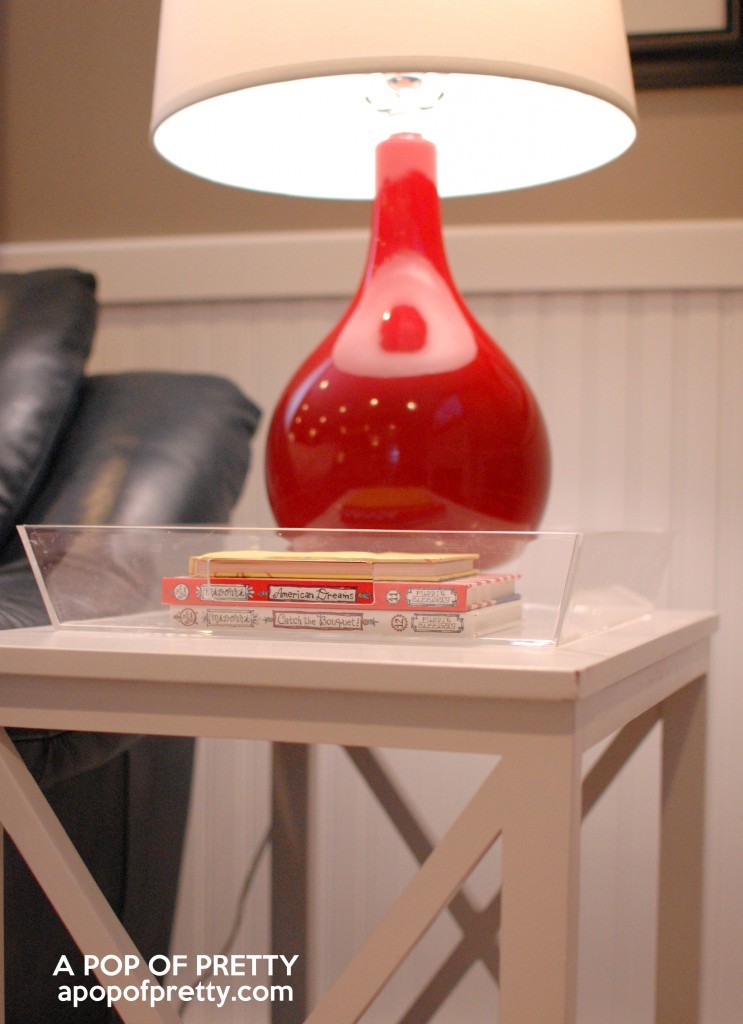 .
Geometric prints: To keep the room feeling modern (despite the decade-old furniture), I also brought in some geometric prints, like this toss cushion that I scored at HomeSense…
.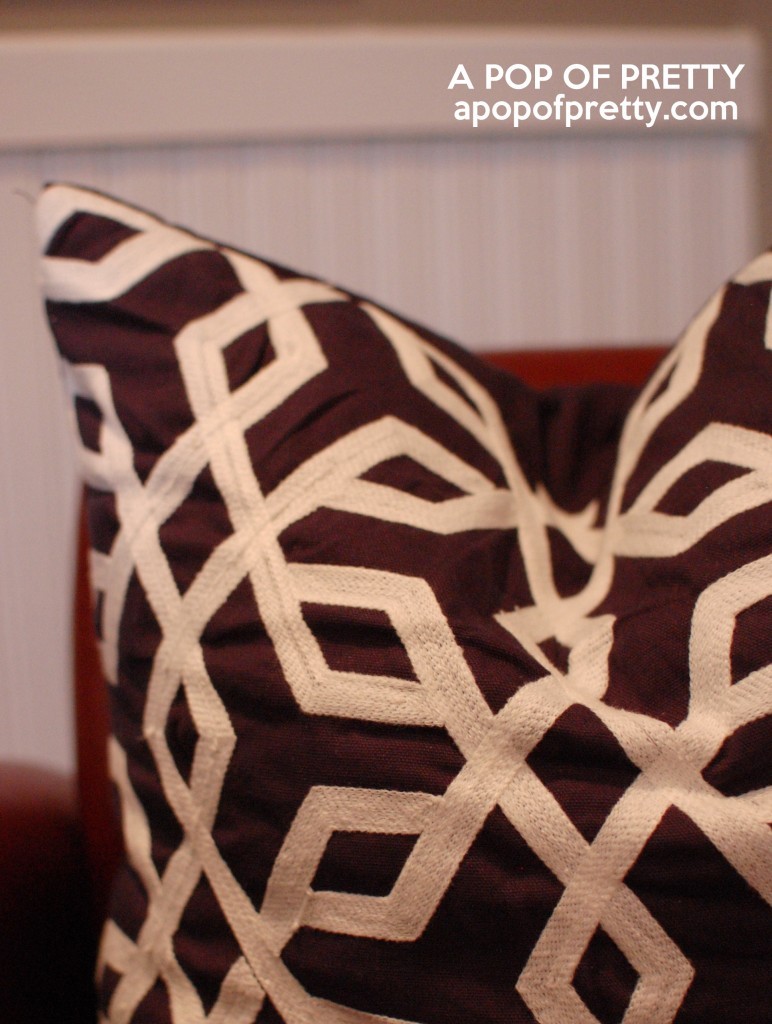 .
So, what have you been up to, lately?  Any fun re-decorating projects?
.
Until next time,