This post was most recently updated on September 22nd, 2019
Hello, my friends, and welcome to my second edition of House Peeping where I'll give you a little your of my very own basement family room renovation!  (Here's the first, in case you missed it: My Sister's 'Tuscan' style home in Nova Scotia).  I haven't shown you much of our basement since last summer when we finally finished the renovations. (You can see that original post here: Our Basement Reno).
That's because it typically looks like a toy bomb went off down there!   And in case you don't believe me, I've included proof (see right)! If you have small kids, I'm sure you get it.
As well, I am still terrible at taking photos in low natural light, despite immersing myself in a few tutorials.
I've determined that neither of these limitations is going to change any time soon – hey, what can I say, I'm a realist. So if you can ignore them like I've chosen to, then I thought I'd share a bit of the space where I spend most of my time with our kiddies.
It's still a work-in-progress, but it finally feels like the space is coming together.  I wanted the basement to be a bright and cheerful space that our kids would love to spend *LOTS* of time in.  That means that things stay more tidy upstairs, not that I had selfish motives or anything ;-).
So I kept the style of the basement very whimsical and playful, starting with the stairway.  I posted about this alphabet stairway wall awhile back, which includes each of our initials. If you want to learn more, you can find that post here: Our Alphabet-Inspired Basement Stairway.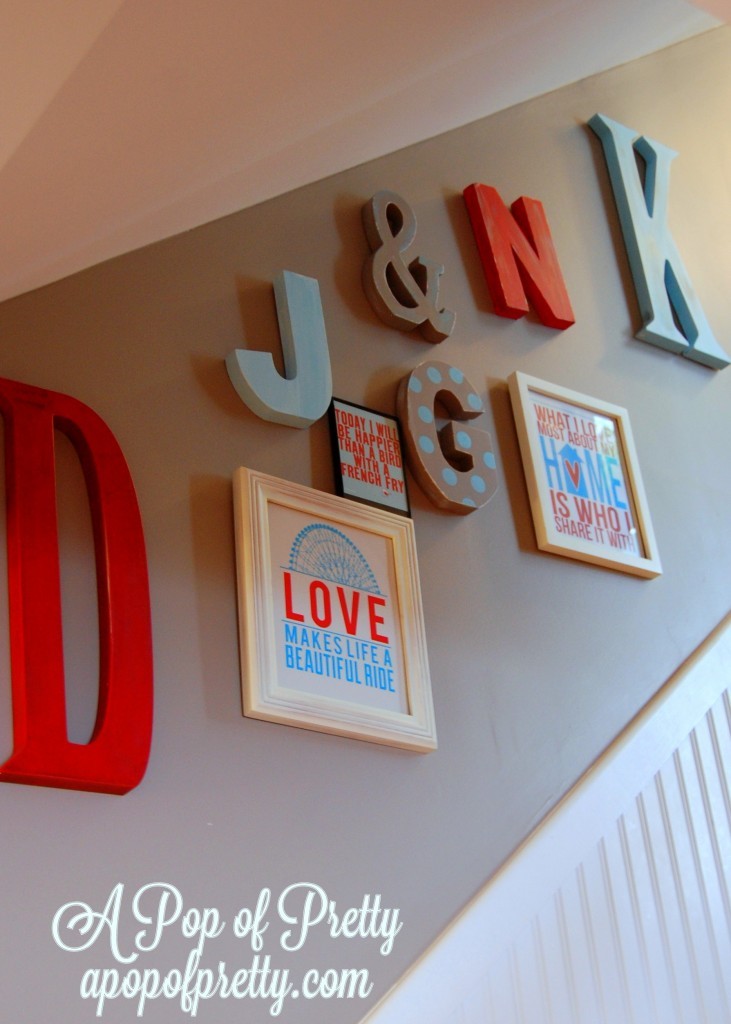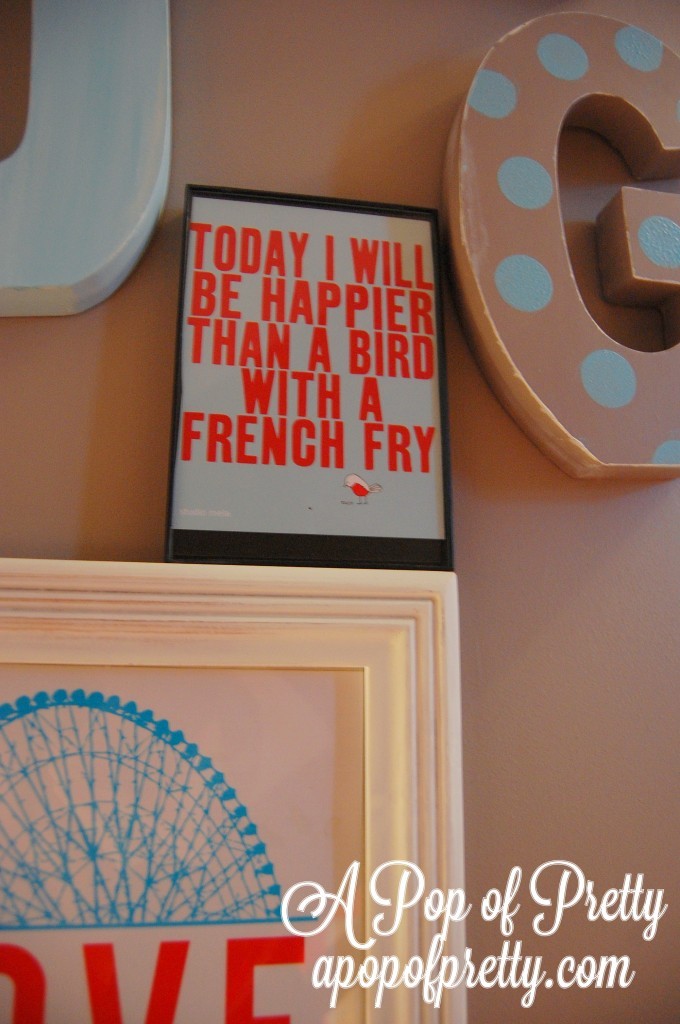 When you reach the bottom of the stairs, this is the typical scene.  Anybody who has had a 2-year old boy will know it well!  What is it with toddler boys and Thomas the Train, anyway?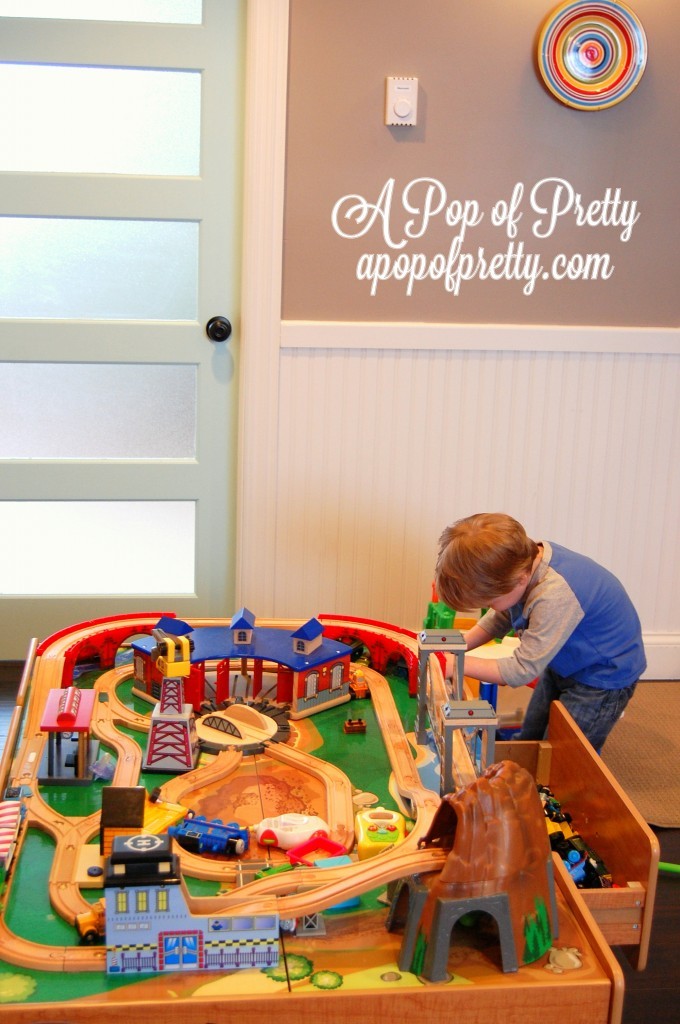 Even though the boys have a large playroom in another area of the basement, the busiest room on this floor is our TV Room.  Big surprise there!
This is where they should be playing…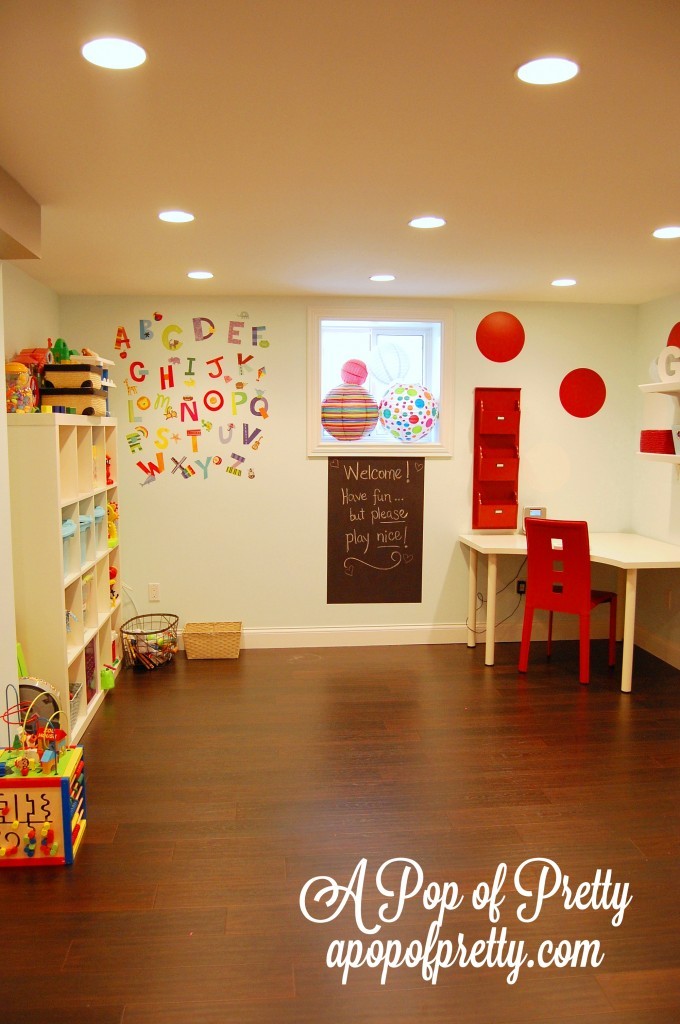 But, alas, this is where  they, and their toys, always hang out.  I fought it for awhile; then, I just gave in.  I find that's always the ways things work around here!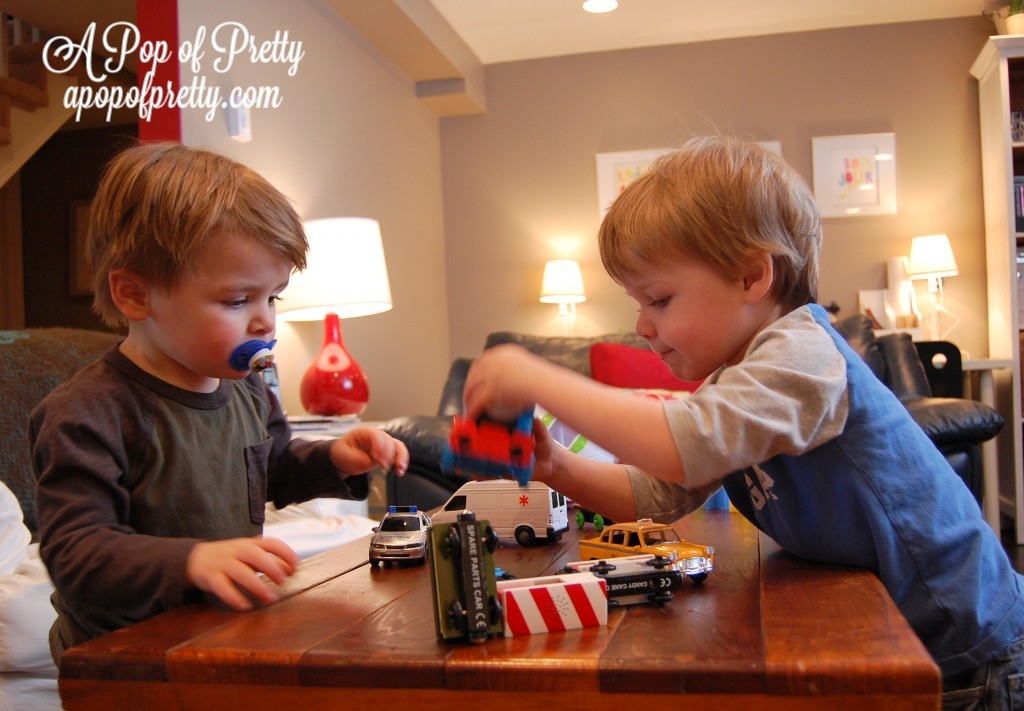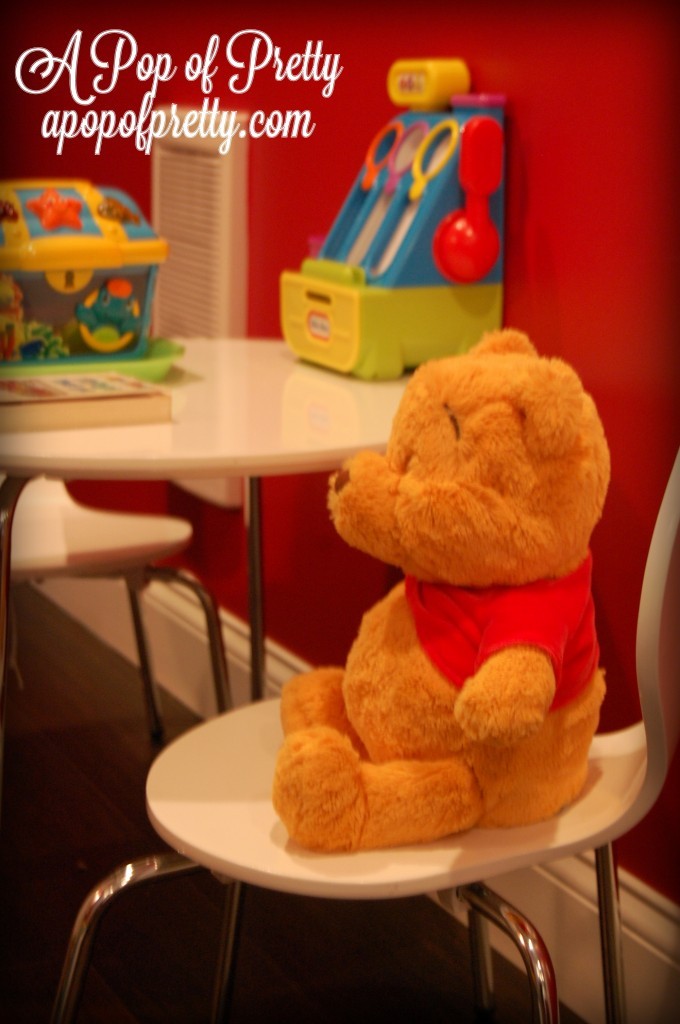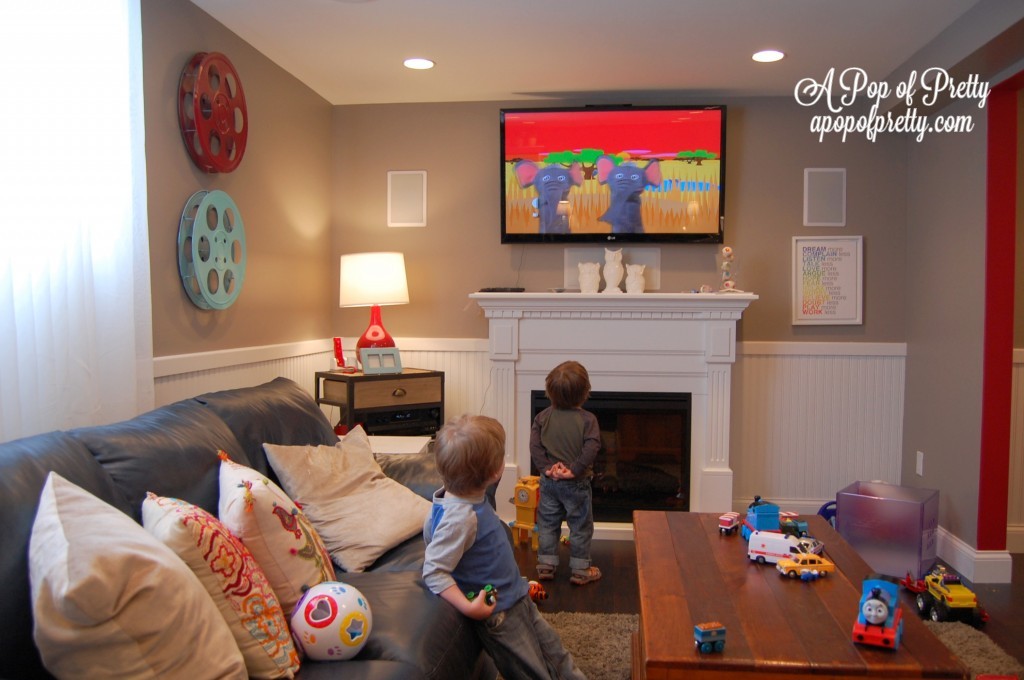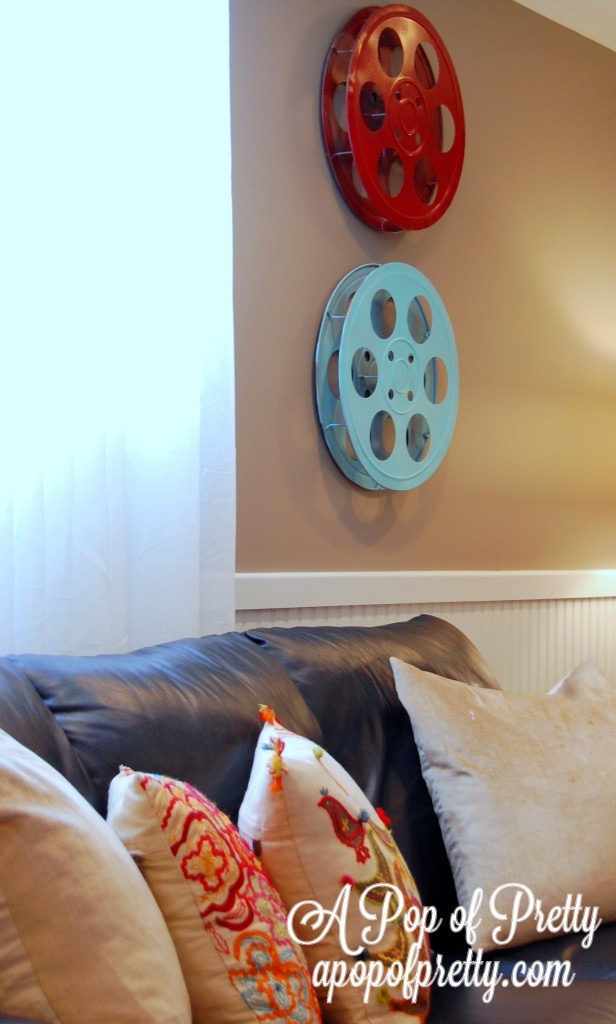 At the other end of the room, I've been working on putting together this little craft area for them.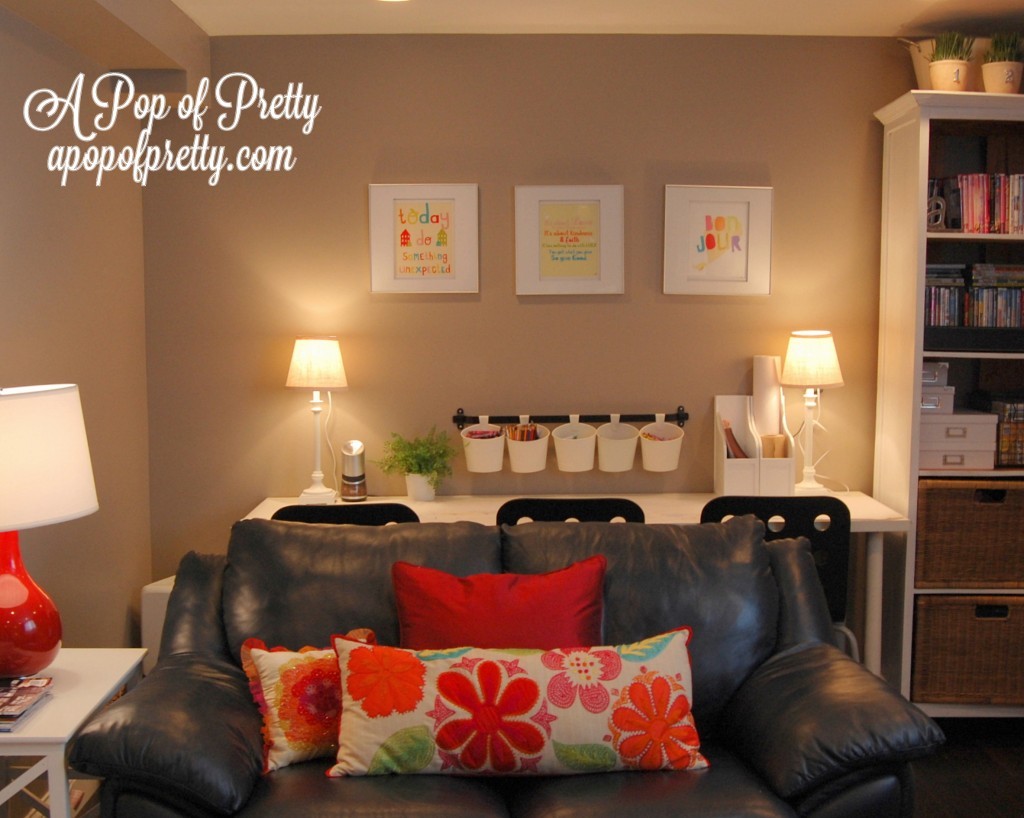 Our nearly-8-year-old daughter loves art.  So, having easy access to her supplies was important to her.  This wall storage system from IKEA is a great solution because it keeps her coloring leads and markers within her reach, but out of our two-year old boys' hands.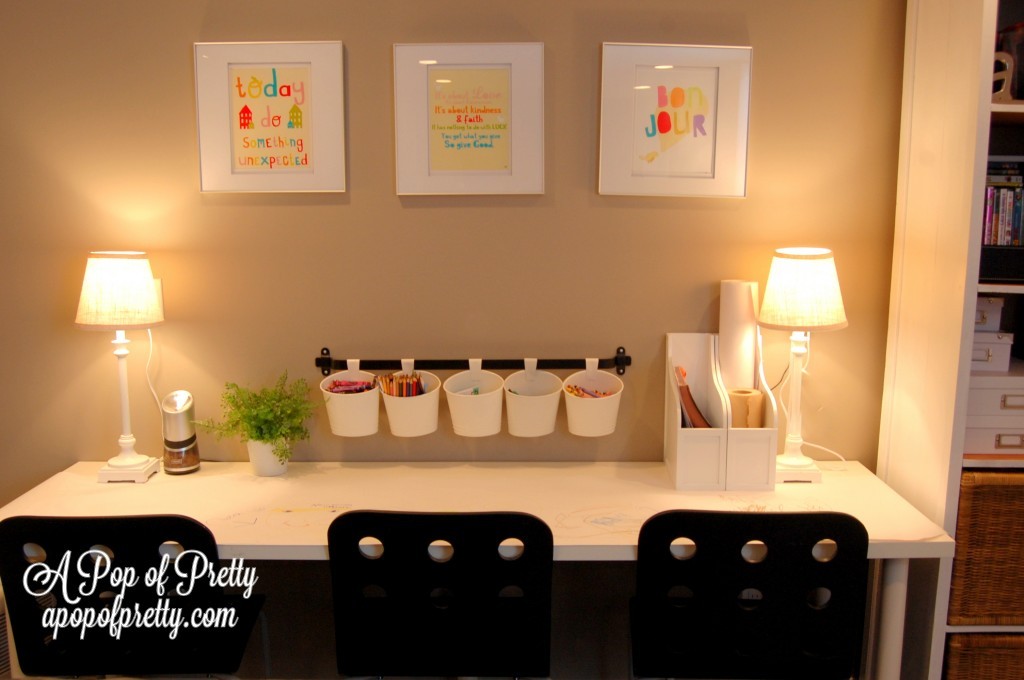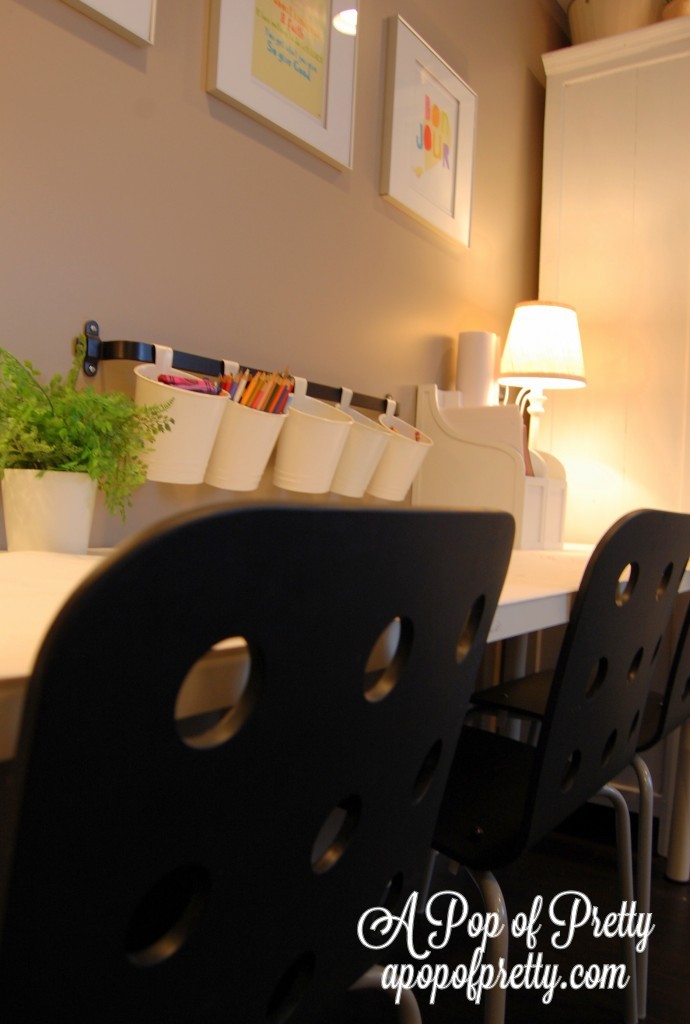 I usually cover the table with a long piece of paper (from a paper roll) so that the boys can sit with their big sis while she's drawing.  They have a ball coloring on the paper with their crayons .  It's always fun to see what everybody's contributed at the end of the week!  Sometimes Mommy even gets in on the action.  Hey, there's nothing like a little crayon therapy!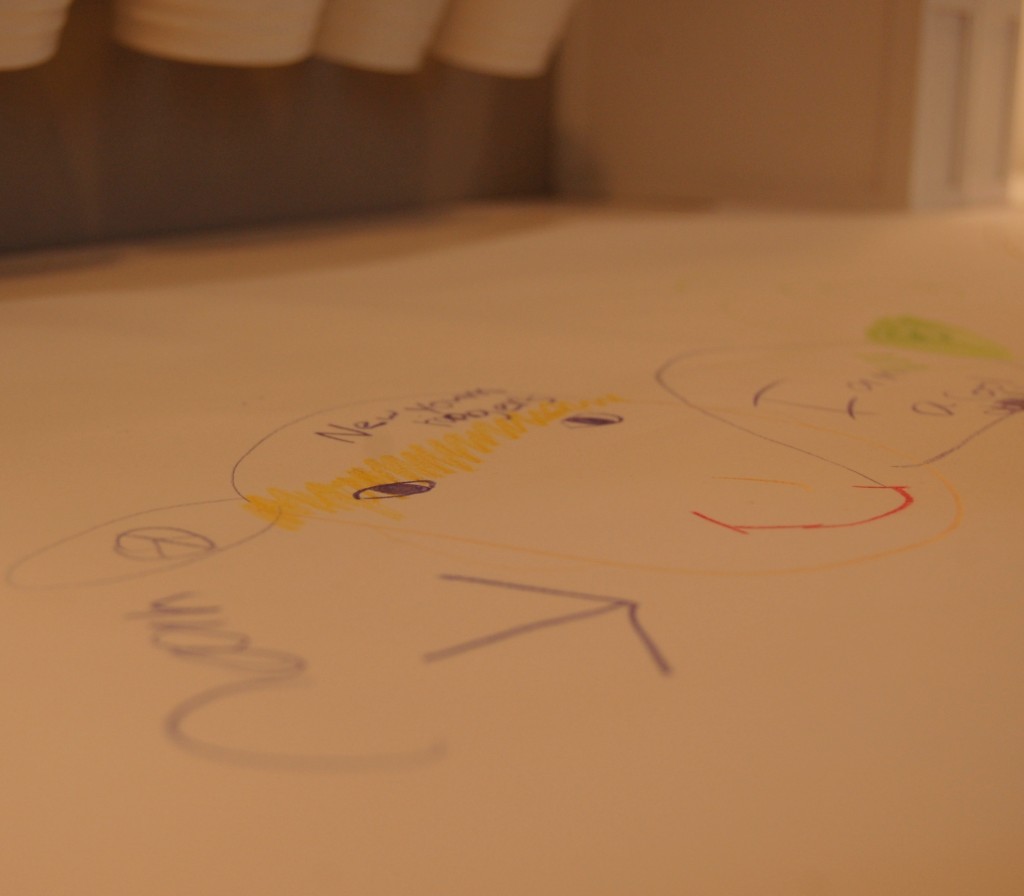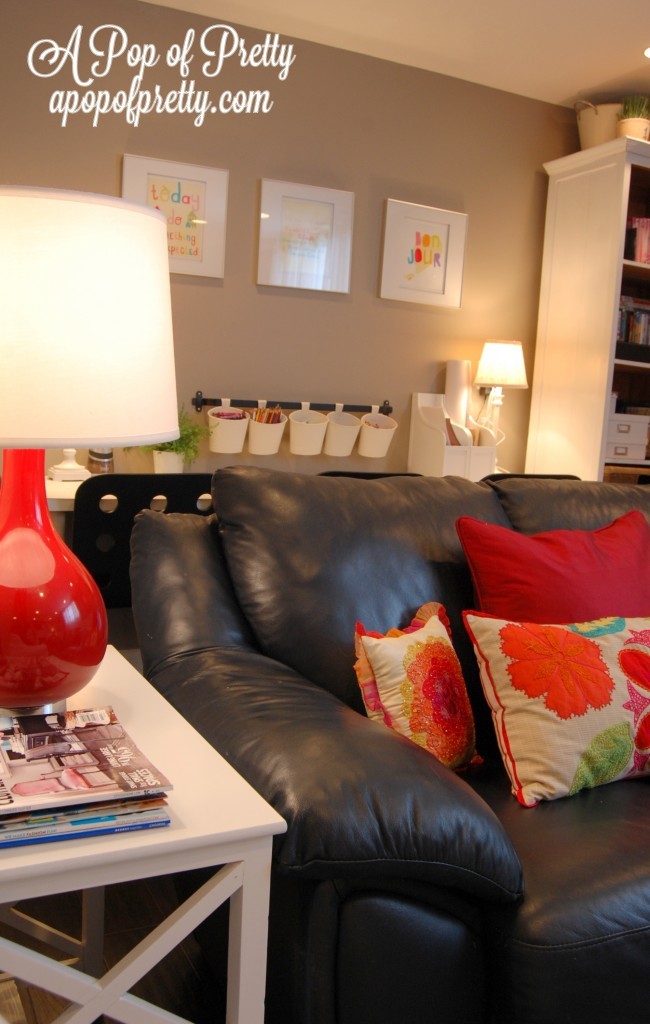 I painted a lot of our older wood pieces white for the space, including this bookcase.
Having white furniture, as well as the white beadboard, really helps to brighten the space.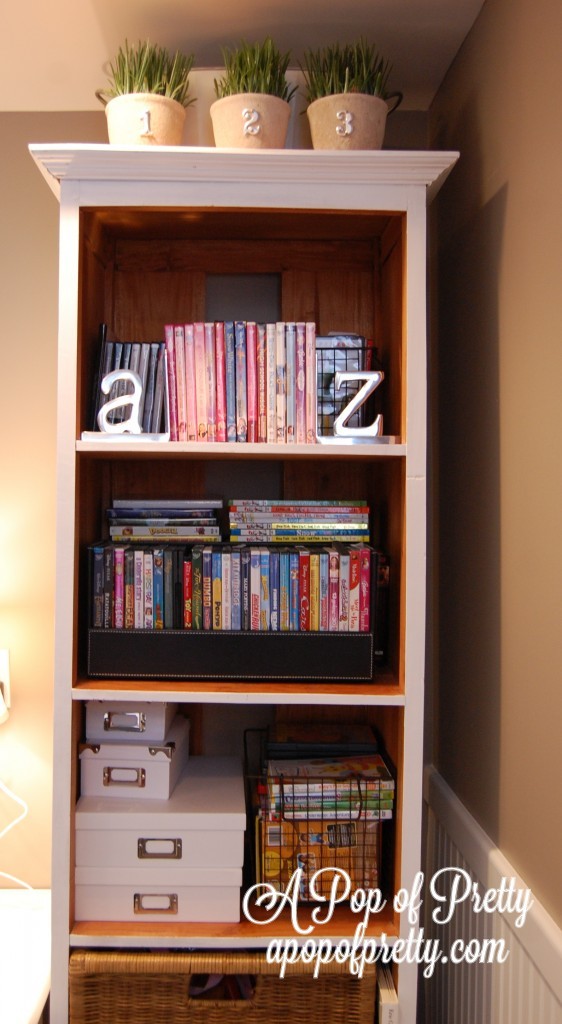 The only piece that I've been hesitating to paint white is this old wooden trunk that we found at an auction years ago.    The boys use it as a race track for their dinkies, lol.  I'm not sure why, but there's something that's holding me back from putting on that first lick of paint.  What do you think?  Paint it or not?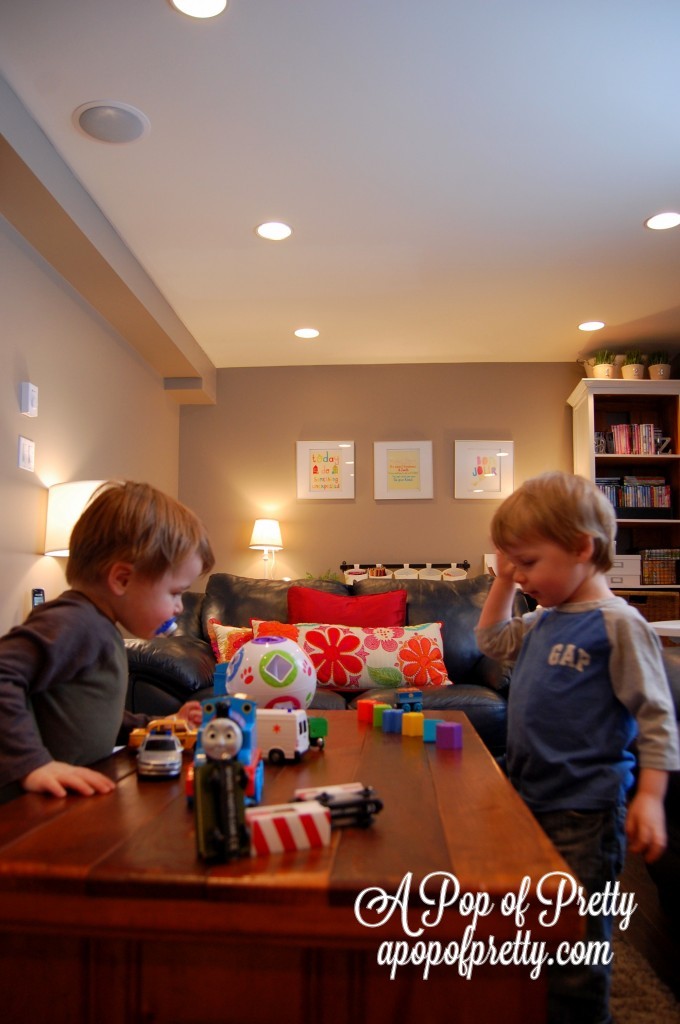 The colorful cushions all came from Pier One last year.  They make the space feel happy.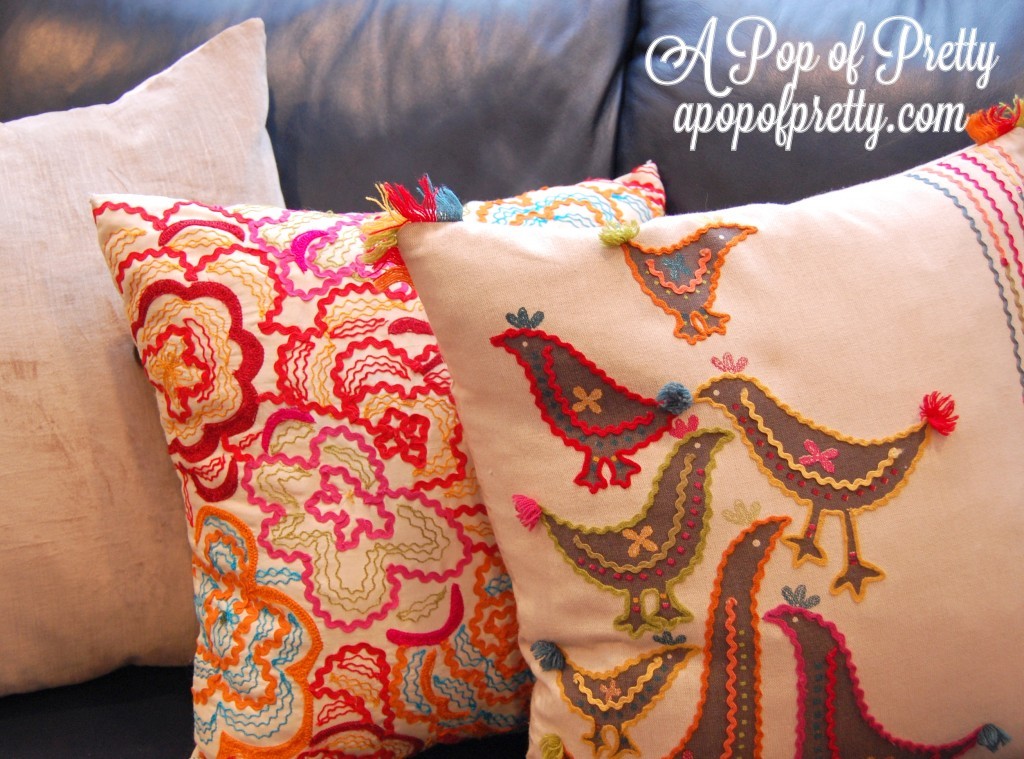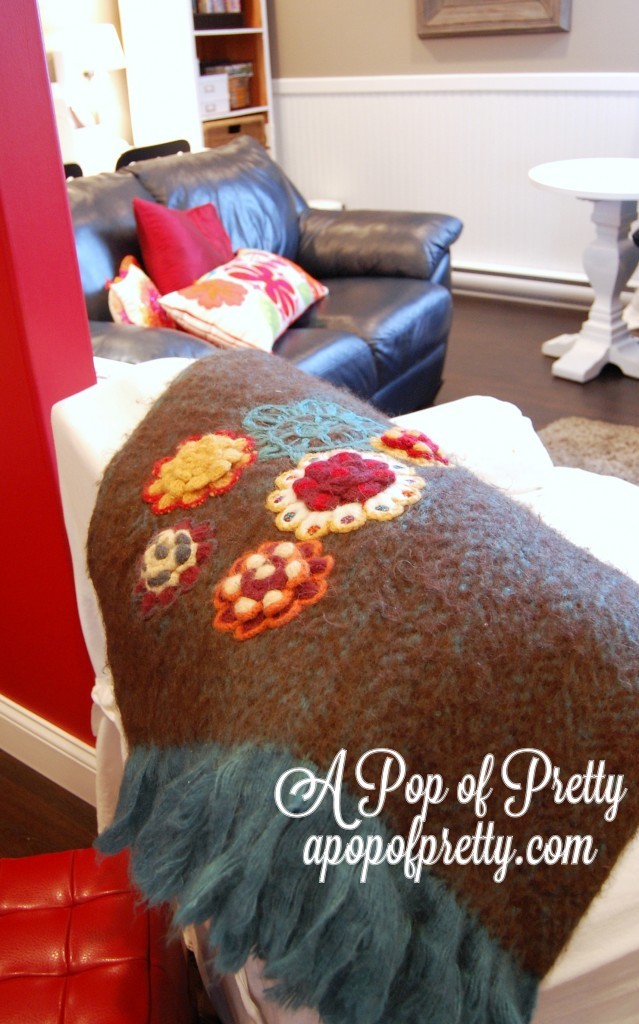 This fun art came from Studio Mela on Etsy.  I've talked about that shop here before.  I love , love, love it.  In fact, I just ordered a new print the other day. It's also where  you can buy the popular "Happier than a bird with a french fry" art that's on my stairway wall.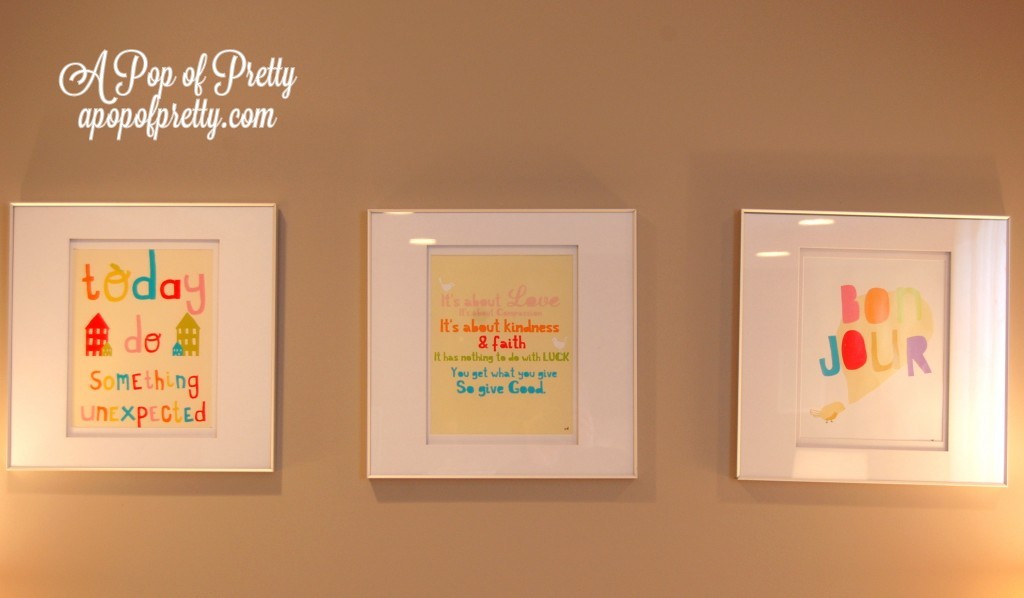 I'm a big fan of using mirrors in decorating.  Its a great way to reflect light and make a space feel larger.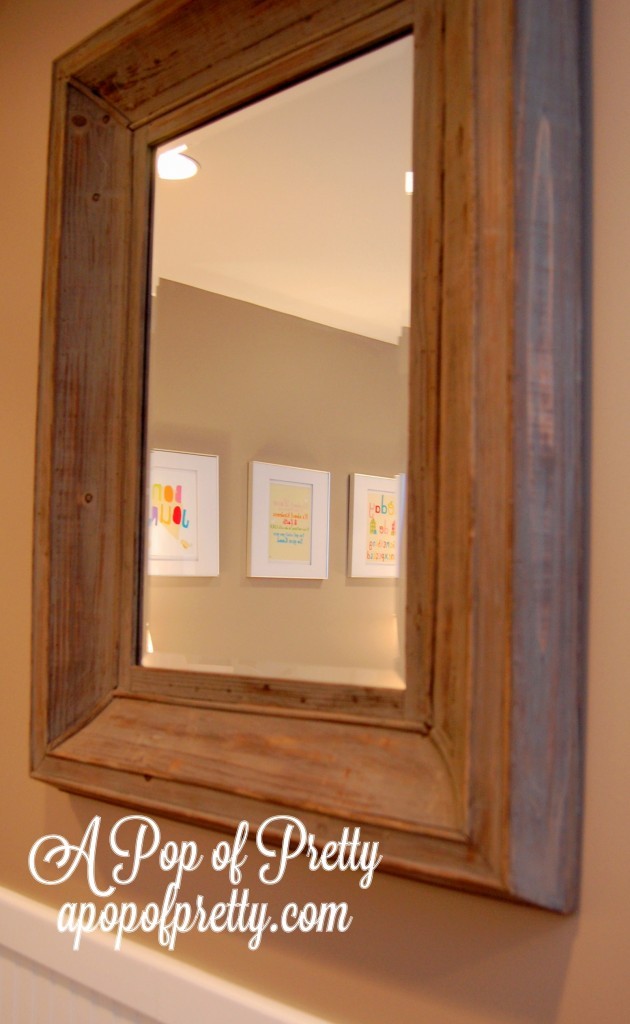 I intentionally minimized the number of breakable accessories in the room, but I did manage to add a bowl of colorful orbs on the mantel – high enough that six little hands can't reach it!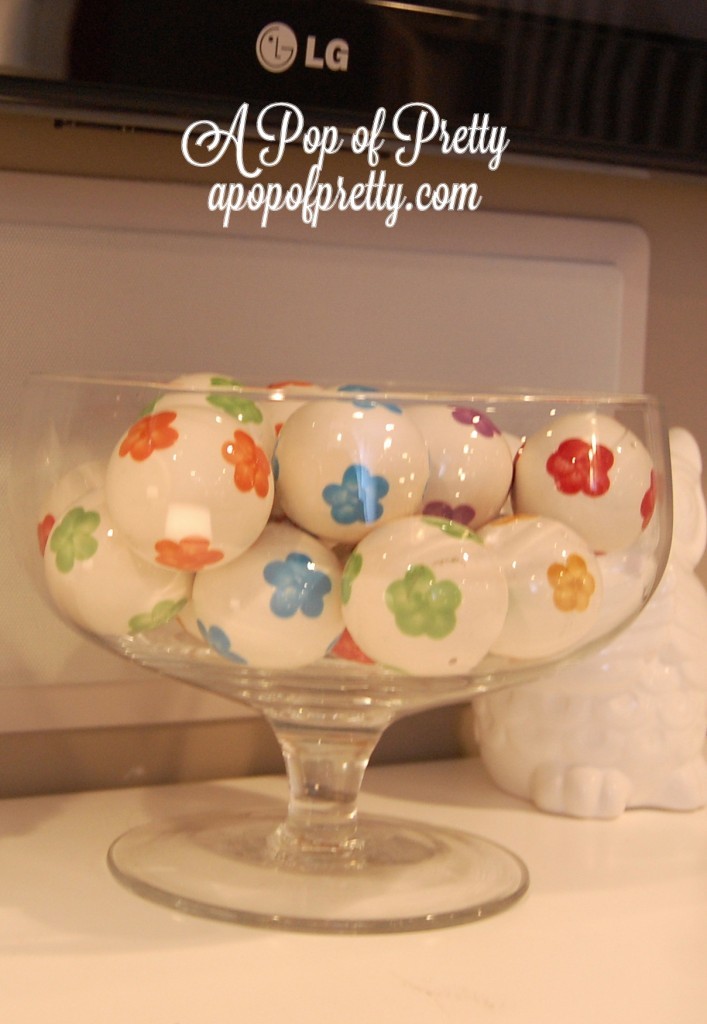 That's it for now. Hope you enjoyed the tour!
Post-script – May 2012: This room was recently featured at Apartment Therapy Family!
If you're wondering where some of the things in the room came from, I've listed some sources below.
Until next time,
A few room sources, to the best of my recollection ;-):

Wall paint colors: Benjamin Moore Ashley Gray & Lyons Red.
Door color: Benjamin Moore Arctic Blue.
Stairway wall letters: collected over time at Michaels and HomeSense, and then painted.
Stairway framed art: 'Bird with french fry' from Studio Mela, Etsy; see this post for the others.
Craft desk, chairs, wall storage: all from IKEA.
Lamps on Craft Table: Better Homes & Gardens line at Walmart.
Bright cushions: all from Pier One (2011).
Movie Reels: Pier One (then I spray painted them) .
Red Lamps:  Debbie Travis, Canadian Tire.
Red tufted leather ottoman: Bowring.
Wool throw: Winners/HomeSense.
White side tables: Winners/HomeSense.
Reclaimed wood mirror: Winners/HomeSense.
Art above craft table: Studio Mela, Etsy.
Bookshelf: Wicker Emporium (I painted it white).
Colorful orbs in bowl: Pier One.
Wooden trunk: antique / auction find.
White Fireplace: LaZyBoy Furniture Gallery.
I shared this post at:

and at