This post was most recently updated on September 22nd, 2019
Back in early October, in the midst of Canadian Thanksgiving and a flurry of Halloween decorating, my dining table looked like this…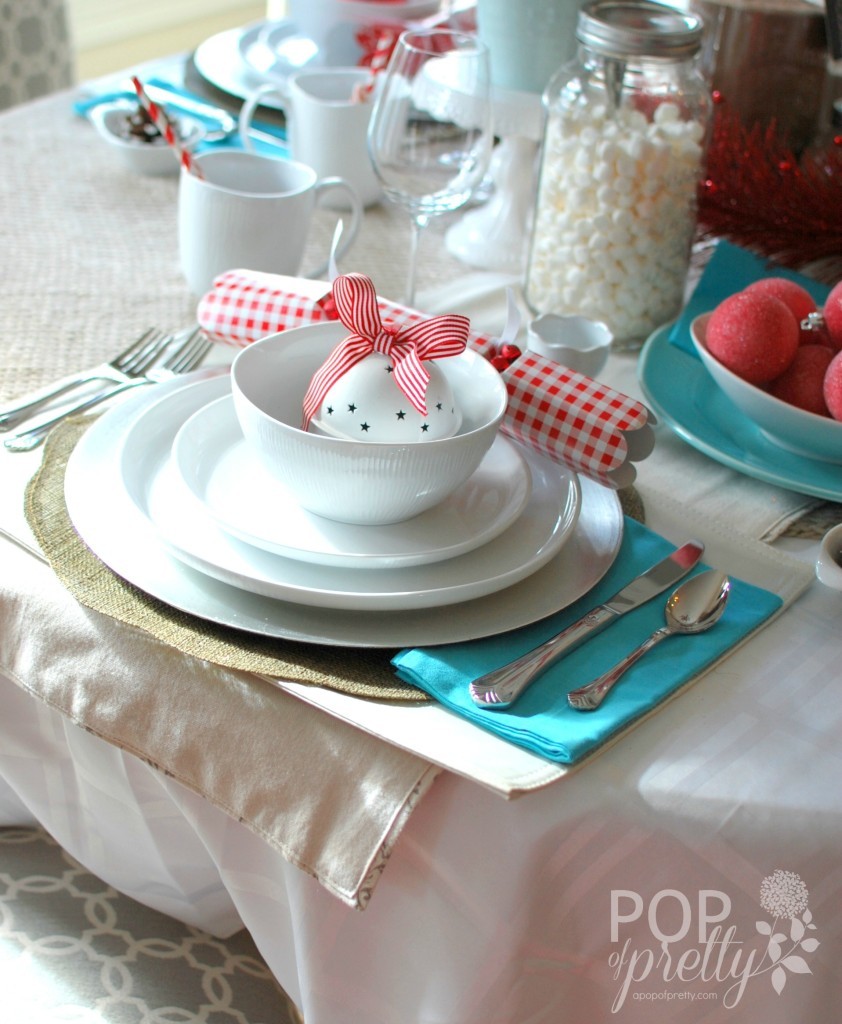 Yup, along with the turkeys and bats, we also had a Christmas tablescape, with all the trimmings, including a hot chocolate bar with marshmallows and peppermint sticks!  I called it Thanksoweenmas. (My kids may or may not need therapy ;-).)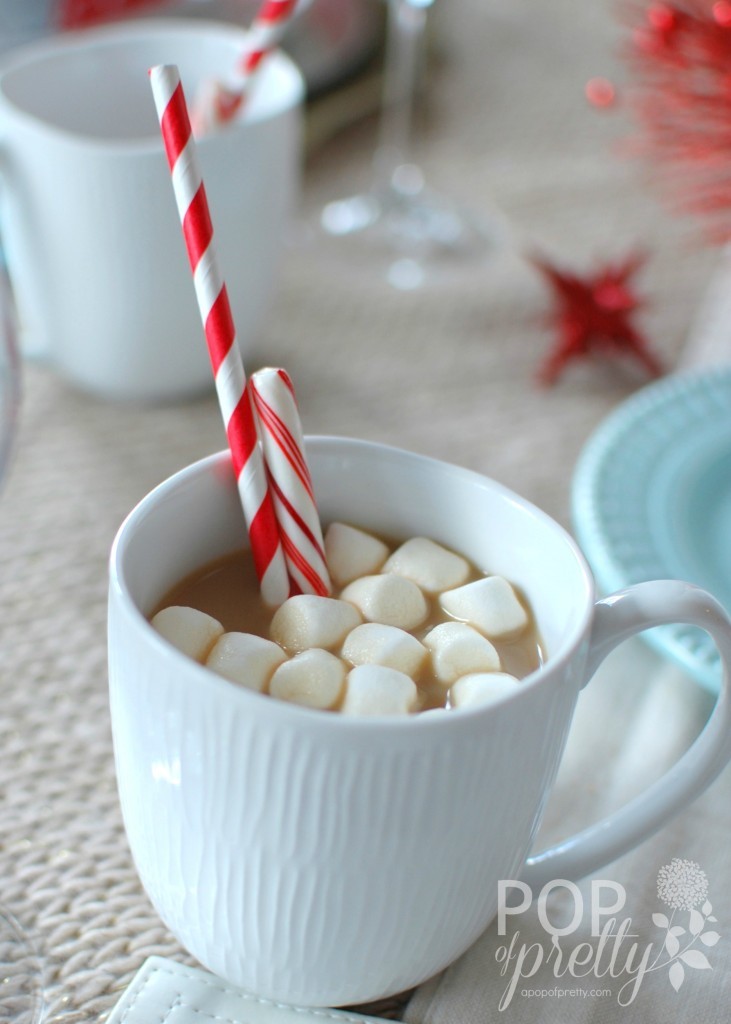 In all seriousness, our table looked this way for a very exciting reason! One of Canada's most popular retailers, Canadian Tire, had asked four Canadian home decor bloggers – including yours truly – to create a holiday tablescape for it's upcoming digital holiday catalogue, "The Canadian Way of Christmas".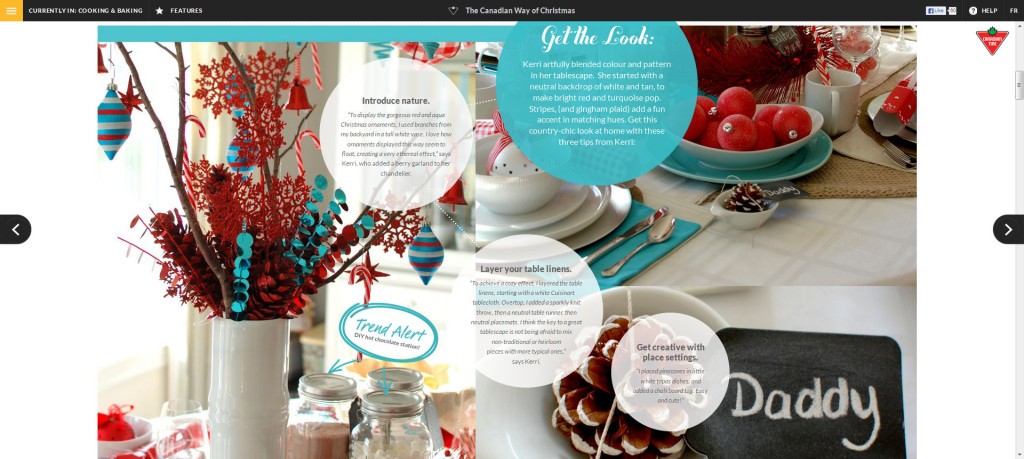 If you are Canadian, then needless to say, you already know Canadian Tire! But for those of you who aren't, I should explain that Canadian Tire sells a lot more than tires. Canadian Tire owns a special place in the hearts of most Canadians – especially in the winter!  Most of us went there with our parents to buy skates and toboggans – the stuff that real Canadian winter memories are made of! These days, I get giddy about shopping at Canadian Tire this time of year because it's Christmas tree ornaments are always so pretty and on trend.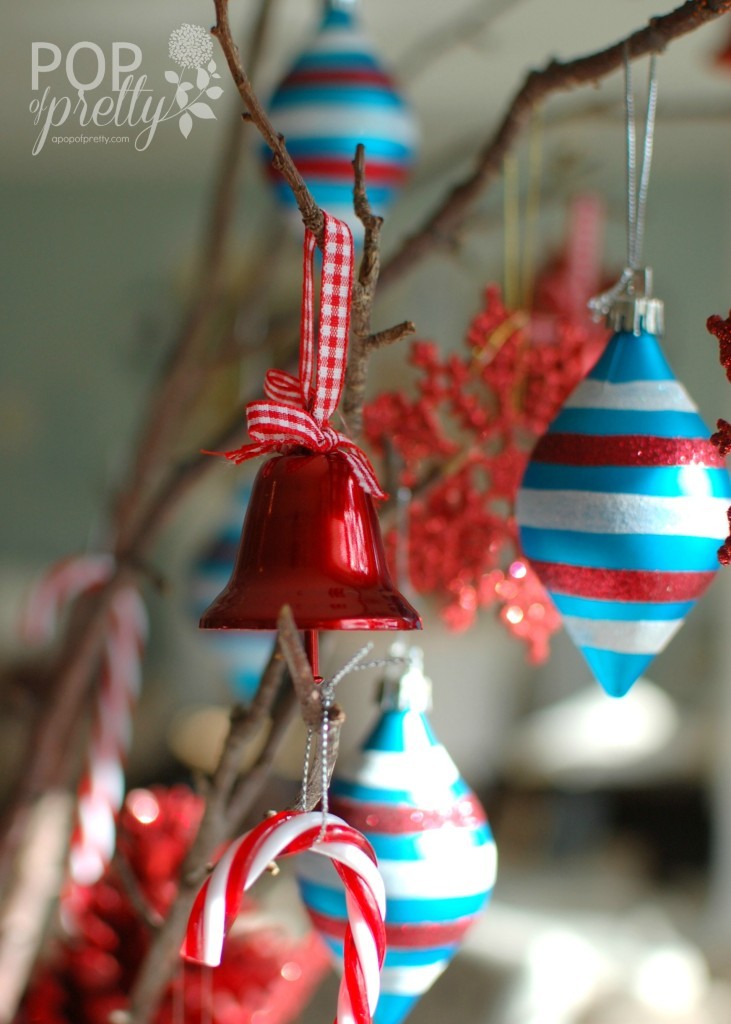 We each received several crates from Canadian Tire, including Christmas decorations, garlands, dishes and more.  The idea was to use the Canadian Tire Christmas decor – along with some of our own special / heirloom pieces, and anything from nature  – to create a unique Christmas tablescape.  I was super excited when I opened my crate and found that everything was red and aqua!  I used red and aqua / turquoise as my Christmas color scheme before, and I loved it!  (Click to catch our Red & Aqua / Turquoise Holiday House Tour 2011!)  Red and aqua is such a cheerful color combination!  I just love how it pops against a white backdrop like a crisp white tablecloth and white dishes.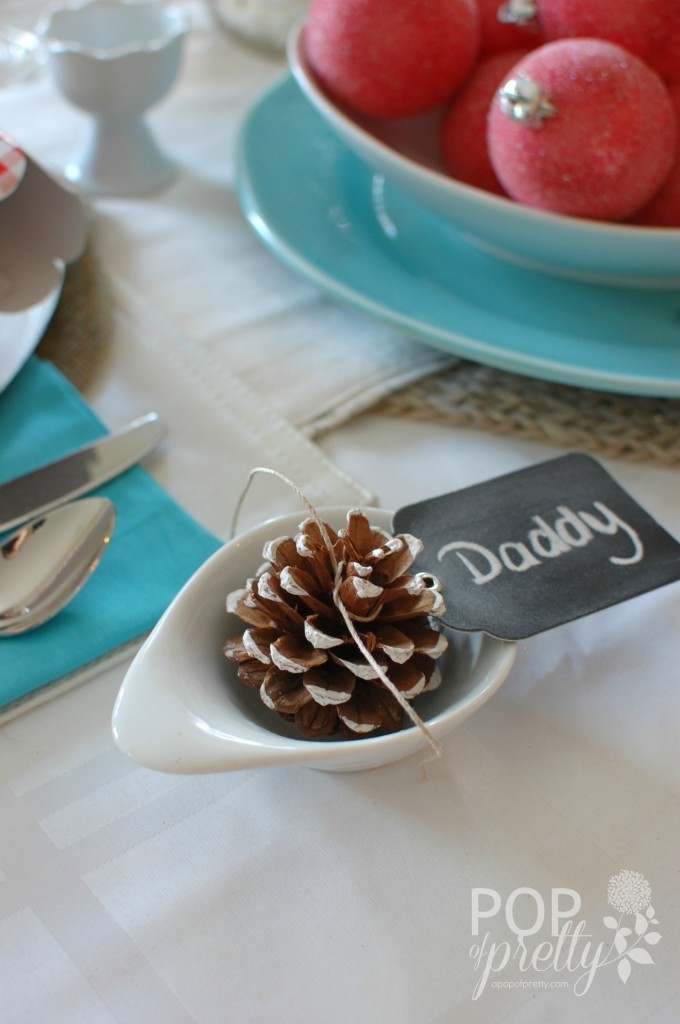 I wanted to create a Christmas centerpiece to showcase some of the pretty tree ornaments I'd received, so I used long branches from the garden, and arranged them in a tall white vase.  Then I hung tree ornaments from the branches, in a similiar fashion as my Bulbs & Branches Christmas mantel last year.  I love this look.  It has such an ethereal feel, as if the Christmas ornaments are floating.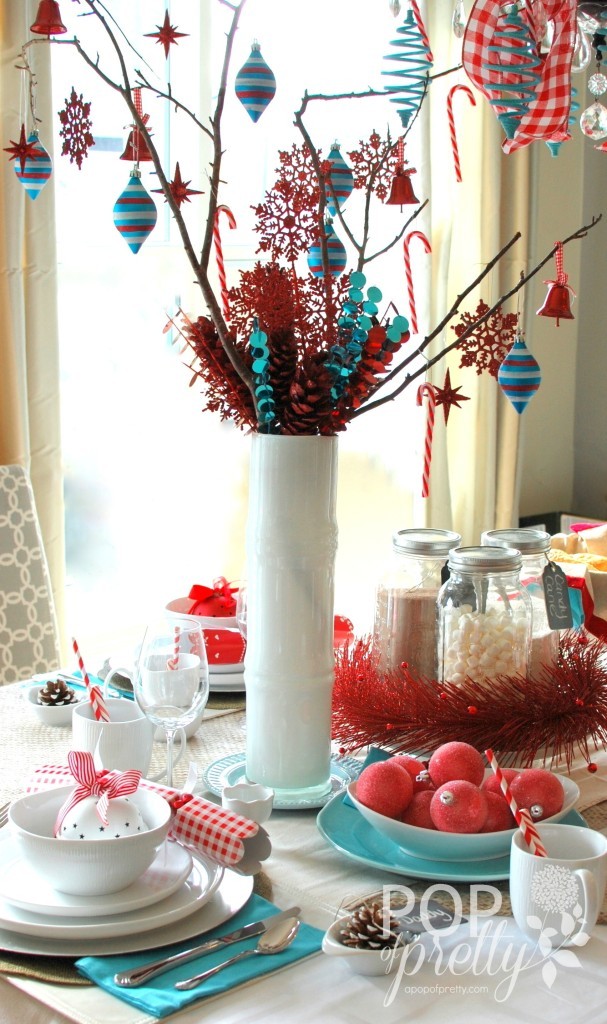 The idea for my tablescape was centred around a family breakfast or brunch, so I created a hot chocolate station.  I filled the huge mason jars Canadian Tire sent me with different hot chocolate flavours and accoutrements like marshmallows and pepperments, and then used pretty chalkboard tags to label them.  (Tip: A hot chocolate station is a fun idea for any holiday get together – especially when kids are involved!)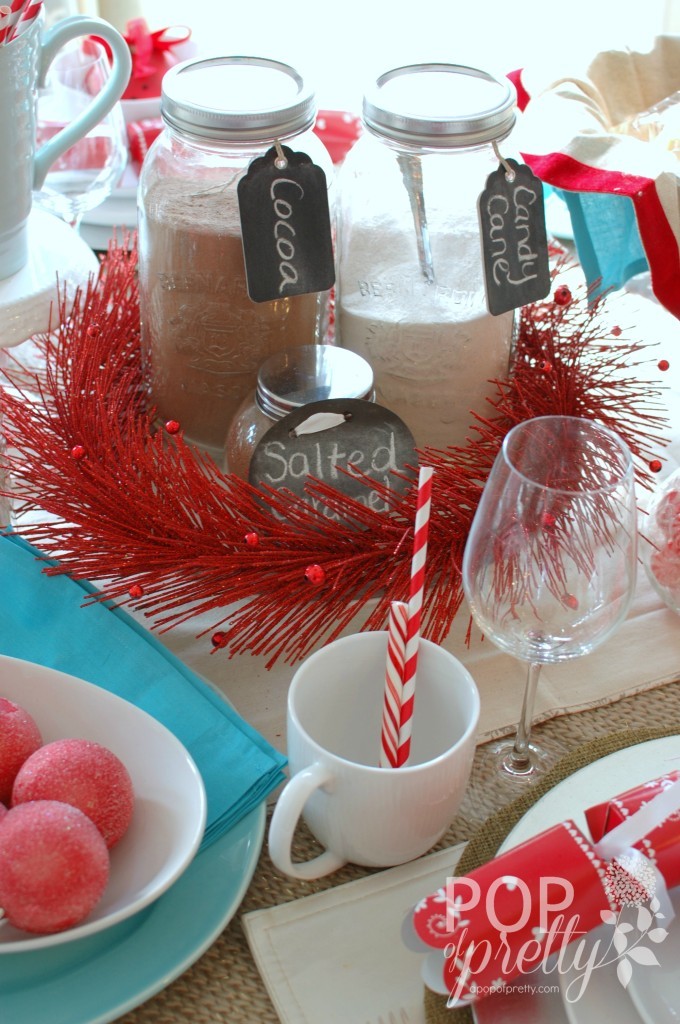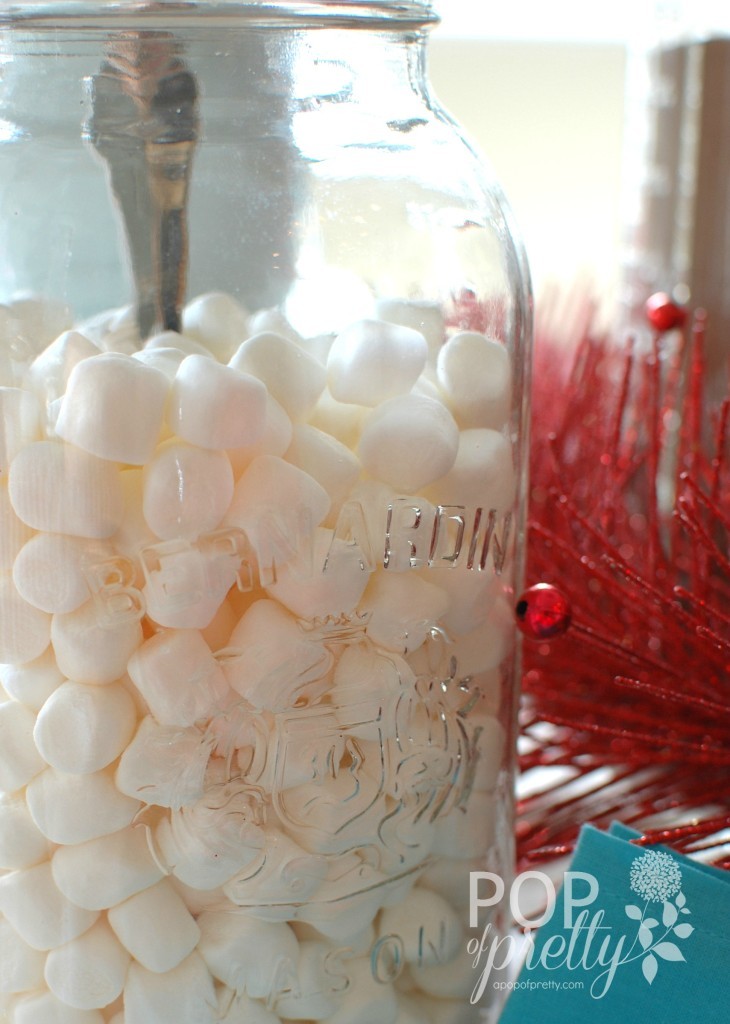 In keeping with the 'cozy' feeling I was going for, I layered the table linens, using a sparkly knit throw as the finishing layer. I like the idea of using non-traditional items on a table to achieve whatever look you're aiming for.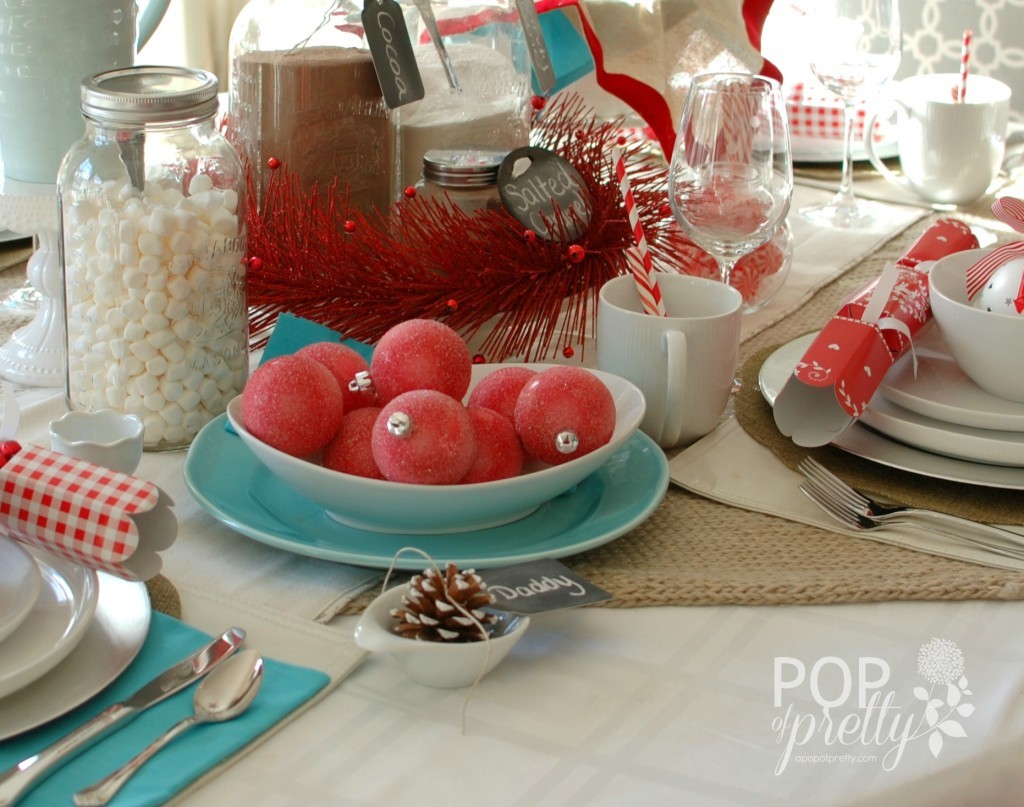 As a finishing touch, I also decorated the chandelier above the table with a red berry garland and hung more ornaments.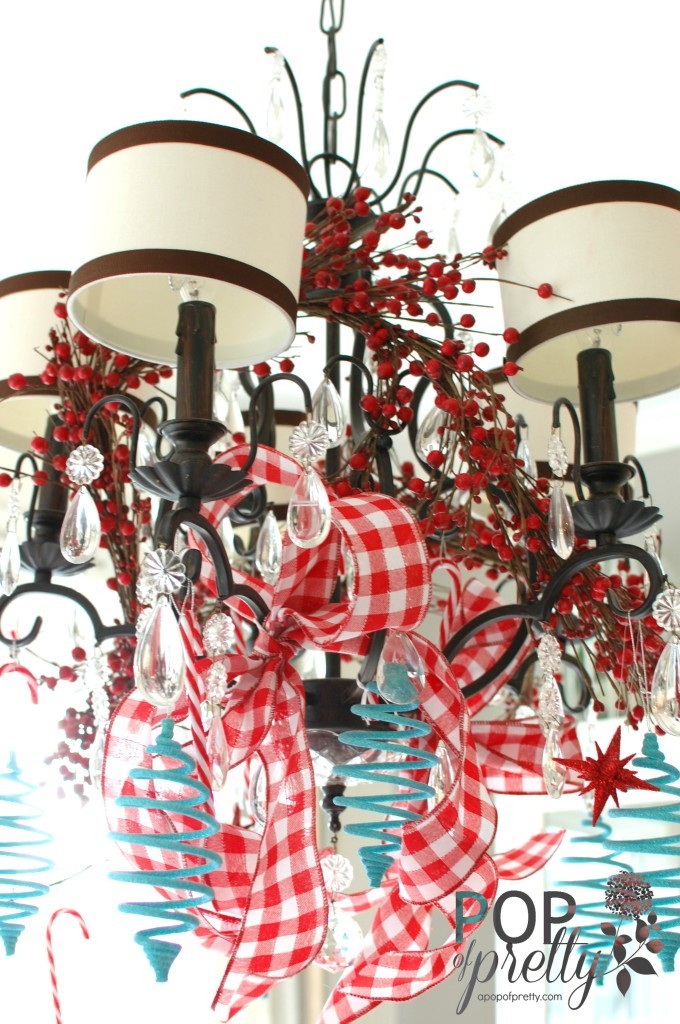 Fun, yes?
Want to see how the catalogue turned out?  Pop over here and check it out!
I also encourage you to take a peek at what the other three talented Canadian bloggers created with their crates from Canadian Tire!  They were given completely different colour schemes, and their Christmas tables are gorgeous!
There's lots more Christmas inspiration coming up this week, including gift wrapping and tree trimming ideas, so be sure to pop back again!
Enjoy the rest of your day!
K.
NOTE: In accordance with my blog policies, this should be considered sponsored content.  Canadian Tire provided me with the product as well as compensation to create a tablescape concept (plus photography) for their digital catalogue.