This post was most recently updated on September 23rd, 2019
The thing I love best about seasonal decorating, especially coming up with new Christmas tree decorating ideas, is the creative process.  Our Christmas tree never looks the same because I enjoy the process of mixing things up. Every year, I like sorting through our bins of Christmas decorations, and deciding how I can use them differently. I'm a bit of a decorating geek like that.
Turquoise & Red Christmas Tree, 2012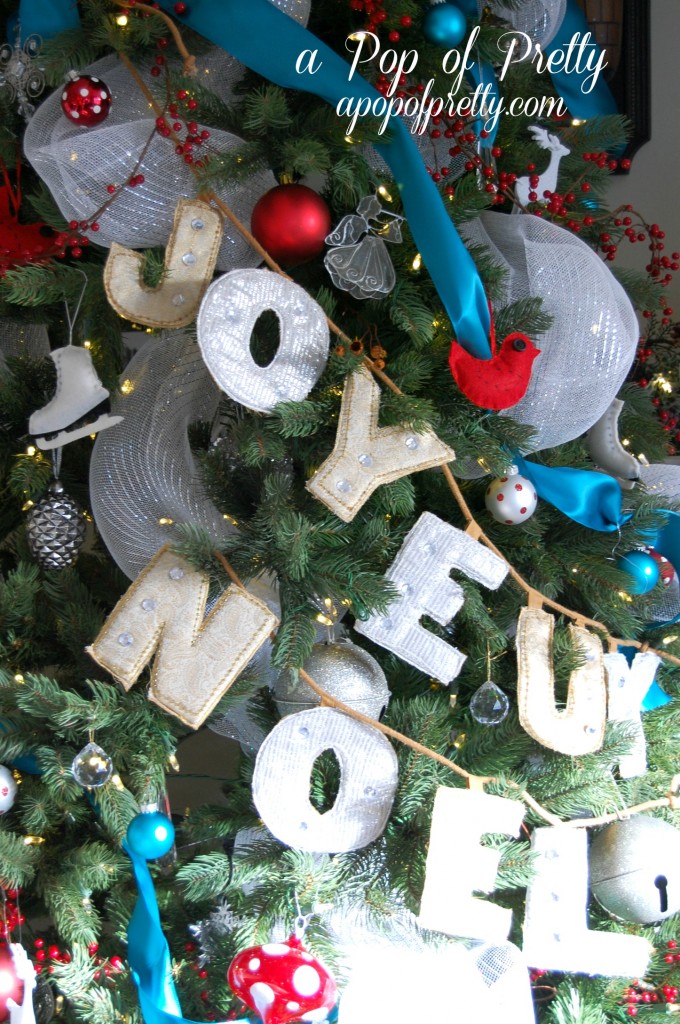 That said, I realize that having a root canal might be more fun for some people! I'm pretty sure that sticking with the same Christmas tree decorations every year is what most normal people do since using a 'tried and true' formula is a major time saver at a crazy time of year. I'm not normal – clearly!
Silver, Turquoise & Green Christmas Tree, 2011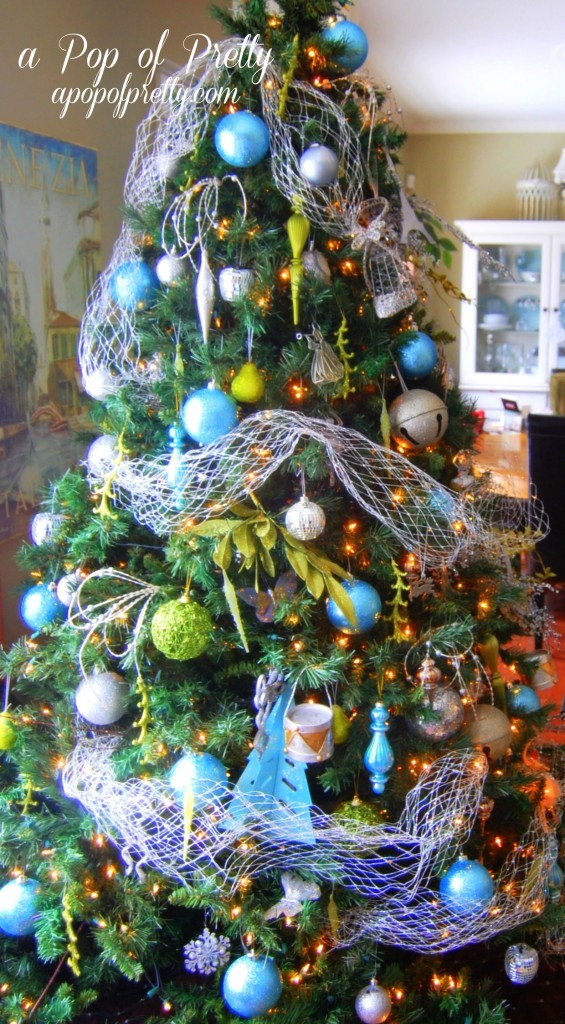 If you're normal 😉 but getting a little bored with your Christmas decorating, or if you drool over beautifully, color-coordinated 'designer Christmas trees', I thought I'd share a few ideas on how to easily change your Christmas tree color scheme this year without breaking the bank.
Brown, Green and Silver Christmas Tree, 2010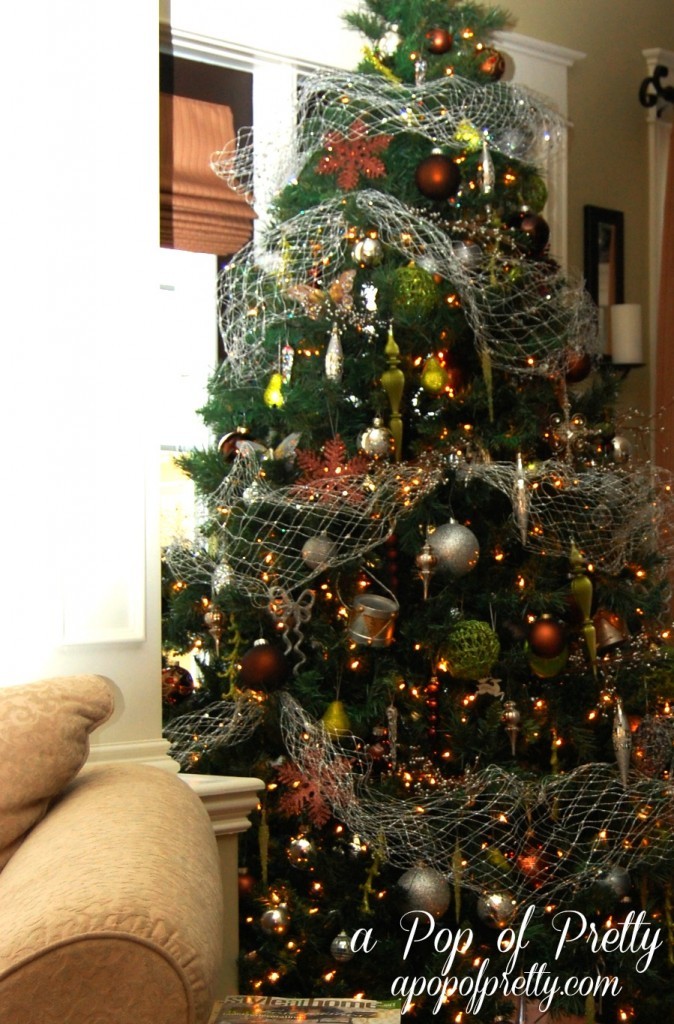 Christmas Tree Decorating Ideas:
How to Change Your Color Scheme (Affordably):
We all have ornaments which fall into two groups: special ones and what I call 'filler'.  The special ones have sentimental value, while the 'filler' are just bulbs that we buy to fill the branches in between.  Sure, some of these filler ornaments are nicer and more expensive than others, but none of them are particularly meaningful.
Start by pulling out all of the most special, meaningful ornaments that you want to include each and every year – like the ornament from your grandma's tree, or the one you've had since childhood.  You'll always find a way to incorporate these no matter what your color scheme. (Plus, going forward, try and store them in a separate box / bin each year so that you can easily locate them every Christmas.)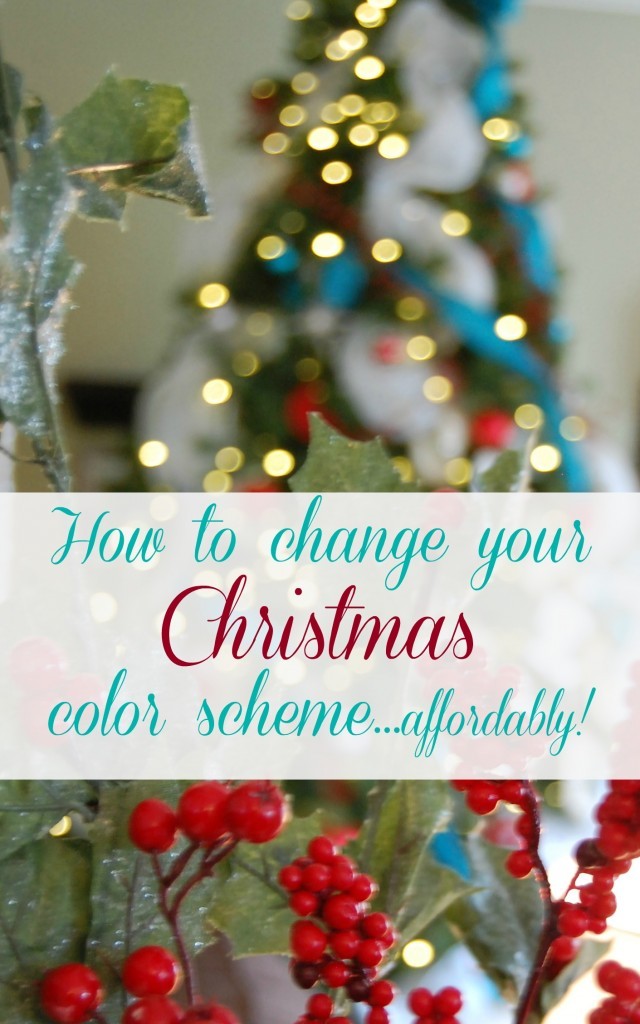 Next, from your 'filler' ornaments, pull out everything that can be considered 'neutral' in color – e.g., whites, creams, pewters, silvers., etc..  I like to store that stuff separately too, because it can usually work with any color scheme.
Figure out what you have leftover by color: reds, greens, blues, etc.. If you have the time or inclination, organize it that way (uh huh, like that's gonna happen!); otherwise, do it mentally.
Now, choose a new color scheme. One of the tricks to creating a 'designer Christmas tree' is choosing a coordinated color combination.  Personally, I try and keep it to two colors (plus silver or white) at most.
To make it affordable to change things up, at least one of the colors in your new scheme should be one that you already have on hand in sufficient quantity.
Your second color could also be from your existing ornaments.  But if you're thinking about a more trendy color combination, you might need to either shop for some new filler decorations in that particular shade, or spray paint some old ones.  Adding new ribbon or deco-mesh/ sinamay is also an affordable way to add a pop of your new color.
Put all other colored ornaments you have on hand aside for another year. If you're anything like me, you WILL use them again eventually, so don't give them away or toss them!
Here's how this process worked for me over the past few years: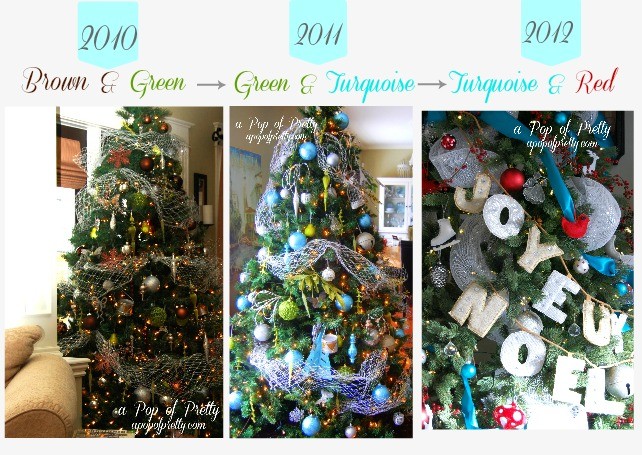 This year, I think I'm going back to the brown decorations, and adding in some champagne metallics.  I might add some turquoise too; I'll have to see how it all feels once I start decorating!
Do you enjoy the process of decorating your Christmas tree differently each year, or do you stick with the same?  What color(s) are you using this year?  I'd love to hear!
Until next time,
P.S. I'm sharing this tip at Beth's!