This post was most recently updated on January 1st, 2020
Let's face it:  We spend a lot of time (and money) to decorate a baby's nursery for the amount of time they'll use it!  Funny isn't it? When you're pregnant, it seems like 'The Nursery' is going to be a permanent thing.  Every little decorating detail is planned out with the precision of shuttle launch, and somehow, we easily justify dropping more cash on the baby's room than our own bedrooms!  (Ya know, "because they'll only be a baby once" :-))
But time flies, and within just a couple of years, Mr. Monkeypants is climbing out of (or worse, taking apart) the crib that you 'just' put together; and, now he wants a Lightening McQueen bed, and suddenly the whole room needs re-thinking.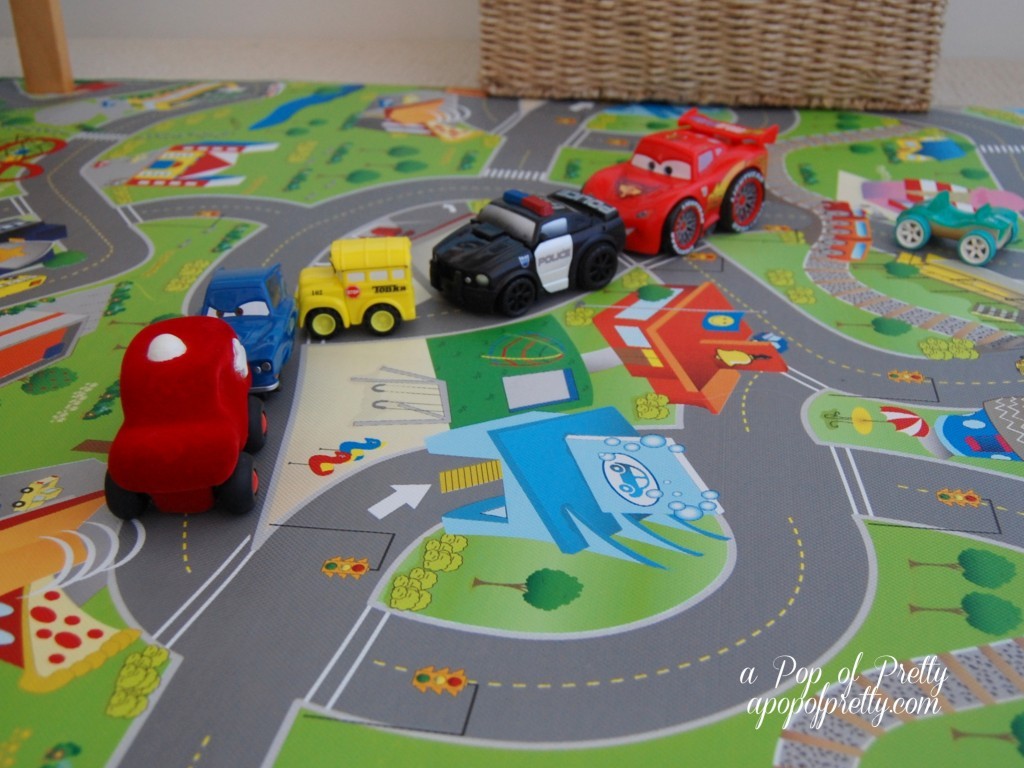 I learned this lesson the expensive way on my first child (now 8).  So when the time came to decorate our twin boys' nursery just over 3 years ago, I tried to choose nursery decor that didn't scream baby.  I thought these mod elephants might would work well in a toddler room too.  So, fast forward 2-3 years to now. We recently accepted that we could no longer keep the boys in their cribs as much as we wished it so ;-). When Noah greeted me one morning holding a large bolt to Jack's crib, we figured that it was probably time!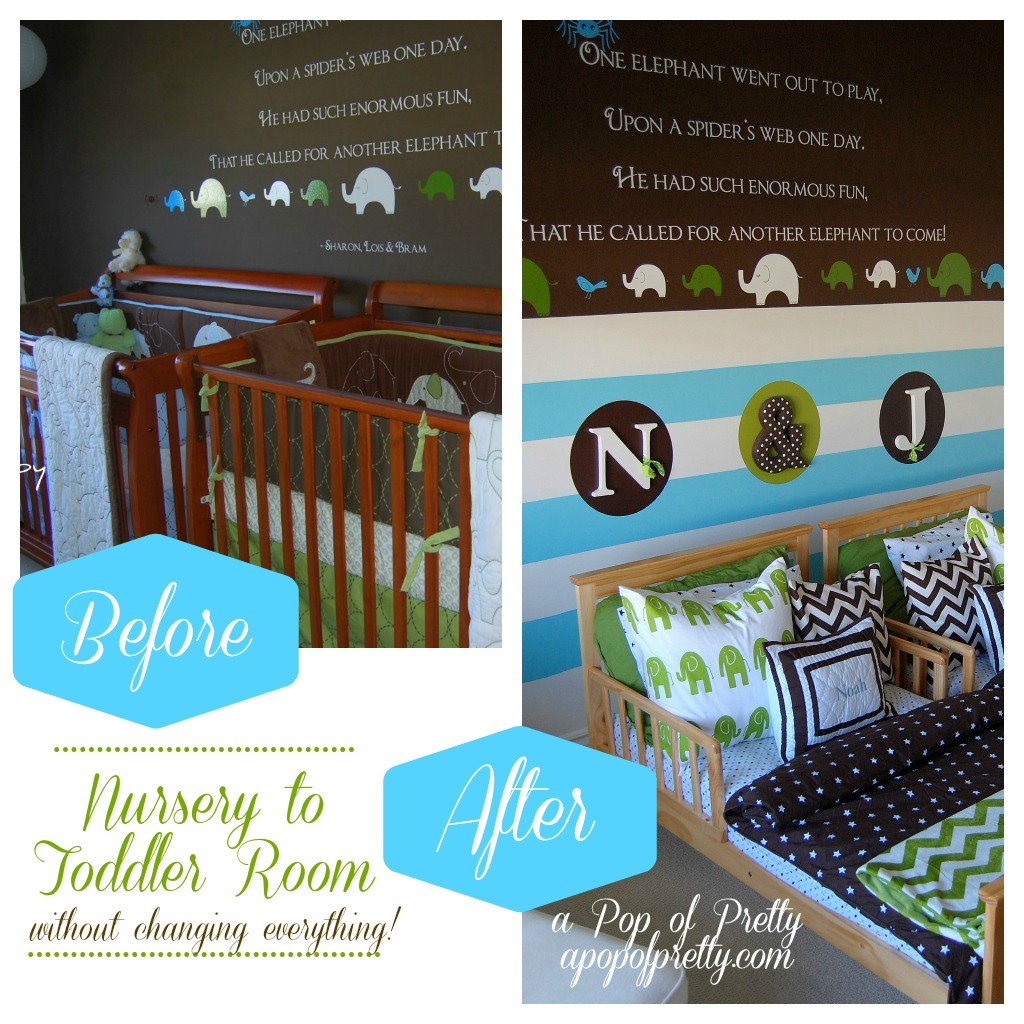 First things first.  I had to do something about that chocolate brown feature wall.  OMG, what a mess. I swear some nights they'd throw their bottles at the wall just to see who could splat more milk.  It needed to be re-painted desperately, but I was still much too sentimental about that large 'elephants' wall quote, which I've  talked about here a few times, most recently in the post Elephants, spiders and the '80s.
Instead, I decided to re-paint only the bottom of the wall that was the messiest with large horizontal aqua and white stripes.  To paint the stripes I just followed the advice of some of the abundant tutorials out there in blogland on how to paint horizontal wall stripes.  It was super easy but a little tedious. This paint treatment gave the room a fun punch of color, and allowed me to salvage the wall quote for another couple of years.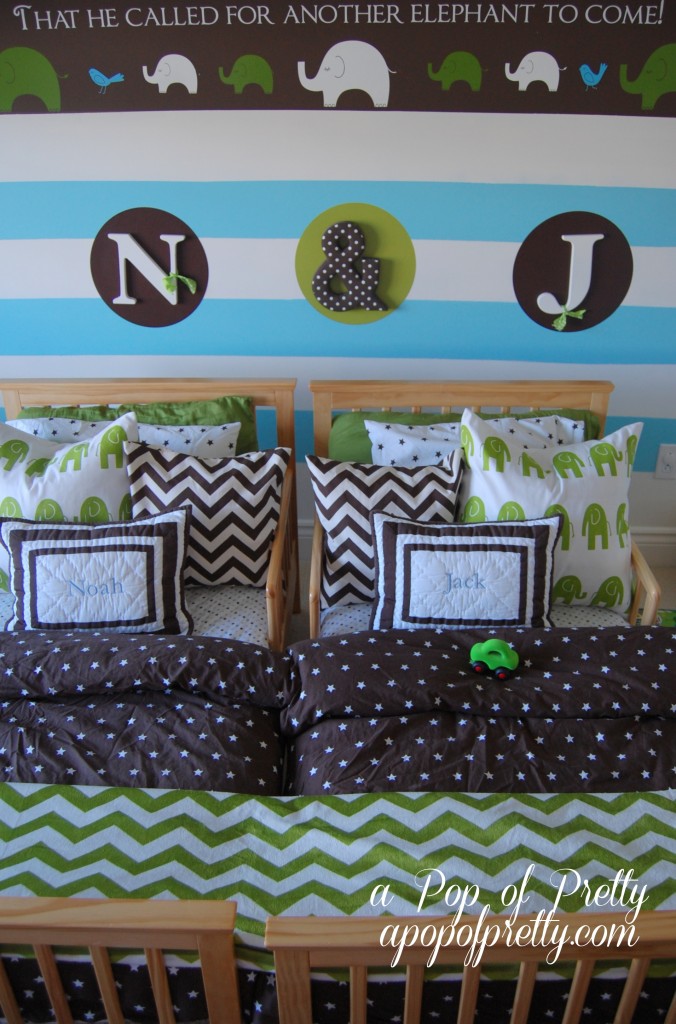 The monogram letters were in their nursery before; but I decided to hang them over their beds this time, in part so they'd identify with their own bed.  Otherwise, I figured they'd be fighting over who gets which bed every night!  Yes, I realize they're exactly the same – but try telling that to an over-tired 3-year old boy!
Because we started them off with toddler beds with crib-sized mattresses (no they didn't get Lightening McQueen beds!)  it meant that we could still use some of the Carters elephant crib bedding we invested in when they were babies.  But I added some other new bedding like the brown starry duvets and name pillows from Pottery Barn Kids.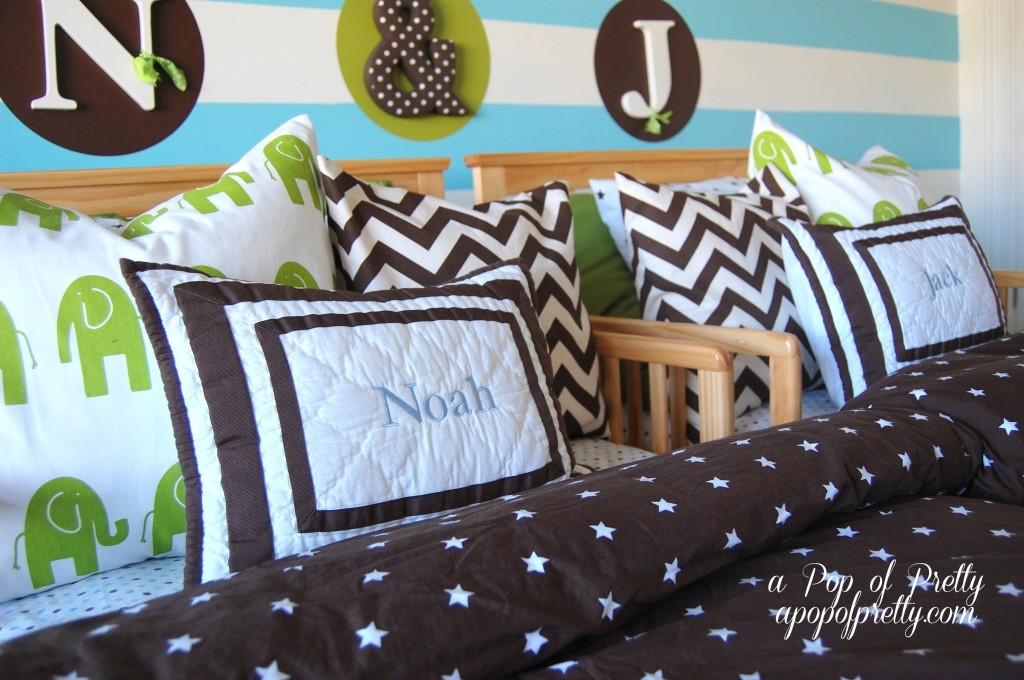 The brown chevron (zigzag) and green elephant cushion covers are also new, both purchased on Etsy.  (And because I love making work for myself, we take all those toss cushions off at night, and put them back on in the morning…sigh. I so wish I didn't love pretty things sometimes!) This was the first 'chevron anything' I purchased for our home, which is amazing considering how trendy its become over the last few years.  I like it in small doses, and it seems to work great in a kids' room. Perhaps I'll be all over zigzag by the time the trend dies down (if ever)!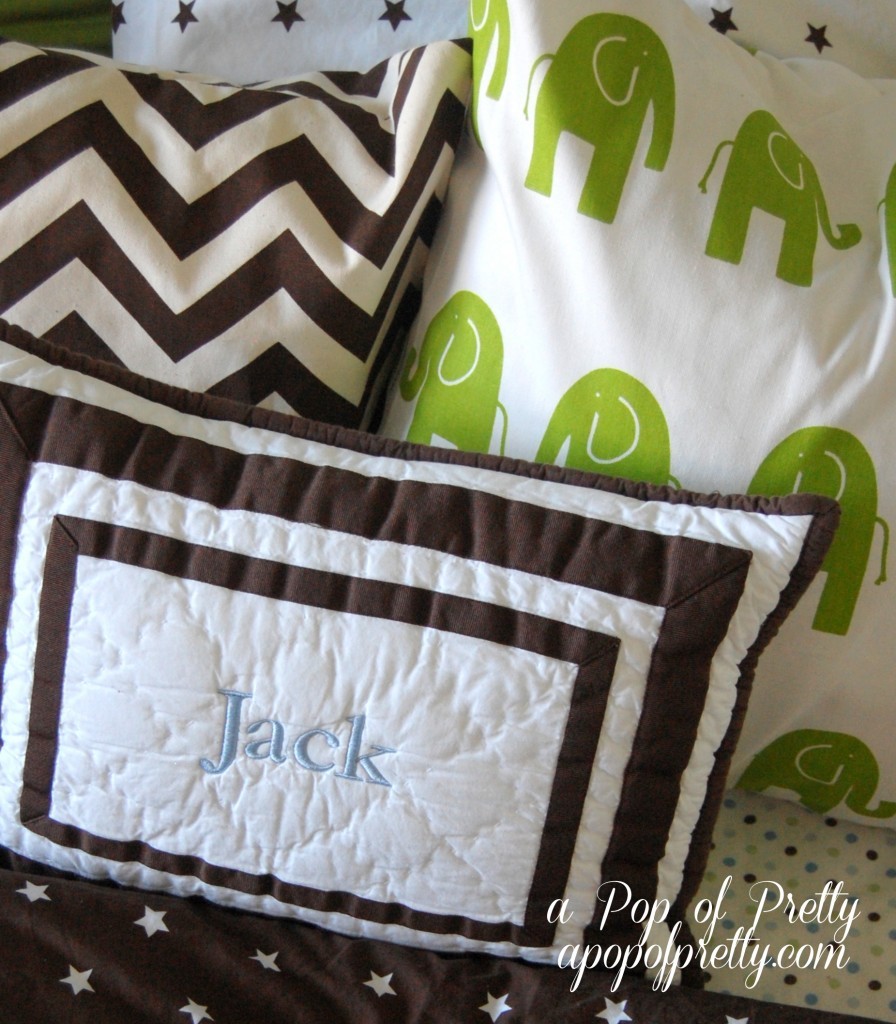 I debated keeping their nursery chair in the room in order to give them a bigger area to play , but they still love a good cuddle, so Mommy's not ready to give that up any time soon ;-).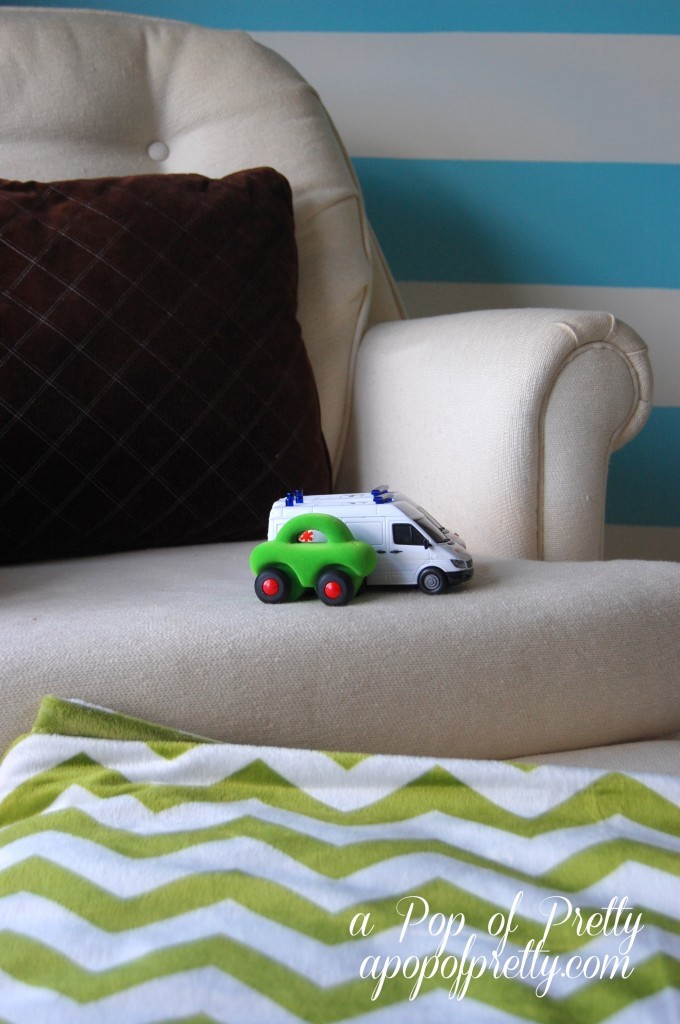 Speaking of an area to play, that's another new thing that I tried to incorporate in their toddler room.  This large vinyl play mat (from Toys R Us) doubles as an easy-to-clean rug under their beds.  They LOVE it!  It keeps them busy for awhile when they first wake (yay!), and throughout the day, you'll find one of them in there just chilling out, playing with cars and trains.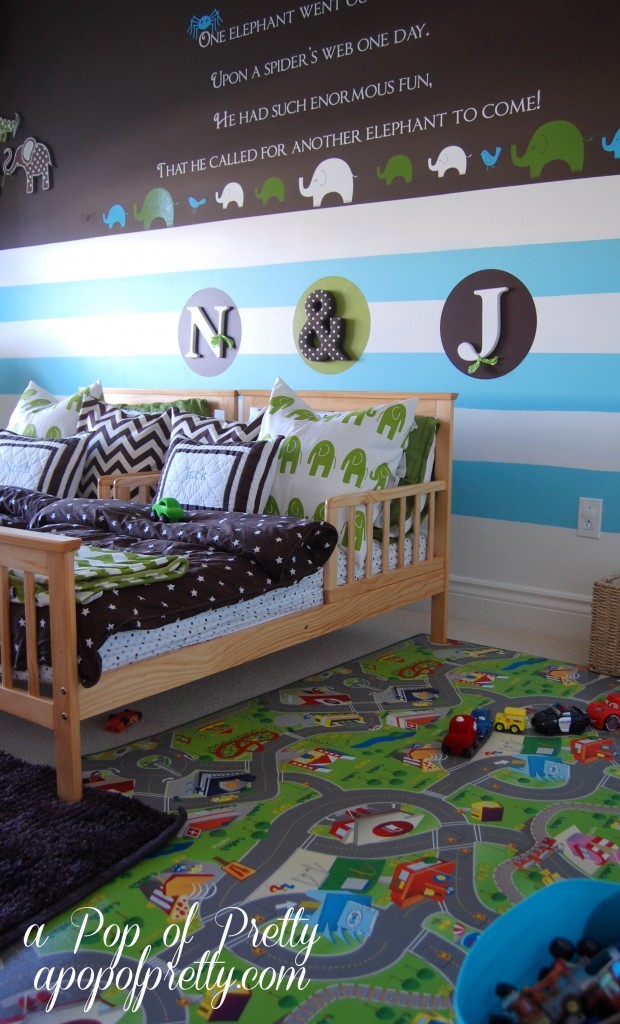 I also included a small area for their books and soft toys.  I think this fabric book shelf is a great option in a toddler room as the books are easy to access, and you don't have to worry about the topple risk of a heavy bookshelf.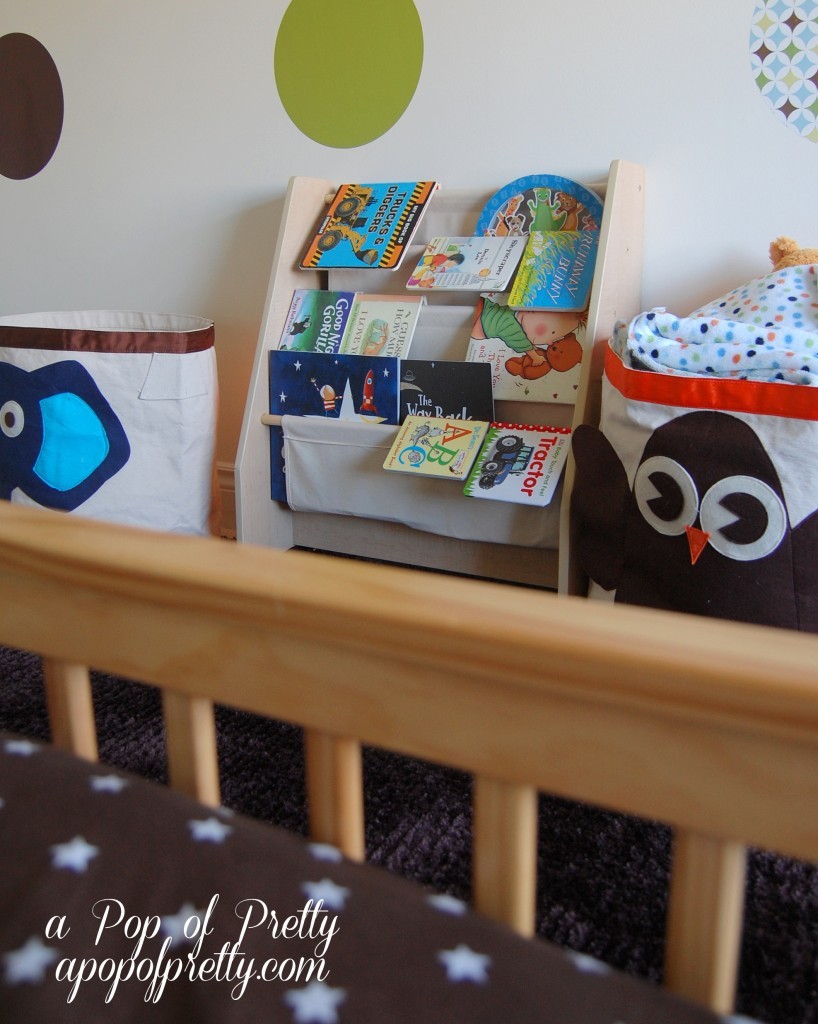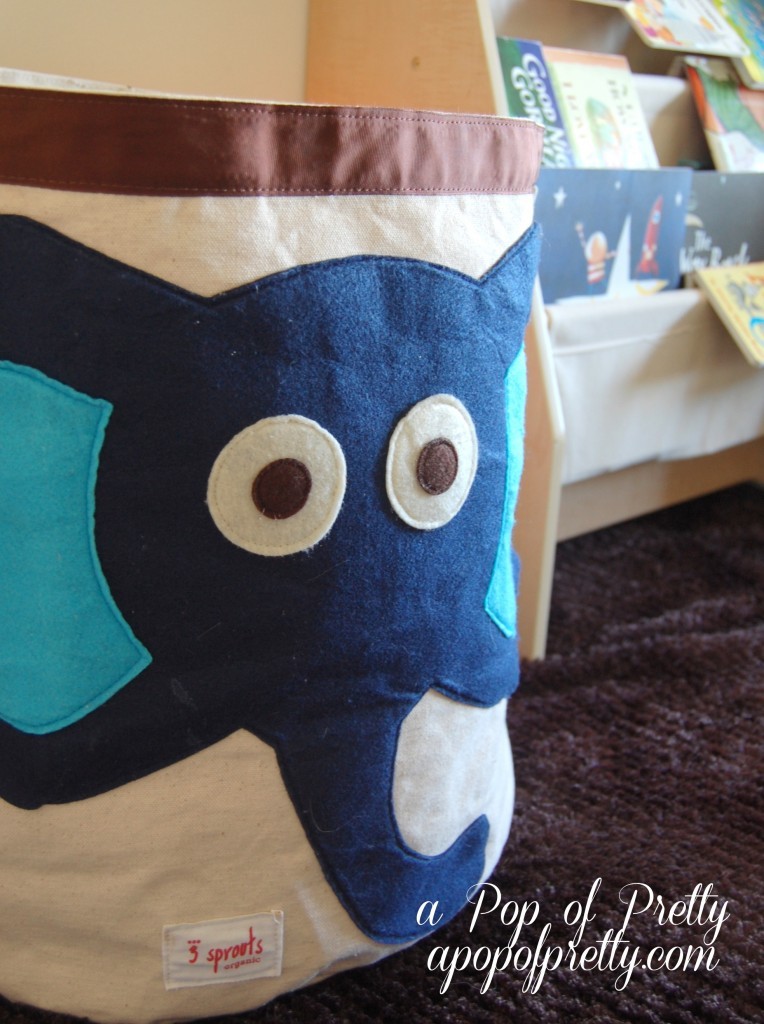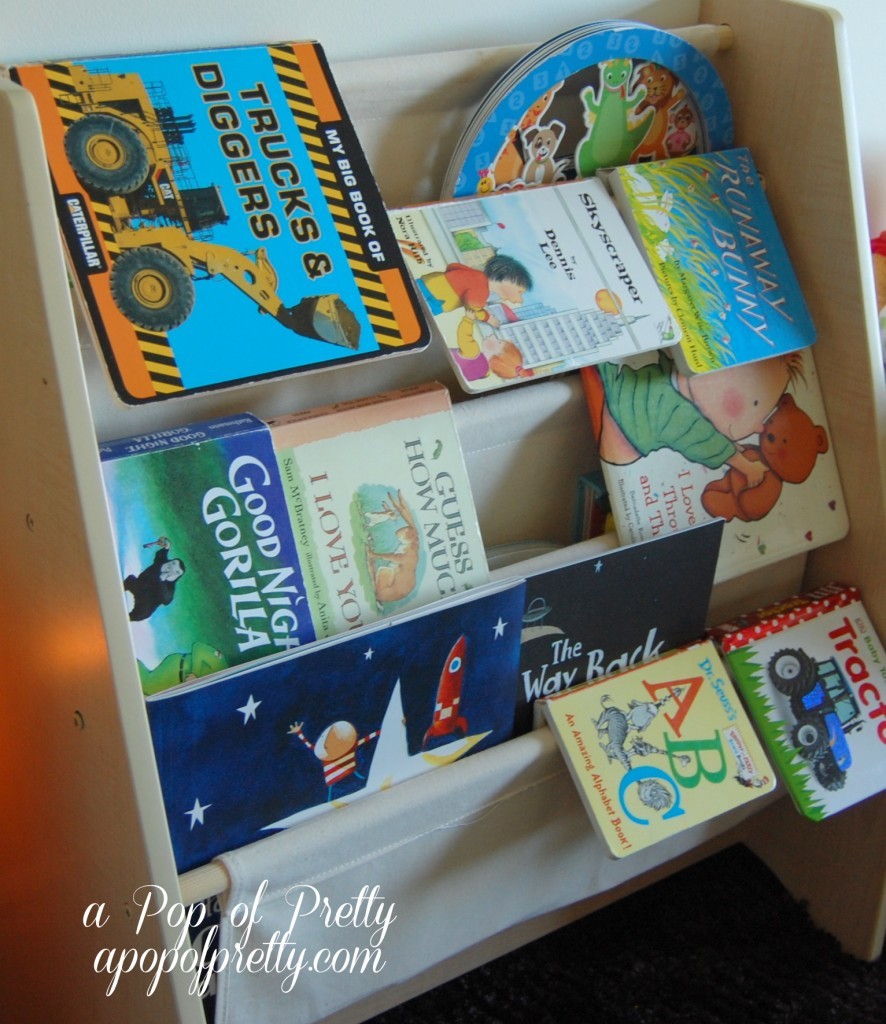 Transitioning their room from a nursery to a toddler space was a lot of fun.  But I'll admit there were some sad moments when the cribs were finally broken down and given away for good! But now that the baby stuff is gone, I'm loving their new space.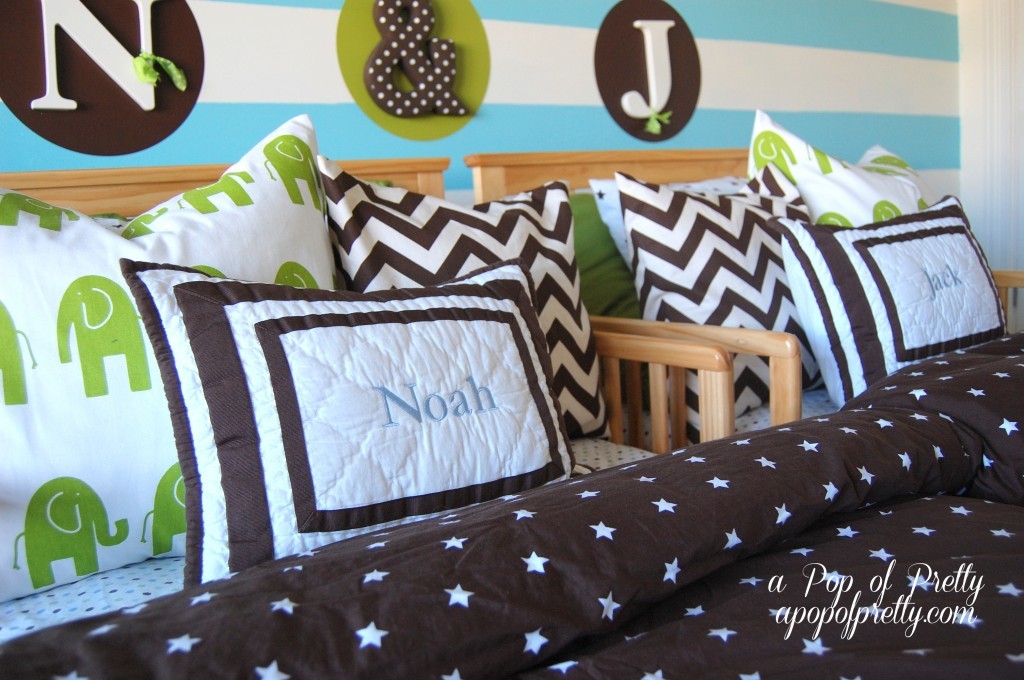 By sticking with the same 'theme' (elephants) and the same color scheme, and choosing decor that would work just as well for a toddler as a baby, I was able to pull off their little room makeover without breaking the bank.
Until next time,
Sharing this post with Beth at Home Stories A2Z: