This post was most recently updated on September 22nd, 2019
You know I love my daily dose of decor blogs. But it hasn't replaced my long-standing affair with decorating magazines.   I've been a decorating magazine junkie for over 20 years. Back in the mid-90s, I'd sneak in some time with Canadian House and Home in the 'current periodicals' section of the university library when I should have been studying for a marketing exam…and I've been hooked ever since.
.
If you're a decorating magazine junkie too, you probably get the same kind of kid-in-a-candy-store-feeling as me when you find a new issue in the mailbox, or on the grocery store stands!  The only thing that's better, is locking myself away in a quiet (kid-free) room to drool over the pages with a big cuppa java.
.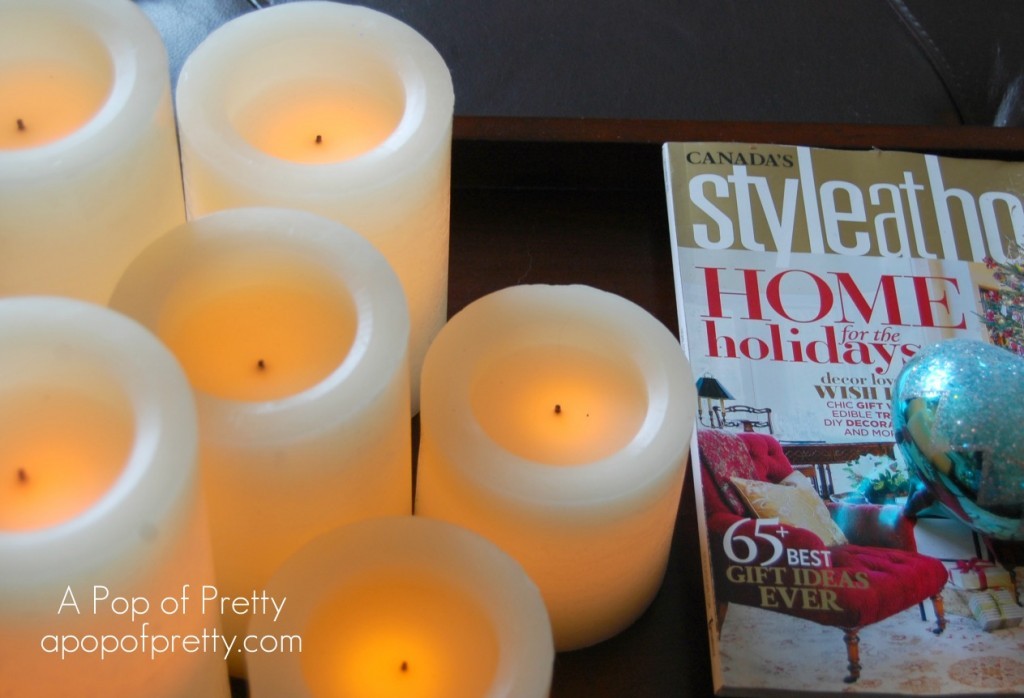 .
For the better part of the two decades I've been reading them, decor magazines have been mostly about 'aspirational' decorating.  Filled with glossy spreads of gorgeous homes decorated (mostly) by professional designers, they appealed to our dreams, not necessarily our realities.  They've fed our appetite for eye candy – even if, albeit, the eye candy is a little, er, inaccessible. As a poor university student, I knew it would be a loooooong time before I could afford a home like the ones they featured (if ever), but by schooling me on decor trends and the rules of great design, those old issues inspired me nonetheless.
.
.
Fast forward 20 years to 2013.
.
The June issue of another favorite, Style at Home, looks like this:
.
.
.
. .
It reads:  Love the home you're in! 
.
Back it up like a Tonka truck.
.
Did that decorating magazine just give me permission to love the home I own right now?  As in: our less than perfect home?  As in: not my ultimate dream home? I can love this home? Even without the all the custom finishings I've dreamed of? And without a professional-grade kitchen range? And without granite counter-tops or a craftsman front door?  Well OK, Style at Home…I'm in!
.
And then I remembered Style at Home's January issue, whose cover read: This year's trend: Break the rules! Decorate the way you love.
.
OK, so you mean, it's now trendy to decorate just the way I want, and not by somebody else's rules? Sold!
.
Truth told, I've bought into this idea for years now, thanks to decor blogs like Nesting Place which have inspired me to embrace the home we have right now.  But you have to agree, it's pretty refreshing to see mainstream magazines embracing this idea so explicitly! After all, life is short.  Why not be happy in the digs you have right now? Why waste 10 years aspiring to a 'dream home' that might never come?
.
Personally, even though our financial situation has matured since early college days when I stole a peek at House and Home in the library, I'm not sure we'll ever build a home like the ones I drooled over back then.  The reality is we have bigger 'life' priorities – like putting 3 kids through college some day.  I think it's safe to assume that's the same for most of us.
.
So, when I get a magazine like this in the mailbox…
.
 it

…or find ones like these on the news-stand…
.
.
.
…it makes me even more excited than ever to find a quiet corner and dig in!
.
Kudos to the world of decorating magazines for recognizing and feeding the desire for accessible design ideas.  There will always be a place for featuring showcase homes – and we can all learn from them – but personally, I find it just as inspiring to see fabulously decorated 'everyday' homes.
.
So have you noticed this change in decorating magazines over the past few years, as well?  Do you prefer to be inspired by dream homes decorated by designers, or by cheap-chic decor in every day homes like your own?  (OK, so it's not a question about war and peace, but, hey, it's Friday ;-).)
.
Have a fab weekend my lovelies.
.
Until next time,