This post was most recently updated on September 22nd, 2019
DISCLOSURE: I WAS PROVIDED PRODUCT BY BEHR TO WRITE THIS POST BUT THE THOUGHTS AND OPINIONS EXPRESSED HERE ARE MY OWN.
———–
I've got a fun diy project today. Behr Paint recently challenged its DIY Expert blogger team to create an outdoor holiday decoration using it's great line of outdoor paint.  But what makes this post even better is that you'll have a chance to win 3 gallons of Behr Paint through a Behr Paint Giveaway. And, there'll be 4 winners!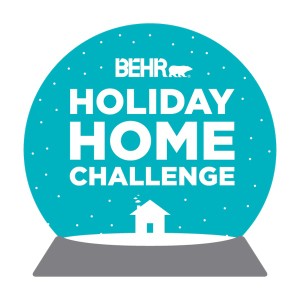 Since my Christmas decorating this year has a cottage vibe, I decided to make a plaid deer head sign for this challenge.  I was inspired by similar signs I'd seen somewhere in my pinterest and blog travels, and also by one at a home decor store recently.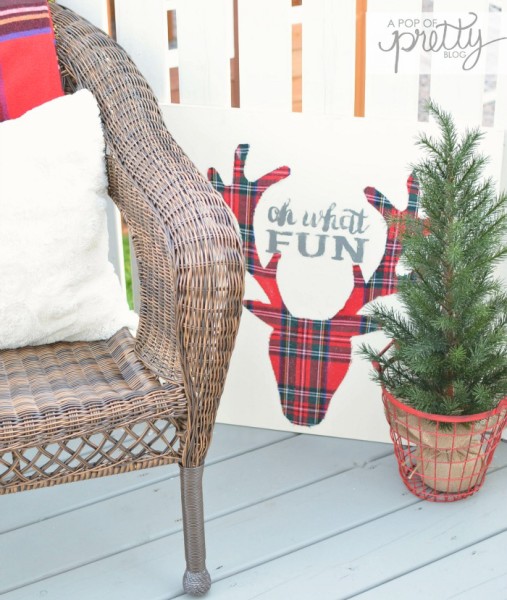 I used Behr All-in-One Weather Proofing Exterior Solid Wood Stain in Navajo White to stain the base of my sign. Using an exterior paint or stain will just ensure that the sign will be able to handle the winter elements. Around here, winter means lots of snow and freezing rain (ugh).  For fabric, I used a plaid dish towel that cost me all of $5 for a pack of 3!  This is a great tip when you only need a small amount of material for a project.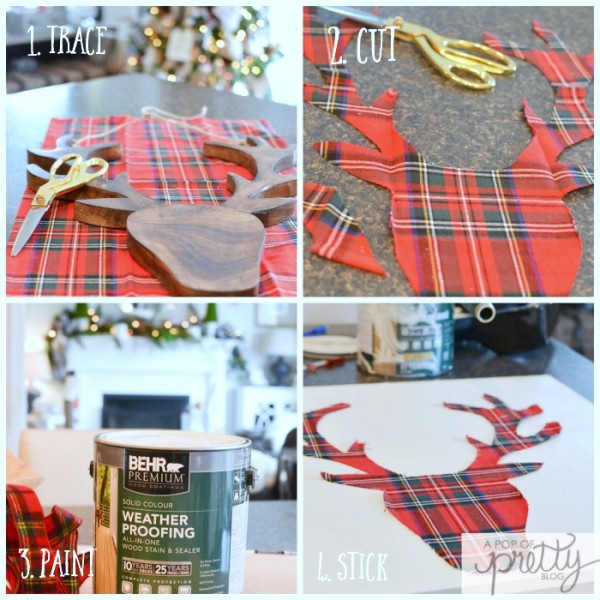 Here's the first few steps:
For the deer head shape, I used a deer head decoration that I already had in my Christmas stash.  But you could easily find a similar shape online, and cut it out from the printout.
I simply traced the deer head onto the fabric and carefully cut it out.
Next, I stained my wood with the Behr solid stain in Navajo White, which is a great creamy white hue.
While the first coat of paint was drying, I sprayed my plaid deer head fabric with some water protecting sealant (you can find this stuff in a few different brands).  I usually have it on hand to spray indoor pillow covers I want to use outside.  It just allows the fabric to stand up a little better against wet weather.
Finally, I placed the fabric on my sign while the second coat of paint was still wet, as the paint helped to act as an adhesive.
I really liked the simplicity, but for a bit more personality, I thought I'd add a cute Christmas-inspired quote. Since I didn't have much room left on my sign, I settled on a short Christmas quote "Oh what fun".

Here's how I went about adding the quote:
I used Photoshop to layout the quote in a fun font (at the right size), and then printed it out. (If you don't have Photoshop, you could use any word processor or PicMonkey.)
To transfer the outline of the quote to my deer head sign, I used transfer paper, and traced around the words with a ballpoint pen.  Note: There are lots of ways to add text to a sign, but, in my experience, this is by far the easiest.  It's the same method I used in the large vintage-inspired Joyeux Noel sign I made last Christmas.
Once I had the outline of the words, I painted them in with Behr All-in-One Weather Proofing Exterior Solid Wood Stain in Pewter.
After the paint dried, I used some sand paper to distress the wording a little, and to smooth out parts of the quotes where I applied a little too much paint (oops).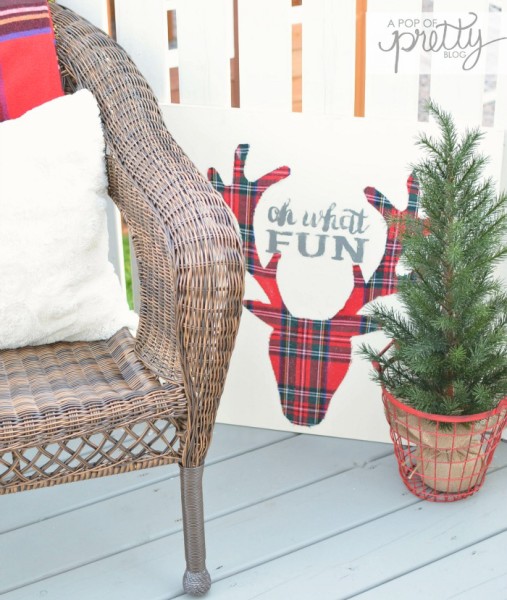 This was an easy diy project, and I love how it adds a little pop of Christmas to the back deck.  We don't spend a lot of time out here in the winter (brrrrrr), but at least I can see it from my warm kitchen! My plaid deer head sign must have influenced the weather gods because, when we woke up, everything was covered in snow!  The snow is welcome until Christmas, but after that, well just ugh.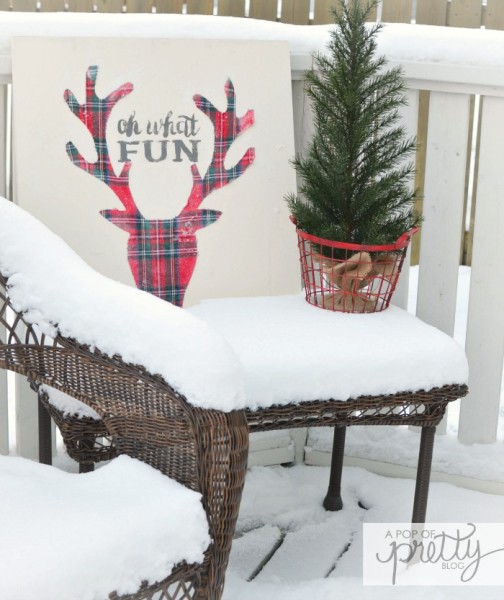 If you'd like to check out some inspiring projects by my fellow bloggers participating in the Behr Holiday Home Challenge, here they are: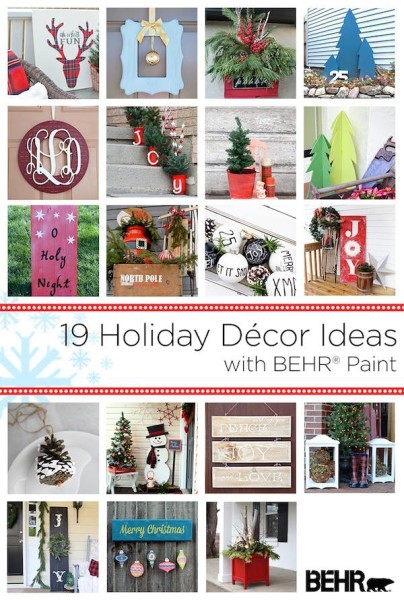 Mountain Modern Life
The Frugal Homemaker
The DIY Dreamer
Sugar Bee Crafts
Someday I'll Learn
NewlyWoodwards
My Little Secrets
Marty's Musings
Maison de Pax
Made to be a Momma
Life at Cloverhill
Just a Girl and Her Blog
Frugal Mom, Eh!
Clean and Scentsible
All Things Heart and Home
Be Crafty Workshop
Poofy Cheeks
Now…The Behr Paint Giveaway!
OK, so now's your chance to enter Behr Paint's Giveaway of 3 gallons of paint to 4 lucky winners.  To enter, log in to the entry form below, and follow as many of my fellow Behr bloggers on social media as you'd like for multiple entries.  The contest rules are provided.
I hope your Christmas / holiday decorating is well too!  If you need some inspiration to get you started, tomorrow I'll once again be part of the Canadian Bloggers Home Tour.  A group of Canadian home bloggers will be opening our homes to you for some holiday inspiration just like we did last year at this time.
Until next time,
K.