This post was most recently updated on September 22nd, 2019
Hello friends! How have you been? It's been a little while since I've posted, but I've been a busy little beaver decorating for Christmas around here.
Yup, I'm one of those people who decorates for Christmas in November. Sorry if you are still doing Fall and pumpkins and all that jazz. In Canada, we celebrate Thanksgiving in early October, so I think it's probably easier for us to move on to Christmas once mid-November hits.
Actually, I'm pretty sure that this is the earliest I've ever decorated. I starting pulling out the bins on Nov 14th! At first, it felt a little strange. But now I'm loving the fact that it's almost done, as it gives me more time to enjoy December with my sweeties.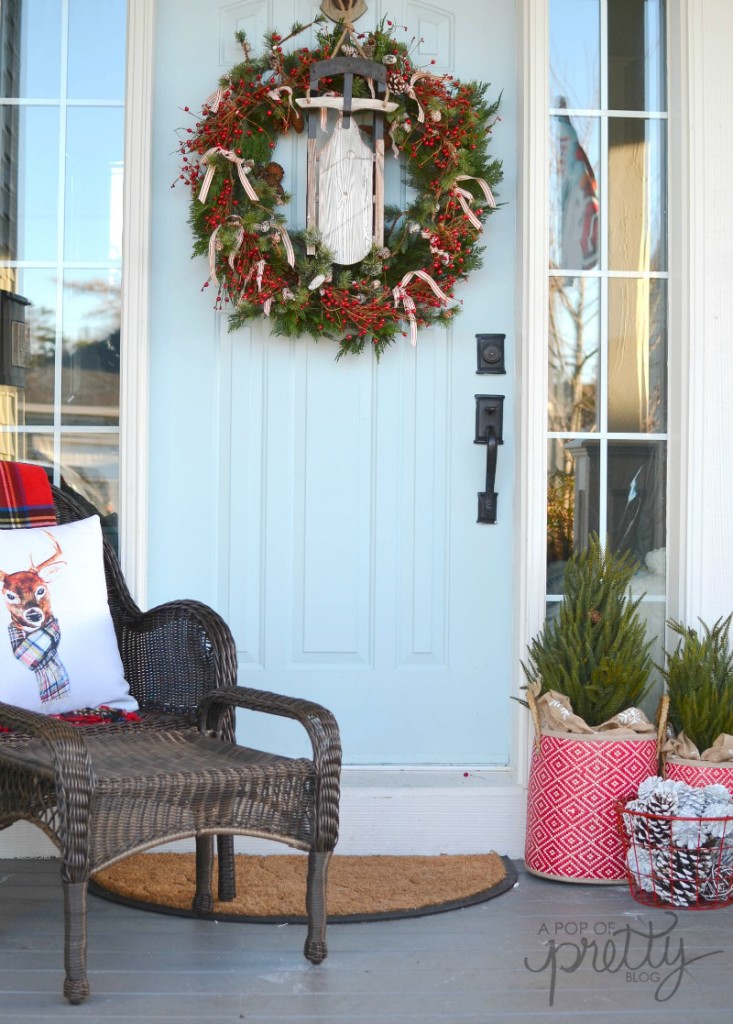 This year, my Christmas decor is very cottage-cozy, with hits of cheerful red and lots of rustic texture. (I'll have a full  Christmas home tour next week, along with some other Canadian home decor bloggers!) So I'm sure you can imagine my elated happy dance when I found some super cute rustic decor for my Christmas front porch at Wicker Emporium.
Wicker Emporium, a Canadian home decor and furniture retailer, recently invited me to participate in its Blogger Ambassador Program. If you live anywhere from Newfoundland to Ontario, chances are you've seen or visited a store. (If you're somewhere else in Canada, you can shop online.)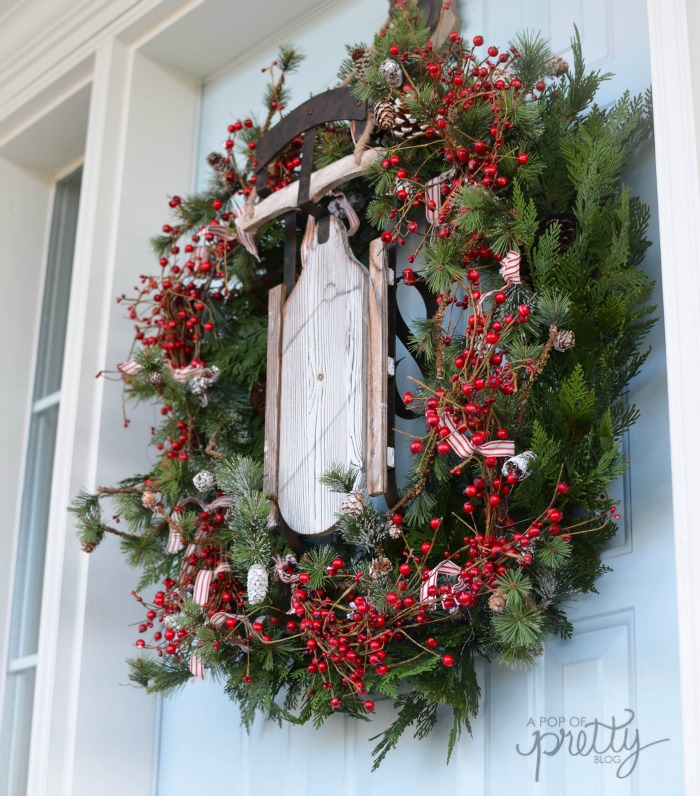 Wicker Emporium has always been one of my go-to furniture and decor stores, so I couldn't be more thrilled to be part of this program. In fact, I'm pretty sure I spent my first real pay cheque in a Wicker Emporium store many moons ago. It was on a wicker bookshelf that housed my university textbooks for years. (That wasn't yesterday!)
Basically, being part of this program means I'll be sharing some of my favourite things from the store with you a few times throughout the year. I know, it's a rough gig. 😉
Anyway, I had trouble picking just a few things at Wicker Emporium for my Christmas front porch because there are so many cute rustic holiday items in the store. But when I spotted this distressed 'barn board' sled, I knew it would be a perfect addition to my Christmas wreath.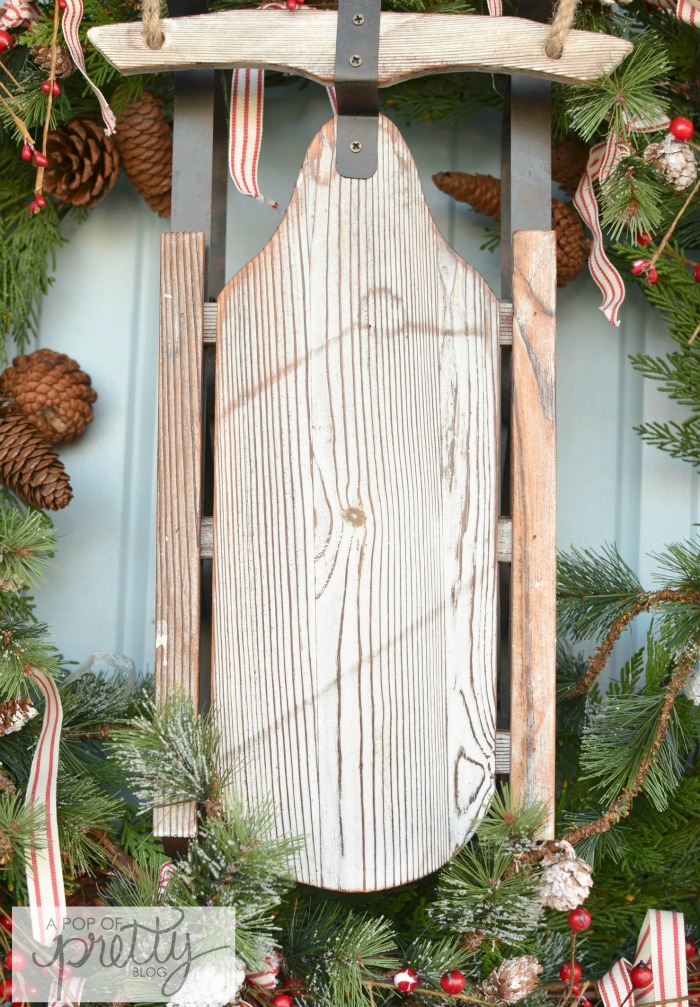 This is the same wreath I used on my door last year, but the addition of the sled makes it feel new again.  This is actually a really good tip if you're growing tired of some of your older Christmas decorations. You can easily fall in love with your decorations again by adorning them with something like this, or just changing things up a little.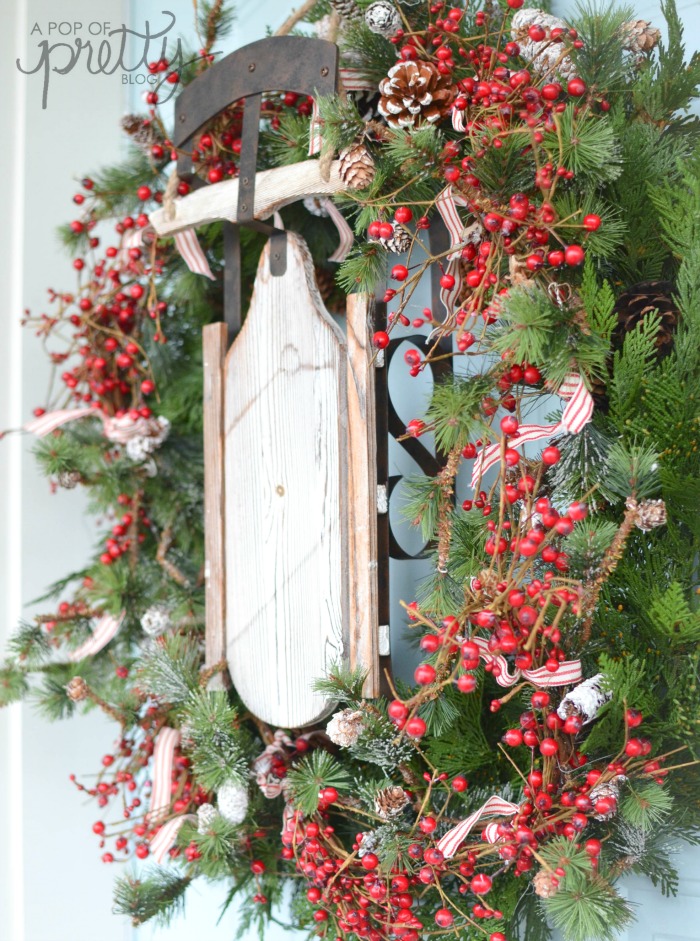 To add another hit of festive spirit to the front porch, I placed two very realistic-looking angel pine trees from Wicker Emporium in these cheerful, red patterned baskets. These little trees are already wrapped at the bottom with burlap, which looks awesome. But placing them in the patterned baskets just add a little more cottage-whimsy and personality.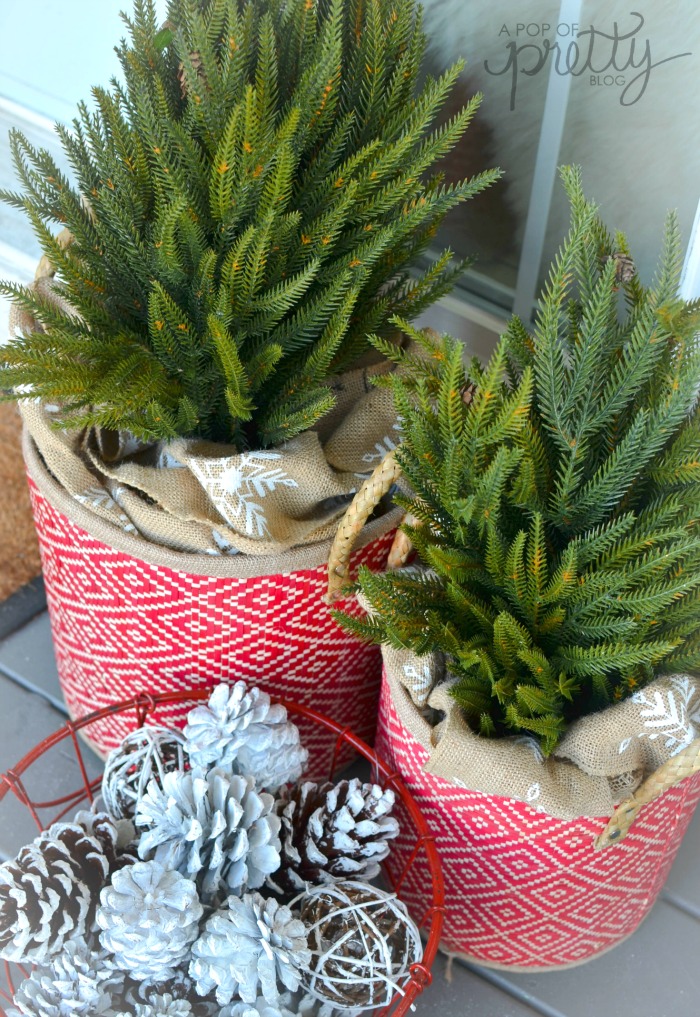 Aren't they cute? Wicker Emporium currently has a full line of these baskets in different colours and patterns.  I chose the red ones because I could use them in my Christmas decorating, but I love that I could easily use them all year for storage in our home.
Using a basket as a tree stand is a great tip for your full-sized tree as well. You'll find lots of inspiration if you Google it.  It's an easy way to freshen up the look of an old tree.  Just be sure to find one that is wide enough to place your tree stand in.
I'm excited to show you how the rest of my cottage-Christmas decorating is coming together. I've got lots of fun Christmas-themed posts coming up over the next week, so be sure to pop back soon!
Until next time,
Kerri
Disclosure: I was provided with product and compensation by Wicker Emporium to write this post as part of Wicker Emporium's Blog Ambassador Program.  But, as always, the thoughts and opinions expressed here are my own.