This post was most recently updated on September 23rd, 2019
Are you on Pinterest like me?  If so, you'll understand what I mean when I say I had a "Pinterest moment"when I first spotted this creative wall art idea in my pin feed earlier this year.  I wished I'd thought of it before filling my walls with all sorts of other things! Now I've got wall envy, and that never ends well! (Do I feel a project coming on?)
Do you know what this awesome 'art' is created from?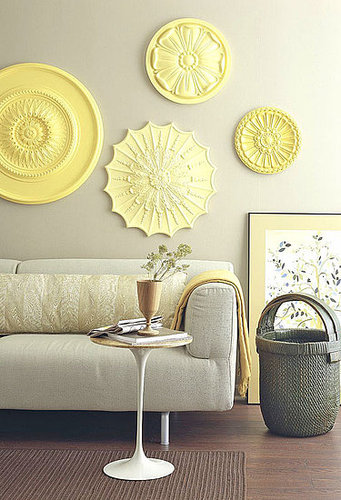 Source and all photos credits to: BH&G Do-it-Yourself via CasaSugar
It's a grouping of painted ceiling medallions! What a clever and affordable way to make a big statement on a long wall! They add so much character and texture to a room.  I liked this look so much, I went on the hunt for other ceiling medallion wall art projects.
I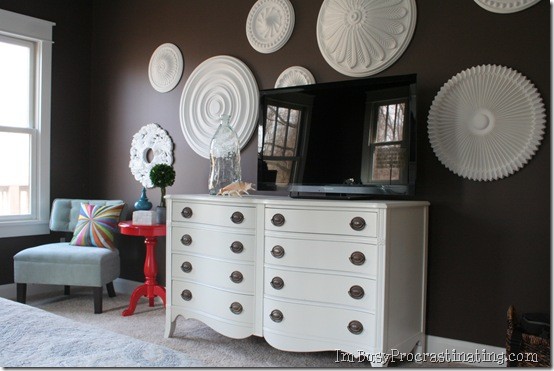 Source and all photo credits to: I'm Busy Procrastinating via Remodelaholic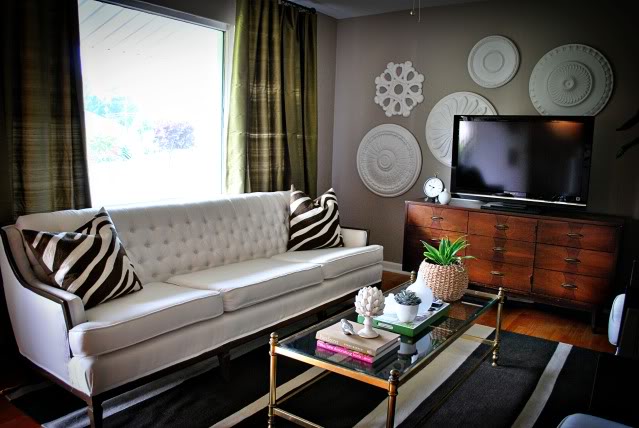 Source and all photo credits to: NuestraVidaDulce
You can find ceiling medallions of varying sizes and styles at just about any hardware store. They range in price, but I know that when we built out home 5 years ago, I found the ones for our ceiling for about $30 a piece (medium size). When you consider the cost of buying framed art for a large wall, this diy idea is actually pretty cost-effective.  But, even better, it's also super-stylish!
I'm adding Ceiling Medallion Wall Art as Idea #16 in my growing list of DIY wall decor ideas, which you can now find over in my right sidebar under "31 Days"!
See you tomorrow,