This post was most recently updated on September 22nd, 2019
Everybody has a little artist in them somewhere. Today's DIY wall art idea, from the archives here, is a great example of how easy it can be to create a great piece without having mad artistry skills!  This "Love Conquers All" inspirational painted canvas diy wall art project has become one of my most popular posts.  In case you missed the tutorial earlier this year, I thought I'd share it again here as idea #15 in my 31 Days Series on diy wall decor.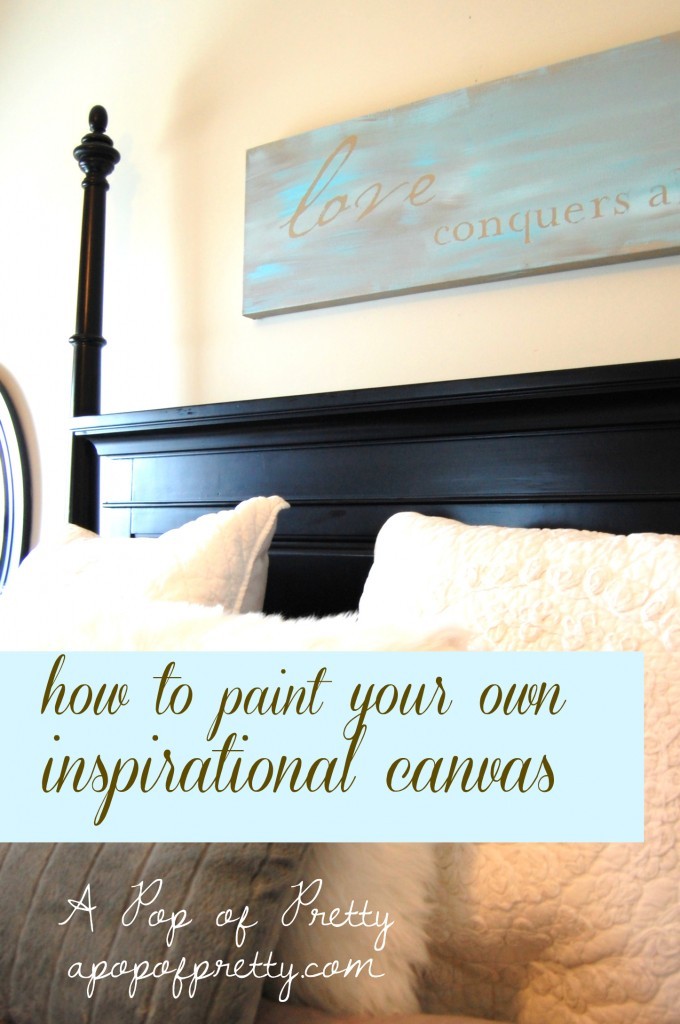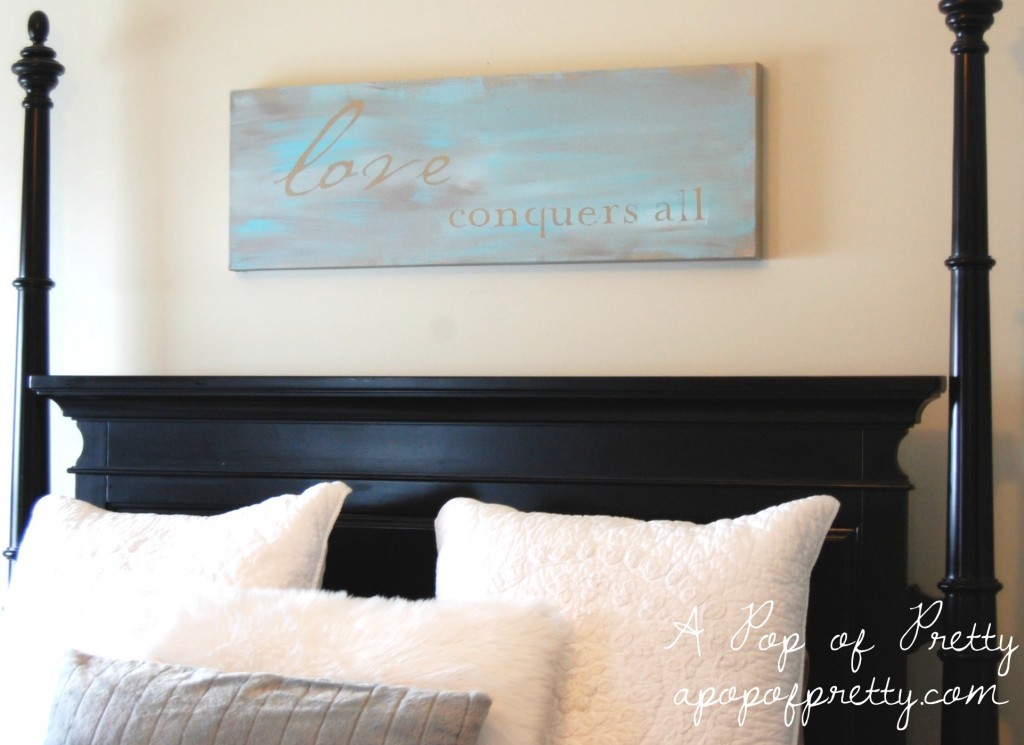 Step 1: Purchase (or re-use) a canvas.
Step 2: Spray (or brush) on a metallic colour – like silver, gold, pewter, or bronze – and let dry. This coat doesn't have to be perfect. You'll be painting over it, and only a little will show through.
Step 3: Once it's dry, stick on your vinyl quote. You can purchase an inexpensive one pretty much anywhere now for ridiculously cheap, or cut one with your Silhouette. It can be any old color vinyl – you are only using it as a stencil here, and will be peeling it off at the end.
Step 4: Depending on whatever color you want for your piece (mine was a watery blue), grab some regular old craft paint in different shades of that color. On a paint palette – or a tupperware plastic lid if you're like me, lol – squeeze a fair amount of each of your colors. Now, starting with whatever shade you want, paint right over your canvas (and vinyl) in broad, random strokes, while still allowing the metallic paint underneath to peek through in spots. Using the same brush, do the exact same thing with another shade of the same color. Keep doing this until you are happy with the look. There is no special trick to this. It's your work of art!
Step 5: Let dry REALLY well – like overnight. (Because I am impatient, I used my hairdryer here, but I wouldn't recommend it as the paint bubbled in spots).
Step 6: When it's completely dry, peel off your vinyl lettering carefully. The words will now be in the metallic color you painted as your first coat!
Unfortunately, I didn't take pics while doing this project (duh).  But I used a similar process when creating the large "Endless Love & Laundry" piece for my laundry room piece which you can find photos of here: Giant Laundry Room Sign Tutorial: "Endless Love & Laundry"(+ Free Printable!).
Until next time,
(P.S. Throughout October, I'll be posting lots more ideas in this DIY Wall Art series here, and you can now find the full line-up to date in my right sidebar!)