This post was most recently updated on September 22nd, 2019
Wall art is one of my decorating obsessions (along with toss cushions and mantel decor, lol).
I'd been searching for something to hang between the headboard posts in our master bedroom for quite awhile.  The space required something  in a horizontal rectangular shape, which was difficult to find.
So, just before Christmas, on a whim really, I decided to try and make something myself.
Since Valentines Day is coming, I thought I'd share it now.  You'll see why.
I had purchased a pre-cut black vinyl quote back in the fall that read "Love conquers all".  (That's why, lol). I I got it for a low price, maybe at Homesense (under $10).  I wasn't sure what I was going to do with it at the time, but I knew it'd eventually become a project!
I also had already a rectangular canvas on hand which I had spray-painted in a metallic bronze awhile back for a project that never came to fruition.
So I decided to 'marry' the two. Get it? Love and marriage?!?  I know, I know, humor is not really my thing.
This piece was SO easy to make. I didn't take pictures of the process at the time (darn).  My camera wasn't charged when the inspiration came.  I had to roll with it, or it wasn't gonna happen!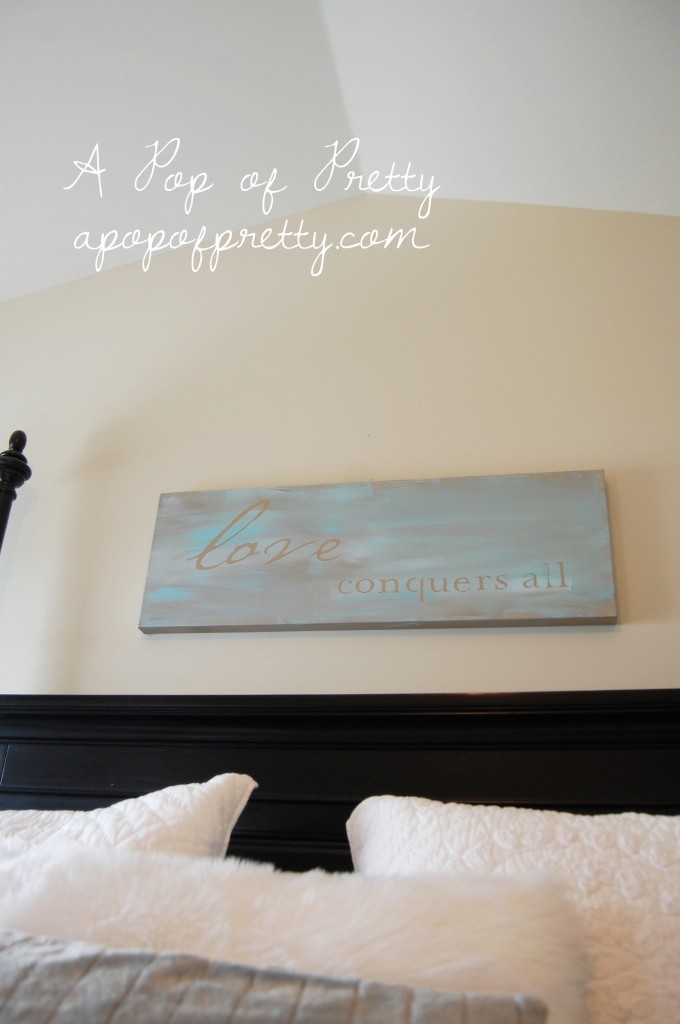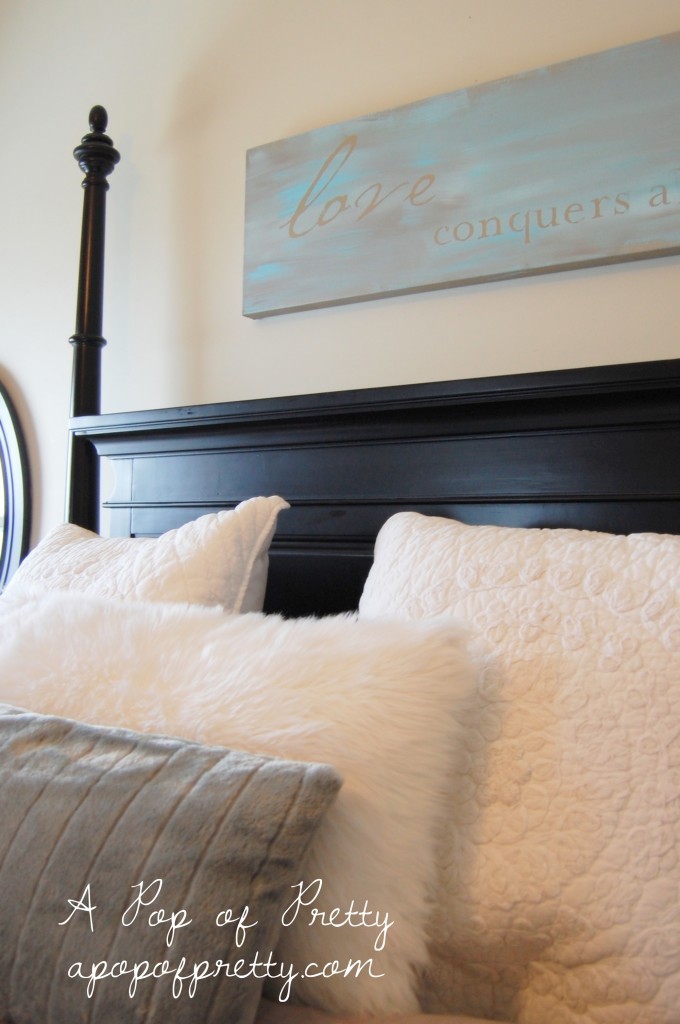 Given that I'm not an artist, I really like how it turned out.  The watery blues are the perfect compliment to the quote. It feels kind of dreamy, which is just the look I was going for.
Wanna make one yourself?

Step 1: Purchase (or re-use) a canvas.
Step 2: Spray (or brush) on a metallic colour – like silver, gold, pewter, or bronze – and let dry.  This coat doesn't have to be perfect.  You'll be painting over it, and only a little will show through.
Step 3: Once it's dry, stick on your vinyl quote.  You can purchase an inexpensive one pretty much anywhere now for ridiculously cheap, or cut one with your Silhouette.  It can be any old color vinyl – you are only using it as a stencil here, and will be peeling it off at the end.
Step 4: Depending on whatever color you want for your piece (mine was a watery blue), grab some regular old craft paint in different shades of that color. On a paint palette – or a tupperware plastic lid if you're like me, lol – squeeze a fair amount of each of your colors. Now, starting with whatever shade you want, paint right over your canvas (and vinyl) in broad, random strokes, while still allowing the metallic paint underneath to peek through in spots.  Using the same brush, do the exact same thing with another shade of the same color.  Keep doing this until you are happy with the look.  There is no special trick to this.  It's your work of art!
Step 5:  Let dry REALLY well – like overnight.  (Because I am impatient, I used my hairdryer here, but I wouldn't recommend it as the paint bubbled in spots).
Step 6:  When it's completely dry, peel off your vinyl lettering carefully.  The words will now be in the metallic color you painted as your first coat!
See, everybody has a little artist in them somewhere!
Until next time,
Kerri
If you liked this post, why not subscribe to my feed?

I share pretty home inspiration just like this, every week!
PS. I'm linking this post at Home Stories A2Z Tips & Tutorials Tuesday, and the Shabby Nest's Frugal Friday.