This post was most recently updated on September 22nd, 2019
Eclectic decorating is going to be all the rage in 2012, according to the trend-watchers.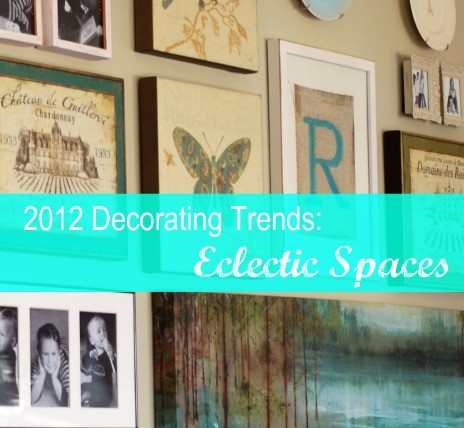 Last week, I read a blog post from a writer of one of my favorite decorating magazines where this eclectic decorating trend was partially attributed to the surge in popularity of home bloggers:
"We're finally celebrating interiors designed with real-living and real-budgets in mind!  Repurposing thrift store finds, buying vintage and going with your gut has never been more chic. It's actually trendy to be thrifty, unique and unexpected."

Source: Style at Home Blog, Jan 5th, 2012

Insert BIG SMILE here. I've always been a 'going with my gut' kind of decorator.
Still, I'll admit, I've never been brave enough to go too far outside the goal posts of the accepted 'design rules'. But I enjoy adding things to rooms that make me happy, even if they might seem odd or unexpected to others – like mismatched lamps or side tables, or a gallery-style wall.  I think that's why I am so attracted to blogs and homes that celebrate a more eclectic style than mine, like Nesting Place and Meg Deurksen's blog, Whatever.
It's great that eclectic it's now described as 'trendy', but the irony isn't lost on me.  As an admirer of eclectic decorating style, what I've always loved about these spaces is that they buck the trends 'de jour'. Eclectic spaces beat to the rhythm of their own drum, and that's what makes them so special. Eclectic spaces have a quiet confidence and and fearlessness about them that whispers "I'm OK with being different", "I'm OK with being me".
My favorite eclectic spaces don't live by the 'minimalist' trend or the 'neutrals' trend.  Instead, they are a gorgeous, happy blend of quirky finds, textures and treasures, all mixed up with patterned textiles and unexpected pops of color.  They are authentic, 'organic', and 100% comfortable in their own skin.
Eclectic spaces are anything but trend followers. While these spaces might have some 'on trend' objects, colours or patterns, they are simply part of the overall eclectic mix, rather than being the focal point.
So, if calling "Eclectic Decorating" a "trend" means that more of us can embrace our own sense of style, rather than living by somebody else's rules, then I'm all for it.  I'm one of those many decorators / home owners who likes having the 'permission'.
Here's a look at some more of my favorite eclectic spaces which I've collected in an Ideabook on Houzz.
Just click the little forward arrow on the slider below to see each slide.
Until next time, have fun decorating…your way!
Kerri