This post was most recently updated on September 22nd, 2019
I thought I'd share some fun news.  My Easter Mantel from last year has been featured by Better Homes and Gardens home decorating ideas!  You can find it by clicking here: Better Homes & Gardens – Real Home Spring & Easter Mantel Decorating Ideas.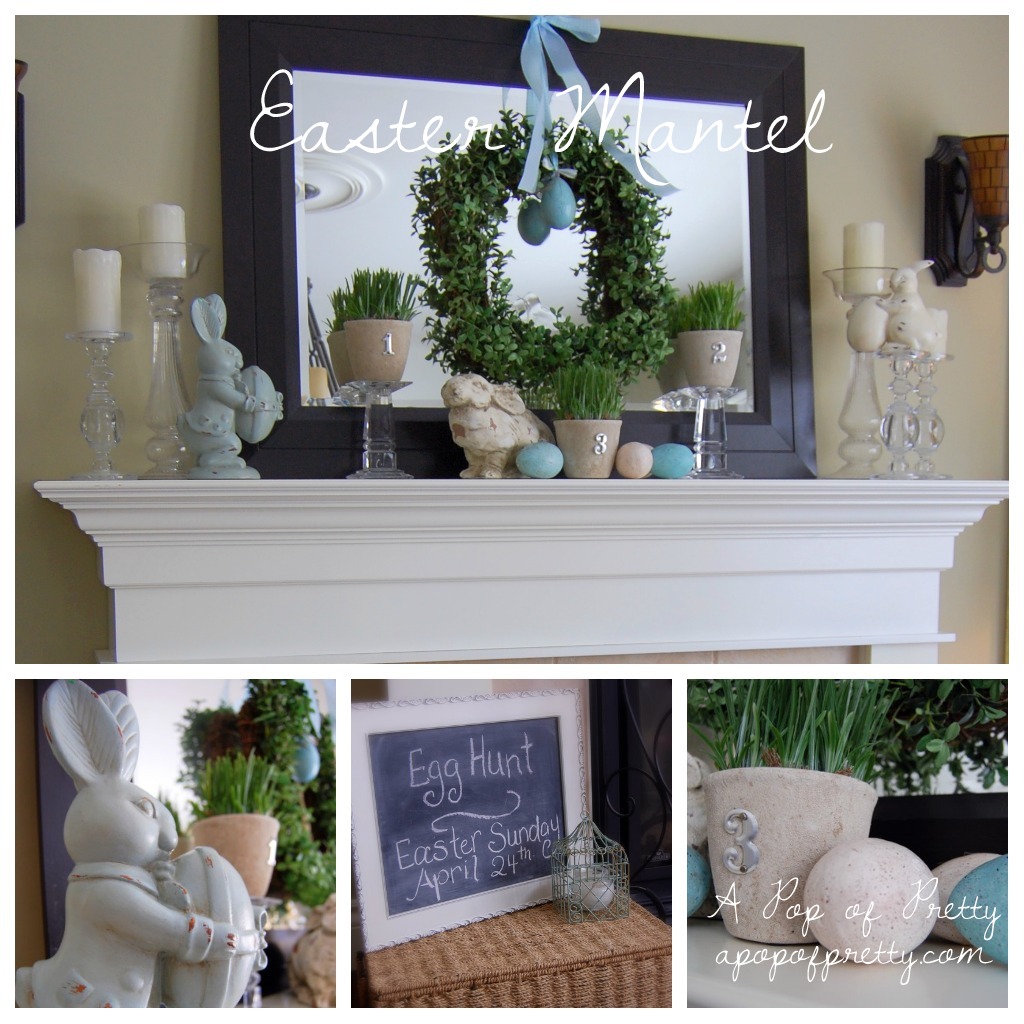 This mantel was also featured on HGTV.com earlier this year in an article by Layla Palmer of The Lettered Cottage called "Decorating Your Mantel Year-Round".
Looking back, I really like the simplicity of this mantel, versus my typical style of seasonal decorating.  I skipped out on using the traditional Easter pastels (like yellow, pink, and mint green); and, instead stuck with a very muted color scheme.  The potted grass and boxwood wreath provided an injection of nature (and some nice texture), while the glass candlesticks added a little sparkle.   Maybe I can learn from my own mantel: Less is More.  I've always been a "More is More" kind of decorator, but I find myself slowly moving away from that approach, and craving more clutter-free and simple living spaces.
I can't wait to get started on this year's Spring mantel.  Spring is one of my favorite seasons for decorating.  Do I say that every season?  Yes, now that I say it, I think I do, lol.
Well, I really mean it when it comes to Spring. Spring weather comes late here, so we don't get the traditional Spring flowers at the same time as warmer climates do.  A big booooo to that. Sometimes spring flowers don't bloom here until mid to late-June when the rest of you are already at the beach in your bikinis. (Jealous!)
So  in the meantime, I'll try and fake Spring by decorating inside with some bright blooms here and there.
Looking forward to sharing a newly-decorated Spring / Easter mantel with you in the coming weeks.
Until next time,
Kerri
P.S.  Would you like to see how my mantel transformed through the seasons last year?  Click here for Mantel Decor: A Full Year of Decorated Mantels to see how I decorated my mantel at least 7 different ways in 12 months.