In this article: How to create a gorgeous farmhouse Christmas tree. I'm sharing 3 great tips to pull off this look flawlessly, along with my best sources for creating a cosy farmhouse themed Christmas tree.
If you followed my blog last year, you might remember this rustic, farmhouse Christmas tree I decorated in our summer home. A lot of you reached out about the ribbon and decorations and inquired about how to create a tree like this one. So, today I'm going to share a few tips for creating your own farmhouse Christmas tree, along with some sources for similar decorations.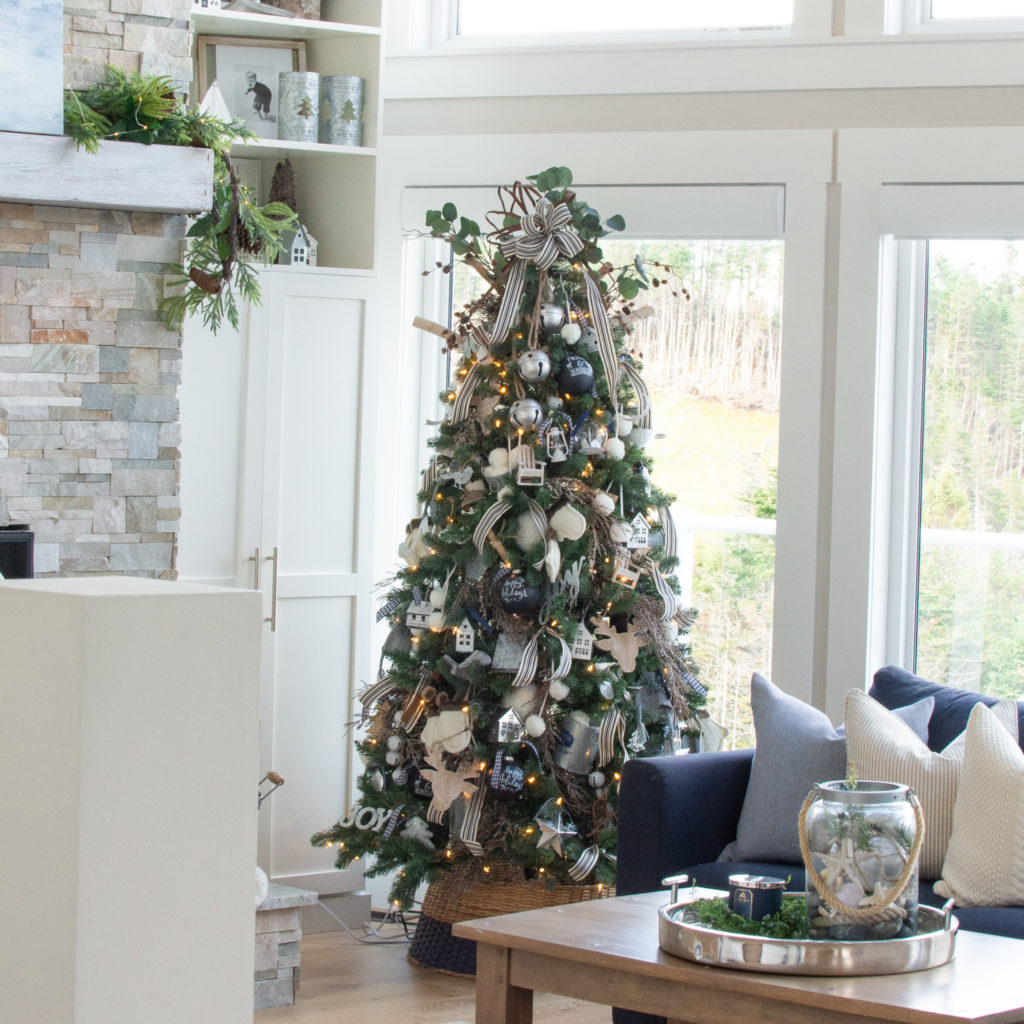 3 Tips to Create a Farmhouse Christmas Tree
If you want to create a farmhouse Christmas tree of your own, I have three great tips!
Tip #1: Use rustic Christmas decorations.
Farmhouse style is all about embracing rustic (and rusty!) textures like handmade items, galvanized metal and white washed wood. So to create a farmhouse Christmas tree, streamline your tree decorations by removing anything too luxe or glittery. Then add in anything you can find that has a time worn or artisan feeling. I love the little galvanized metal houses and buckets, wooden reindeer heads, and knitted mittens on our tree. They help to create a farmhouse inspired mood.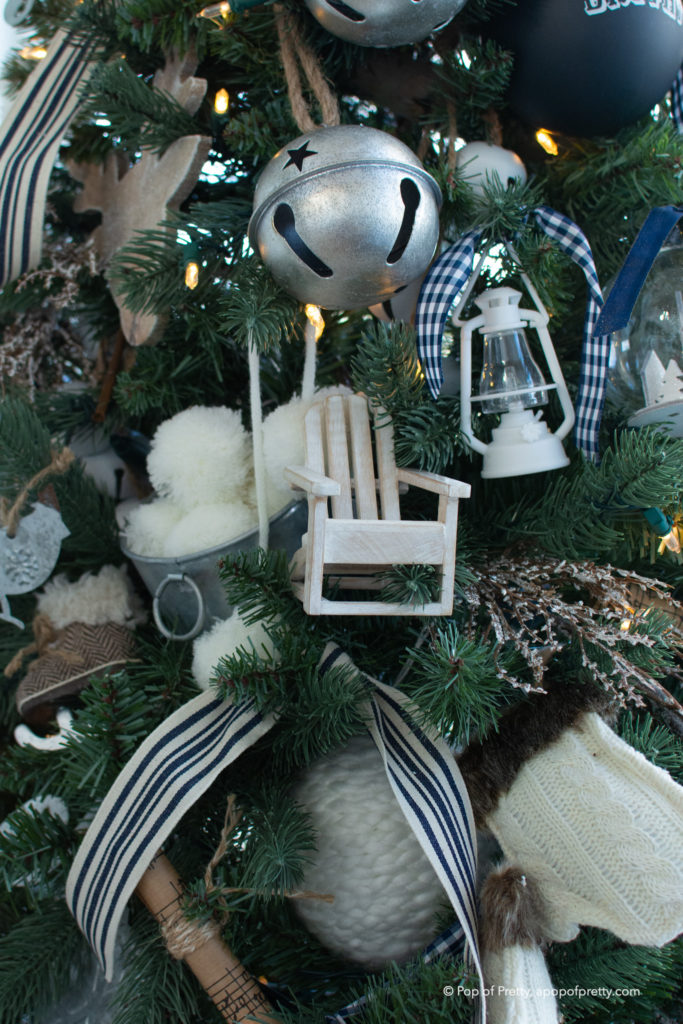 Tip #2: Use farmhouse-inspired ribbon.
This time of year there are SO many ribbon styles to choose from! You can find anything your heart desires, including glitter and embellishments. However, if you want a farmhouse Christmas tree, I'd stick to a classic farmhouse style pattern, like a buffalo plaid, gingham or striped ribbon. I normally pack my Christmas trees full of ribbon, but for this farmhouse Christmas tree, I tried to use restraint. For example, I used a simple striped farmhouse ribbon in navy blue and white, and I kept it to one pattern only. And I think the ribbon is really what gives it that farmhouse look.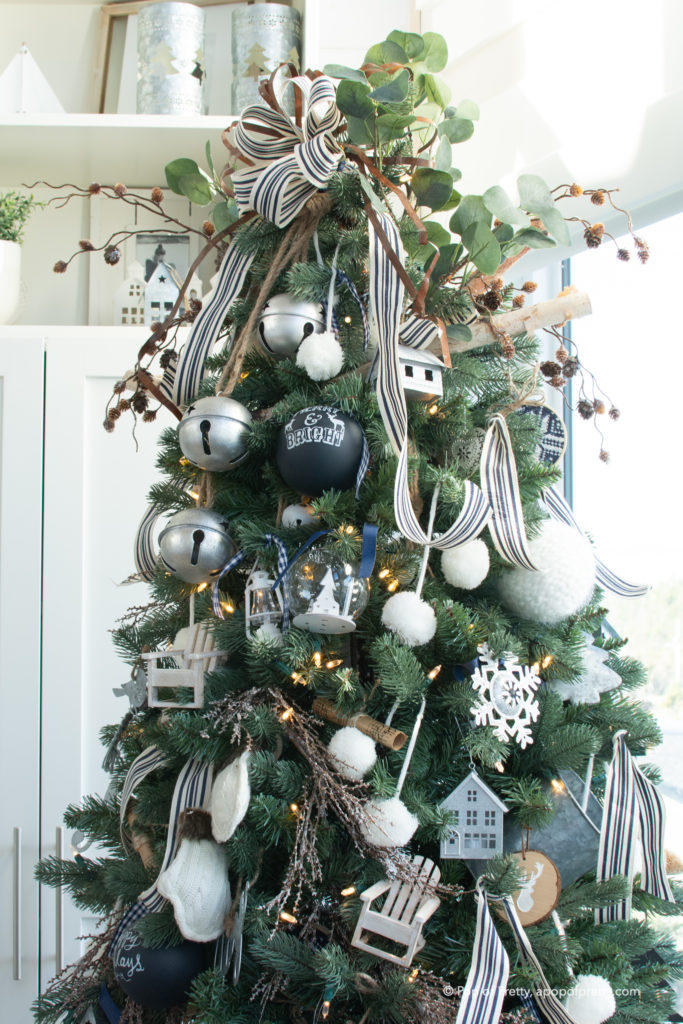 Tip #3: Keep it simple.
Creating farmhouse style is also about simplicity. In other words, you don't want your farmhouse Christmas tree to feel fussy or overdone. Visual simplicity can be achieved by streamlining your colour scheme. For example, you could use black and white or navy blue and white. Or, if you love to use red in your Christmas decor, that's OK too. But maybe pair it with white or cream rather than traditional red and green.
As mentioned in Tip #2, another way to keep your farmhouse Christmas tree simple is to minimize the amount of ribbon you use. But you can also hang your ribbon in a simple way . So, instead of wrapping your tree with lots of wired ribbon, just tie some loosely on the ends of the branches like I've done. It gives a more down to earth look.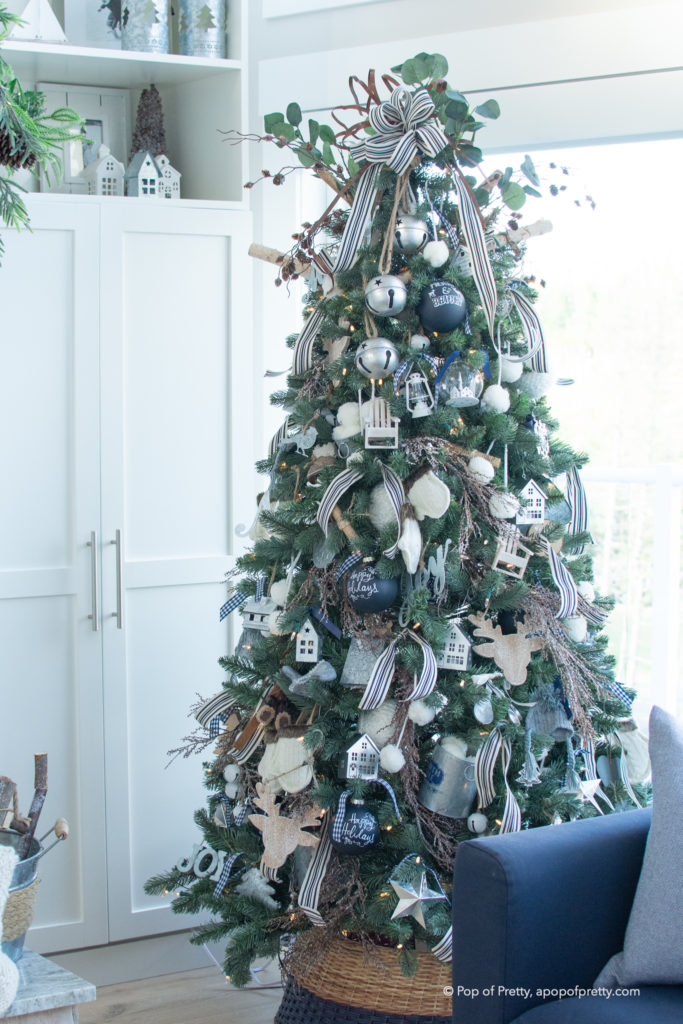 Where to Find Farmhouse Christmas Tree Decor
To create a farmhouse Christmas tree, you'll need some decorations that create the look. So I went on the hunt for Christmas tree decorations similar to the ones of my tree. Any combination of these ornaments, along with using my tips above, will create a look I'm sure you'll love! (Please note that as an Amazon Associate, I earn commission on qualifying purchases made from my blog, however this does not impact the price you pay. And all these items were hand selected by me.)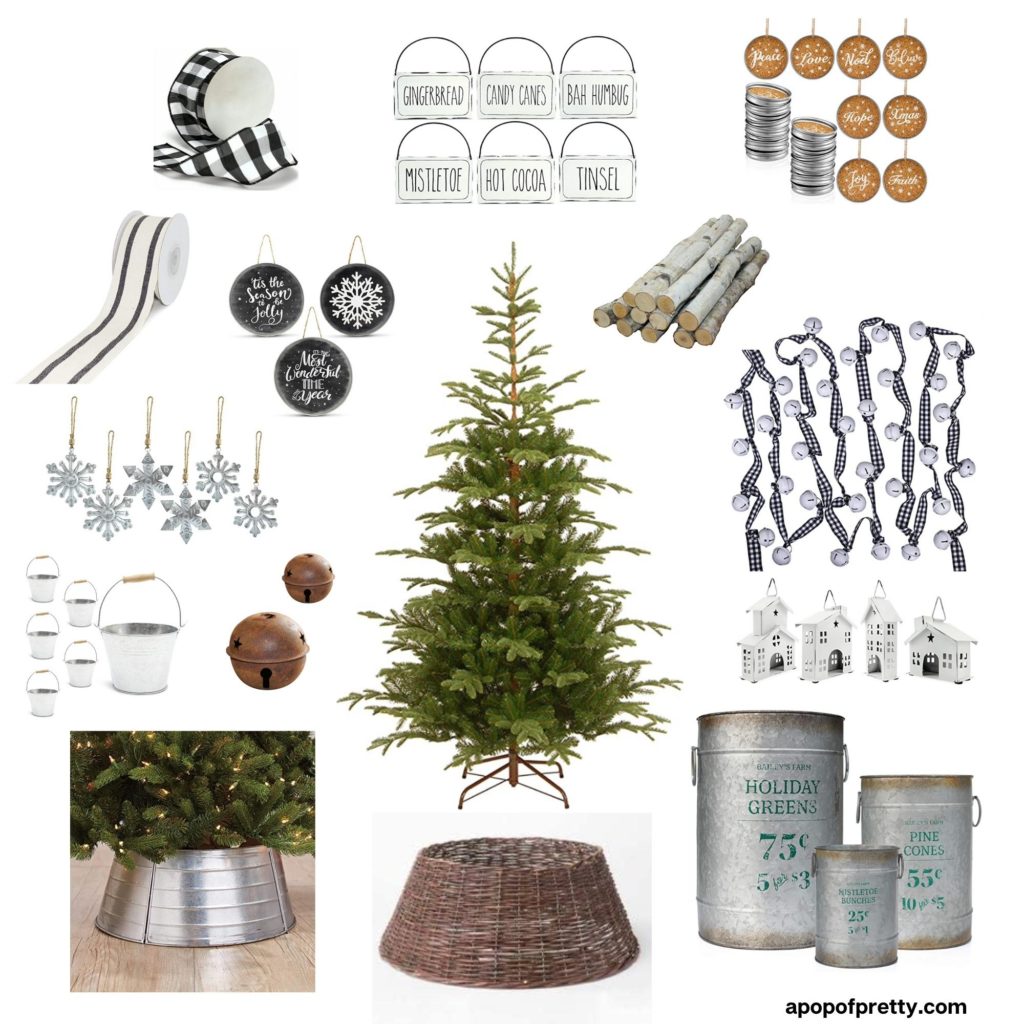 Farmhouse Christmas Tree Decor Sources
Large Galvanized Metal Holiday Buckets
Galvanized Snowflake Ornaments
Norwegian Spruce Christmas Tree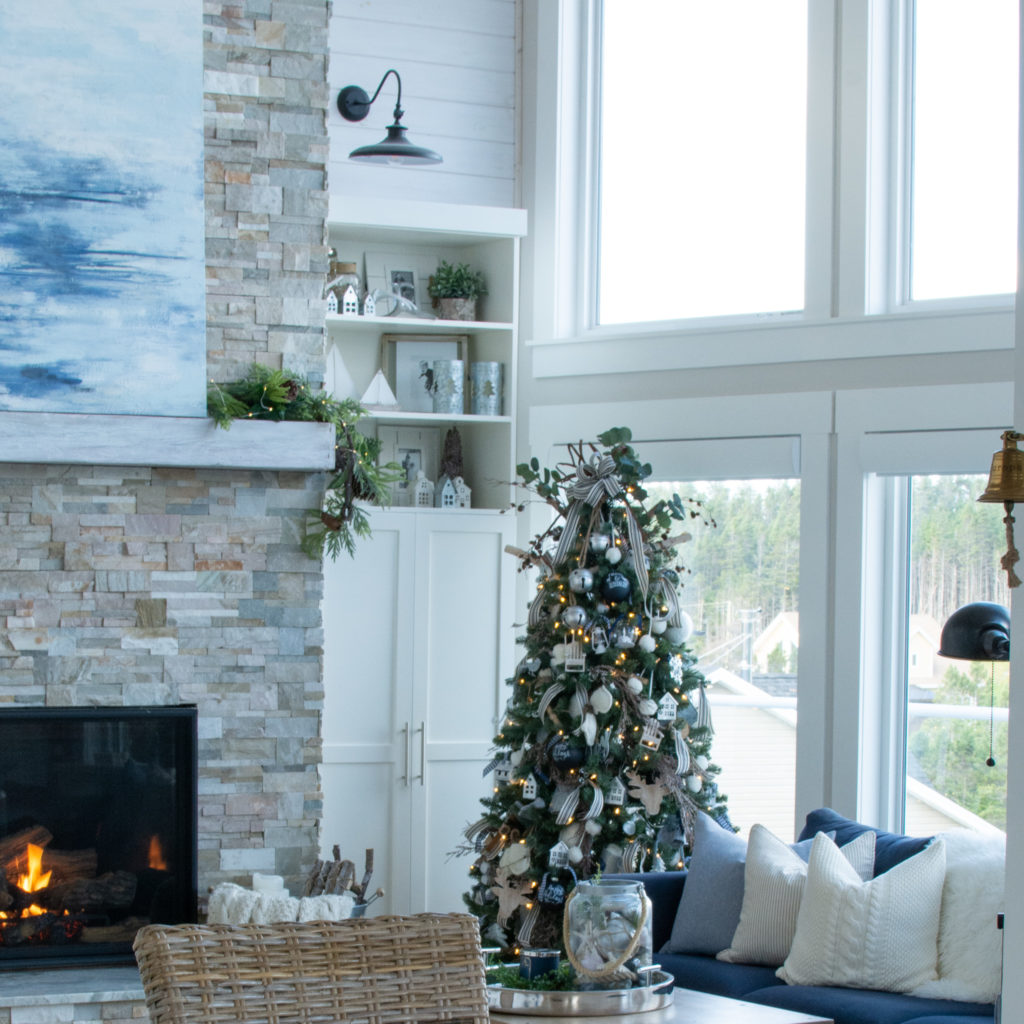 Shop All my Holiday Decor Finds
If you'd like to see how to re-create some of my other Christmas trees from the past – including my Red Plaid Cozy Christmas Tree featured in both Women's Day and Cottages and Bungalows – pop over to my Christmas decor shop to find everything organized by colour scheme. I've even rounded up the prettiest holiday ribbon on Amazon. Just hit the button below for all the finds!
Share the Love
If you liked this post, share the love over on Pinterest so others can find this article too!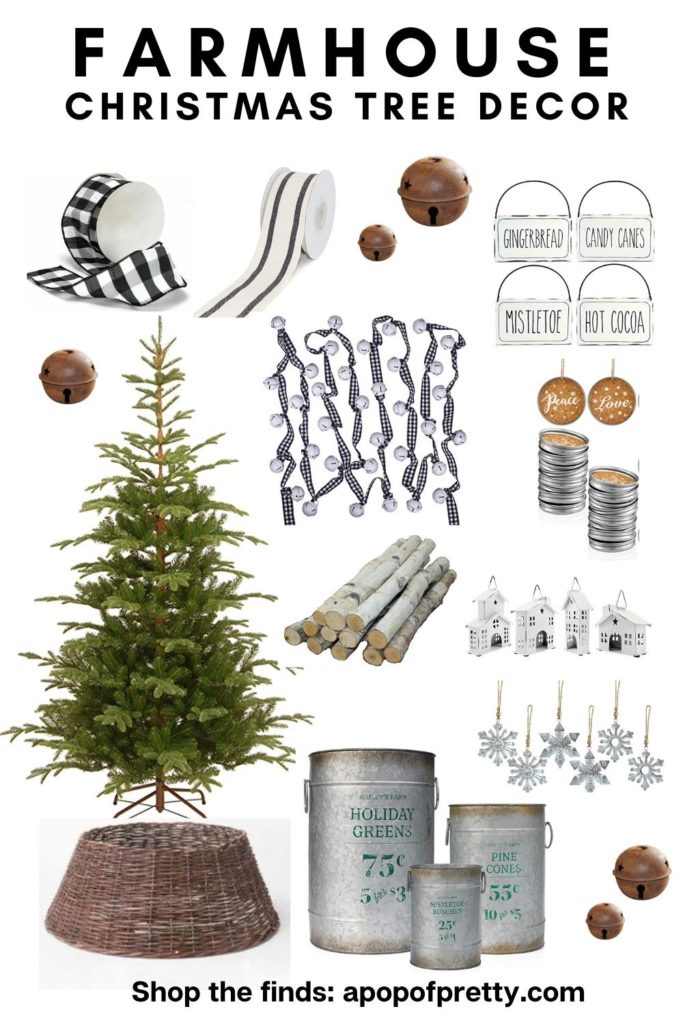 Looking for More Inspiration?
I love Christmas decorating! I've got lots of helpful articles to make your decorating easier and prettier!
Navy Blue and White Christmas Decor Ideas
Winter Wonderland Christmas Decor Ideas
White Christmas Theme Decor: Tips and Ideas
How to Put Ribbon on a Christmas Tree
What Goes on a Christmas Tree First?
3 Christmas Tree Decorating Tips
Until next time,
K.