This post was most recently updated on December 5th, 2021
In this article: I'm sharing lots of cottage Christmas decor ideas as part of my holiday home tour at our lakeside cottage. If you love a minimal but cozy vibe at Christmas, this post has ideas you can use in your own home, whether it's by the lake or in the city. You'll find lots of traditional plaid Christmas decor and a Christmas tree filled with rustic Scandi style decorations. Come on in!
Hello friends! It's December 1st and that means it's the most wonderful time of the year! Why? Because it's holiday home tour time! Today, I'm sharing my Plaid and Scandi-Inspired Cottage Christmas Home Tour from our Canadian lakeside home. My home tour is part of the Seasonal Simplicity Christmas Series, and next up is Krista from the Happy Housie, who has some cheerful and simple Christmas decor ideas on her blog today. There's lots of other Christmas home tours from fellow bloggers in this series, and you'll find all that inspiration linked at the end of this article. I don't know about you, but I just love taking a peek at how others decorate their homes for the holidays!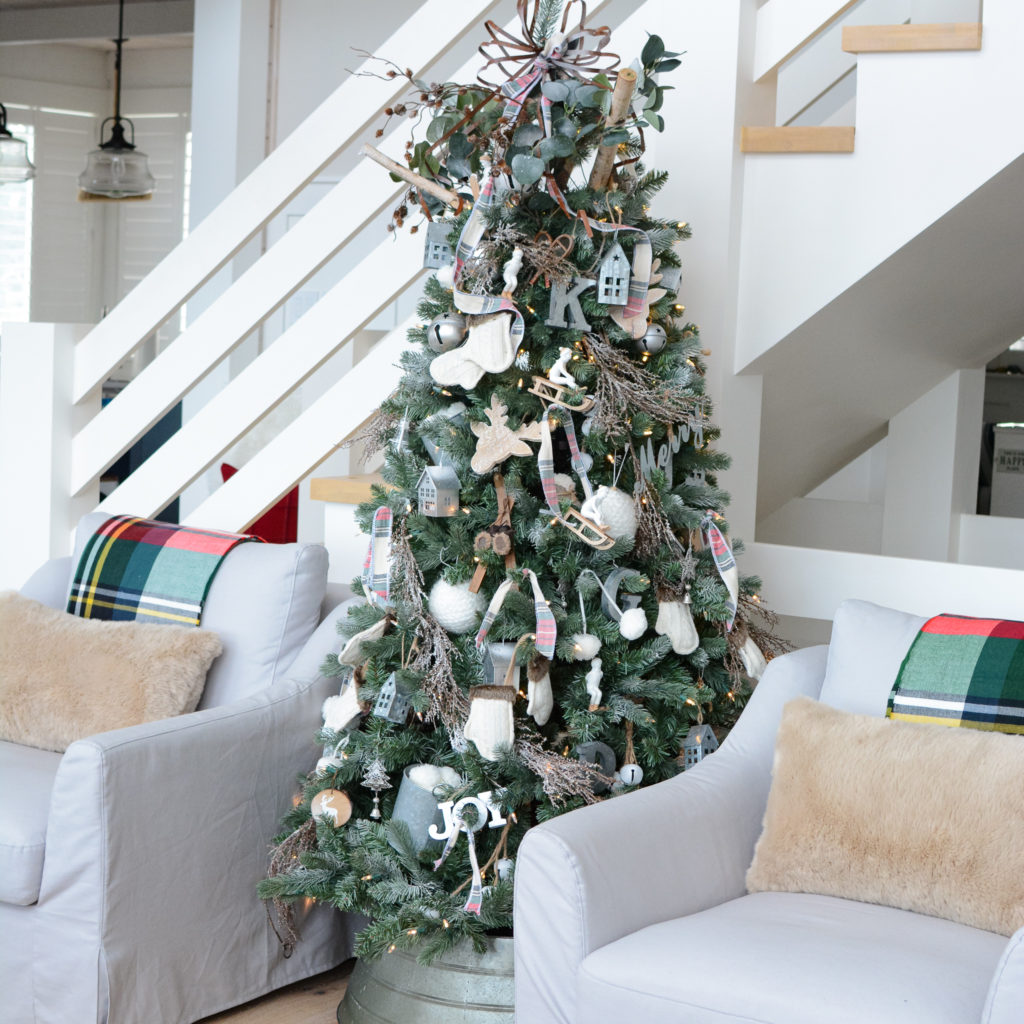 Past Cottage Christmas Home Tours
I've shared two other holiday home tours of our lake house cabin over the past few years. Both tours also had cottage Christmas decor ideas, but the vibe was a little different. Last year my Rustic Christmas Home Tour had a farmhouse vibe with navy blue accents, and the year before my Cozy Lakehouse Vibe for Christmas (Home Tour) had a cozy cabin theme with pops of red. This year, though, my Christmas decor was inspired by Scandinavian style and has pops of plaid. Every year I try to change the look up a little, while still using most of the same decor.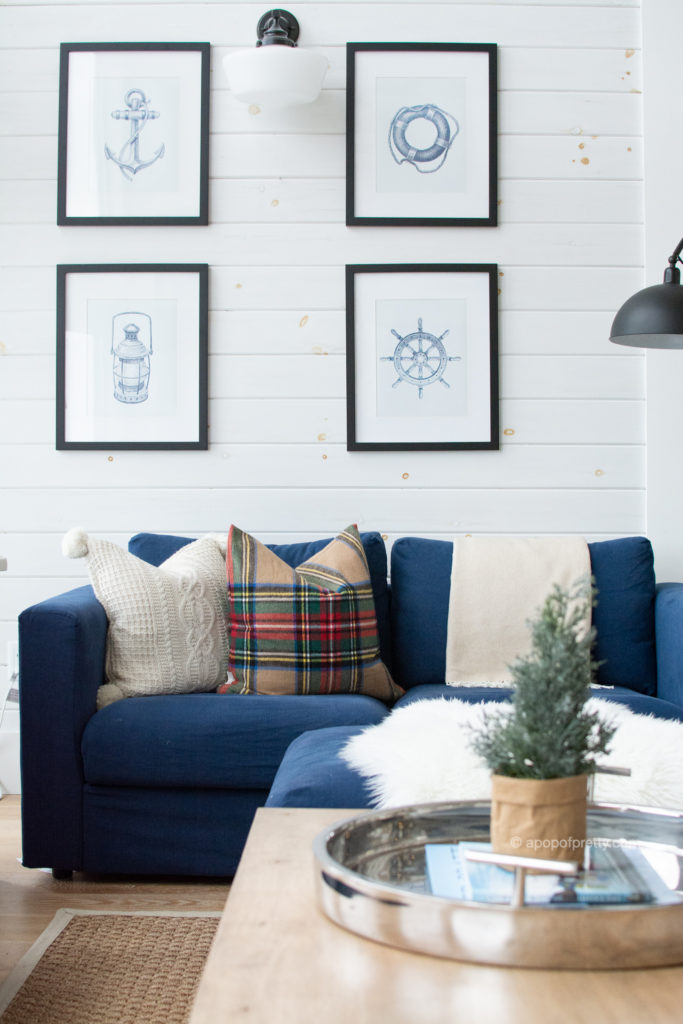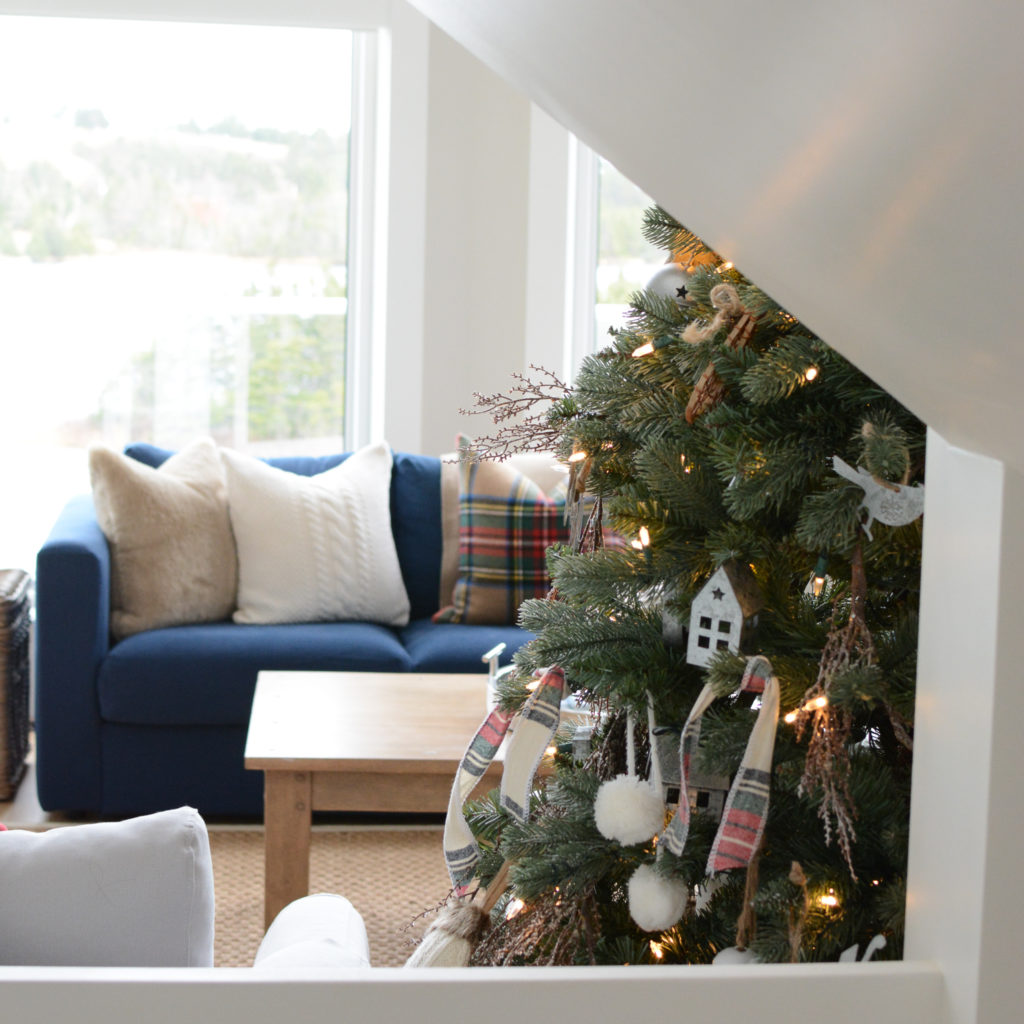 Last year I created a farmhouse style tree with most of the same ornaments, and the year before it was a rustic cabin Christmas tree. It's more about leaving things out than adding new decorations But, I have to admit, I'm a sucker for new Christmas decor. It takes a lot of self-discipline not to buy ALL THE THINGS! (But, if you're in the market, I've rounded up some of my favourite Christmas decor over in my Christmas decor shop 2021!).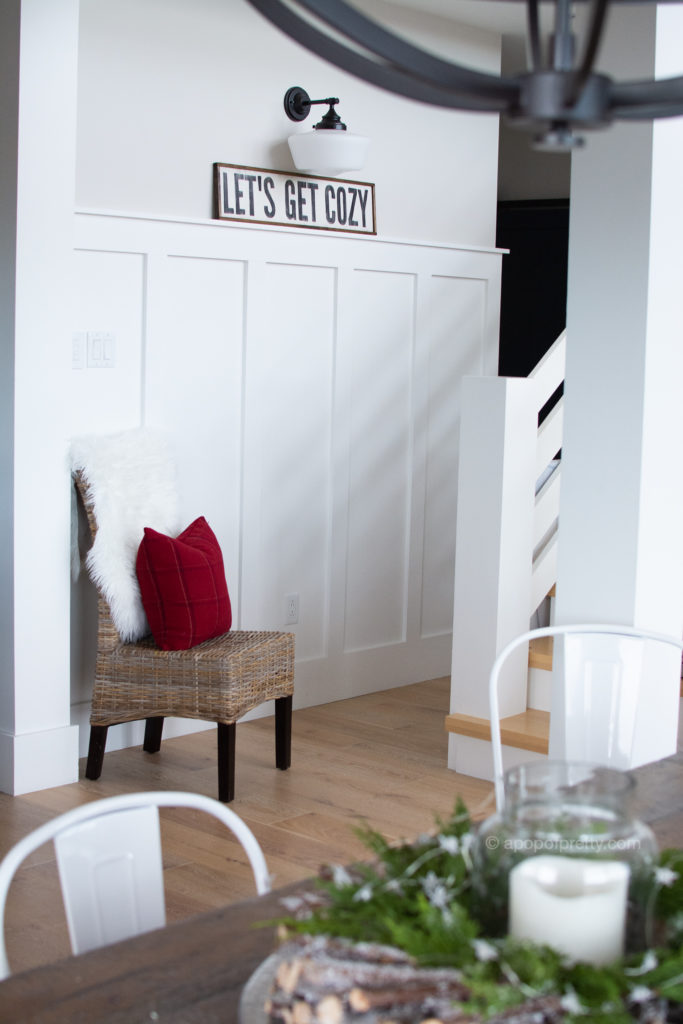 This Year: A Plaid and Scandi Inspired Tour
This year, our cabin is still decorated with that cozy cottage Christmas vibe I love so much. However, I was inspired by two things that are a little different from year past: plaid and scandi style. First of all, nothing says cozy quite like plaid! Plaid is just a Christmas classic, and it's a perfect accent for cottage retreat.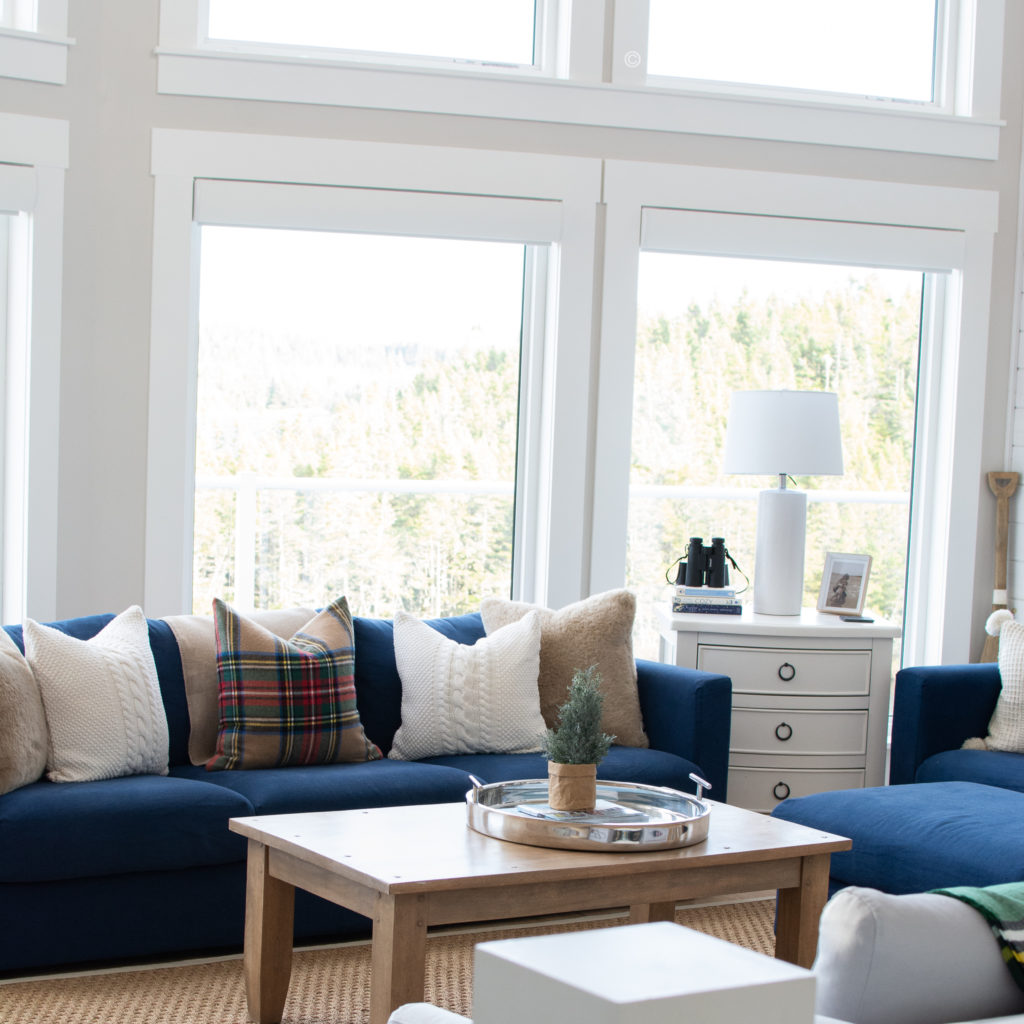 But, I've also been collecting inspiration pics over the years on my 'Minimal Christmas' Pinterest board. (If you don't already follow me on Pinterest, you can fine me here: A Pop of Pretty on Pinterest.). I love a Scandi style Christmas vibe, but, I'm far from minimalist when it comes to Christmas decorating, lol. Not even close. So, while I've always just drooled over inspiration photos, I've never attempted this look.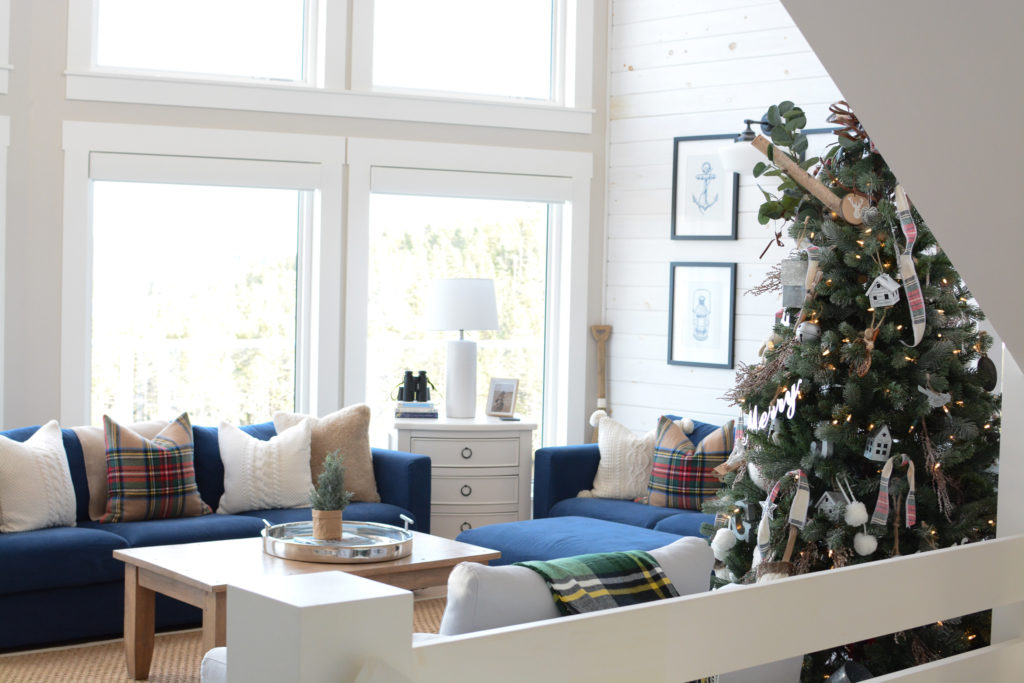 This year, though, I was definitely more mindful of how much Christmas decor I used in this home. Because this home is a retreat from our usual busy lives, I like to keep things simple and uncluttered here. So our cottage Christmas decor is pared back and a purposely sparser than usual. Luckily, the pops of traditional plaid help to keep the space feeling festive and cozy!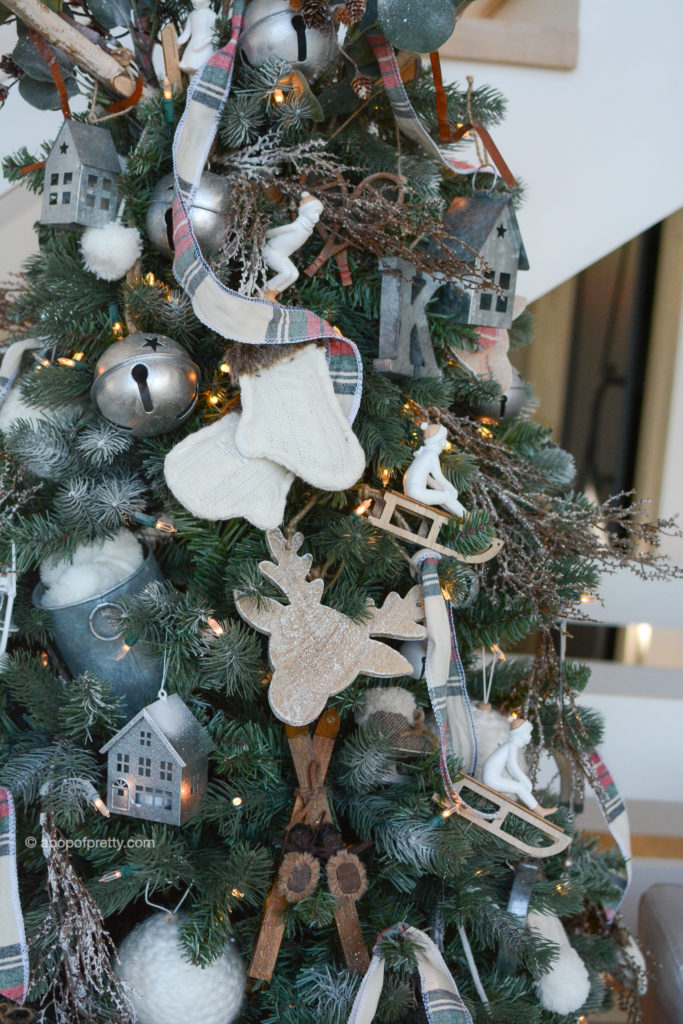 Using plaid is a great way to get a lot of festive Christmas bang without overdoing in with decorations. In this space, the windows (and the water and trees outside) are the feature. So, using plaid decor helps keep the look simple and cozy. It also also the Christmas tree to have a moment, without too much distraction.
This year's cottage Christmas tree is also a lot simpler than years past. Typically, I use lots of ribbon and decorations on my trees. In fact, I stuff my trees with so much than sometimes you can barely see the branches, lol. But this time around, I chose only a selection of ornaments, and used only one spool of plaid ribbon. It's a Christmas miracle lol!
I chose a selection of ornaments from my decorations that have a chalet vibe, so you'll see little Scandi style houses, cable knit mittens, and metal buckets of Pom Pom 'snowballs'. For the ribbon, I cut the spool into equal lengths and then knotted the pieces casually on the end of some branches. I didn't want it to look too fussy or overdone. I'm not sure if it's true Scandi style, but it's definitely more minimalist for me! (Baby steps!)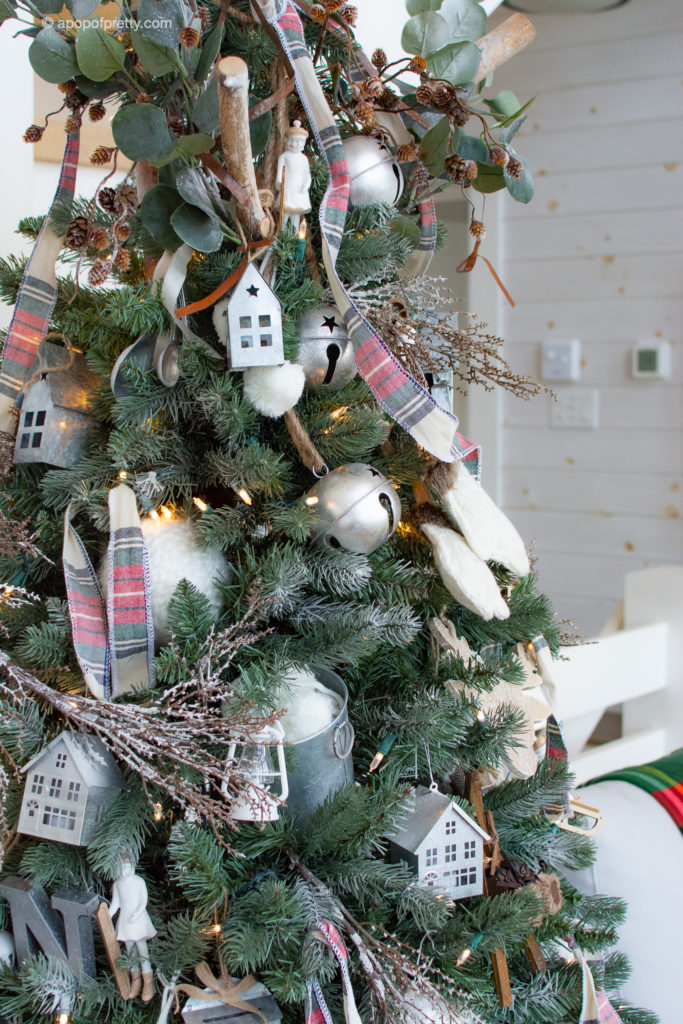 I plan to do another post on this cottage Christmas tree soon as I really love it's simplicity. There's lots of little details to show up close. For instance, if you look carefully, you'll spot one of my most cherished decorations on the tree. It's my grandmother's set of measuring spoons. I love putting meaningful items on a Christmas tree.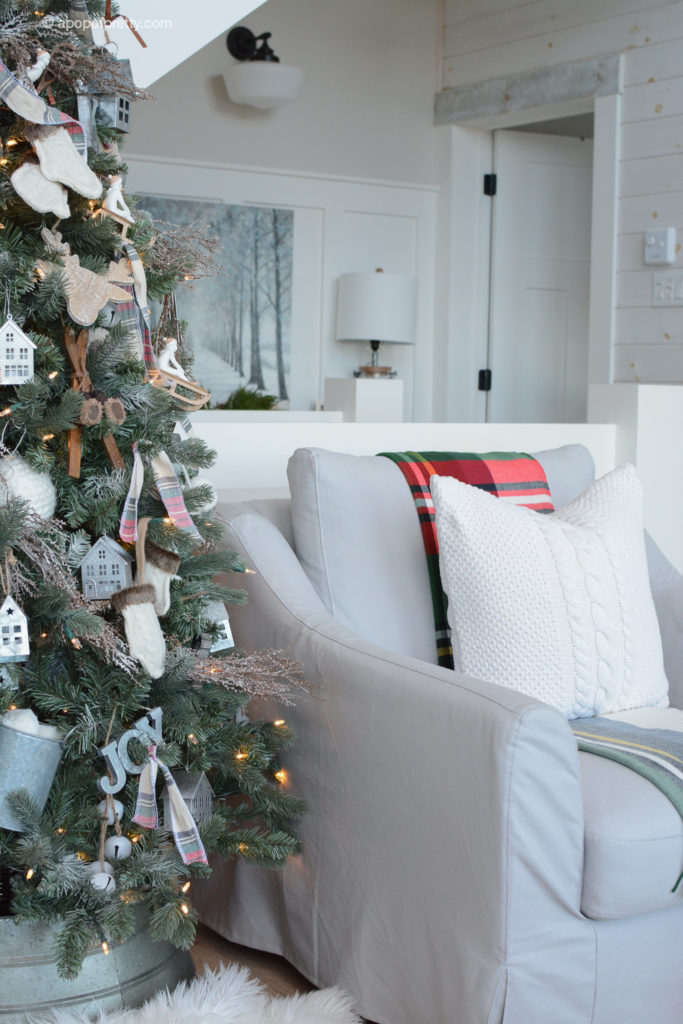 I purposely left our fireplace mantel bare of greenery this year. Last year, I used cedar branches filled with lights, but this year, I simplified things and just hung our kids' cable kit stockings there. These stockings remind me of a hand knit sweater that my grandmother knit me as a teenager. She was such a special part of my Christmases growing up. I love having little reminders of her throughout my holiday decor.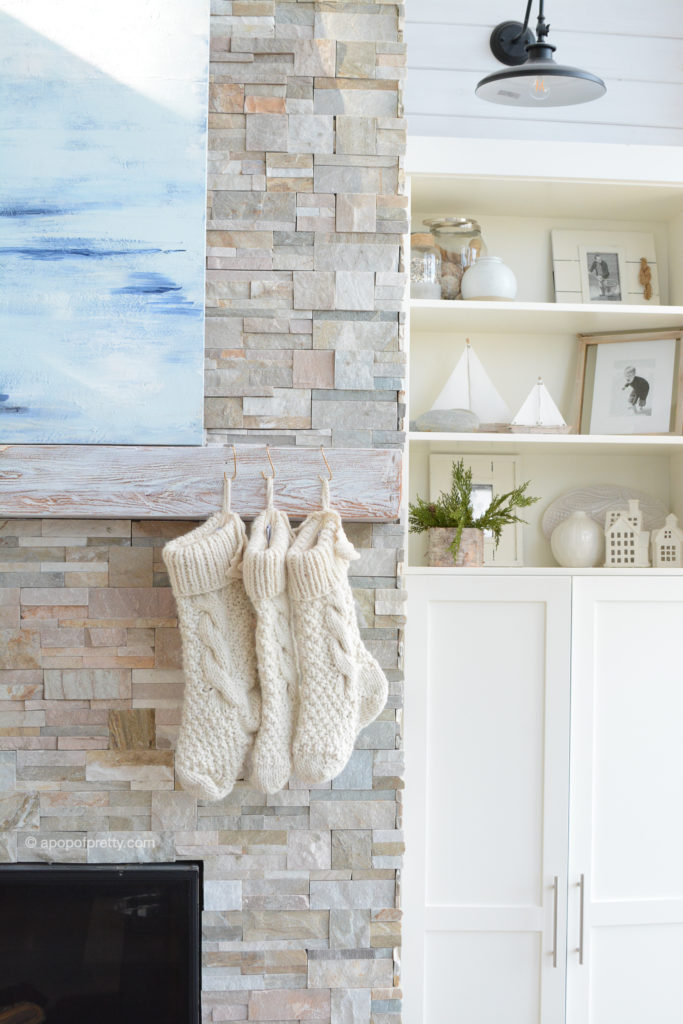 I also decorated a mini tree in our basement tv room space. It's filled with red mittens, hats, scarves, skates and skis. I'v collected these decorations over the past few years since we built this home. Because we live in Canada, we get lots of snow here in the winter, so wintery clothing is a theme that is fitting for our Christmas tree. In fact, our kids love skate on the pond just outside these doors.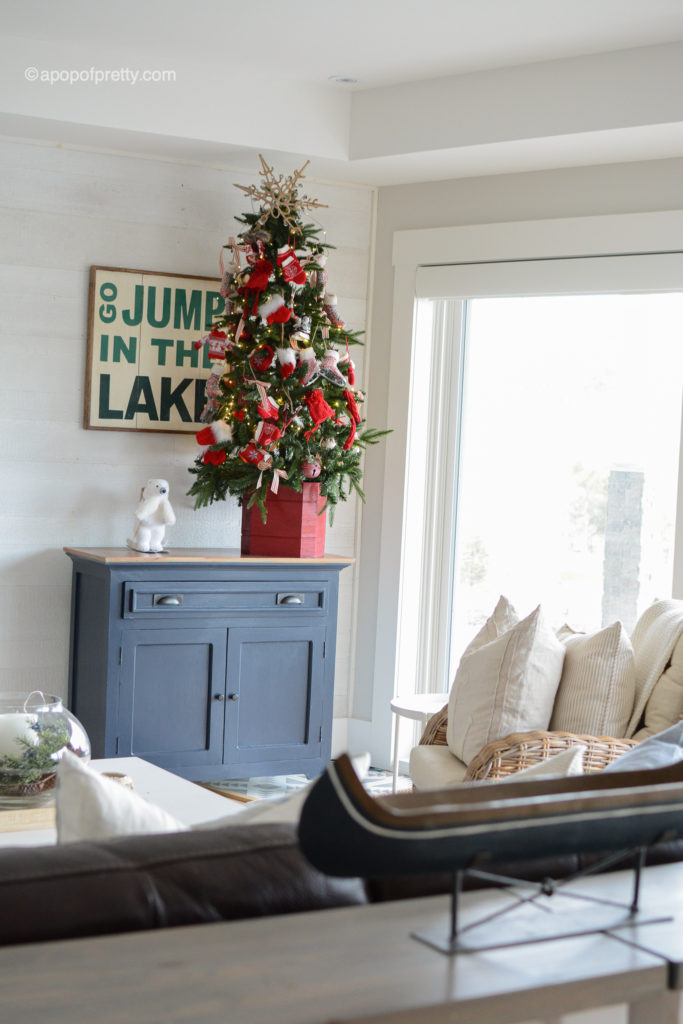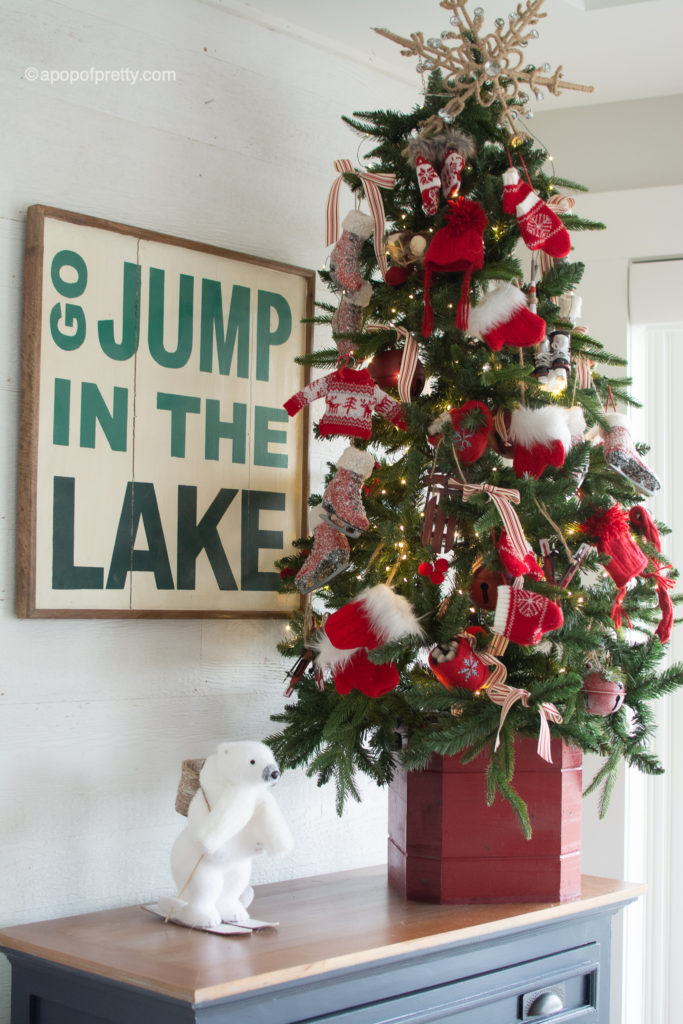 This year, instead of making a wreath for the front door, I bought a real one from a local craftsperson. It smells amazing, and I love the simplicity of a big red bow!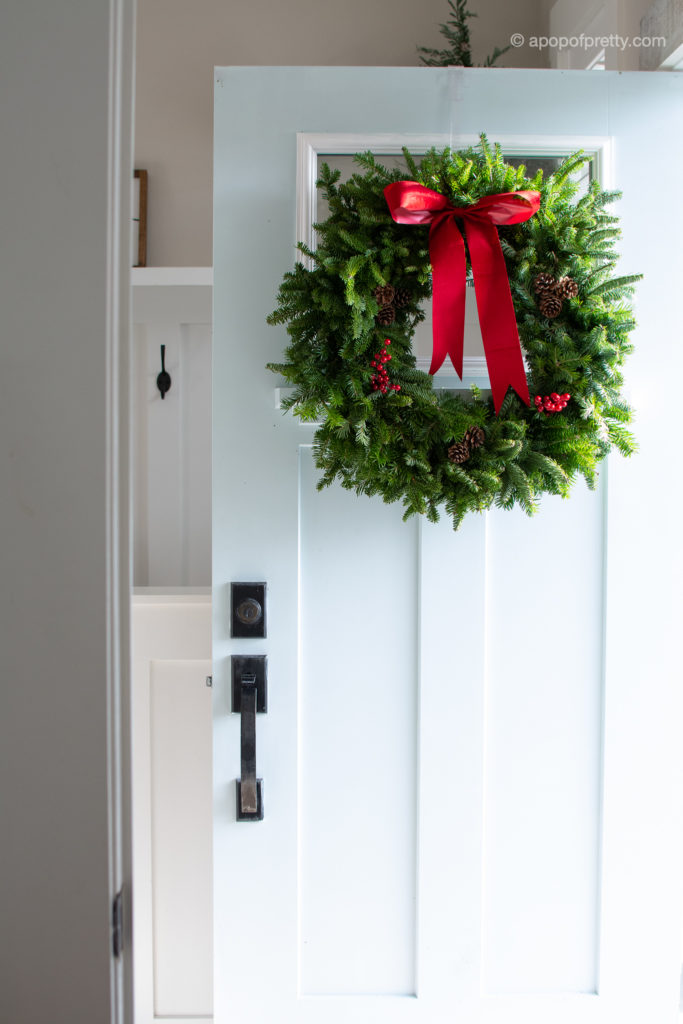 Our front entrance also has a simplified cottage Christmas vibe. Instead of using greenery and lights on this ledge, I opted to just place a couple of mini trees on each end. The plaid reindeer also add festive fun to the porch.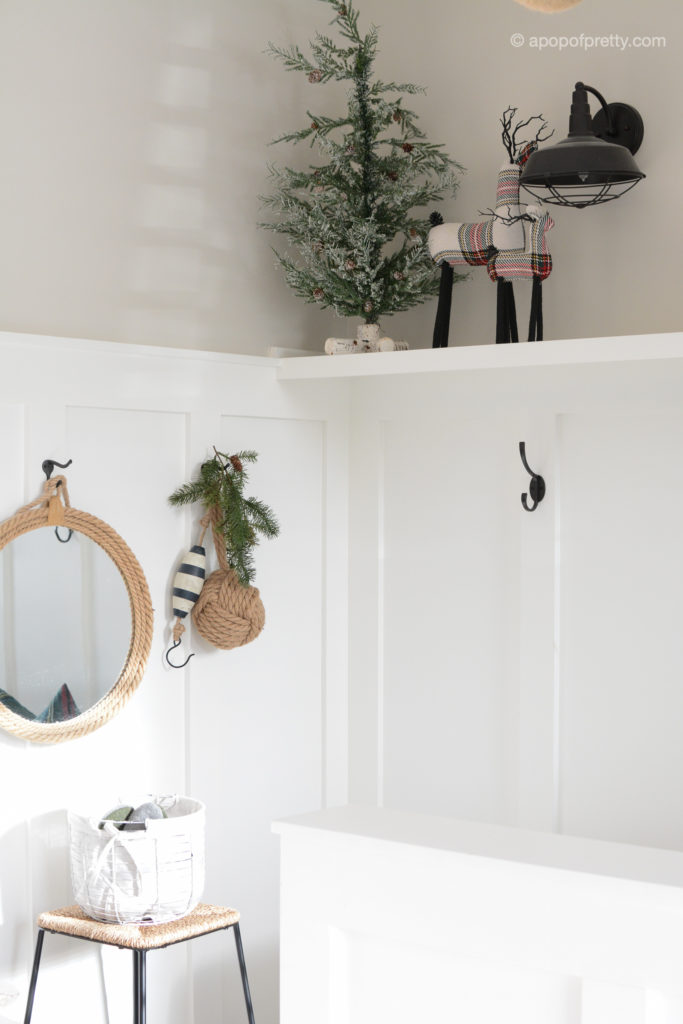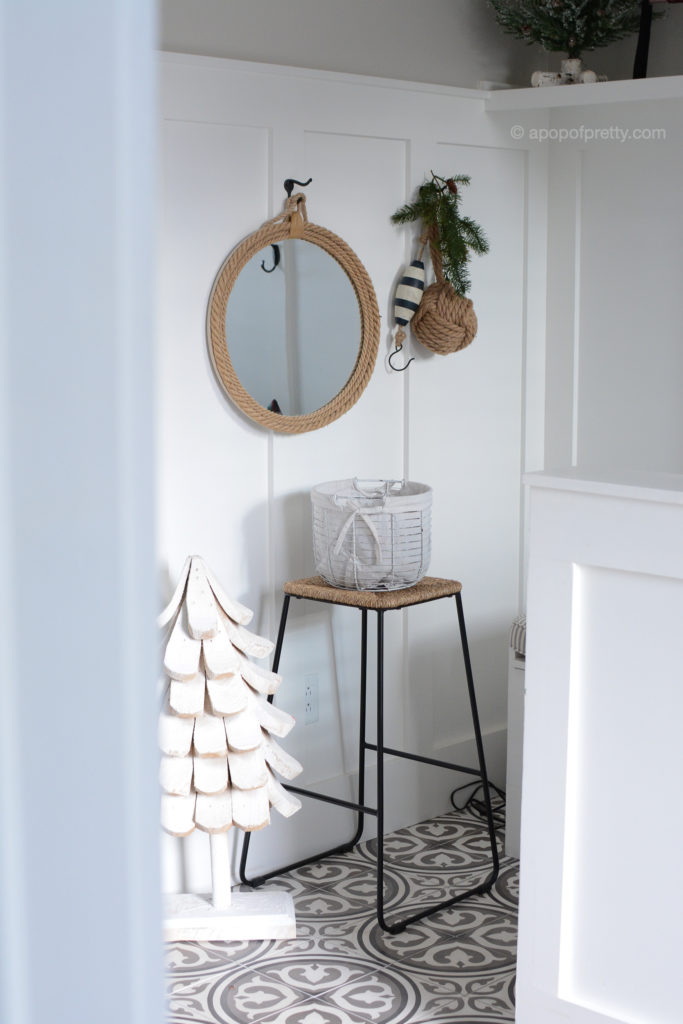 We spend lots of time outside at this home, even when we get snow. That's why we have an endless supply of cozy throws on hand at our cottage! These red plaid throws are all that's needed for a pop of Christmas on our front deck and beach.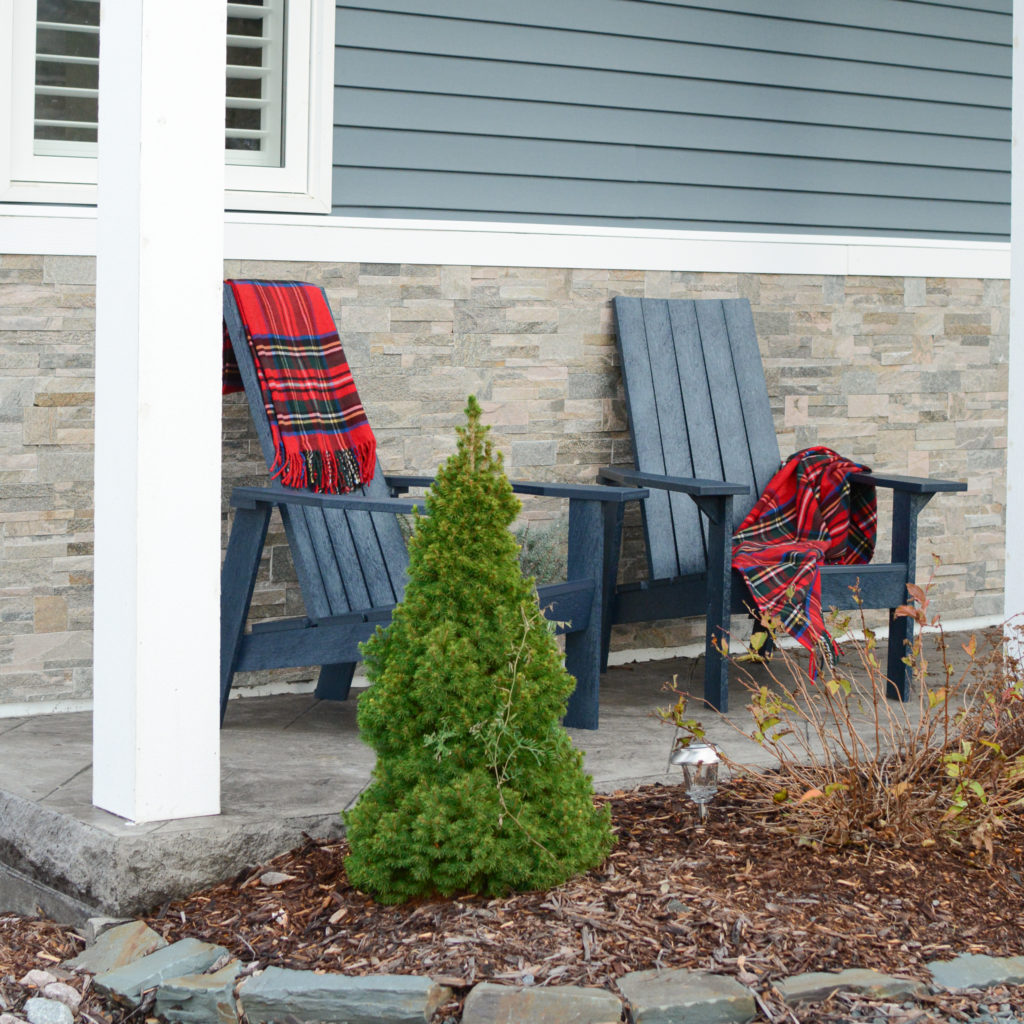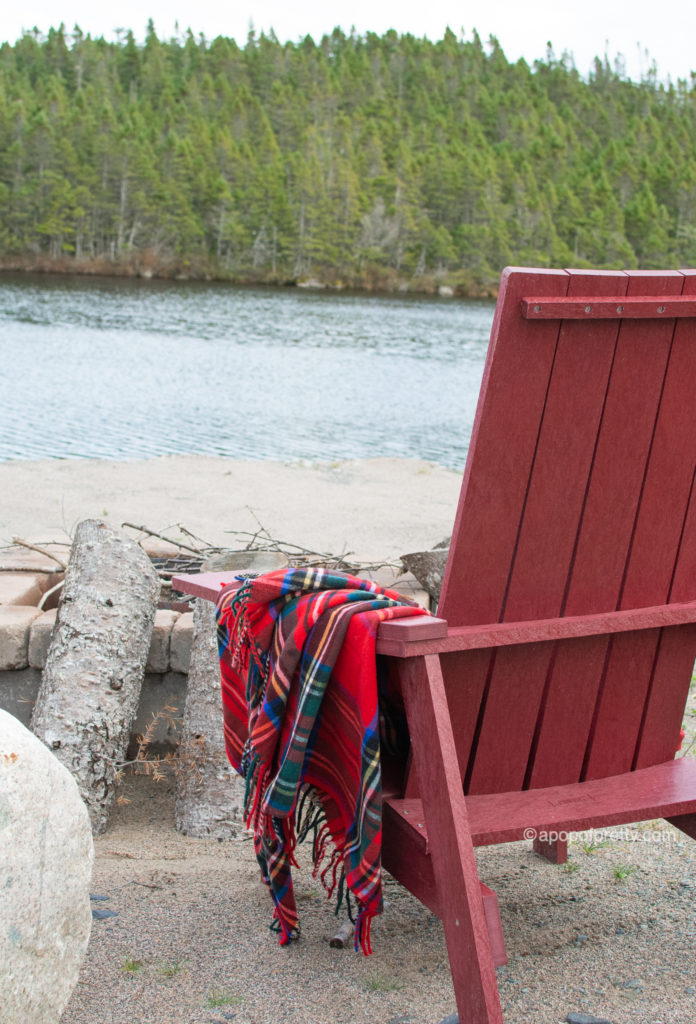 In our dining area, I added some cottage Christmas style to our table with a simple centrepiece that I made out of a wooden wreath I've had for years. Wreaths are a great way to create a centrepiece for your table simply by laying them flat. I added a bit of greenery to the top and a candle in the middle, and threw a set of starry lights on the top. It has a simple, woodsy look that fits perfectly in this space.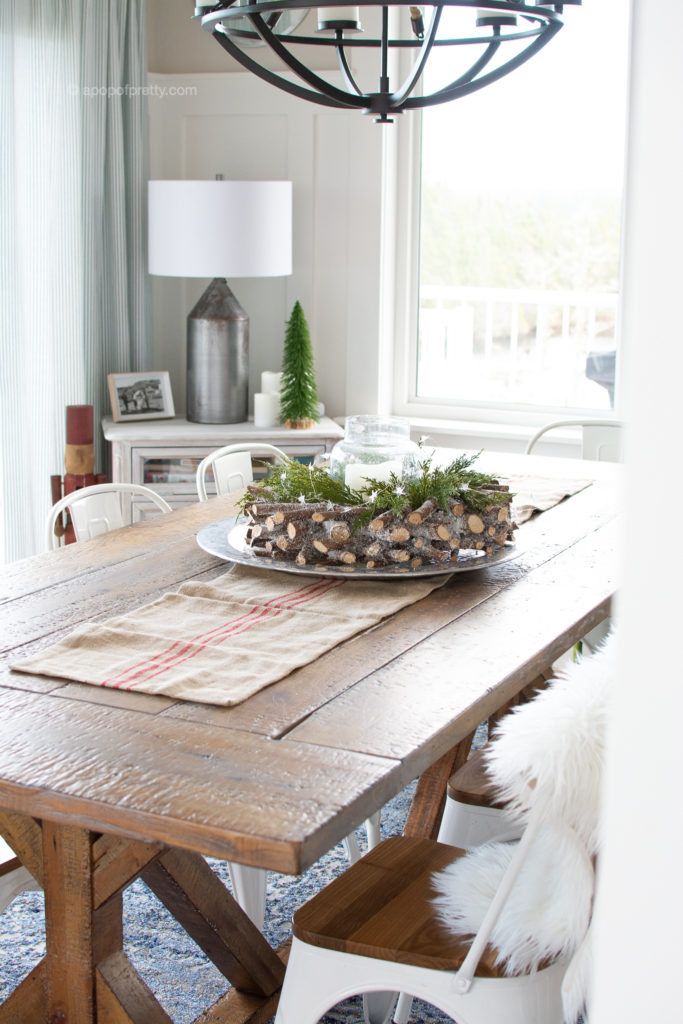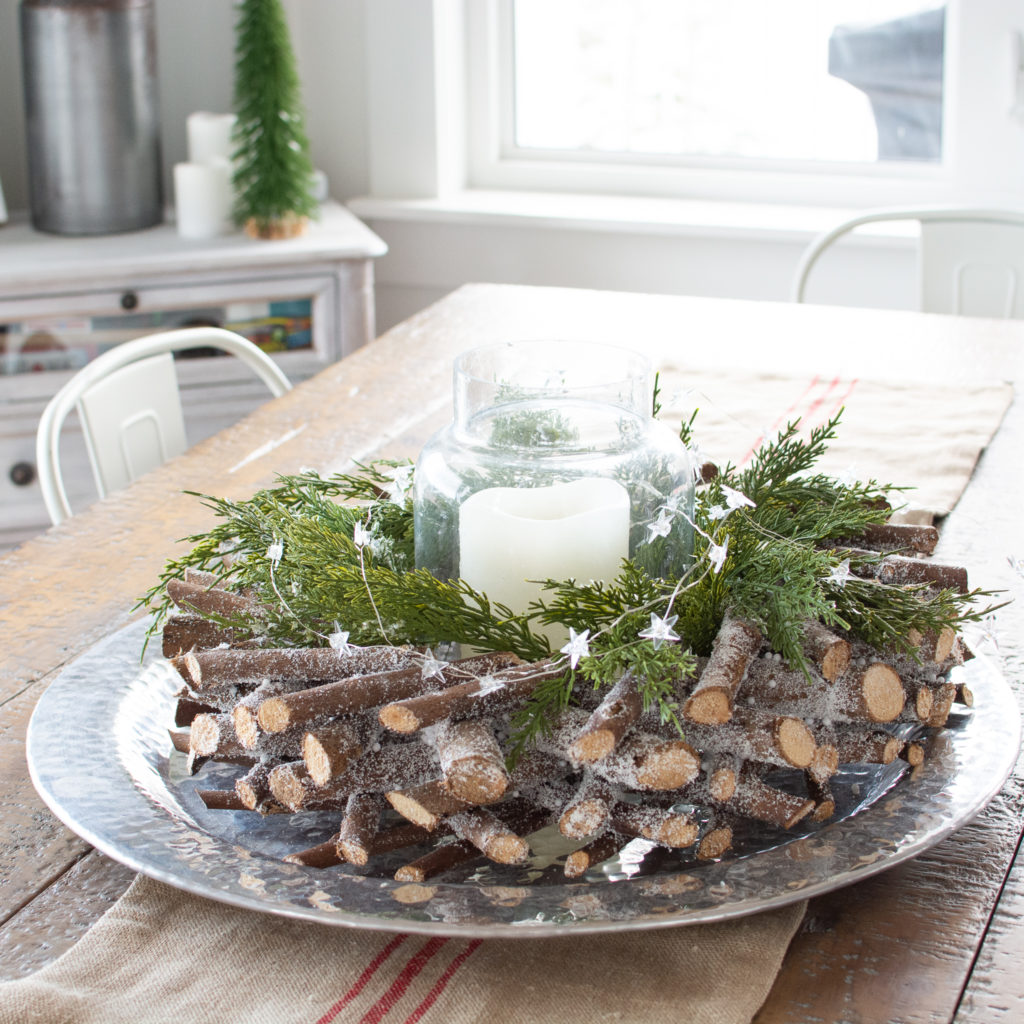 I also kept the the Christmas decorations minimal in our kitchen, with some greenery on our shelves and a couple of festive, wooden snowmen.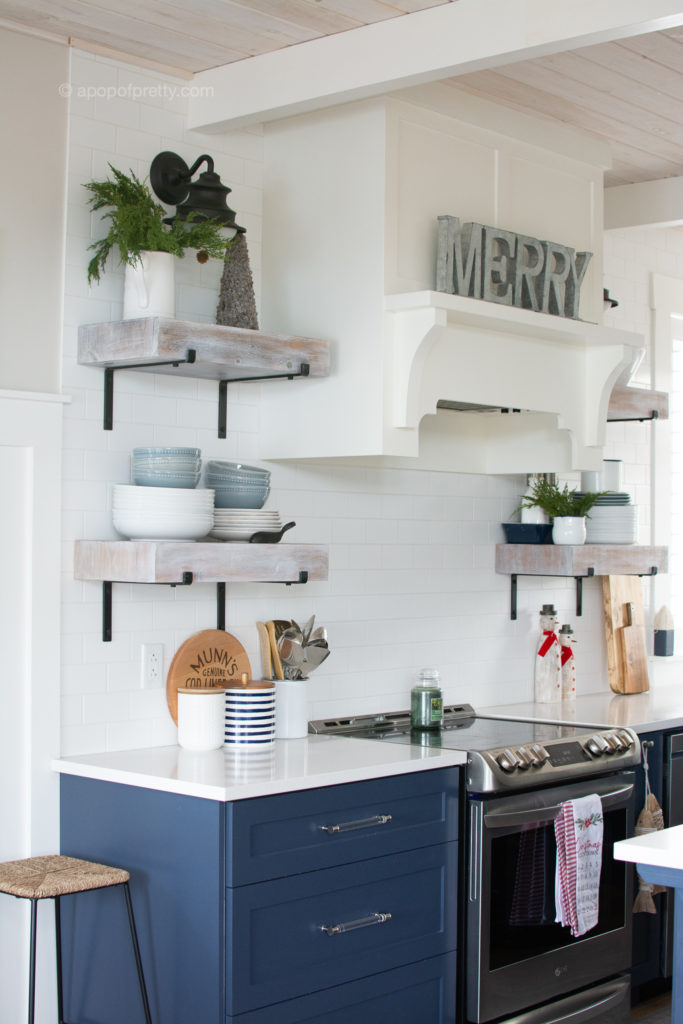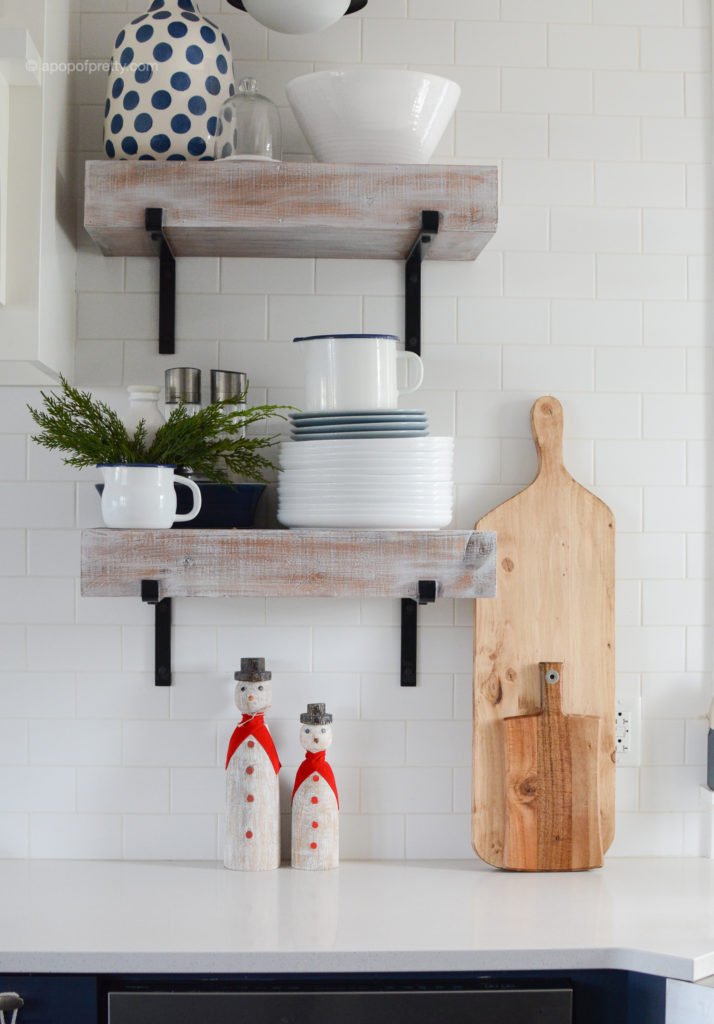 Our bedrooms also have some cozy cottage Christmas touches with pops of plaid and greenery.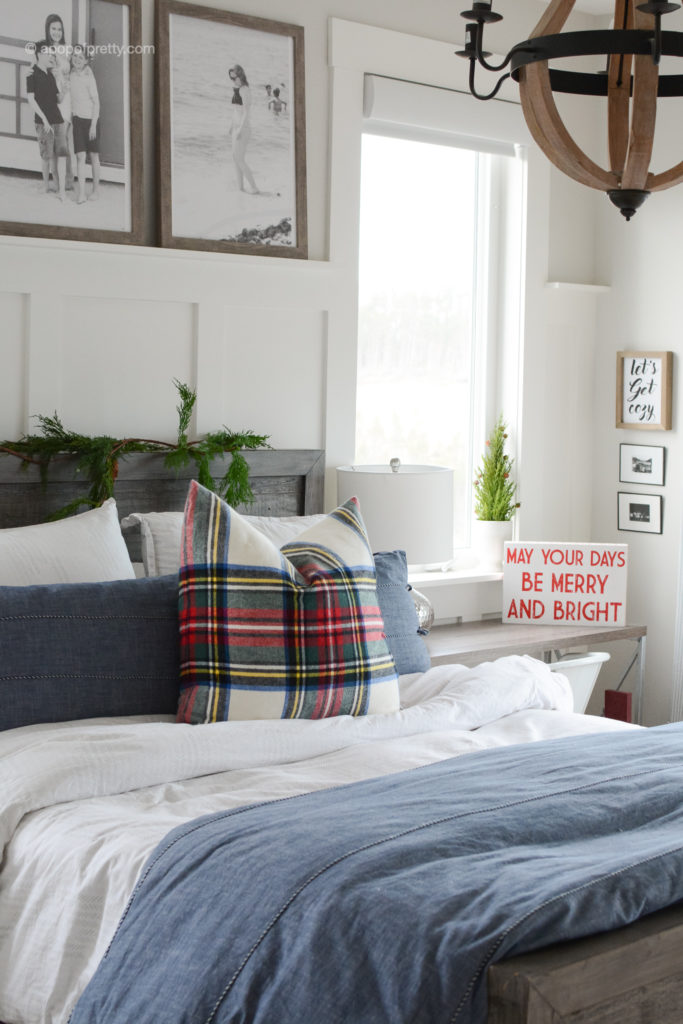 More Cottage Christmas Decorating Ideas
Looking for more cottage Christmas decorating ideas? You might like these popular posts:
How to Put Ribbon on a Christmas Tree (Easy Tutorial)
How Much Ribbon For Christmas Tree?
What Goes on Christmas Tree First? (Right Order to Decorate a Christmas Tree)
Red Plaid Christmas Decor Home Tour (Featured in Cottages and Bungalows and Women's Day!)
That's it for now! I plan to share lots more of my Christmas decorating from our cottage and our city home in the coming days and weeks. I hope you'll pop back for a visit! In the meantime, head over to visit these gorgeous homes decorated for the holiday!
Until next time,
K.
This week is Christmas Home Tour Week! Each day this week, some talented bloggers are sharing their tours with you – be sure to hop around and see what they've got in store! You can visit their posts by clicking on the links below the images.
Sharing with me today…
Wednesday
Maison de Pax / Stacy Risenmay / Maison de Cinq
Place of My Taste / A Pop of Pretty / The Happy Housie
And sharing the rest of the week…
Monday
The Happy Housie / Inspiration for Moms / Joanna Anastasia
She Gave it a Go / Modern Glam / Taryn Whiteaker Designs
Tuesday
Rambling Renovators / Life is a Party / Clean and Scentsible
House by Hoff / Rooms for Rent / The Happy Housie
Thursday
Grace in My Space / All Things with Purpose / Life is Better at Home
The Tattered Pew / A Pretty Life in the Suburbs / Just a Girl and Her Blog
Friday
This is Simplicite / Deeply Southern Home / Lemon Thistle
Love Create Celebrate / Sincerely, Marie Designs / The Happy Housie