In this article you'll find fun Halloween decor outdoor ideas. I'm sharing my "Happy Haunting" themed front porch, created with mostly homemade and diy outdoor Halloween decorations. If you are looking for simple, not-too-scary Halloween decor that you won't find at the big box stores, this post has some great ideas.
Hello friends! Today I'm sharing some Halloween decor outdoor ideas that are mostly diy and homemade. I created a fun "Happy Haunting" themed front porch with some simple craft store Halloween decorations, a diy Halloween wreath I made years ago, and some branches I collected at our cabin after a big wind storm. I'm also joining with some other bloggers who are sharing Halloween decor ideas this week, and I'll share all those links at the end of this post.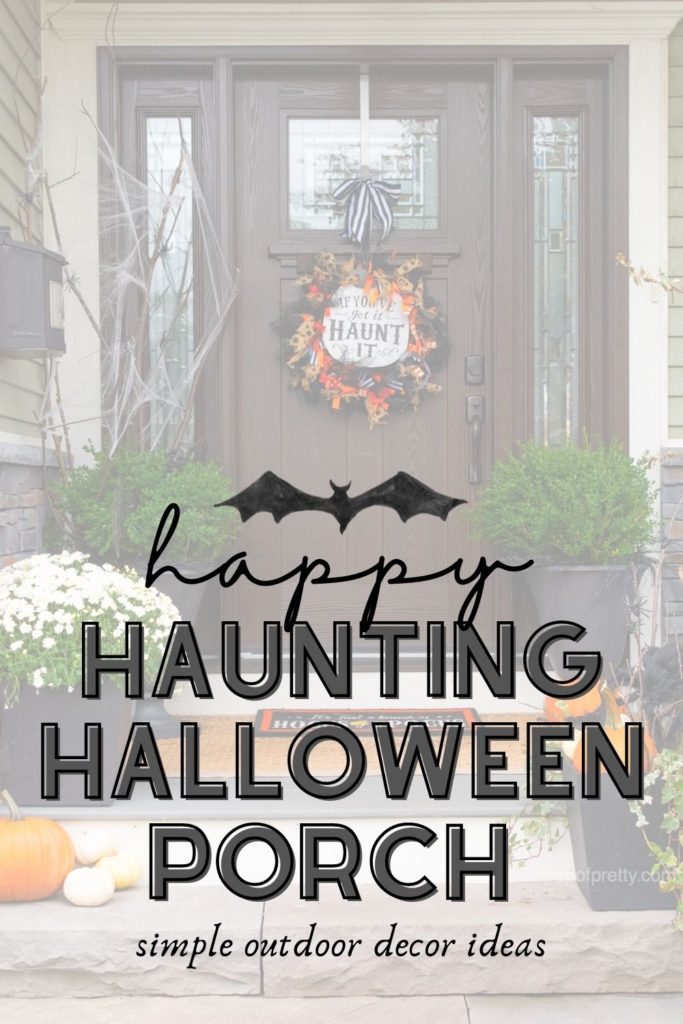 I've shared lots of interior Halloween decor ideas over the years (see 5 Simple Halloween Decorating Ideas). For example, did you catch my free Halloween art prints last week? (If not, you can download them here: Halloween Free Printable: Watercolour Bats.) So, this year, I thought I'd show you some of my Halloween decorations outdoors. For my Halloween porch, I was inspired by this Halloween pillow that I've had for years. It's simple and bold, but the "HAPPY" part of Happy Haunting definitely speaks my Halloween love language.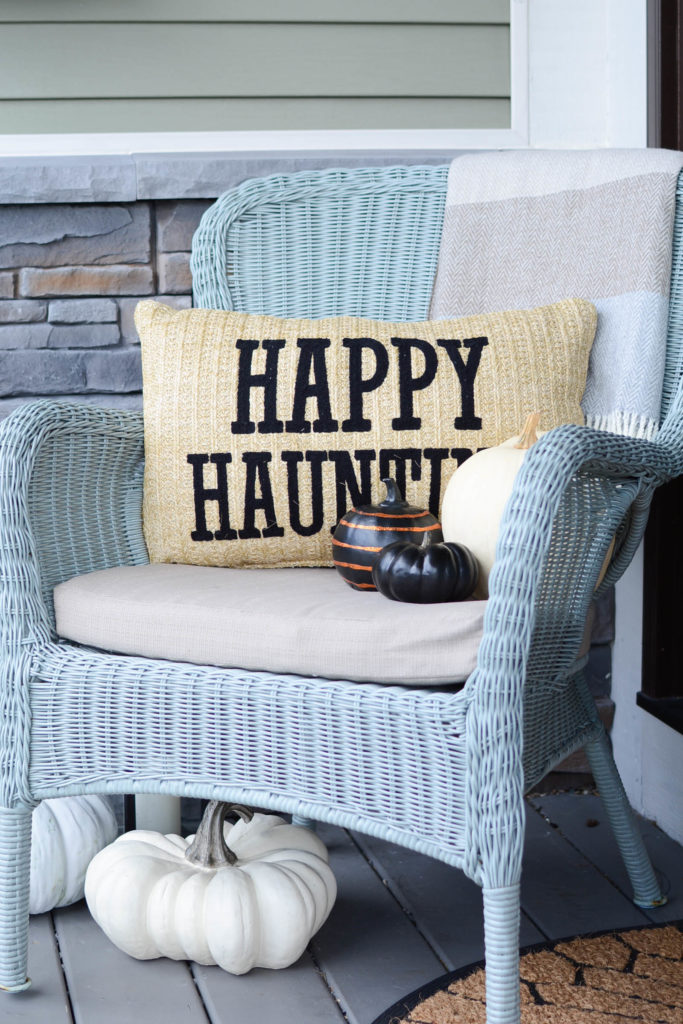 We've never been into the scare -the-pants-off-ya kind of outdoor Halloween decorations. I mean, we can handle a few bats and spiders. But the screaming graveyard scenes aren't really my family's thing. No judgement though. If you're into that, I totally get it.
Halloween Outdoor Decor Idea: DIY Halloween Wreath
These Halloween decor outdoor ideas are definitely more about the fun, starting with this bright and happy diy Halloween wreath. It always makes an appearance in my outdoor Halloween decor. In fact, I made this wreath years ago! It definitely adds a pop of Halloween fun to out front door. I added this "If you've got it, haunt it" sign a few years back. But it looks great without the sign too.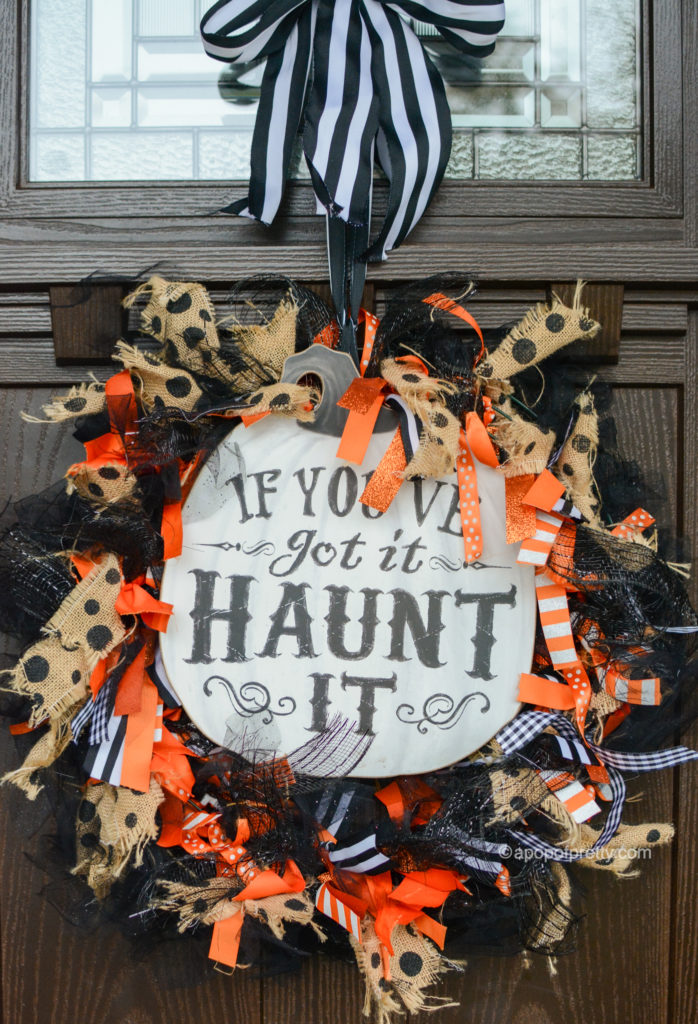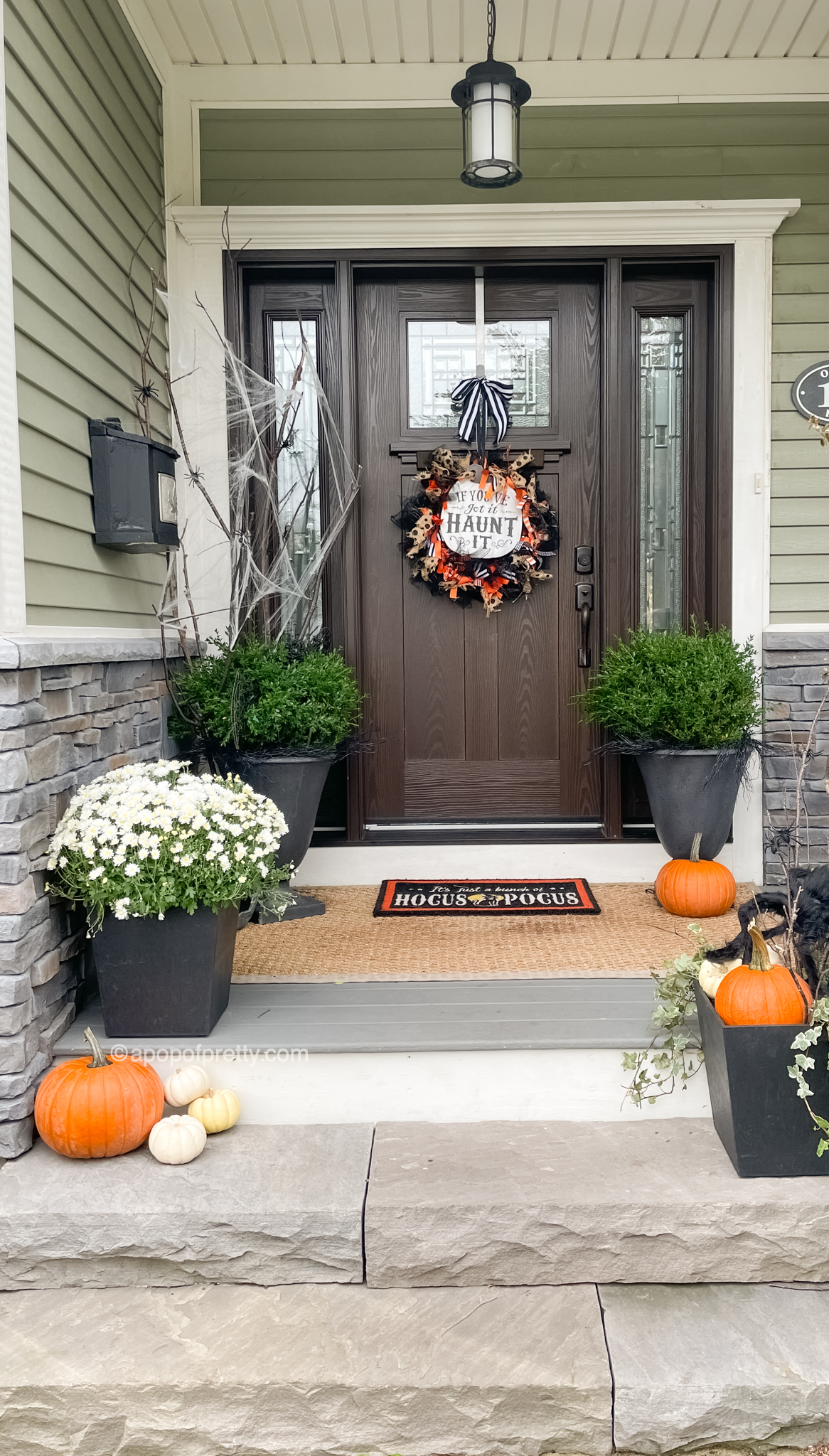 HALLOWEEN DECOR TIP: If you're wondering how to make a wreath for Halloween like this one, you're in luck. I have an easy tutorial that you can find here: DIY Ribbon Wreath (Halloween or Any Time of Year).
Fun Halloween Outdoor Decor
I've rounded up some fun Halloween decor outdoor ideas similar to the accessories used on my front porch. You can find most if not all of it at your local craft stores, dollar store or via online sources like these. (Affiliate links).

Spooky DIY Halloween Tree (Made from Branches)
The Halloween outdoor decor idea on my porch that makes a big statement are these branches filled with spiders. We had a hurricane here in September and sadly we lost some trees at our cabin. But I tried to make lemonade from lemons. I collected up the biggest branches and convinced my husband to drag them back here in his SUV which meant that he could fit nothing else in the back including our kids lol. (Luckily we had two vehicles.) He is used to my antics and doesn't even ask questions anymore, haha.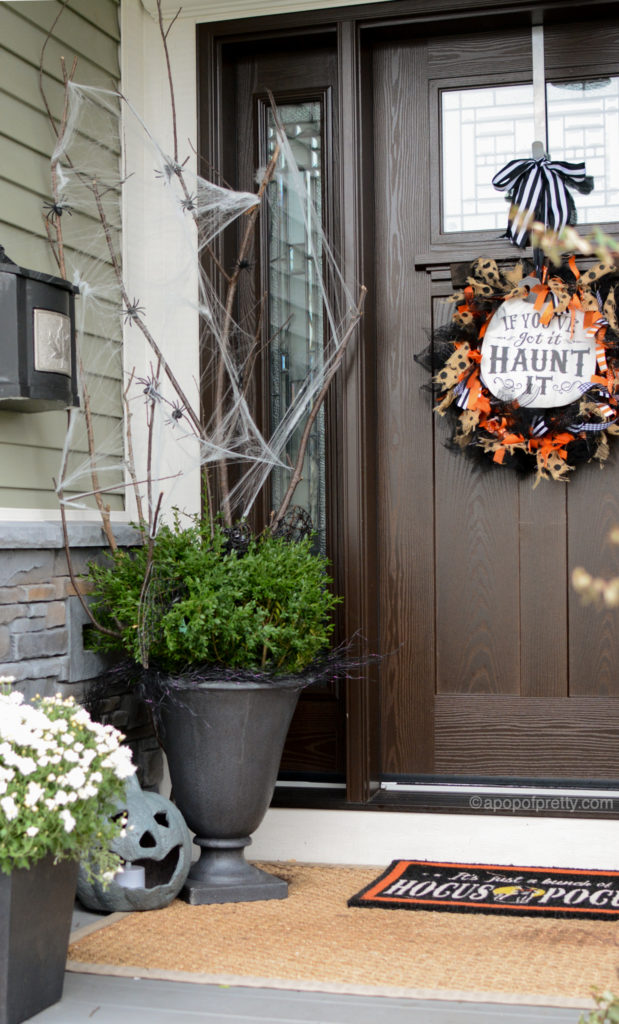 The spiders are about the scariest part of this Halloween porch, lol. In fact, I'm a little surprised at myself for incorporating these creepy crawlers into my Halloween decor outdoor scheme this year because we struggled with ridding our cabin patio of spiders all summer, lol.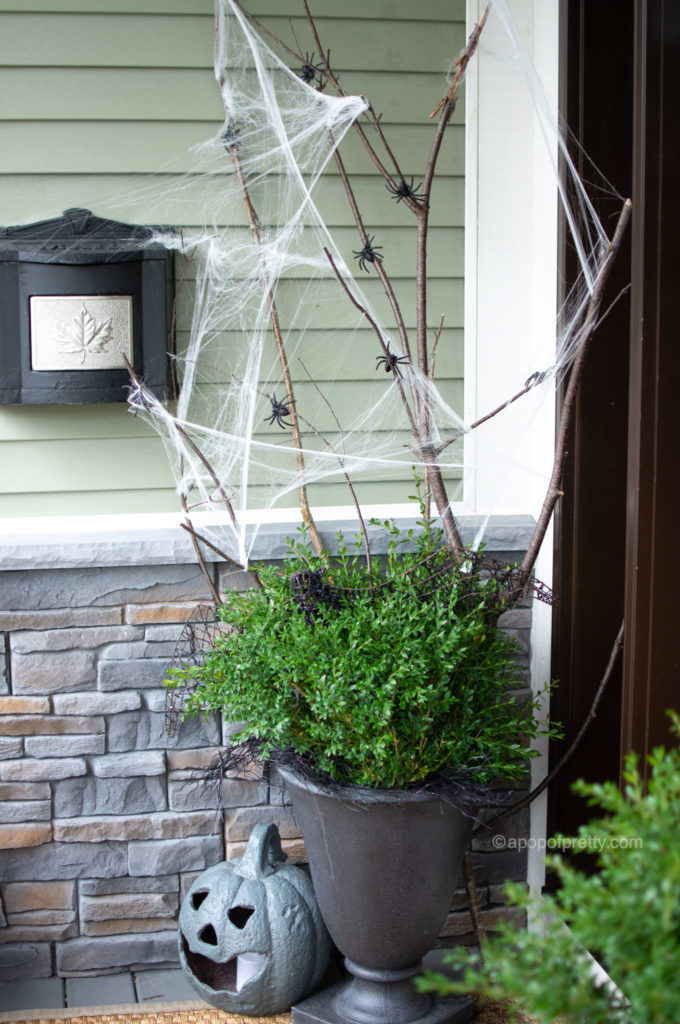 In order to get the branches to stand without toppling over, I tucked them in behind my boxwood urns which are super heavy. It also helped to wedge the branches into that corner between the mailbox and the door. It's pretty windy here in the Fall so I'm not convinced they are going to stay upright lol. But I have my fingers crossed. I am going to add some fairy lights to the branches so that they are lit up at night.
This spooky tree is an easy Halloween decor outdoor idea that you can pull off without much effort or budget. If you have a forest nearby, just go on a little hike and search for fallen branches. Then add some spiders or bats and mini lights, and you've got an outdoor Halloween decoration that will make a big impact.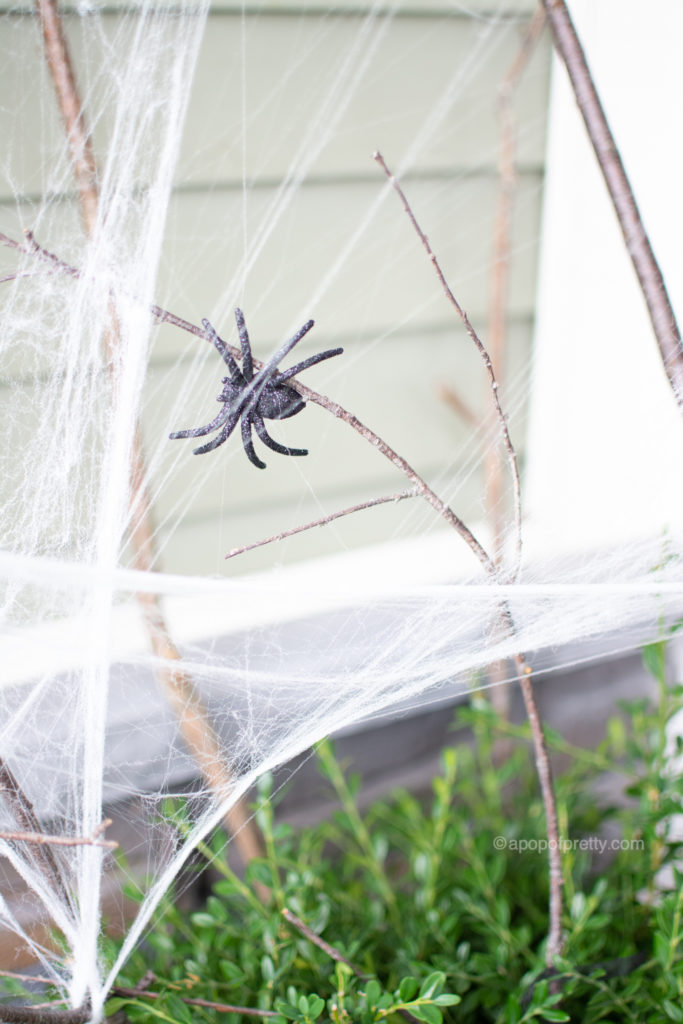 To attach the spiders, I just used black twist ties and they worked perfectly. I found these spiders at Michaels. But if you are looking for a 100% homemade project, you could easily cut some out from black foam or felt and glue gun them into the branches.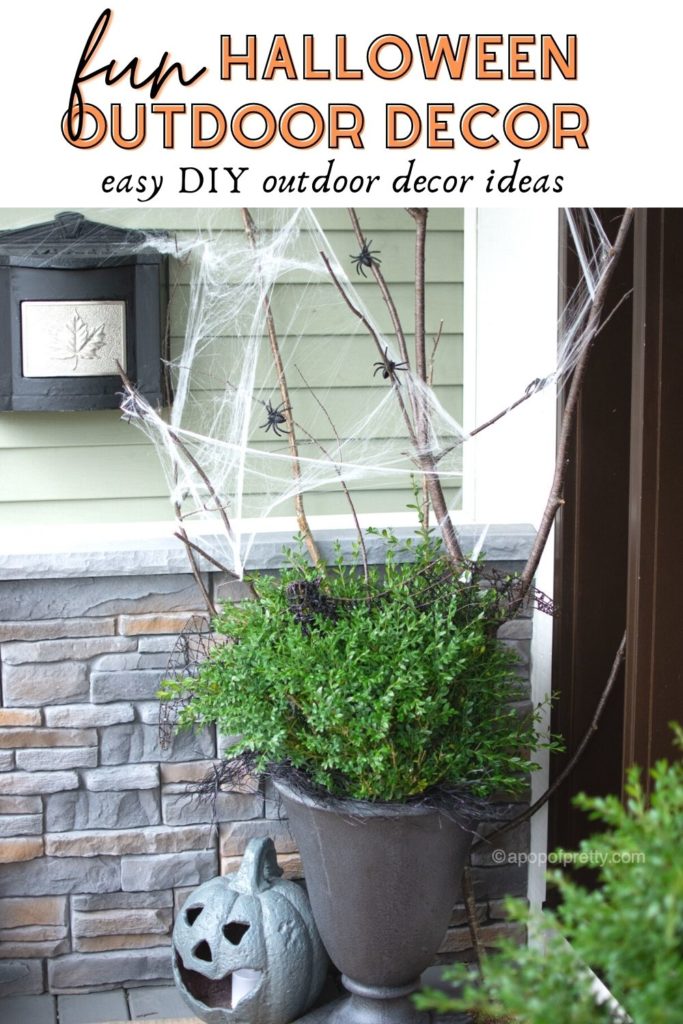 Easy Halloween Planters
Another fun Halloween decor outdoor idea is to stuff your existing planters or urns with spooky accessories like a witch broom or a bat or giant spider. You could also add Halloween branches and mini lights – anything that creates a fun Halloween vibe!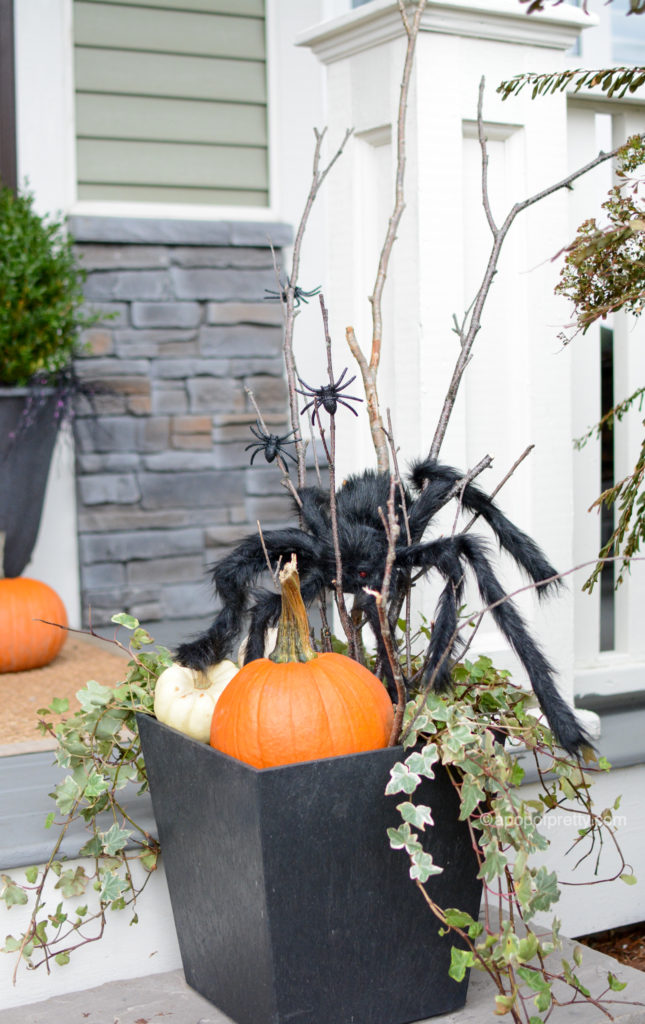 See, I've got a little bit of spook in me, right? This giant spider is probably the scariest Halloween decoration I've ever bought!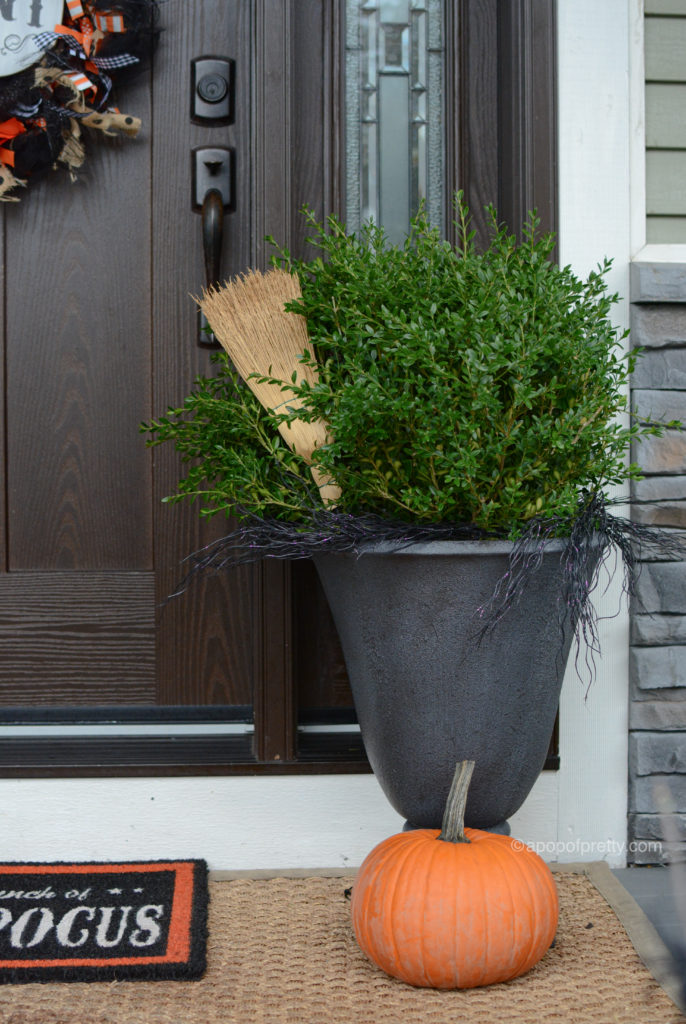 This broom was actually part of my fireplace accessory set! But I've seen similar straw brooms at craft stores.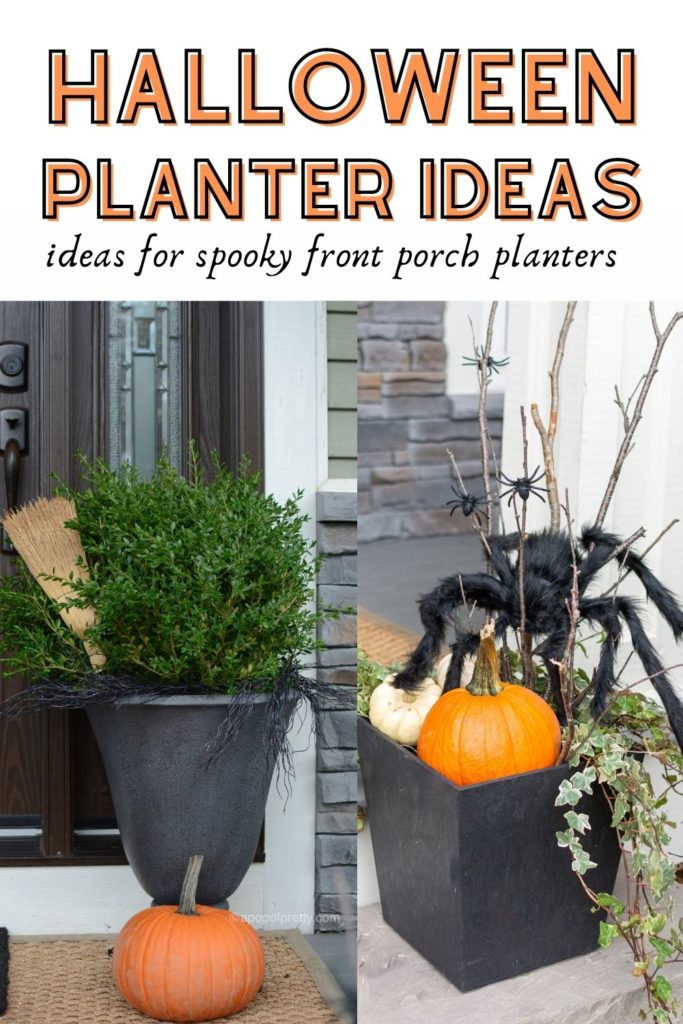 Halloween Decor Outdoor Idea: Halloween Rug
Just add a fun Halloween themed mat, and few orange pumpkins (which we'll carve soon) and you've got yourself a festive Halloween porch.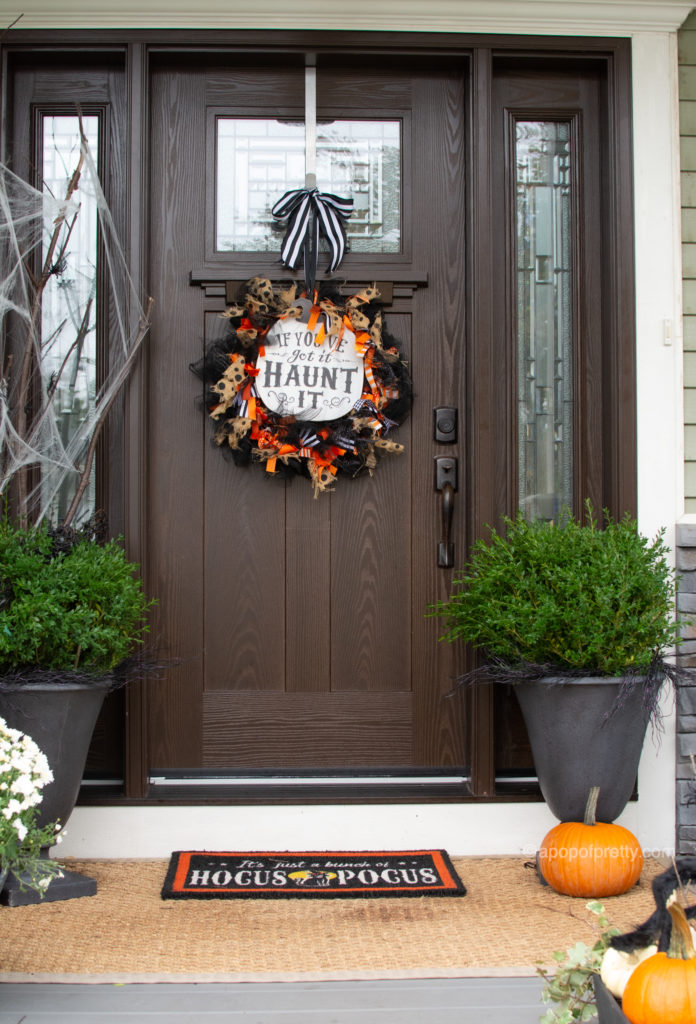 I found mine at Michaels this year. But here's a few other fun Halloween rugs I rounded up (affiliate links):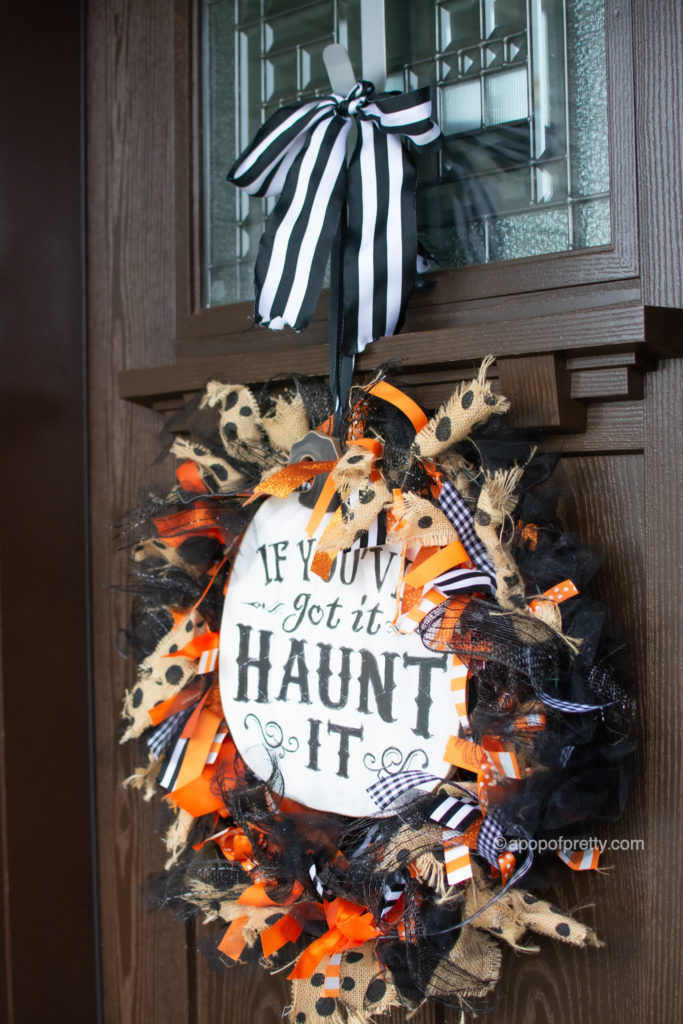 More Halloween Decor Ideas

Today I'm joining some of my talented blogging friends for the Fall Seasonal Simplicity Series: Halloween Decor Ideas! Be sure to check out all of the fun ideas by visiting these posts. All the links are just below the images.
Harry Potter Themed Halloween Decor Ideas at The Happy Housie
Outdoor Halloween Decor Tour at Confessions of a Serial DIYer
How to Decorate Your House for Halloween at My Sweet Savannah
Spooky Halloween Decor & Mantel at Tatertots and Jello
Halloween Home Tour at A Pretty Life
Halloween Mantel Decor at Life is a Party
Halloween Decor Ideas at A Pop of Pretty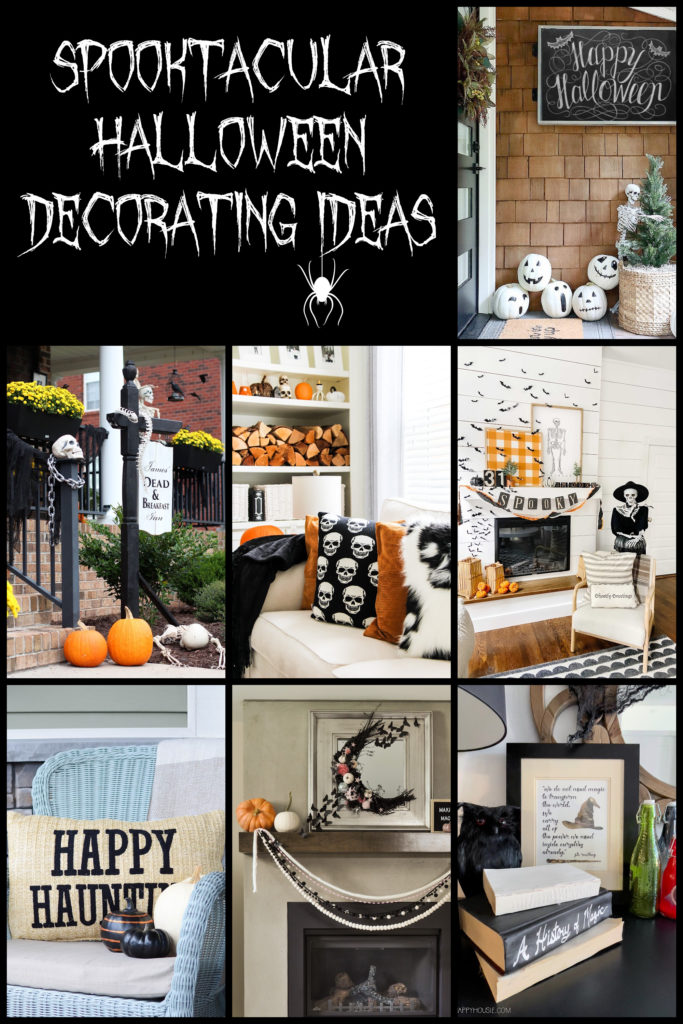 Until next time, hope you have fun decorating for Halloween!
K.