This post was most recently updated on September 23rd, 2019
If you've been following my blog awhile, you may have seen our Dr. Seuss Christmas tree in earlier years. I'm a big fan of Dr. Seuss, and How The Grinch Stole Christmas (with Jim Carey) is our favorite Christmas movie of all time. ("Holiday, Hoobie, Whatty?" is my favorite Grinch quote!) The movie is hilarious and has such a great Christmas message. So, 3 years ago, I decided that it would be super fun to create a tree for our kids filled with all things Who-ville and Dr. Seuss. Who am I kidding? I love it as much as them!
Dr. Seuss Christmas Tree – 2013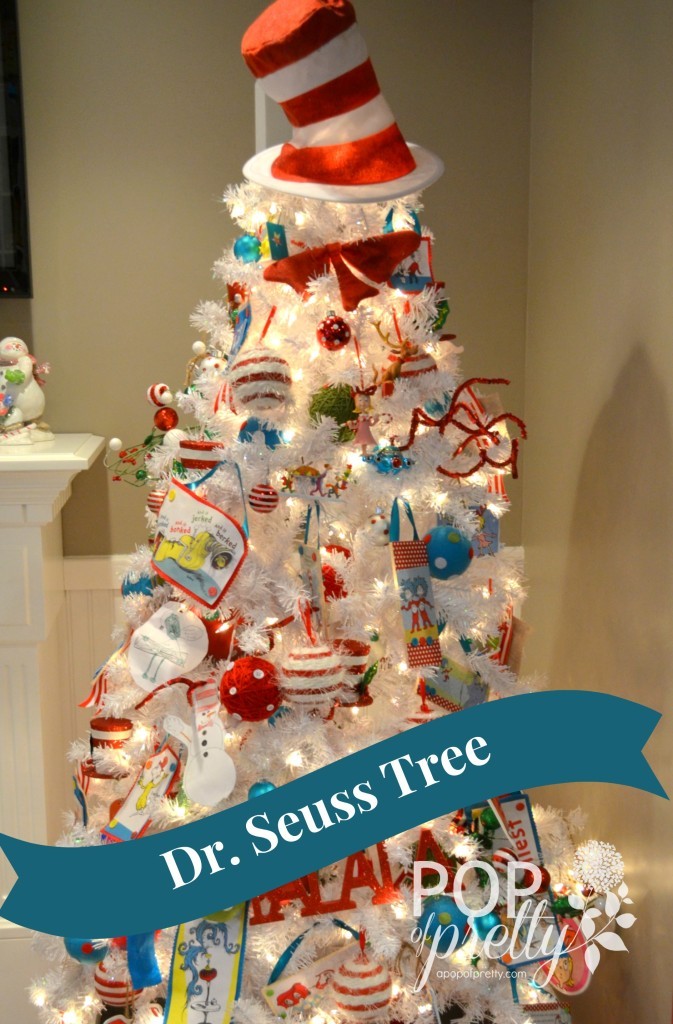 Our Dr. Seuss Christmas tree is in our basement family room /playroom area. It looks a little different this year because it's on a white tree.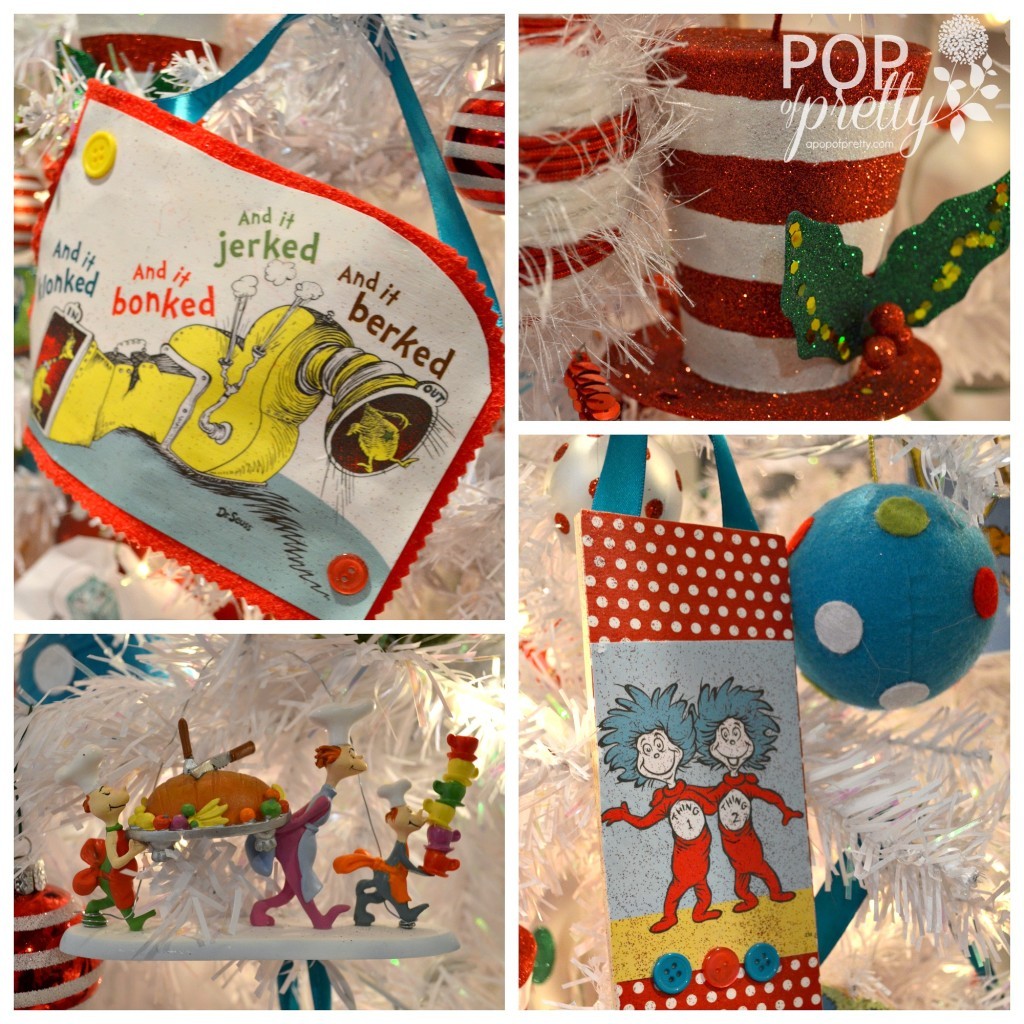 I was secretly a little happy that the lights finally gave out on the other tree.  There just might have been a loud "booyah" and a mega fist pump.  (As I've said before many times here, I really need to get out more, lol.)  I couldn't wait to use a white tree!  The decorations, which are mostly turquoisey-blue and red (Cat in the Hat colors!) stand out better, and it all just feels more whimsical and a little more magical on this tree.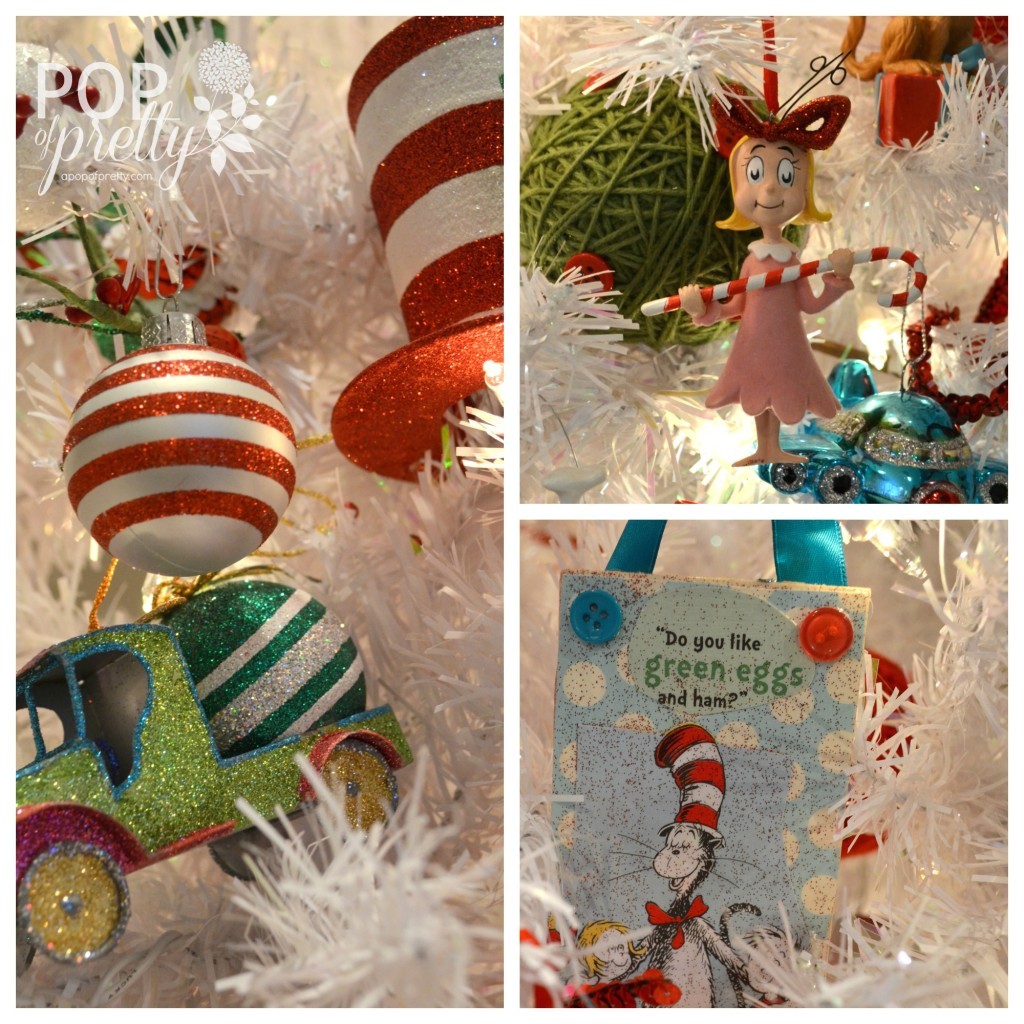 I also finally figured out how to take good photos in our basement (low light) using manual settings on my new camera.   (Another booyah!) So even though it's the 3rd year for this tree, two booyahs meant I should post about it again.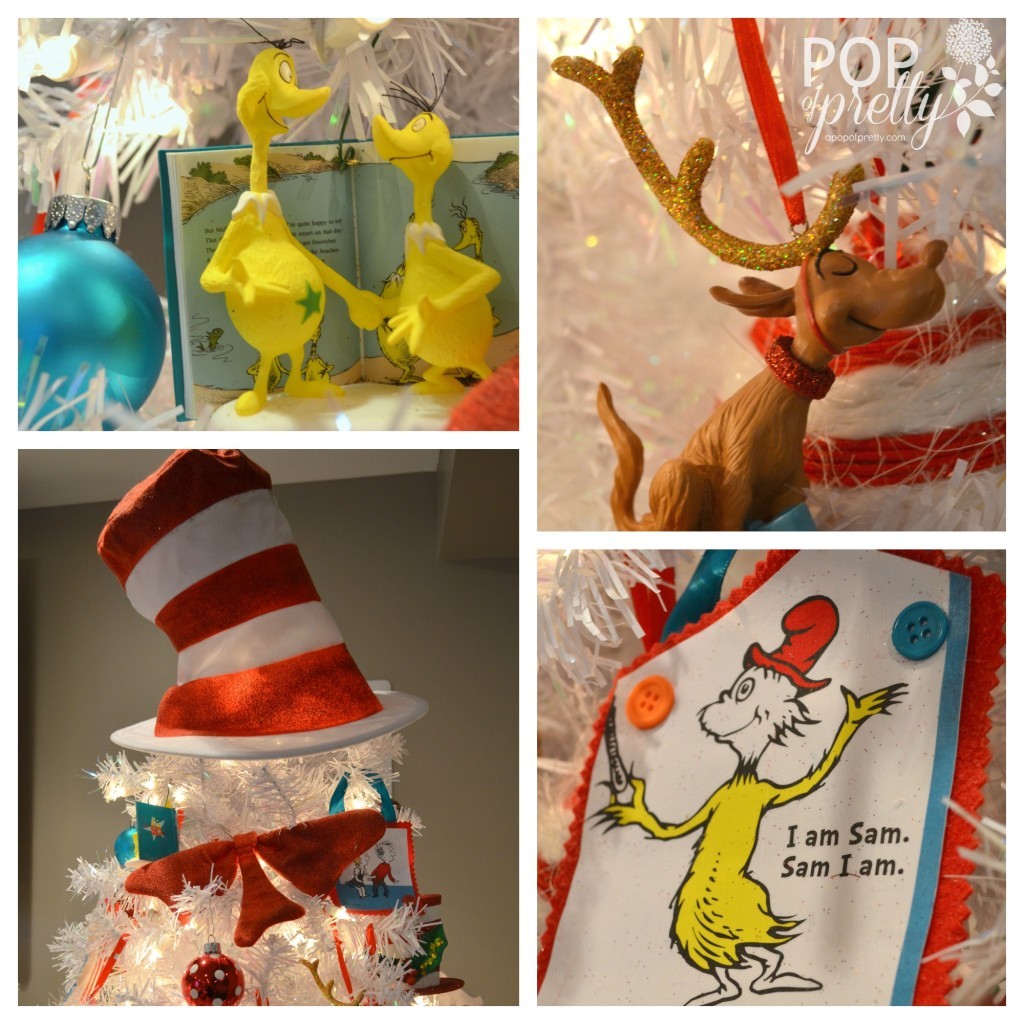 The tree is filled with lots of homemade Dr. Seuss decorations, made by me and our kids. You can find out How to Make Dr. Seuss Christmas Tree Decorations here.  We also buy a couple of new collectible Dr. Seuss tree ornaments every year, through Hallmark and other places.  There's little Cindy Lou Who, Max the Dog, The Grinch, and some Who-villers with their feast. The tree has lots of red and white striped and polka dot Christmas bulbs, and some turquoise ones too.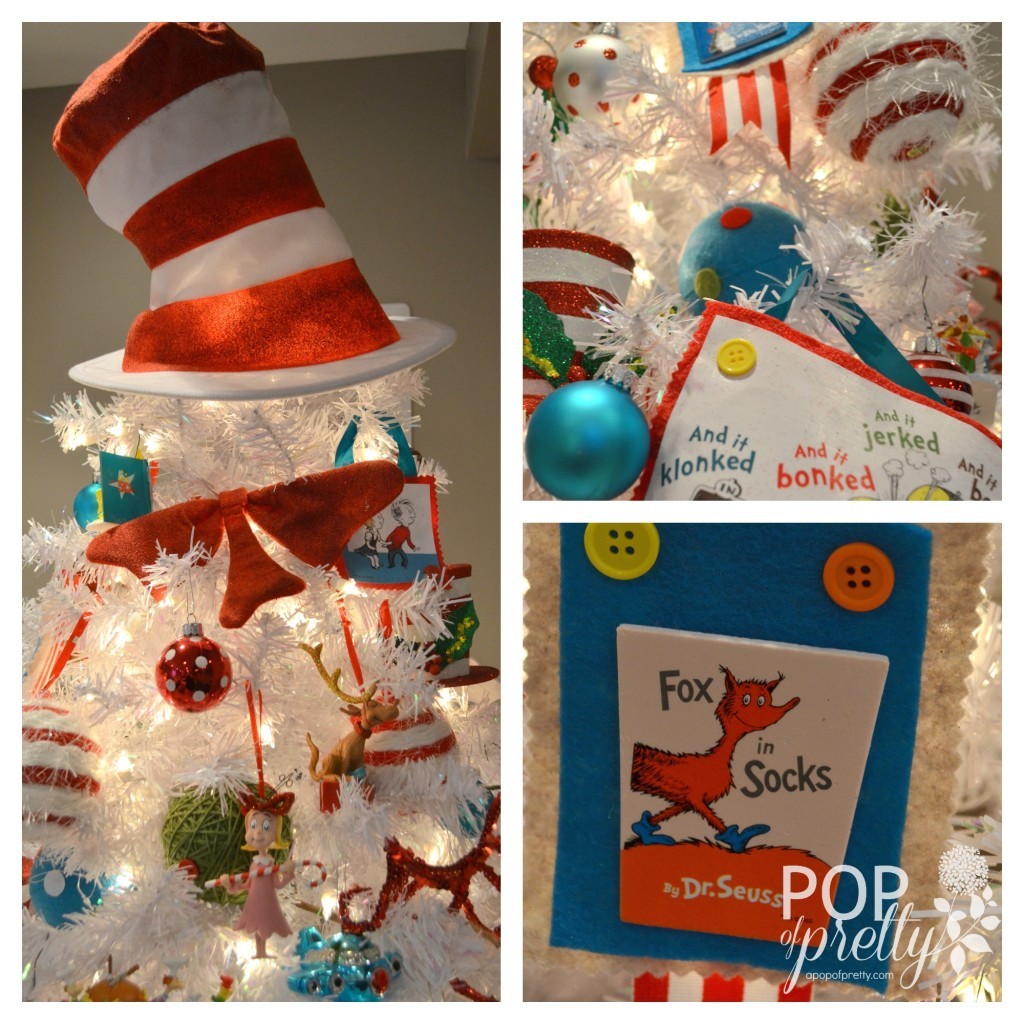 Of course, the icing on the cake is using the Cat in Hat's hat and bow tie as a tree topper!  It's just a costume hat, so to stiffen it and make it sparkle, I covered it in glitter glue and let in dry. I love the way the light shines through it!
We also have a few other Christmas-y nods to Dr. Seuss in the basement – like these decorations on the stairway.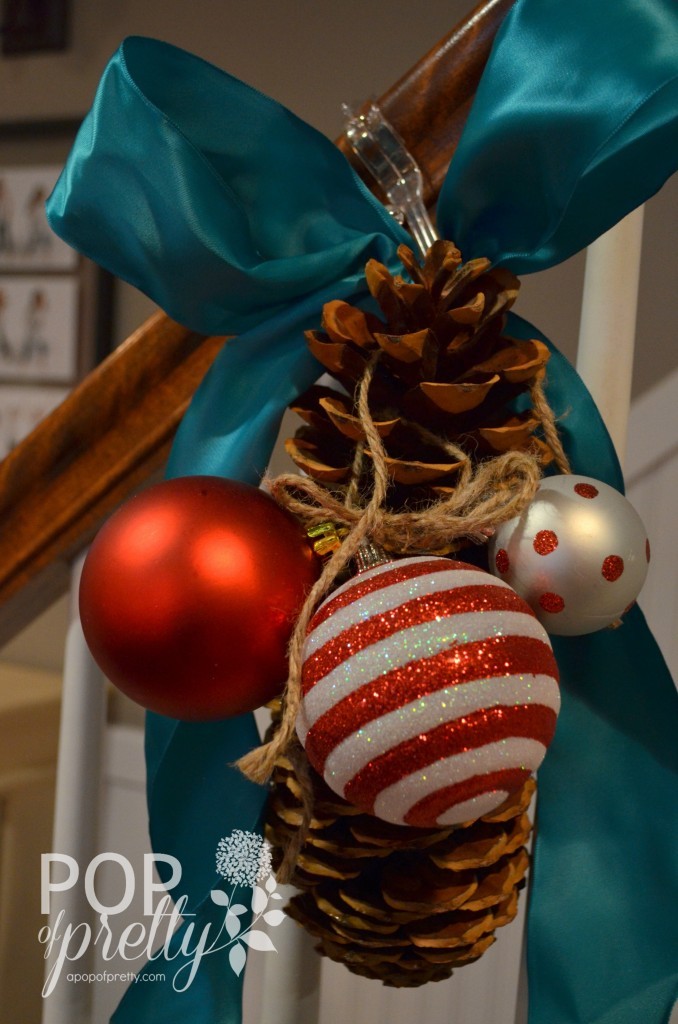 Everything about this Dr. Seuss tree makes me smile, and it's a great reminder of this message from How The Grinch Stole Christmas:
The Grinch: "It came without ribbons.


It came without tags.

It came without packages, boxes, or bags."

Narrator: "Then the Grinch thought of something he hadn't before."

The Grinch: "Maybe Christmas doesn't come from a store.

Maybe Christmas…"

Narrator: "He thought…"

The Grinch: "…means a little bit more."
Hope you're having fun preparing for Christmas!  If you're feeling stressed about the rush to get everything done, just remember this little lesson from The Grinch. 😉

K.
P.S., I'm sharing this tree at Beth's tips and tutorials linky party at Home Stories A2Z.