This post was most recently updated on September 22nd, 2019
When I decorated my first apartment and then our first home in the late 90s, gold decor was considered – in one word – tacky!  Gold tones from 'the overdone 80s' were being replaced with simpler 'white' metallics like silver and pewter. Just like my aversion to wallpaper which I wrote about recently, I also developed an aversion to gold.
At the time, I went on a mission to de-goldify anything that could be painted or replaced. Picture frames, light switch plates, and jewellery – it was all fair game!  Even in recent years, I've tucked Christmas decorations with any trace of gold at the back of the tree where they couldn't be seen.  (Their sole purpose was to balance out tree weight, lol).
So, when gold decor came back on the scene recently, I totally surprised myself by liking it!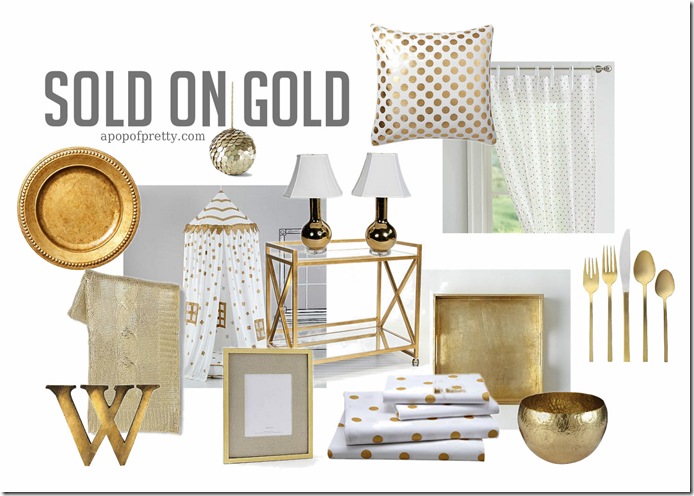 The cool thing about cyclical trends like this one is that they rarely come back exactly the same as last time.  These days, gold is being used with restraint in decorating.  We're finally seeing that a little gold can go a long way in creating impact, like in an accent or statement piece  – think pillows, placemats or throws.  (See this great article at Elle Decor.)
Surpringly, a  little gold mixed with white, especially in geometric patterns or polka dots, actually feels light and modern.  With gold decor now being used sparingly, I can finally see gold for what is it: refined, sophisticated and timeless!
What about you?  Do you think you will ever have gold decor in your home (again)?
(Sources – – > Charger: Pottery Barn – –  Throw: West Elm – –  Frame: West Elm – –  Sheets: The Land of Nod – –  Tray: West Elm – –  Bowl: Zinc Door – –  Flatware: West Elm – – Drape: Pottery Barn Teen – – Pillow: Pottery Barn Teen – – Ornament: West Elm – –  Canopy: The Land of Nod – –  Lamps: One Kings Lane –  – Bar Cart: The Well Appointed House.)
Until next time,
K.