This post was most recently updated on January 1st, 2020
OK, so here's two words I never thought I'd say again: I wallpapered.  (If you follow me on Instagram, you might have snuck a sneaky peaky.)
And, let me tell you, it's no small miracle.  Fifteen years ago, I swore I would never-ever, ever-never, use wallpaper again.  That's what happens when you strip and scrape four decade's worth of wallpaper with your own hands..By the time I tore the last piece of velvet flocked paper off the walls of our first home, I had developed a disease known to all owners of 1960s fixer uppers: Wallpaper Aversion Disorder.  (It's real, I swear.)
.So when we built this home 6+ years ago, the idea of using wallpaper on our newly new walls was out of the question.  When it started to trend again a few years ago, my Wallpaper Aversion stayed strong.  I promised myself I would not crumble.
.Then these kinds of images happened…
..
SOURCE: Houzz.com
Contemporary Bedroom by Brooklyn Photographers Alexander Johnson Photography
.
.
With each new geometric wallpapered room I saw in magazines or online, my heart rate got a little faster.  Slowly, my Wallpaper Aversion started to feel more like Wallpaper Fear.  Then Fear got downgraded to Hesitation. And, before I knew it, I was all like, "OK, so I'll just do one wall."
.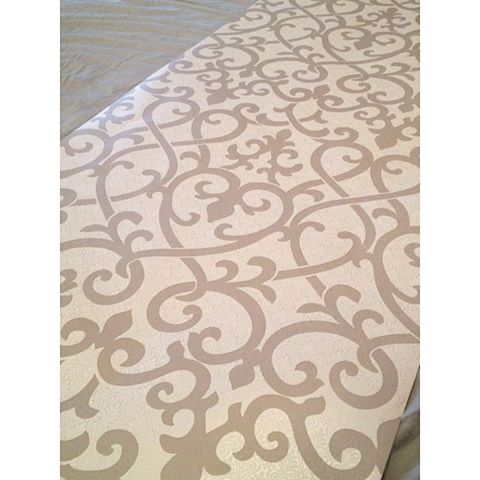 .SCORE: Wallpaper: one.  Me: zero. .The good news is I LOVE IT!  I can't wait to show you how it all turned out!

.
So how do you feel about geometric wallpaper?Are you a believer or do you still have Wallpaper Aversion like I did?  Tell me all about it!