This post was most recently updated on November 4th, 2020
In this article: You'll learn how to make a wood sign easily, either as DIY Christmas decor, or for any time of year.  Making a diy wood sign is actually a lot easier than you might think. You don't need a vinyl cutting machine.  All you need are some simple, old fashioned supplies, including carbon paper! I can't wait to show you how I made my own. Please note: This post was sponsored by Behr.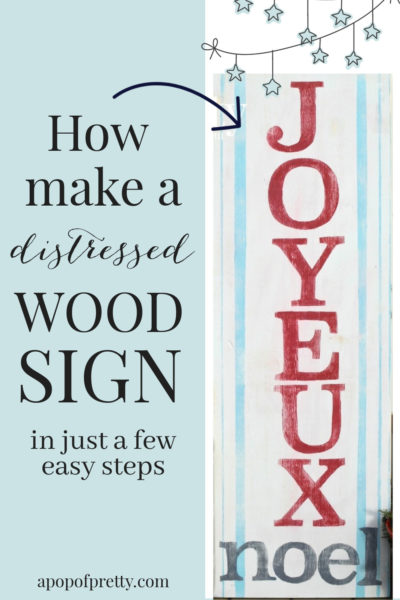 For the Behr Holiday Hues Project Challenge, our task was to create any kind of festive project using Behr paint, to which my response was, twist my rubber arm! Since I'm keeping my Christmas decorating a little French-inspired this year, this challenge was a great chance to learn how to make a wood sign with the saying, "Joyeux Noel". So, I decided to create a large, vintage-inspired wood sign for out front porch.
I'm excited about how it turned out…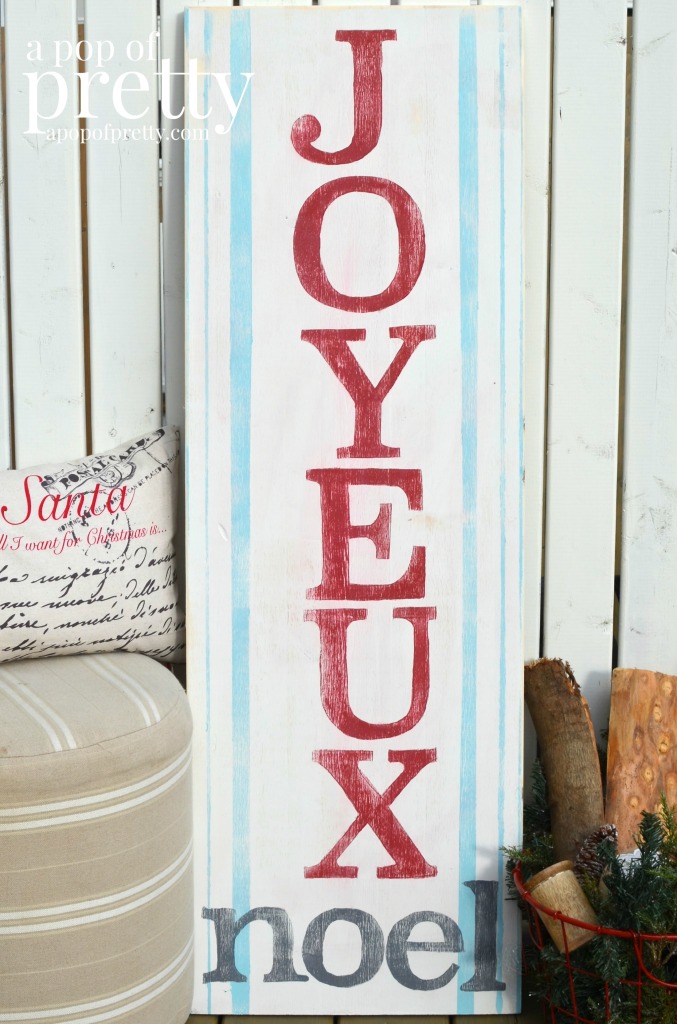 DIY WOOD SIGN: SUPPLIES
To make this vintage-inspired Joyeux Noel porch sign, my supplies included:
a 48″ tall pine board (found in shelving section of hardware store)
printed letters from my printer (in font of choice)
carbon paper
pencil
painter's tape
paint brushes
sanding paper and palm sander (optional)
the following Behr paint colours: Behr Marquee Linen (Exterior Flat), Behr Marquee Haute Couture, Behr Marquee Aquifer, Behr Marquee Dove Gray.
HOW TO MAKE A WOOD SIGN IN A FEW SIMPLE STEPS

Step 1 – How to Make a Wood Sign: Print your letters.
First, I printed out the letters required for the words "Joyeux Noel" from my word processor.  After doing some quick math, I figured out that each letter should be about 4 inches tall to create equal spacing on the sign.  I printed each letter on a separate sheet of letter-sized paper.
Step 2: Paint your wood sign surface.
Second, I painted the entire wood surface in the paint colour of choice.  In this case, I used Behr Marquee Linen.  I then waited for the surface to dry completely.
Step 3: Trace the letters on your diy wood sign using carbon paper.
Third, I placed carbon paper between each letter and the wood sign (with the messy carbon side face down on the wood).  I then traced each letter on the paper with a pencil.  Ta-da! The carbon left the outline of the words on the wood sign.

Step 4: Paint the letters (and design work).
Fourth, I carefully painted inside each letter using a small angled paint brush and Behr Marquee Haute Couture (the red).  If you've ever used craft paint for making signs, then you'll know how hard it can be to create a nice steady line; but the Behr paint glided effortlessly, and had a great consistency for doing detail work like this.

At this point, you'll also want to paint any other design work on your wood sign.  For example, to make the grain sack stripe on my wood sign, I used painter's tape to mask off the lines.  I then carefully painted in between the tape (and along the edges) with Behr Aquifer (the blue).  To reduce paint bleed, I pulled the tape of before it dried – a trick I learned while painting wall stripes in my boys' bedroom – see How to paint wall stripes (the second time around!.
Step 5:  Sand your diy wood sign.
Once all the painting was done and was completely dry, I used my electronic palm sander to sand the entire surface of my wood sign.  I used a fine grit finishing sand paper so that I didn't take off too much paint. This just gave the Joyeux Noel sign a distressed feel.  If you don't have a palm sander, using sand paper and elbow grease will do the trick!
Step 6: Protect your diy wood sign.
You're almost done! Now, to protect your gorgeous wood sign, cover it with a clear protectant varnish.  This is especially important if you plan to use your diy wood sign on your front porch.
Yay, now you know how to make a wood sign!
Now that you've seen what I cooked up for the holidays using Behr paint, be sure to visit the other Behr DIY Experts, to find more festive paint inspiration below.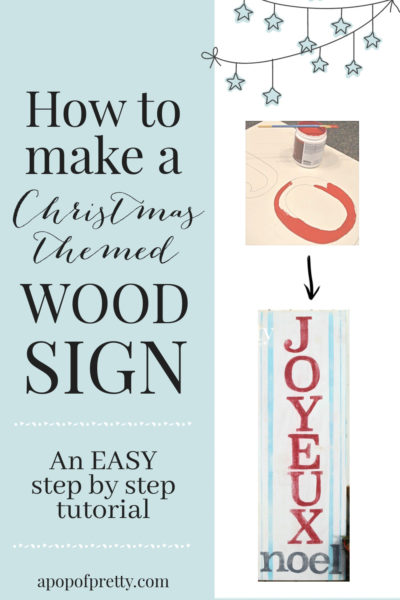 Need Christmas Decorating Inspiration?
In the meantime, if you'd like to some more Christmas decor inspiration, you might like these posts:
My #1 Christmas Decorating Tip
What Goes on a Christmas Tree First? (How to Decorate in the Right Order)
How to Put Ribbon on a Christmas Tree (Easy Tutorial)
Behr Holiday Hues Projects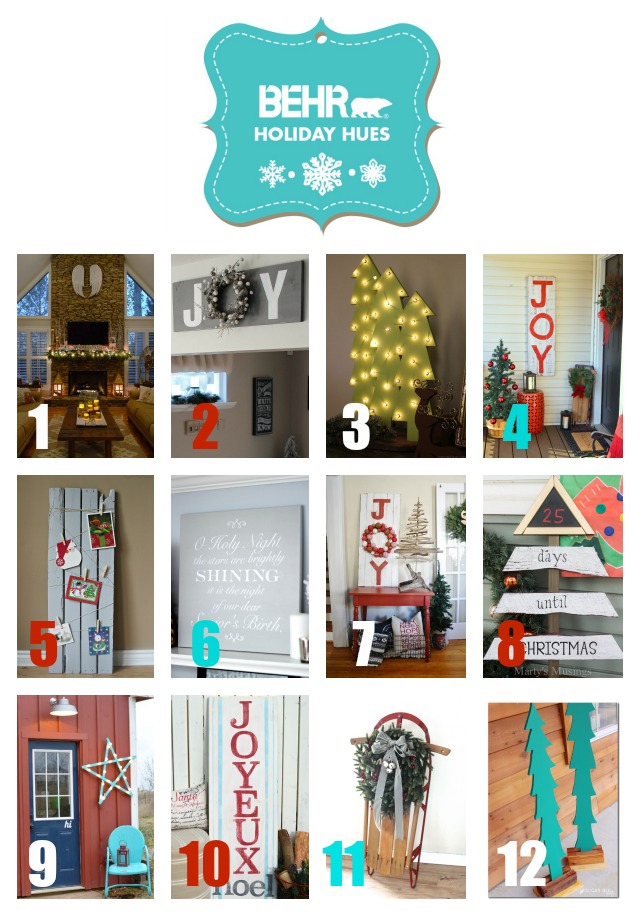 10.  A Pop of Pretty
12.  Sugar Bee Crafts
Until next time, happy holiday prepping!
K.