This post was most recently updated on September 23rd, 2019
If you follow me on Pinterest, you might have noticed that this weekend I was hunting for ideas on painted dressers / desks for kids' rooms. If you're like me, your kids' rooms probably have a hand-me-down (aka 'vintage', lol) dresser  or desk from your own childhood.  I think most of us hang on to those pieces out of nostalgia and because they were so well-built back in 'the day'.  Well, Miss G inherited my white, solid wood childhood desk a couple of years ago. Now that I'm giving her room a little update, I've been toying with the idea of giving it a little painted treatment, perhaps stripes, chevron or even polka dots!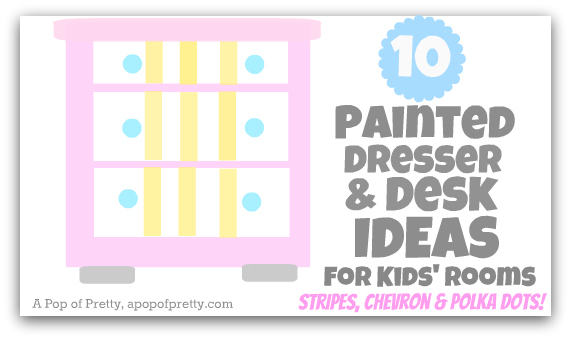 I'm so inspired by these 10 painted dressers and desks:
I'm loving the chevron / zigzag treatment on these drawers; something that could be easily achieved without any fancy stencils.  All you'd need is 1″ painters tape! (Found at Primitive & Proper via guest VintAge Before Beauty.)
This gorgeous dresser was featured on sites like Design Sponge and Apartment Therapy, but after a little digging, I found that it's original source is A Little Glass Box.  So fun. (btw, it's also a pretty cool blog.  I love when I find new decor sites to visit through Pinterest!)  I like how the chevron pattern is broken, giving it more the look of herringbone.
I also really like the simplicity of bold vertical stripes used on this dresser from House to Your Home.  It might be a better solution for G's desk as there's already whole lot of color and pattern in her room.   Wouldn't it look fab in pink and white?
And, here's another striped beauty from Centsational Girl, with a full tutorial on how to paint crisp stripes!
Punchy, classic horizontal stripes, like on this dresser from A Girl with a Brush,  are also a great option.
I think this Greek-key inspired desktop graphic treatment from Dwellings by Devore is fabulous, but maybe a little too sophisticated for G's room which has fun punches if color and whimsy. I'll file this one away for when she wants something a little more grown up in a few years (shudder!).
This polka dot treatment from 551 East Furniture Design is probably more age-appropriate, and its just so fun and whimsical.
And, speaking of polka dots, I'm hooked on  the retro '60s/'70s era styling of this dresser that was painted for a toddler girl's room.  You can find it on Curbly, with a full tutorial.
Check out this other modern twist to polka dots from The Modern Cottage, which just happens to be a blog  that I'm crazy about!
I'm a real sucker for traditional polka dots. The pink and white polka dot treatment on this desk is very Pottery-Barn-ish, don't you think?  Love.
I'm totally gah-gah over all these painted dresser and desk ideas. How to choose?!!?
Until next time,