This post was most recently updated on January 18th, 2022
It's by far the question I get asked the most on Instagram by my coastal style loving friends: "Where did you buy those coastal, blue striped poufs?" (By the way, do you follow me on Instagram? If not, you can find me here: kerripopofprettyblog on Instagram.) Yup, these blue 'grain sack' striped nautical poufs / ottomans are pretty much the stars of my Instagram feed.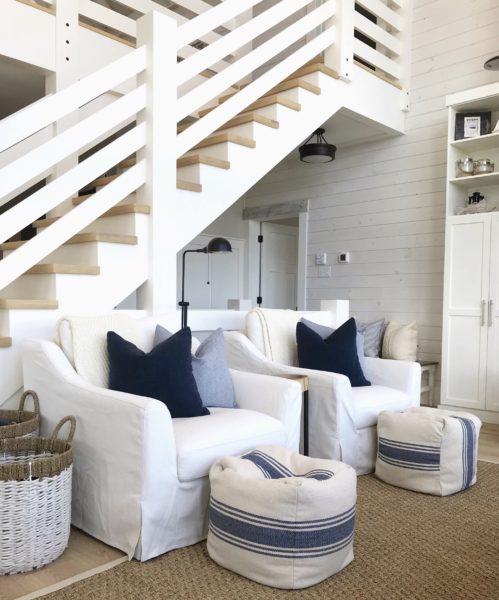 Every time I post a photo of them (or it's re-posted by another Instagram account), it gets hundreds of likes, and almost as many questions about the poufs. I understand why everybody likes them so much. The simple, relaxed, and nautical vibe was what attracted me to them. And, I'm a real sucker for anything with stripes, particularly a grain sack stripe.
Our Coastal, Blue Striped Poufs: Why I Love Them
Plus, compared with other ottomans, they are easy to move around. They are light because they are filled with bean bag filler. So we can use them to put or feet up here, or as extra seating when we have lots of company.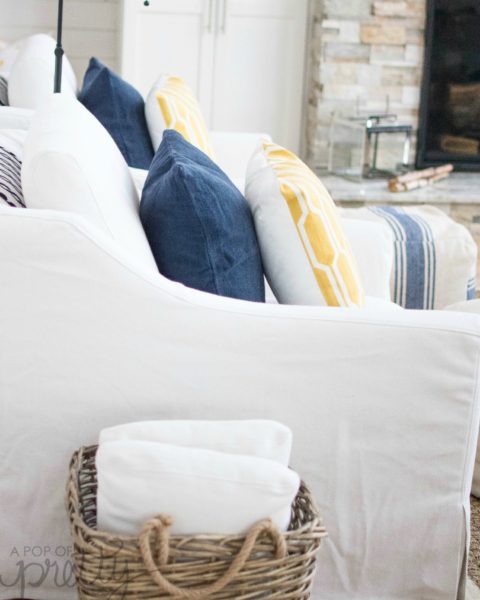 I also love that they don't take up a lot of space. I paired them with our white slip-covered IKEA Farlov chairs (See: IKEA Farlov Chair Review) even though there is a matching Farlov ottoman. But the IKEA ottomans where large and heavy, and I wanted to ability to move them around this space. So these blue striped poufs fit the bill.
Where to Buy Them
So where can you get your hands on these coastal-inspired, blue striped pouf? Well, I purchased mine via Birch Lane / Wayfair. Unfortunately, that was two years ago, and they have since stopped selling them.
But don't despair! My Instagram friends are a determined bunch, and they went on the hunt for another source. They eventually found a couple of other sources, but the inventory didn't last long. Buuuut, I just noticed that they are now available over on Amazon! Just click below to take you straight over there. (Note: Affiliate link.)
If you find any other sources for these cute blue striped poufs, let us all know in the comments section. In the meantime, I hope you manage to get your hands on one.
Looking for more coastal style decor? Check out my new modern coastal inspired online shop, JanieJute. You'll find lots of crisp, blue and white decor like pillows and art, along with simple, stylish jewelry, bags, and accessories,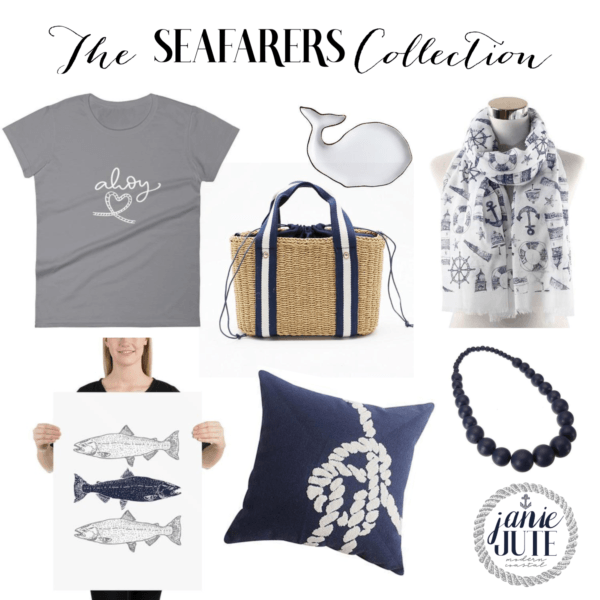 Until next time,
Kerri
Oh, and p.s., Have you read this recent post on front door design ideas yet? It's a goodie!