This post was most recently updated on September 23rd, 2019
I've  decided to join in on a fun little exercise going on in the blogosphere right now, invented by some of my favorite home decor bloggers.  It's called "31 Days".  The idea is to write one post every day for the 31 days of October on ONE particular topic that you're passionate about.  It could be anything from 31 days of banana bread to 31 days of stain removal.  But the concept is that every post you write in the series connects back to the same theme.
I figured that the only way I could do it was if I picked a light-hearted, narrow topic that was image-focused, rather than being text-heavy; one where a picture could tell the thousand words that I wouldn't have time to write!
So without further adieu, my 31 day series is going to be all about…vintage home decor advertising.
Why Vintage Decor Ads, you ask?
I know, I know, it sounds kinda random.
But it's not, I promise.
I decided to marry two areas I'm passionate about.
As some of you already know, my 'real' profession – the one outside of being a mommy-blogger-decor lover-crafter – is as a strategic planner in an ad agency.  I've worked in the ad world for almost 15 years, and I'm crazy about all things advertising, especially vintage ads.
Vintage ads are like little  windows on the past.  Through their  imagery and copy, we can peek back at the consumer trends and pop culture of different eras – and, in this case, the home decor trends!
So stick around for the next month to get your Mad Men fix here.  You'll get to see the good, the bad, and the down-right ugly –  ads from colored toilet seats to vinyl recliners.
Here's the first in my series, a 1972 toilet seat ad!  Apparently, in 1972, you could "Brighten your life" with a colored toilet seat, and as a special gift with purchase, you'd get this "sassy" stick on face.
I'm sold, how about you? Teehee.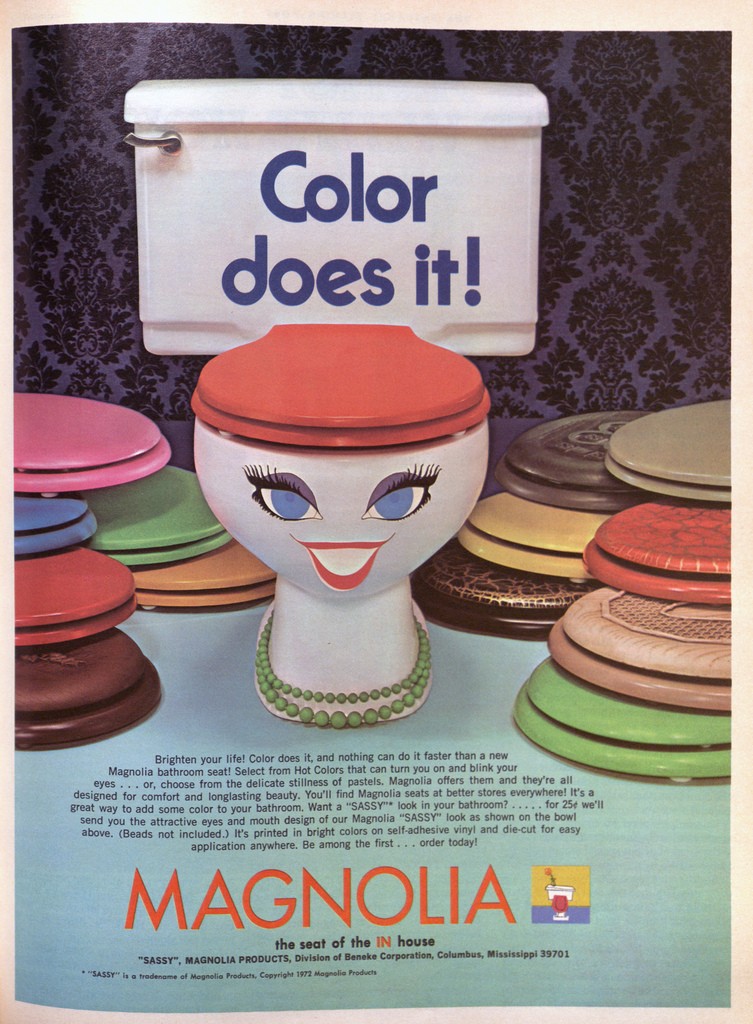 If you'd like to be updated with all the ads in this Series, be sure to subscribe to A Pop of Pretty in the right-hand sidebar!
Until next time (uh, tomorrow, right?!?),