This post was most recently updated on September 23rd, 2019
You know a decorating trend has gone mainstream when you spot it at HomeSense (or its American equivalent , HomeGoods)!  The other day, during my near-weekly stroll through HomeSense (um, yes, I'm an addict…don't judge, lol), I spotted a bunch of storage bins covered in pastel Ikat fabric.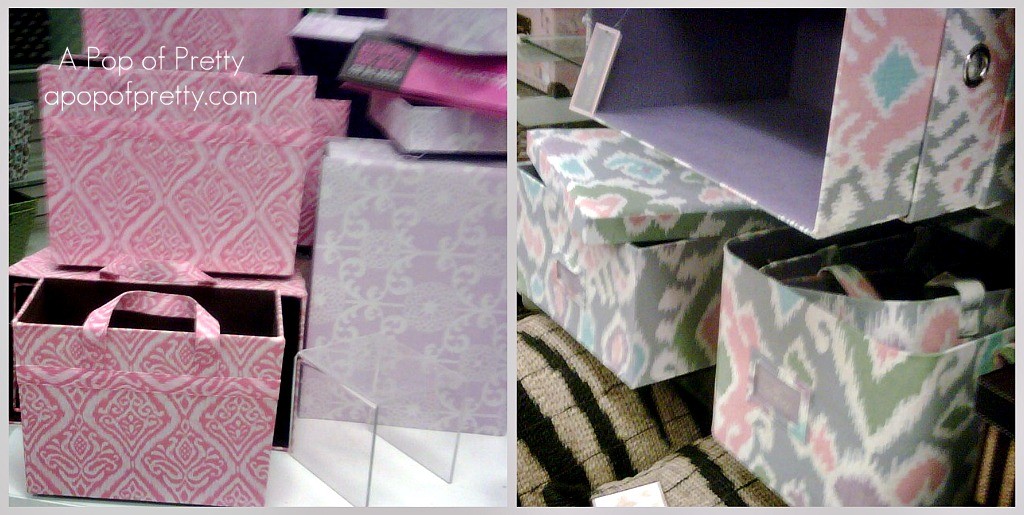 I know that Ikat decor has been described as 'trendy' for a year or two in fashion-forward blogs and mags – and its been on the shelves for awhile at places like Anthropologie. But, until recently, I hadn't seen it in  any great volume at mainstream stores.  But now it seems to be everywhere.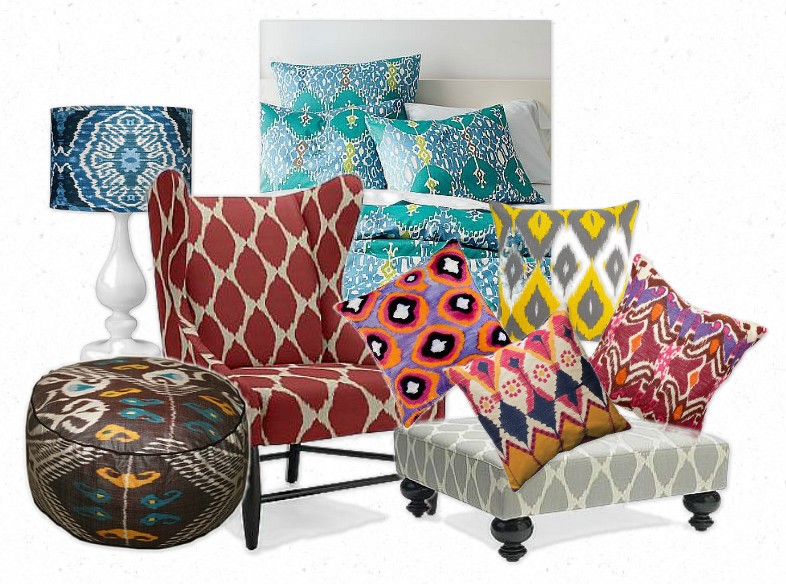 Ikat 101

Ikat's been around for centuries, and is thought to be one of the oldest weaving techniques of all time.   Ikat (or , or Ikkat) is a dyeing technique used to pattern textiles that uses a resist dyeing process similar to tie-dye.  The defining characteristic of Ikat is the dyeing of patterns into the threads before the weaving of the fabric takes place.  (Source: Wikipedia). The result is a soft, watery, free-flowing effect.

Ikat was has been in vogue at different times throughout history, most notably in the 80s and again in the last few years.  "Given it's lengthy, well-documented, well-distributed history, it's safe to say that Ikat isn't a 'new' trend per se, but an ancient ritual unearthed and reinvented by designers seeking to infuse their collections with a sense of worldliness, of glamorous globetrotting. Because of the fabric's diverse history, it's versatility comes as no surprise. Ikat can be exotic, luxurious, ethnic, earthy, posh, and bohemian." Source: Ikat, Ikat Everywhere: Miami Fashion Blog, July 2011
I like a good decor trend like the rest of you, but I'm not loving Ikat.  Being a child of the 80s (or at least a teenager, lol), it feels a little dated to me.  (And, not in a good way.) I do like the ethnic,  bohemian vibe of Ikat, but I'm just not a fan of fussy pattern. I talked a little about my aversion to small-scale florals awhile back.
Nope, I'm more of a big bold stripes kind of girl. I like graphic patterns with strong, clean lines.  It must be my overly-analytical, Type A brain that craves strength and order. I can even handle a large-scale mod floral if its got some discipline to it.  But the soft, loosey-goosey effect of most Ikat patterns is just something that my brain doesn't process well. 
I think I could handle it in small doses or in neutrals like in this gorgeous room.
Photo credits to: Lauren Muse, Muse Interiors.  Sourced via Houzz.com.
Or even in as a bright pop of pink, as long as its was in a simple, 2-toned pattern like these chairs …
Photo credits to: Armonia Decors by Emily Ruddo. Sourced via Houzz.com
And, well, if the Ikat was in a watery turquoise like here, I'd love it 'just because'…
Photo credits to JMA INTERIOR DECORATION.  Sourced via Houzz.com.
But under any other scenario, I think I'd pass.
While I might enjoy it for a visit, my brain just wouldn't do well long-term in a room like this…
Source: Houzz.com
For me, the trick to enjoying Ikat would be simplistic pattern in small doses, against an otherwise quiet, neutral backdrop.  Kinda goes against the whole raison d'etre of ikat, though doesn't it?
How about you?  Are you hot on Ikat, or is this one trend you're cool with skipping?
Until next time,
Kerri