This post was most recently updated on September 23rd, 2019
You know me, I love gallery walls!
But despite my adoration of gallery walls, they do have an ugly side.
Apparently, that ugly side only reveals itself when you disassemble it.
If you have a gallery wall in your home like me, then you'll relate to the little row of 3 pictures that didn't line up quite right the first time…
so you hammer another 3 holes because, well, who's gonna see it anyway…
and then later, you decide you don't like that little row of pictures, so you change it again, and none of the first 6 holes will work…
so then you say, what the heck, what's another hole, the wall already looks like swiss cheese, so you hammer a 7th hole…
only to discover that the new picture doesn't look quite right there after all…
so then you decide to put 2 pictures there instead of that one, and you hammer the 8th and 9th hole.
Then you repeat.  (Another section of the wall needs to be changed, and, well, now you're a ninja and any hammering inhibitions you once had are now toast).
Before you know it, the hole to art ratio is at least 4:1, and when you finally re-paint the room, it ends up looking like this…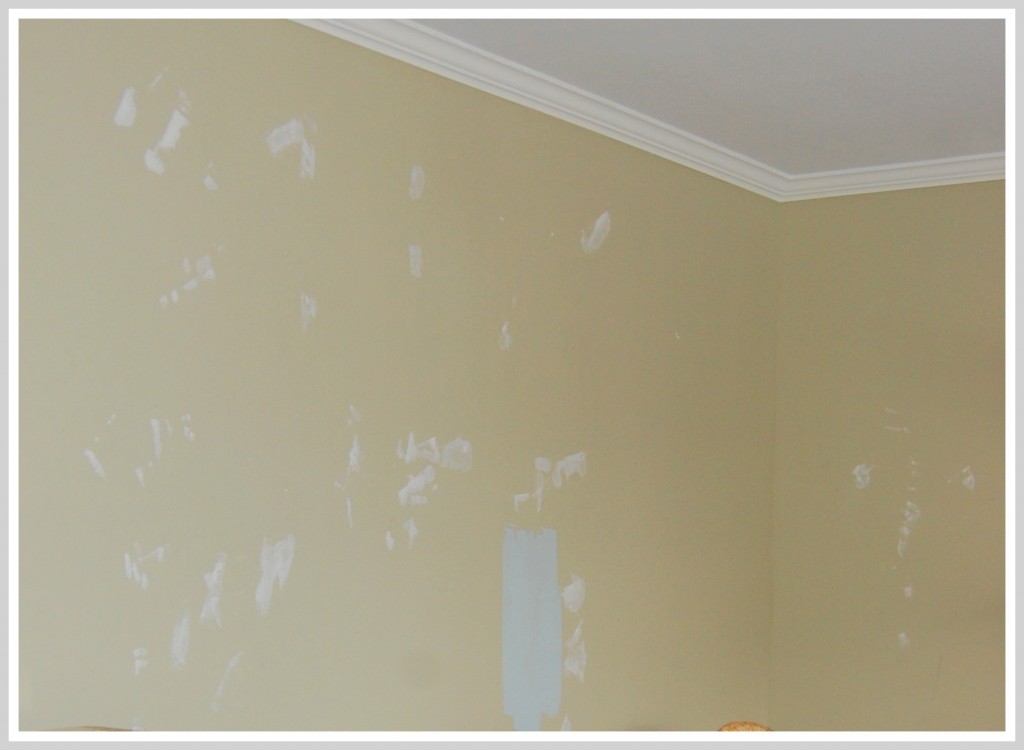 Seriously, I persuaded myself that I had butchered the wall beyond repair.
So when we started  to re-paint our main living area the other day (click to see that post), I had convinced my Dad (who is painting for us) that he would need to fill at least 57,491 holes before any painting could begin.  I think I even left the house when he started to fill the holes, lol.
But here's the encouraging part!  It wasn't so bad after all.  Yes, there were A LOT of holes.   But not nearly as many as I had imagined.  And they were pretty easily and quickly repaired  with nail filler and paint (and a fantastic dad).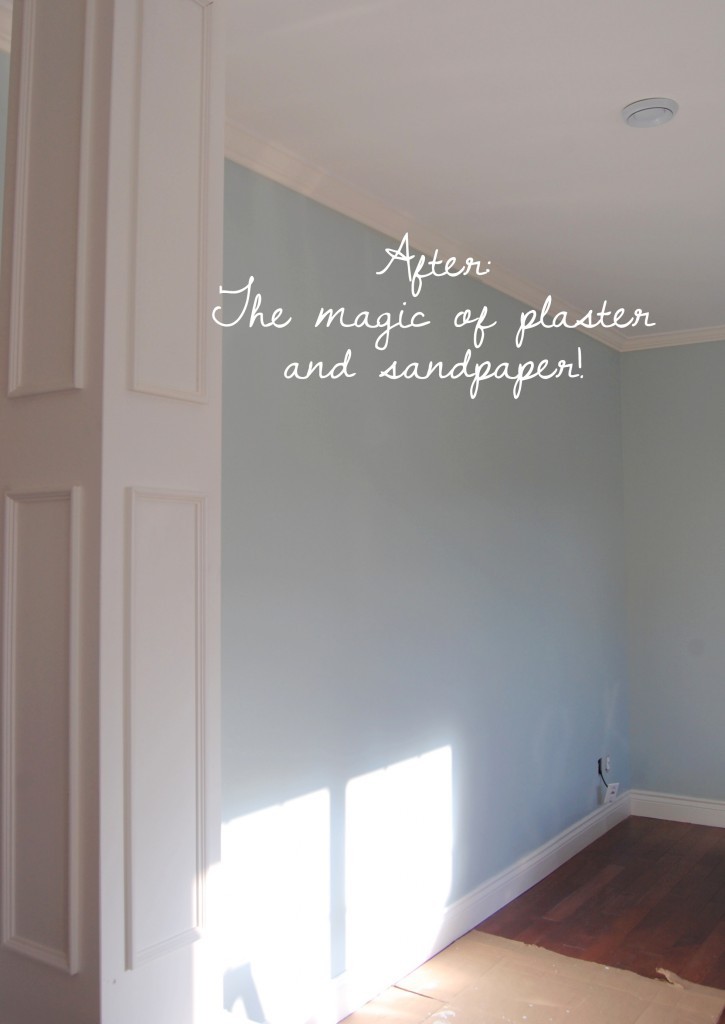 Seeing that nice, perfectly repaired wall up there reminds me of one of my favorite blog posts by one of my favorite home decor bloggers, Nester.  In it she says,
"A nail hole doesn't represent something broken that needs to be repaired, it represents opportunity and just about the lowest entry level risk taking possible in life besides getting no whip on your coffee or something.  Please, for the love of all that is lovely don't be afraid to make a nail hole.  Whether you are a templater or not, just make the hole, hang the art, I beg of you."  Source: Nester
So, while, yes, there is an ugly side of gallery walls, it's a very short-lived one.
And, seeing the ugly side wouldn't prevent me from nailing another 100+ holes in this wall again if it means the result will be a great art display.  (EEEK…I just hope my Dad isn't reading this, lol.)
Need more persuasion?  Check out my Pinterest folder of inspiring gallery walls and collections: click here.
Catch you next time,
Kerri