This post was most recently updated on September 23rd, 2019
I've been hunting for wall art for our recently re-painted living room.  After painting it Woodlawn Blue and a creamy white, the room has a much lighter feeling than before.  So I wanted art in a serene color scheme.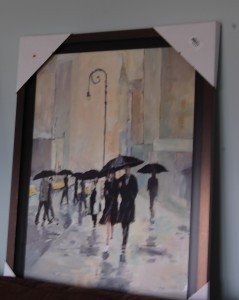 I found two pretty french-inspired pieces that were the perfect colors for the room; but, the only problem was that the frames were dark mahogany and black.  I usually like a bit of black in a room (to ground it), but when I tried these frames in the living room, they were a real Debbie Downer.   They felt much too heavy and haughty for the new airy colors.
Disappointed, I decided I'd have to take them back and look for something else.  Then the light bulb went off.  Why not paint the frames ivory?
The risk was that I'd somehow ruin them in the process, and I'd be out the few hundred dollars I'd spent on the art.  But, hey, what can I say, I'm a rebel. OK, not really, but I decided to chance it anyway. I liked my odds. Really, how hard is it to mess up spray paint?
Step 1: Cover it!
The first thing I did was tape off the edges of the art, and then I covered the whole thing with paper.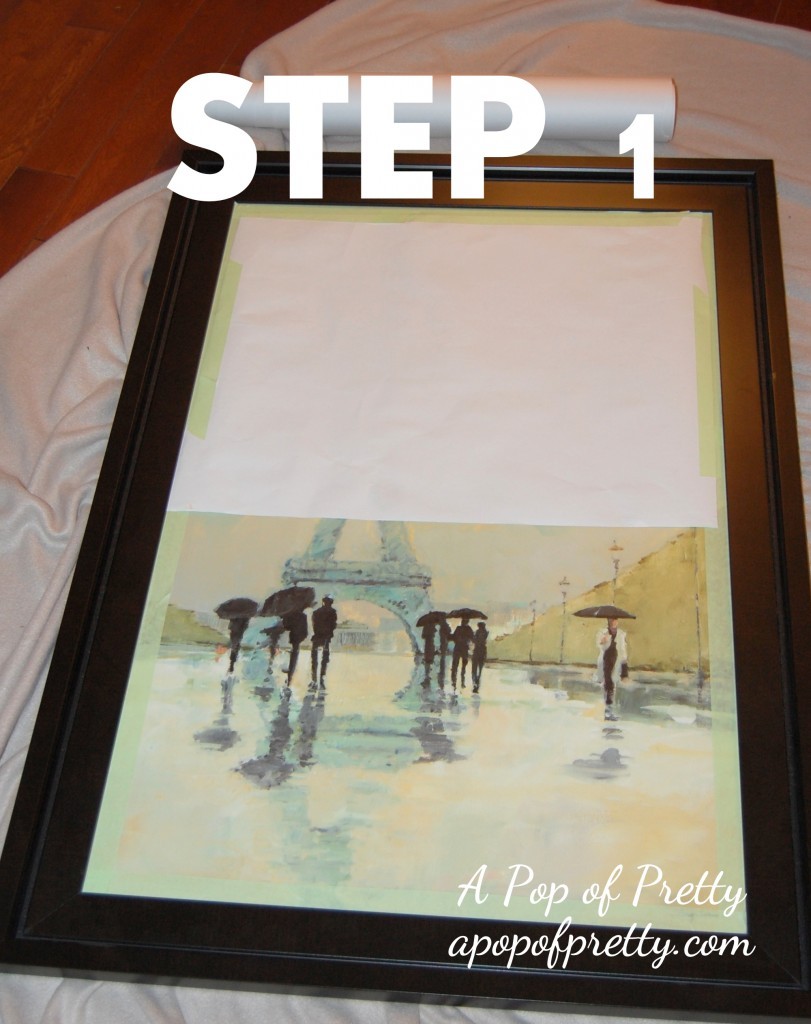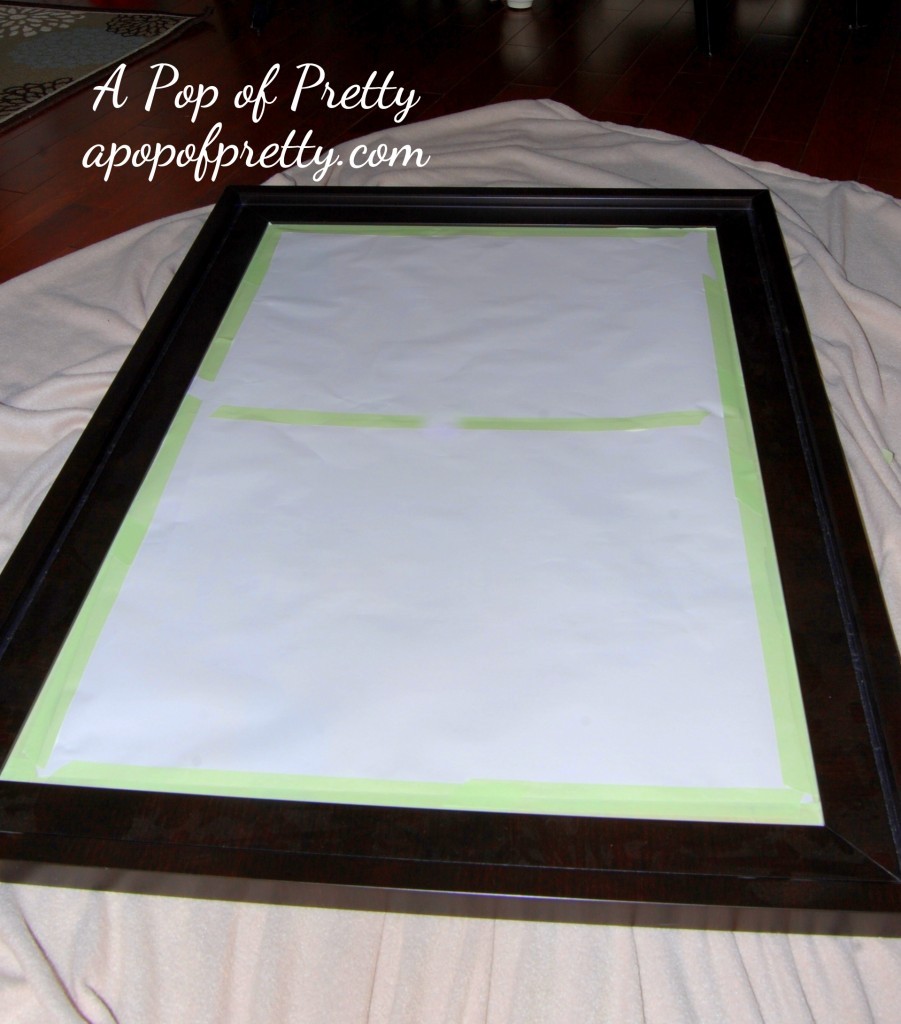 Step 2: Paint it!
Next, I waited until morning so that I could spray paint outside.
OK, not really. Truth told, I started to spray paint the first one inside – I am soooo impatient! – but learned quickly that it wasn't a great idea.  Scratch that.  It was a really BAD idea (I won't bore you with the details). So then I begrudgingly waited until morning.
Luckily, the next morning was warm enough to spray paint outside. And, yes, you DO see remnants of snow in the backyard in the pictures below.  I'm not sure what it said on the can, but, by my standards, 'warm enough' meant there wasn't a raging blizzard or hurricane outside.  (When I get something like this in my head, there's no stopping me!)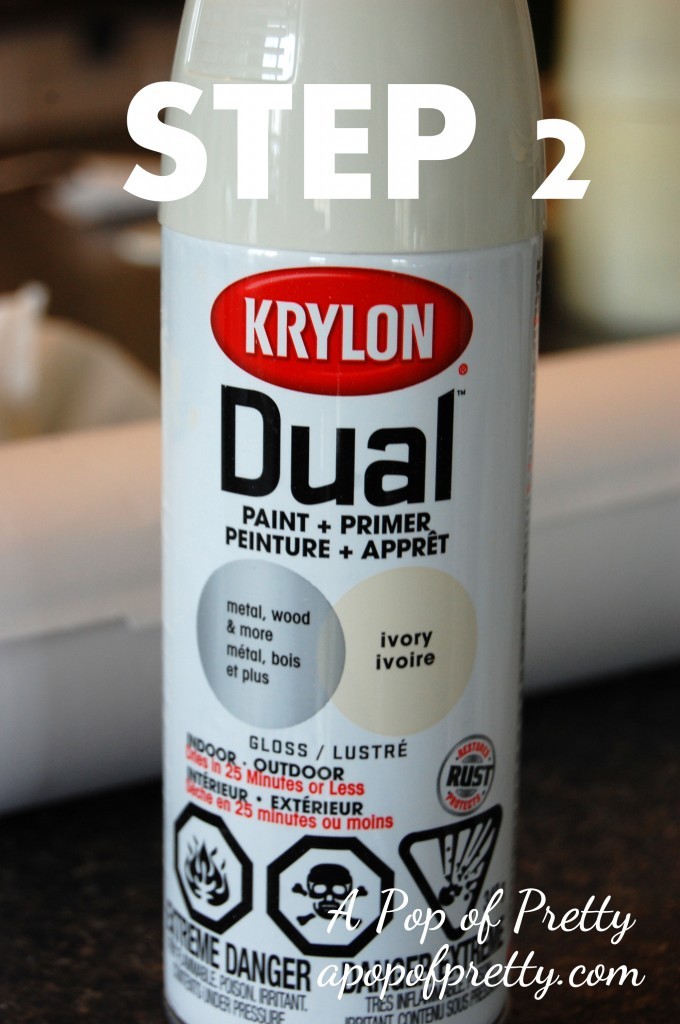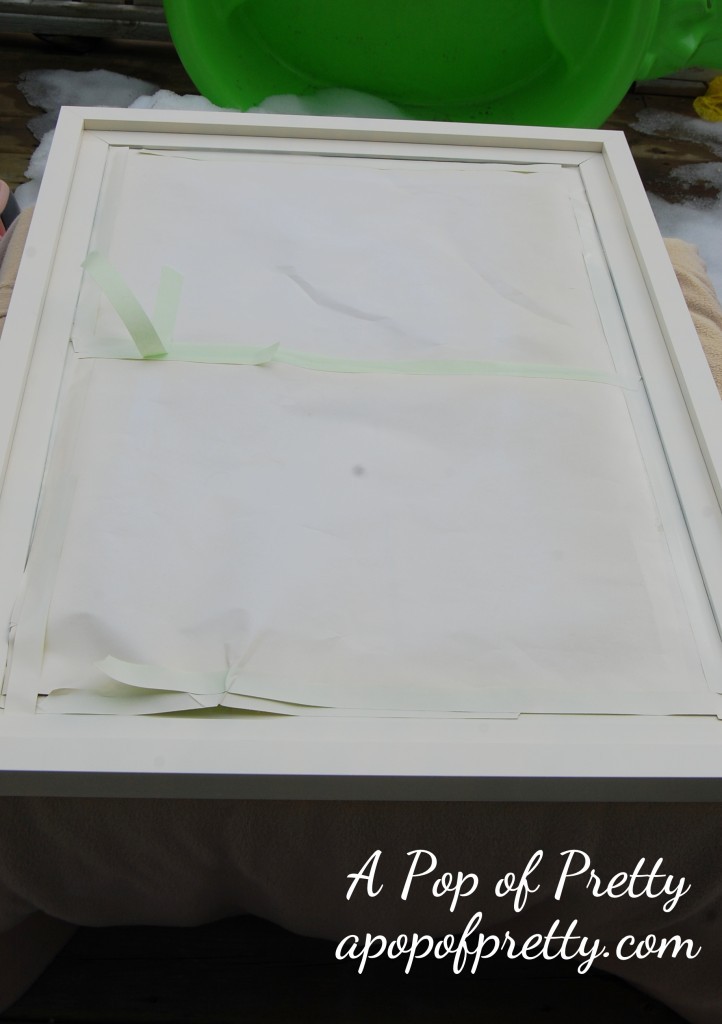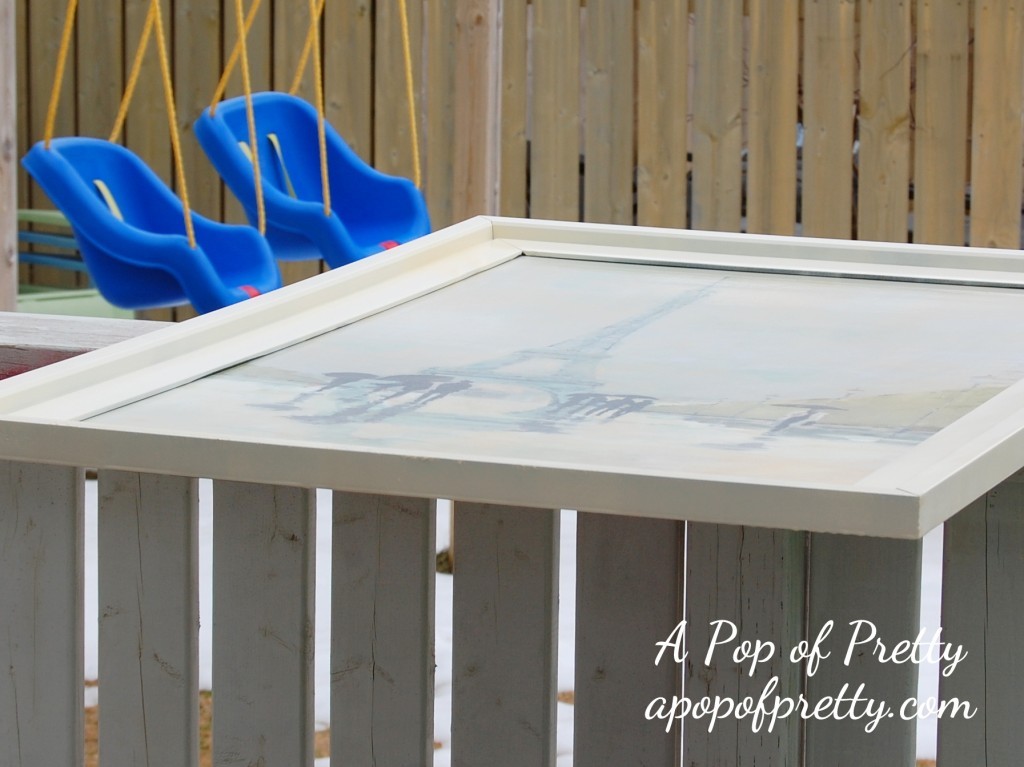 I repeated these very tedious and complicated steps (not!) again for the second piece.
Once they were good and dry, I hung them.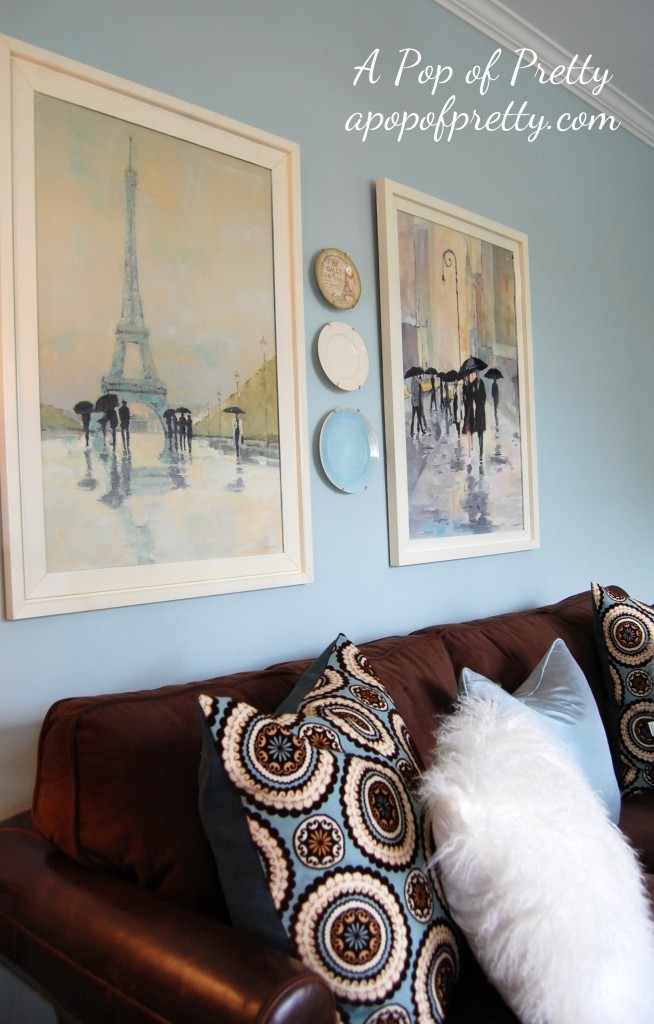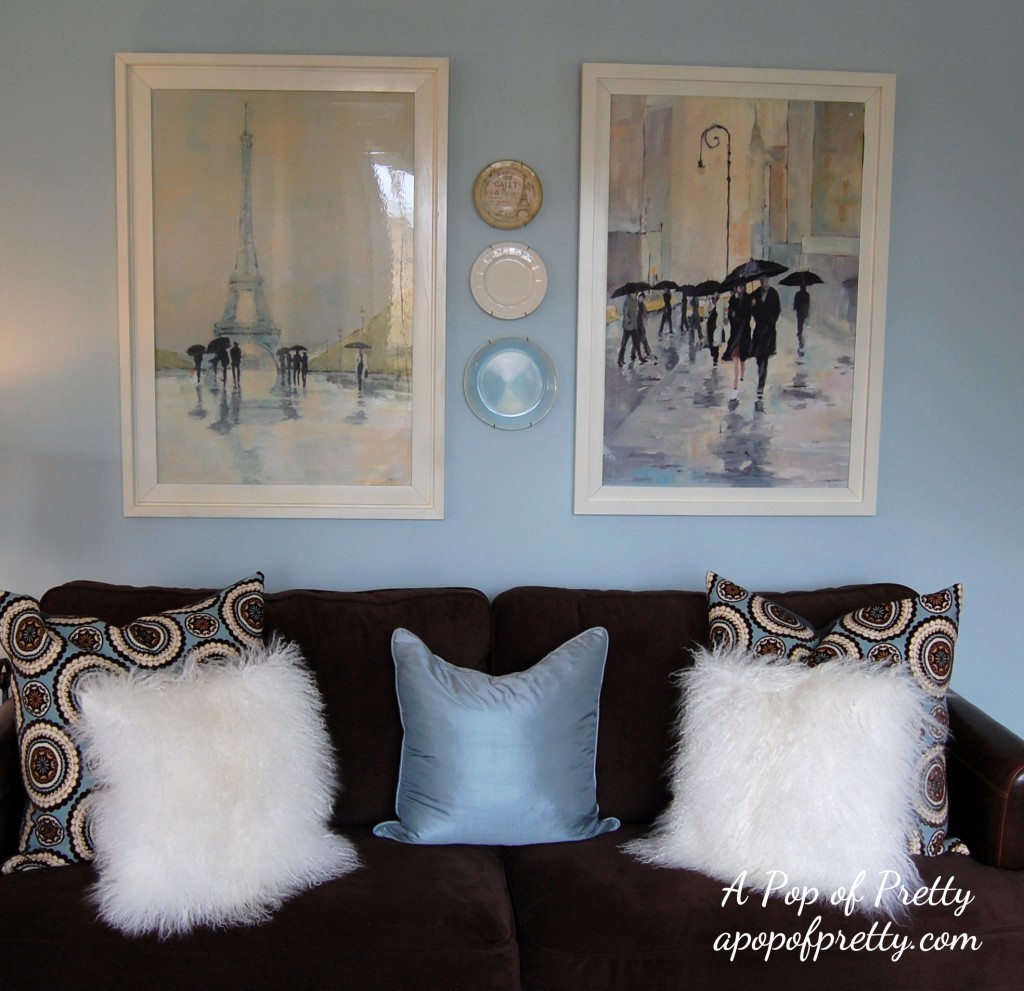 For this room, the frames are so much better in ivory than in black.  And it was such an easy fix.
Do you have some old art in your home that you still like, but its in an outdated frame? Or one that no longer matches your decor?   A $7 can of spray paint might be just the fix you've been looking for!
Until next time,
Kerri 🙂
I'm sharing this post at: