This post was most recently updated on January 1st, 2020
I recently did a little painted bathroom vanity makeover in our powder room.
Before the holidays, we brightened up the powder room by installing new board and batten trim. (Thanks Dad!) If you follow me on Instagram, you might have seen a few pics of our progress.
Everything  looked so fresh and pretty in there with the exception of the  bathroom vanity. It was already starting to look like an eye sore, but the new white trim only drew more attention to it. The dark stained wood had chips and dents from 7 years of wear and tear with young kids. I love the furniture style of this vanity, so I didn't want to replace it.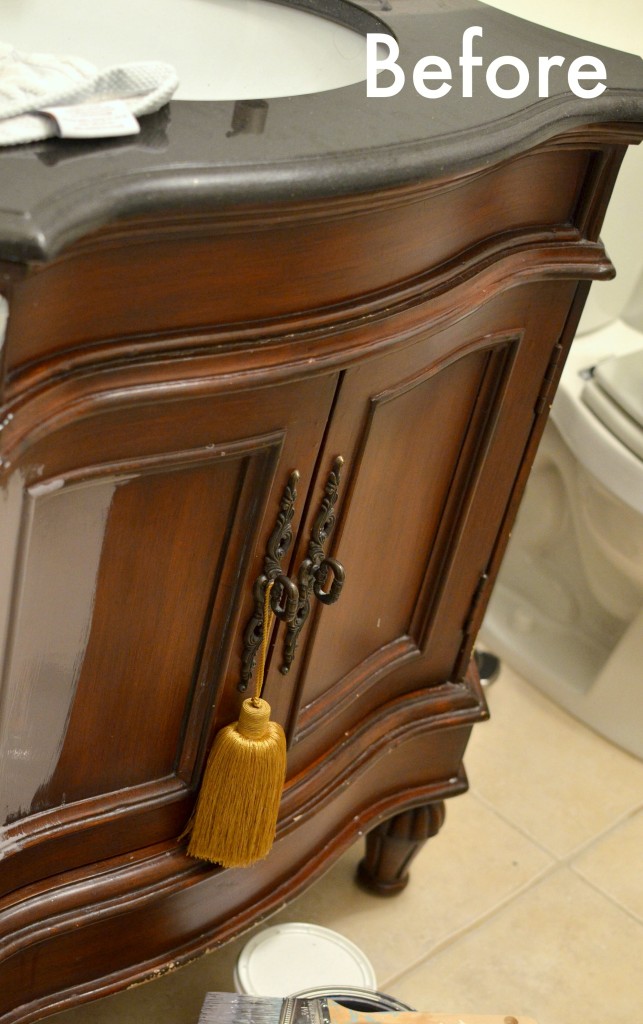 To freshen it up, I decided to paint it. I'd already used Behr Marquee Dawn Gray (MQ5-28) (in semi gloss) on another piece of furniture, so I knew it would be a great colour for my bathroom vanity makeover too.
It covered like a dream, and dried without any visible brush strokes.  Behr Marquee has primer built into the paint, so I didn't even use a primer first. Any minor imperfections (a few little bumps) you might see here are just the result of the wear and tear on the original vanity.  This paint is very forgiving.  In my experience with it, you don't have to be a professional to get great results.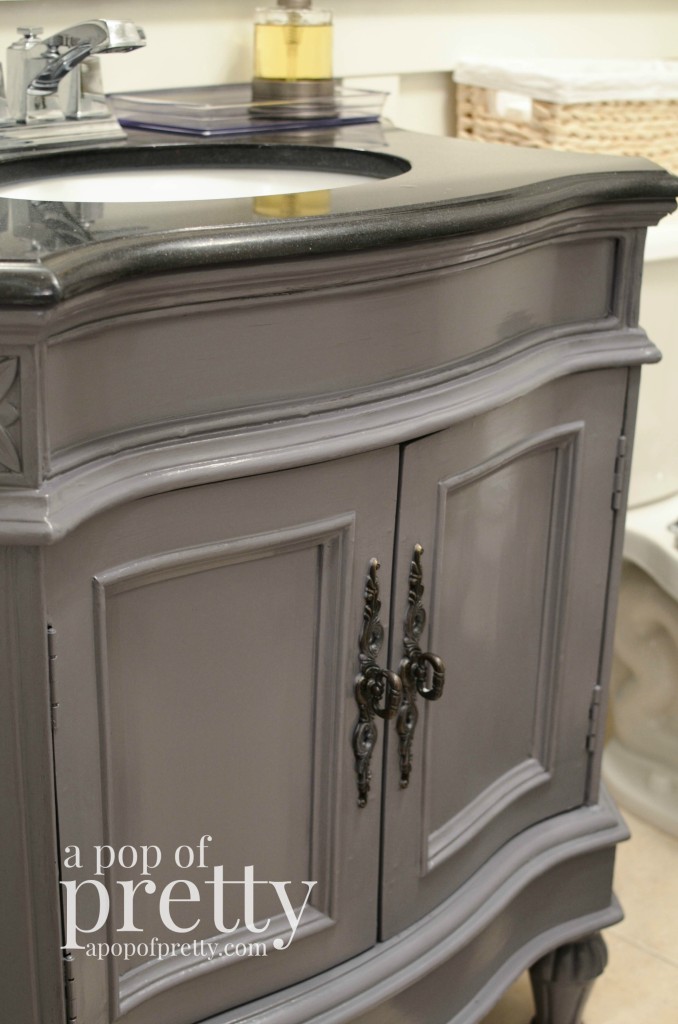 I'd thought about doing this bathroom vanity makeover for a few years, but always talked myself out of painting it.  Sometimes it's hard to imagine painting something that's solid wood.  It's just one of those 'rules' we tell ourselves. But if that piece is not making you happy, or it's a distraction in a room, then paint is an awesome solution.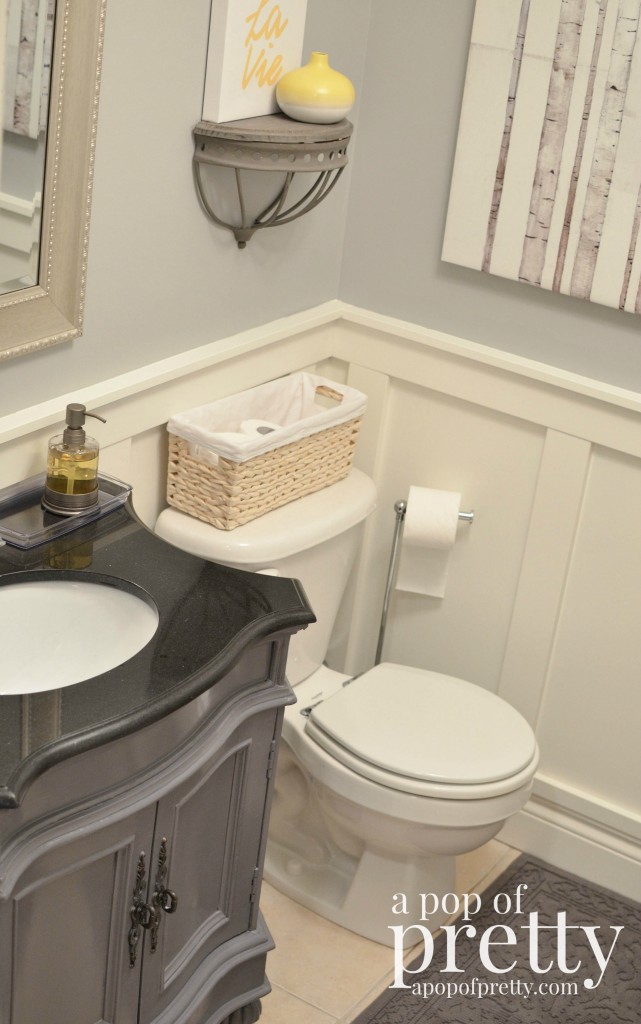 This little bathroom used to feel dreary, but now it feels like new.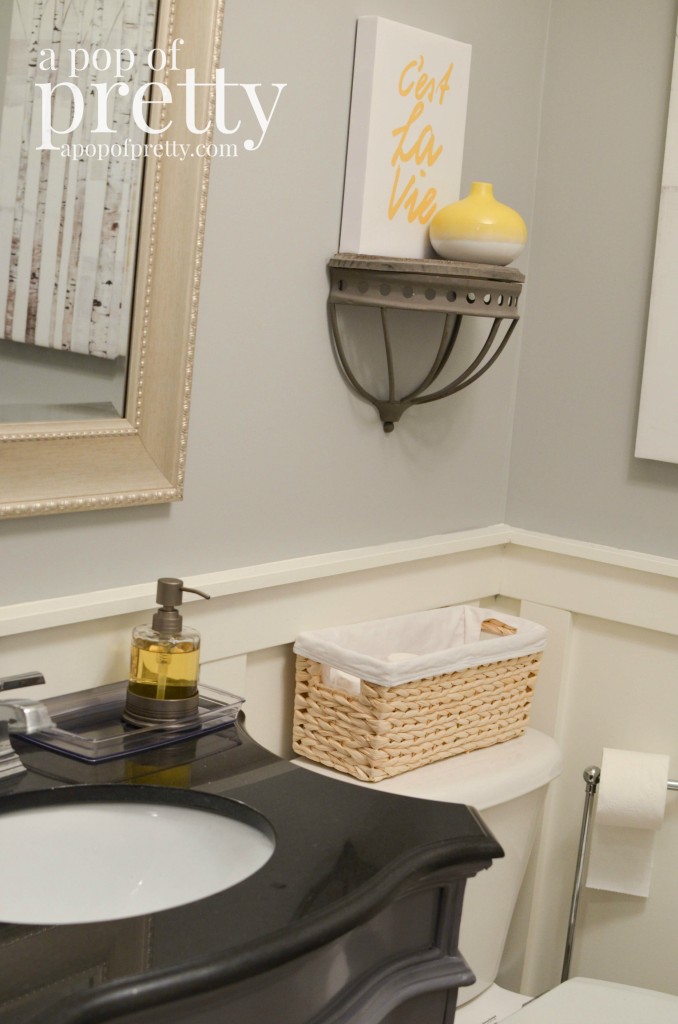 (You can see some of my other Behr Marquee projects here: Behr Marquee 'Ethereal Mood': Miss G's Bedroom Makeover, Behr Marquee Dayflower: Front Door Update, Nightstand Makeover: Behr Marquee Soft Shoe.)Until next time,
K.
NOTE:
Sponsored Content: Behr Paint provided me with this Behr Marquee paint to try, at no charge. However, all viewpoints and opinions expressed here are 100% my own, and have not been influenced by Behr in any way.