This post was most recently updated on January 11th, 2021
What I'm sharing today: Learn how to make a wrapping paper wreath for your winter decorating. I'm sharing a great tutorial source for creating your very own wreath from pretty wrapping paper. It's an easy craft that you can complete within an hour or two while catching up on your Netflix shows!
Happy new year, my lovelies! I hope you all had a fantastic holiday season. I've got an easy DIY home decor project today: a wrapping paper wreath! Have you seen one of these before? It's such a clever way to make a wreath from supplies you probably already have! So, before you store away all that pretty wrapping paper from Christmas, take a look!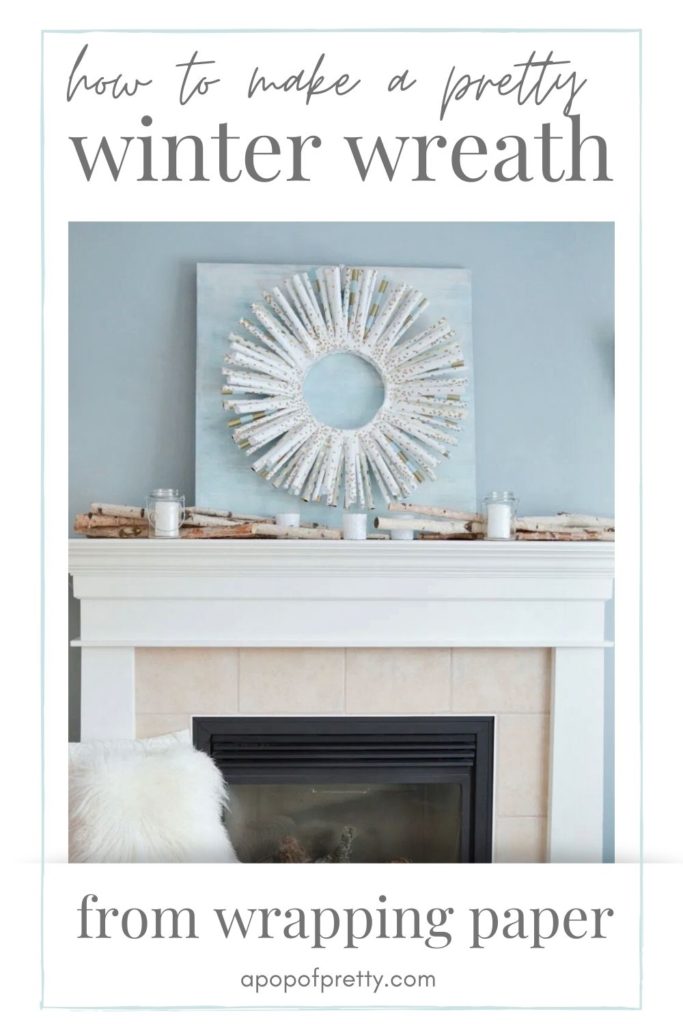 Pretty DIY Wrapping Paper Wreath
I had some free time the other morning to do a little crafting for the first time since early December. Our fireplace mantel just seemed so sad without its Christmas decorations. So I decided to try to make a wrapping paper wreath for my Winter mantel using leftover holiday wrapping paper. I saw a tutorial that inspired me awhile back. I'll share the link with you below!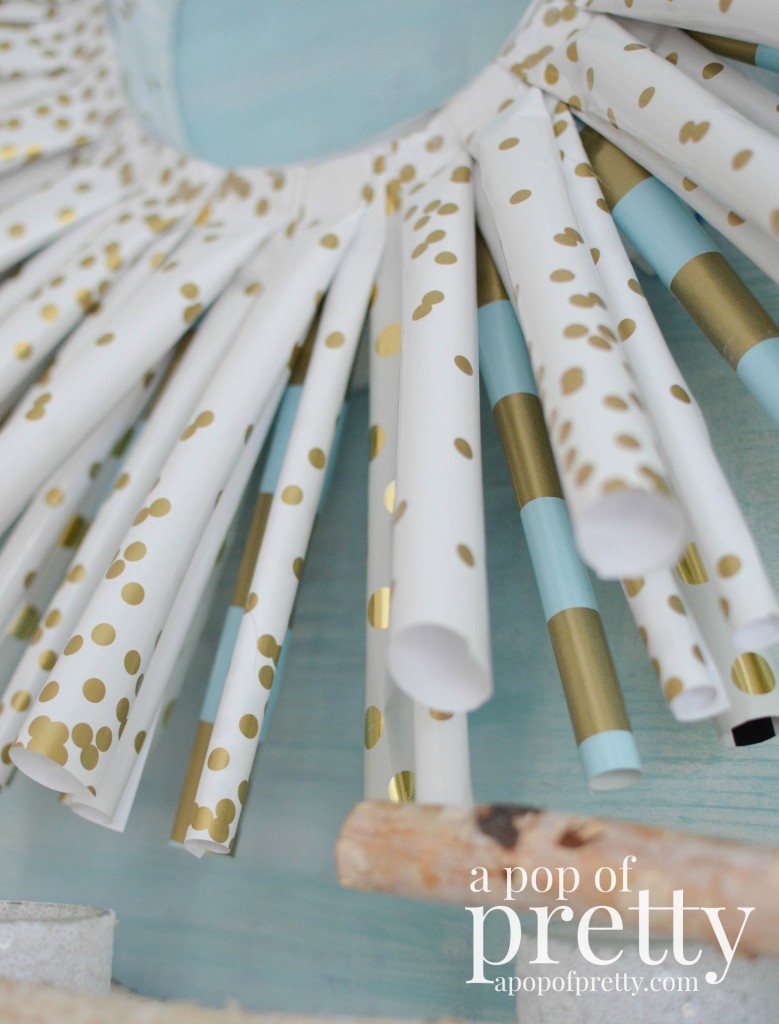 I really loved the white and gold polka dot/confetti wrapping paper I used for Christmas, and it seemed a shame to simply store it away. I usually try to buy holiday wrapping paper that can be used at other times of the year too. Obviously, my kids' Christmas presents are wrapped in fun, bright Christmas-themed paper. But, I typically wrap all the other presents in wrapping paper that feels more winter-y than Christmas-y. And, this is the kind that will be perfect for a winter-themed wrapping paper wreath.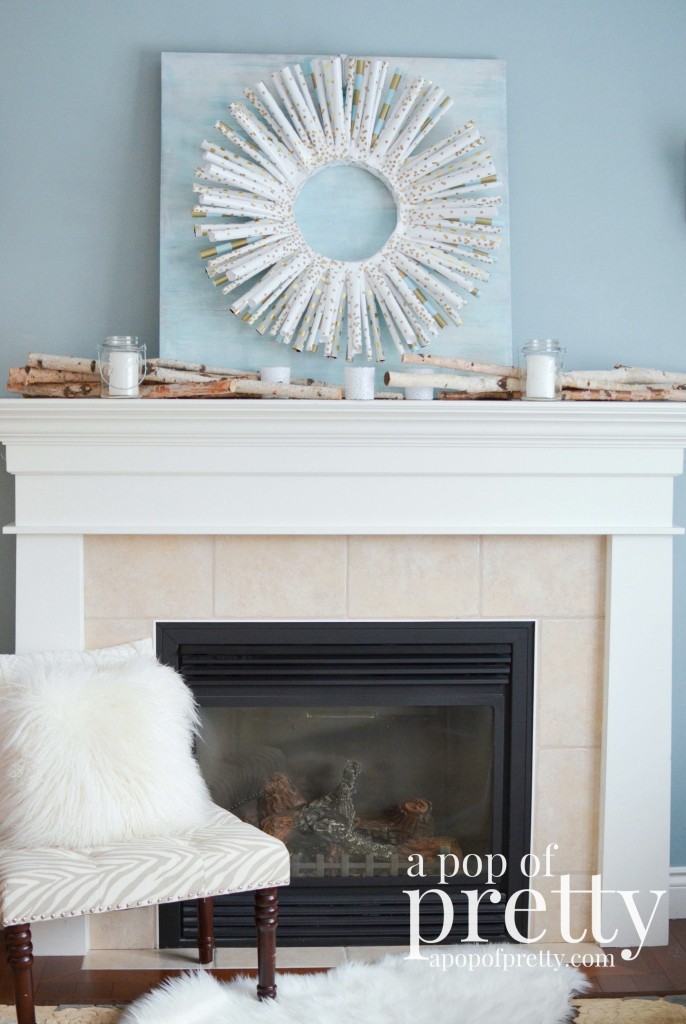 Supply List: What You'll Need
This wreath makes a big impact for how simple and inexpensive it is to make! Basically, all you need is:
a styrofoam wreath form (12″)

6-12 feet of pretty

wrapping paper

invisible table

a

glue gun (hot glue)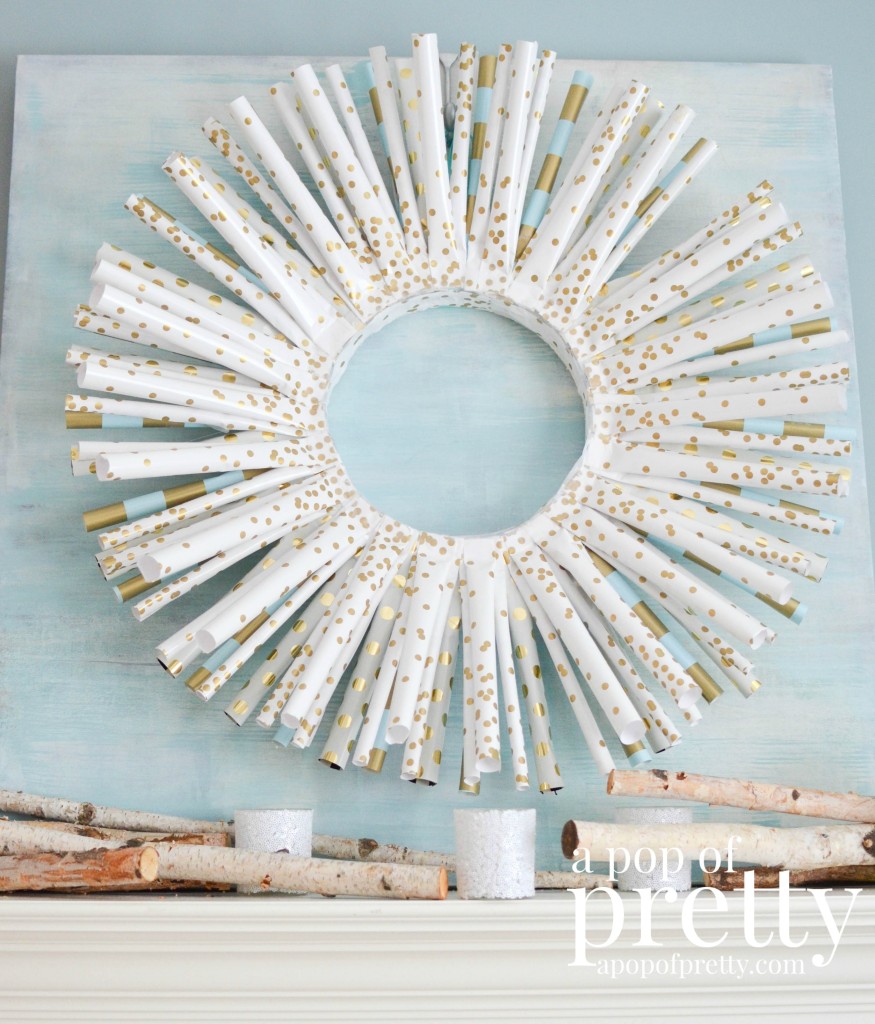 How to Make a Wrapping Paper Wreath
You'll need some time and patience to cut, roll and tape all those pieces of wrapping paper. But hey, it's January, and that probably means you are spending more in front of the tv than before. So just do what I did, and make your wrapping paper wreath during a few episodes of your favourite show.
In total, it took me about 2 hours to make this wrapping paper wreath from start to finish. But it hardly seemed that long while I was catching up on my faves. All you need to do is cut strips from your roll of wrapping paper, roll them into tubes, and stick them on your wreath form.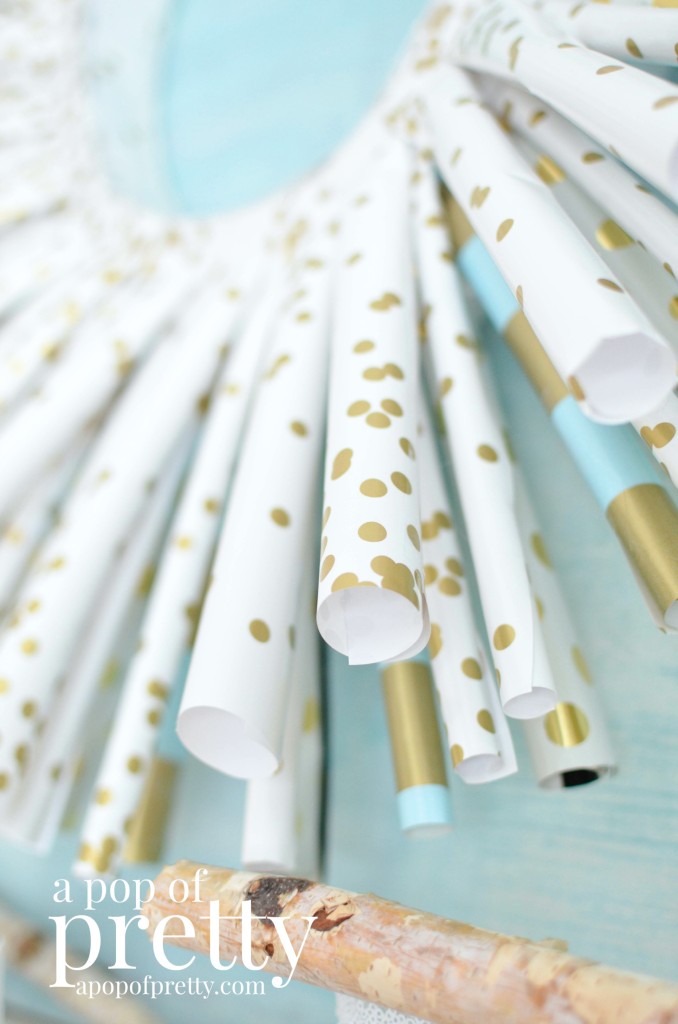 To make my wrapping paper wreath, I followed a tutorial over at Centsational Girl blog. I've been following Kate's amazing blog for years, and remembered that she provided instructions on how to make one awhile back. If you want to make your own, you should follow her tutorial.
You can find it here: Centsational Girl: DIY Wrapping Paper Wreath.
The only things I did a little differently were:
I added a third row of paper rolls to make my wreath a little fuller
all my rolls are the same length
I trimmed my rolls shorter than the wreath in the tutorial
Where to Put Your Wreath
Obviously, a wrapping paper wreath is not going to survive outside in the elements! It's definitely an indoor wreath. I placed mine on our fireplace mantel. I love how the sparkly gold polka dots mixed with some icy blue makes it feel winter-y and festive. It will definitely help me through the winter blahs! I always need a little something-something to bridge the boring gap between Christmas and Valentine's Day. January and February are the longest months to get through! If you don't have a fireplace to hang it over, I think this wreath would also look spectacular hung on a large mirror or on an interior door.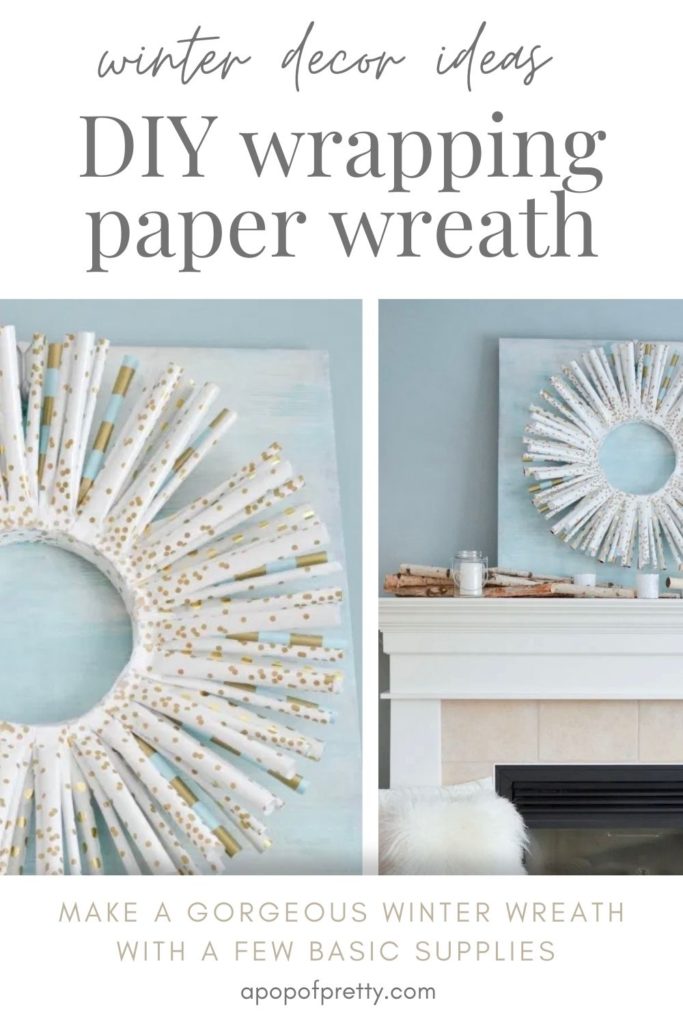 Looking for more Winter Decor Ideas?
If you are looking for other winter decor ideas for your home, you might like these posts:
Mood Board: Cozy Modern Cottage Family Room (Winter Decorating)
Get the look of real flowers using fakes: my five tips!
Tidying Up in Style: Where to Find Baskets
How to Make a DIY Ribbon Wreath for Valentines Day
Share the Love
If you liked this project idea, I'd love if you shared it to Pinterest or other social media so that others can find it too!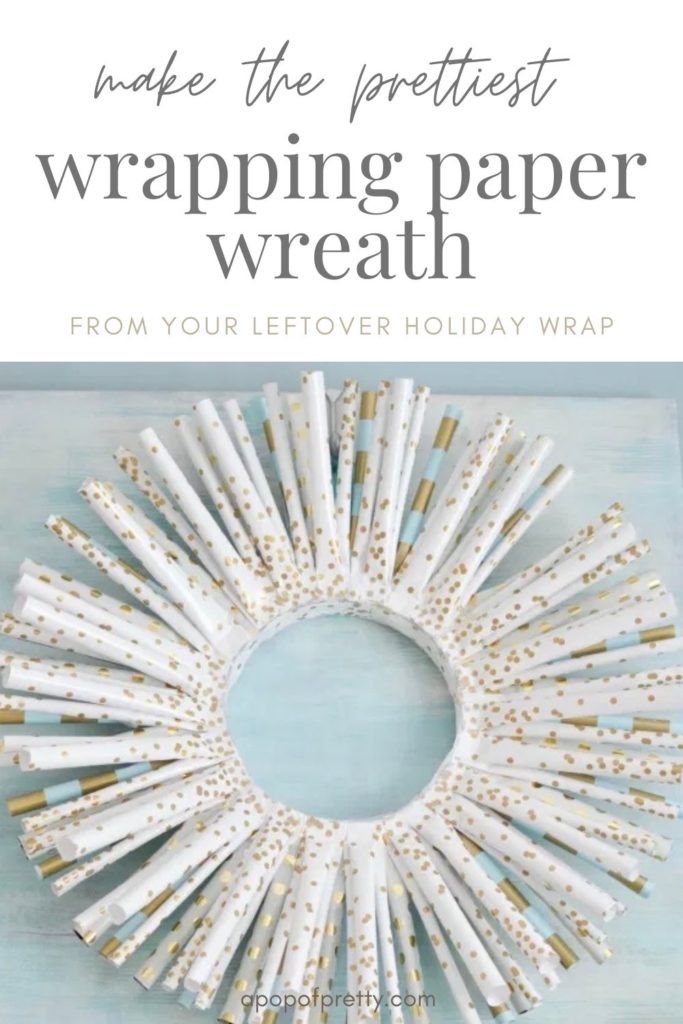 Until next time,
K.