This post was most recently updated on September 23rd, 2019
I'm considering switching from table lamps to plug in wall sconces (aka reading lights) for our master bedroom. Our table lamps are perfectly lovely. But they take up way too much space. There is literally no room left on our nightstands for other essentials, and it's starting to bug me.
Do you use wall sconces instead of lamps in your bedroom? I'd never considered plug in wall sconces for our bedside before. But I recently painted the furniture in our master bedroom. (I'll share that project soon!) And, as I was putting the room back together, I noticed just how much space our table lamps were taking up on our bedside tables.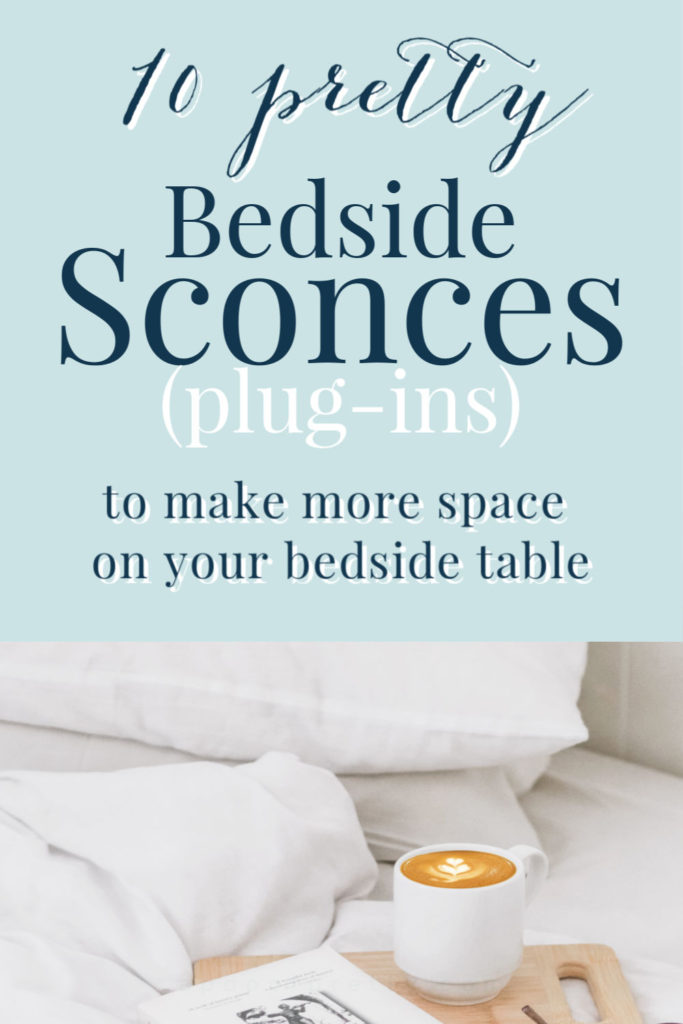 Honestly, I'm not sure why I've never thought of using plug in wall sconces instead. Over the years, I've dropped more things on the floor in the middle of the night than I can recall. Many glasses of water have hit the hardwood, not to mention, my phone, ipad and reading glasses. And, yes, I AM clumsy, lol. But I think maybe there's just not enough space left on our nightstands because the lamps are so darn large!
In theory, I'd love to have a nicely organized tray on my nightstand. But, we need light, so that's not ever going to happen while our big lamps are there. One great solution is to use bedside wall sconces instead. The only problem is that we don't have any hard wiring installed for them.
Buuuuut. I've noticed lots of great plug in options on the market. Plug in wall sconces are a great option when you want to 'install' them after your home has already been wired/built. Some of them come with wire covers, or you can buy them separately. And, if you are going for a more industrial look, the wire can be part of the appeal.
Some plug in wall sconces that caught my eye: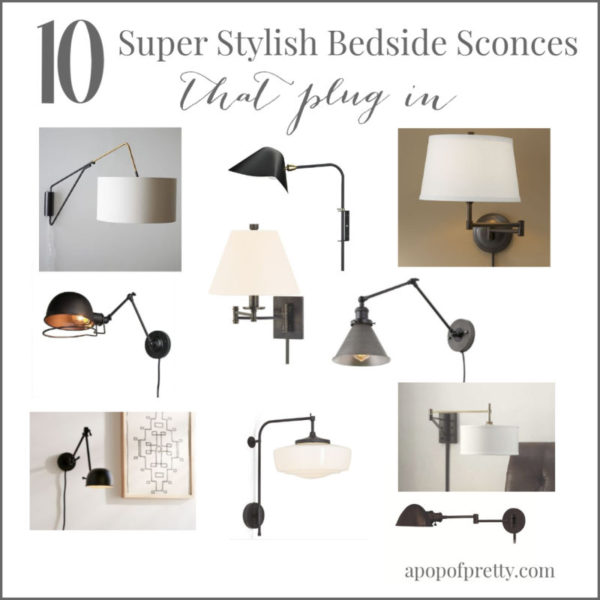 10 Wall Sconces (Plug-Ins)
You can take a look at each one by clicking through the slide show below.
Note: If you click on the photos for each bedside wall sconce, you'll find the source and the price. For your shopping convenience, these are affiliate links. Read about affiliate link in my Policies.
---

---
So, which of these plug in wall sconces would you pick?
I think I am leaning towards number 4 or number 9.
I like the idea of having a light filtering shade, and I think it also looks a little more polished. But, I also like the plug in wall sconces that extend a little further because we have a large headboard. I need to do some measuring first, to make sure that one of these two bedside wall sconces will extend far enough for reading.
Would LOVE your thoughts! Pop a comment below.
Enjoy your weekend,
K.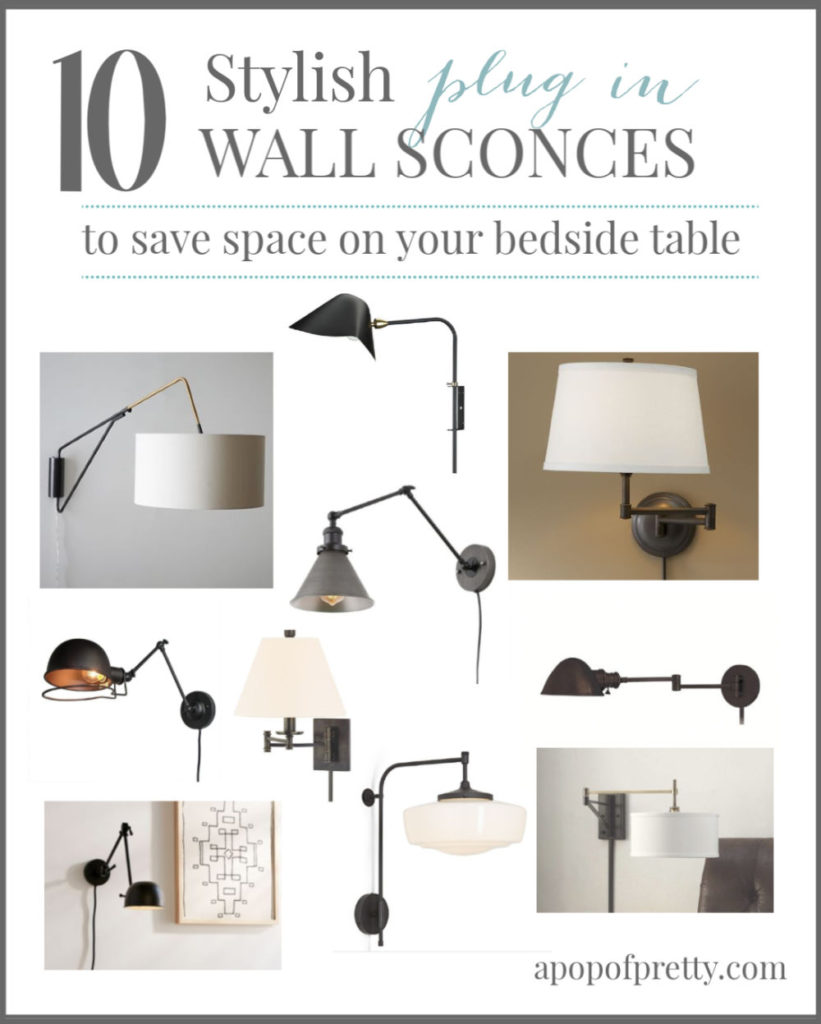 Are you renovating or updating your home? Here are some other recent posts you might like:
Granite vs Quartz: Why I Chose Quartz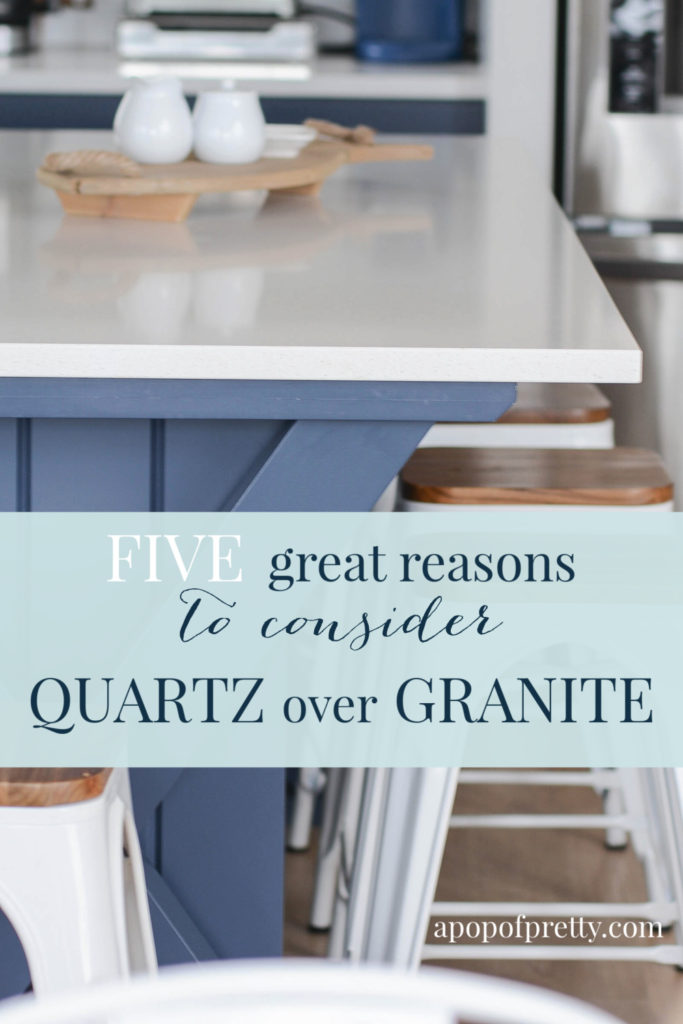 Front Door Design: A Complete Guide to Creating Front Door Curb Appeal