In this article: A minimal Christmas tree decorated in Scandi stye at our lake cottage. This tree was part of my Cottage Christmas Decor Tour: Plaid, Scandi Stye that I shared the other day, . But today I'm giving you a closer look at this cozy minimal Christmas tree with pops of plaid and Nordic houses.
Did you catch my Cottage Christmas Decor Tour: Plaid, Scandi Stye post the other day? This year, I tried to simplify my Christmas decor at our lake cabin with a minimal Christmas tree inspired by Scandi style. I tend to go a little overboard with holiday decorating (insert jazz hands here lol). But this home feels best when it's uncluttered. It's a retreat from our over-scheduled daily lives. And, not to mention, a break from our overstuffed suburban home. If you have kids, I know you feel me.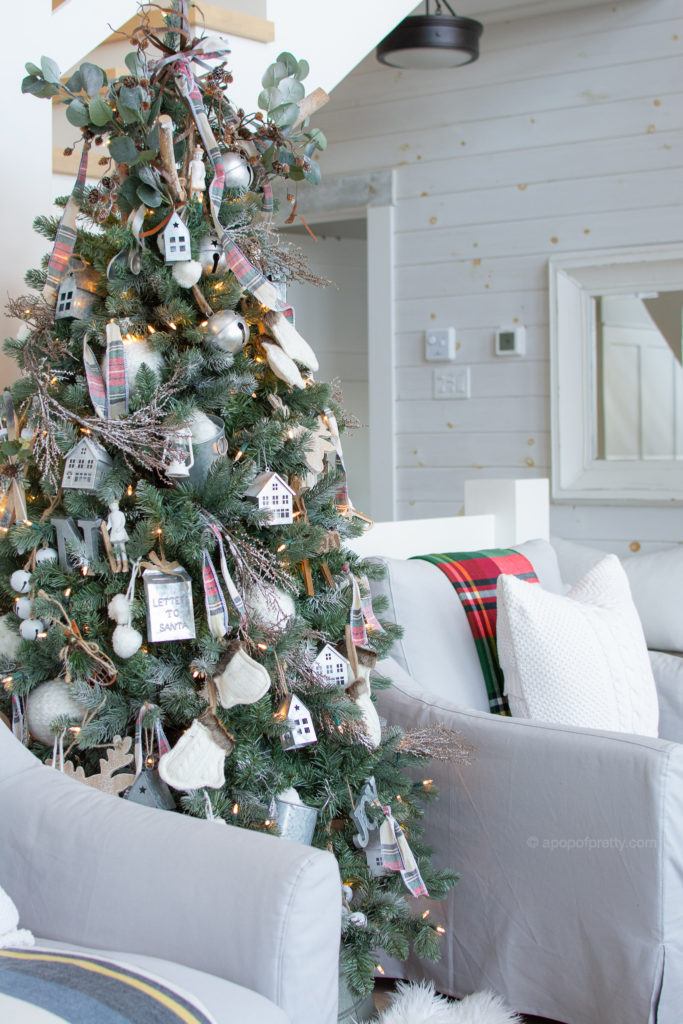 Minimal Christmas Tree: Scandi Style Inspired
Many of the Scandi-inspired minimal Christmas tree inspiration pics I've collected on Pinterest actually have no ornaments at all. But, this tree is about as 'less is more' as it gets around here. My Christmas trees are normally so full that it's hard to see the branches! Yet, I used just one spool of ribbon for this tree. And in my world, that's called MINIMAL lol.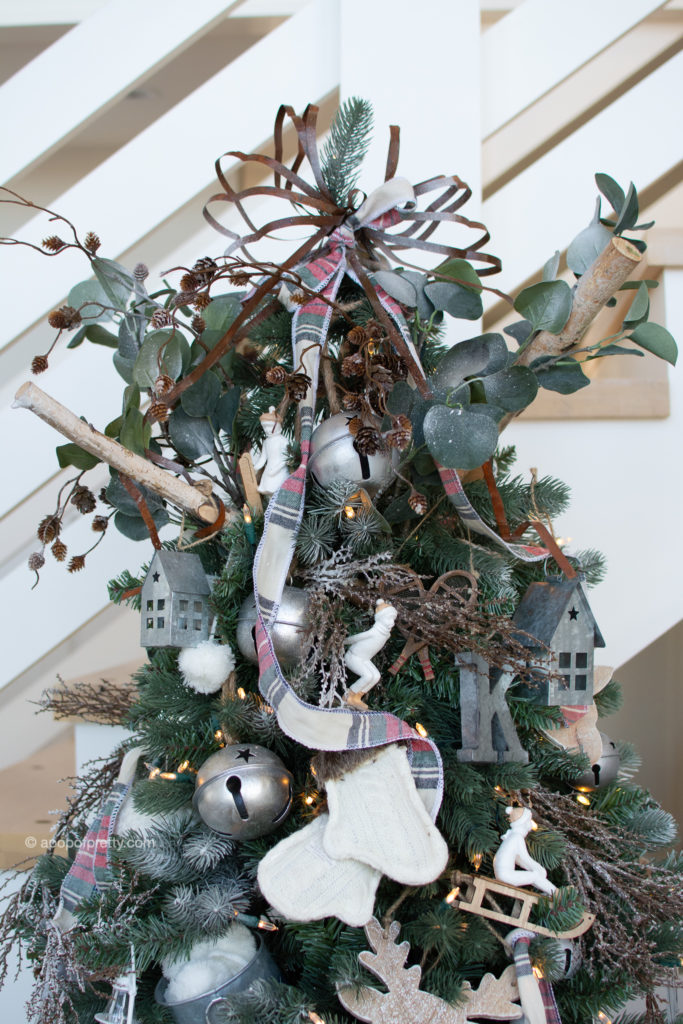 Other than the ribbon, I didn't buy anything else new for this tree. That was a rule I tried to stick to. After all, minimalism is about reduced consumerism. So, everything on the tree is stuff I already had in my stash of Christmas decor. The trick to getting a different look than years past (see Farmhouse Christmas Tree and Cabin Themed Tree) was in the edit. In other words, it was more about what I left out than what I added.
Selecting the Ornaments
I selected any ornaments I had that were neutral and had a 'chalet' feel to them. For example, I didn't want red ornaments that would distract from the greenery of the tree. I think a key to Scandi style is letting the 'organic' shine – which is really kinda funny because it's an artificial tree but moving on, haha. When I realized how many galvanized metal and cable knit ornaments I had (yup, embarrassing), I decided to leave everything else out but those. This gave the tree a cohesive and streamlined look.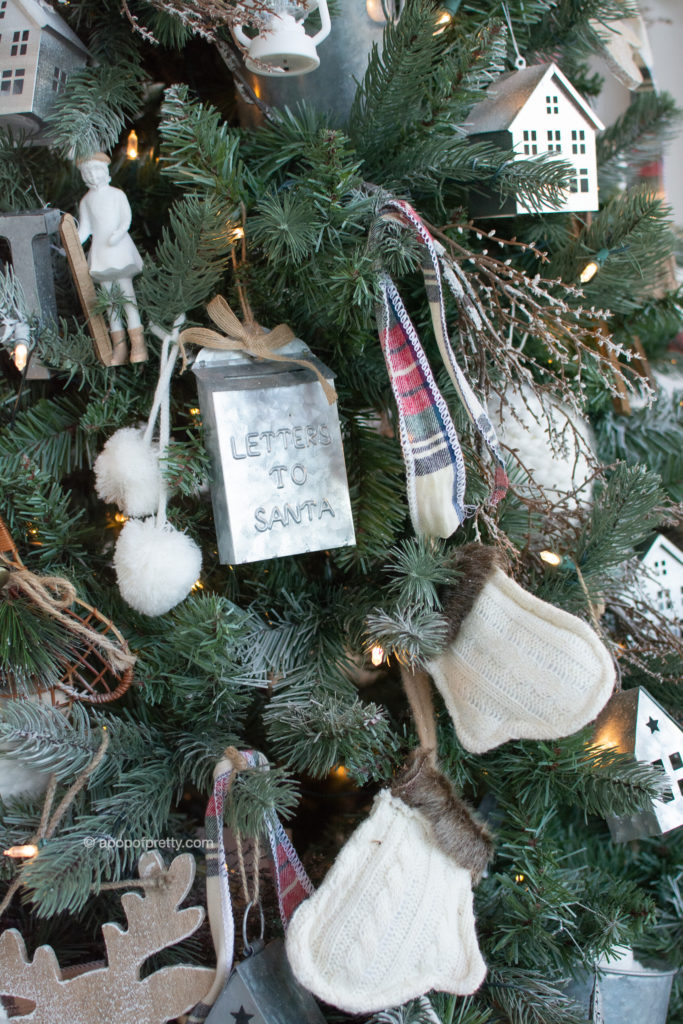 Adding Ribbon to a Minimal Christmas Tree
Once I had the ornaments on the tree, I stepped back to decide if it needed ribbon. Truthfully, a minimal Christmas tree probably doesn't need any ribbon at all. But, I knew this muted plaid ribbon would make the tree feel so much cozier and festive.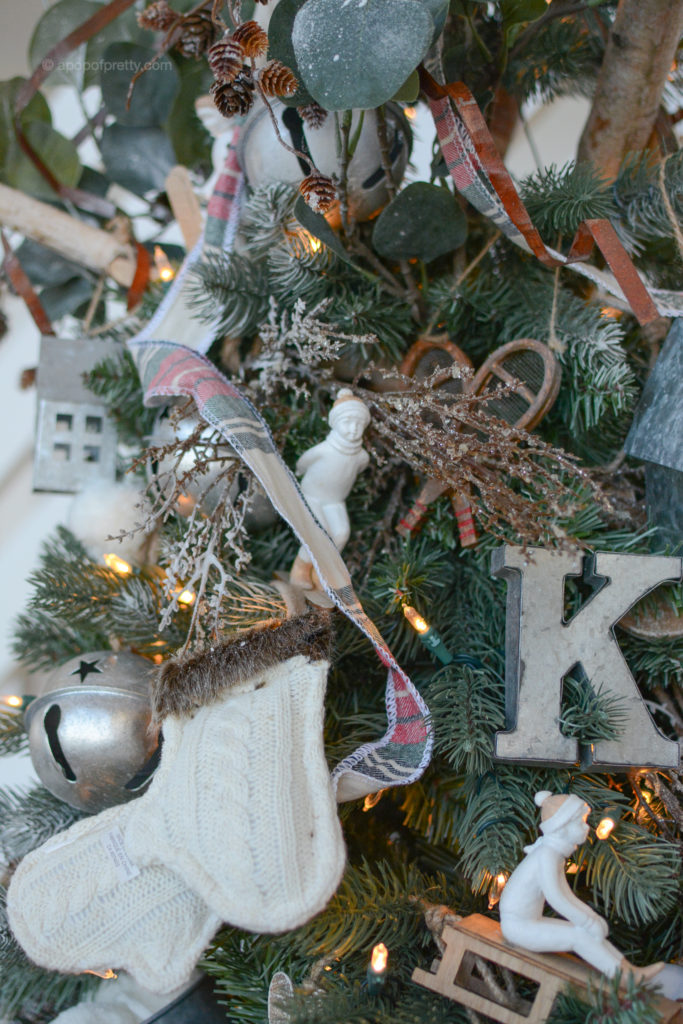 But I definitely didn't want the ribbon to look fussy or overdone. So I positioned it casually at the top of the tree by tying a simple bow and letting the ends flow down the tree. I cut the rest of the spool in equal lengths and then knotted it at the ends of the branches.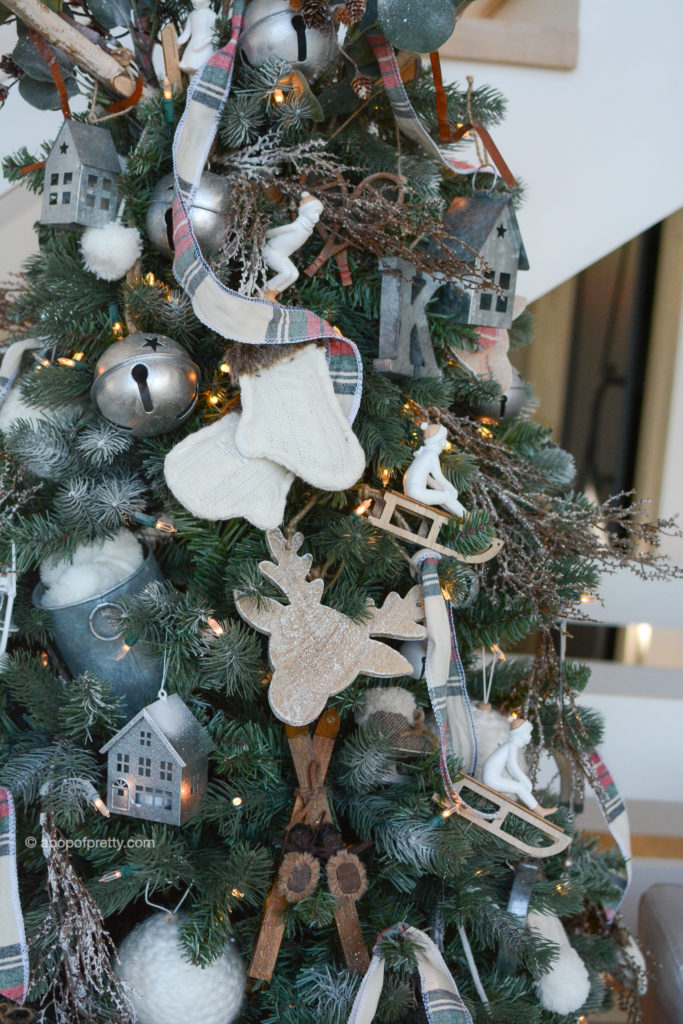 A Few More Details: Nordic Village
Once I stepped back, I realized that all those galvanized metal houses just made the tree feel like a little Nordic village. So I decided to add in some of wooden ski and snow shoe ornaments, along with the miniature skiers and sledders. I positioned them on the tree in a downward diagonal so it looks like they are all skiing and sledding downhill.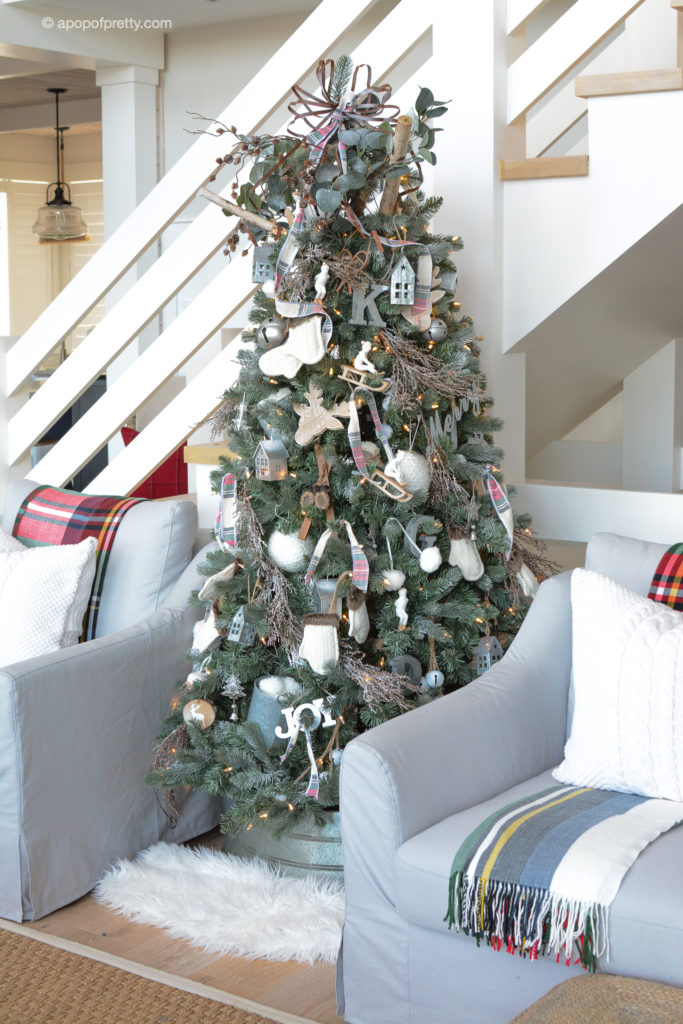 I think one of my favourite parts of this Scandi style minimal Christmas tree are the little buckets of snowballs! You can also find them on our Navy Blue and Silver Christmas Tree that was featured in Women's Day magazine. I stuffed the little galvanized buckets with cream pom poms and secured to the tree by wrapping wired branches around the handles.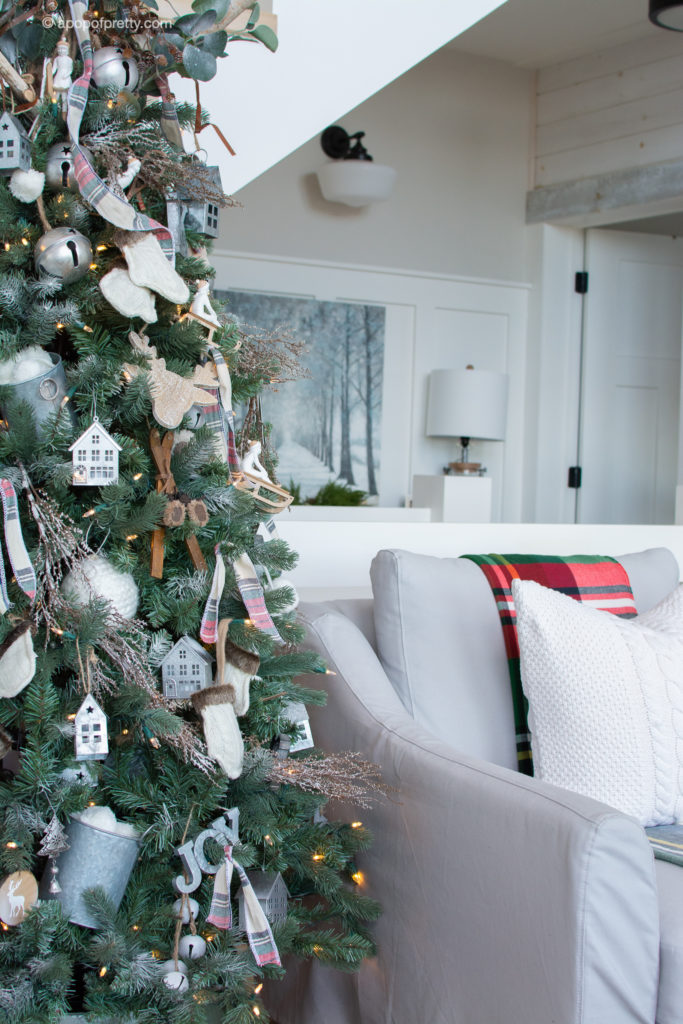 Minimal Christmas Tree Topper Idea
At the top of the tree, I added some Eucalyptus sprigs and a rusty metal bow I've had for years. I also stuffed the top of the tree with birch logs which gives it a woodsy vibe.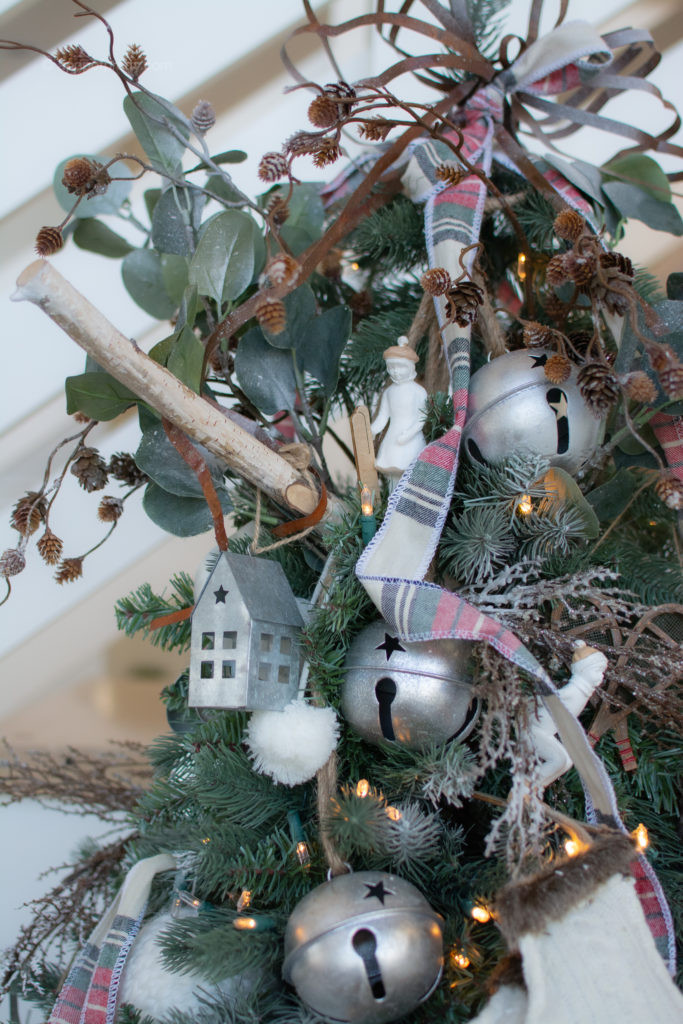 Bottom of the Tree
The bottom of our minimal Christmas tree has a galvanized metal tree collar. And, to add to the Scandi style, I also placed a faux fur rug at the base.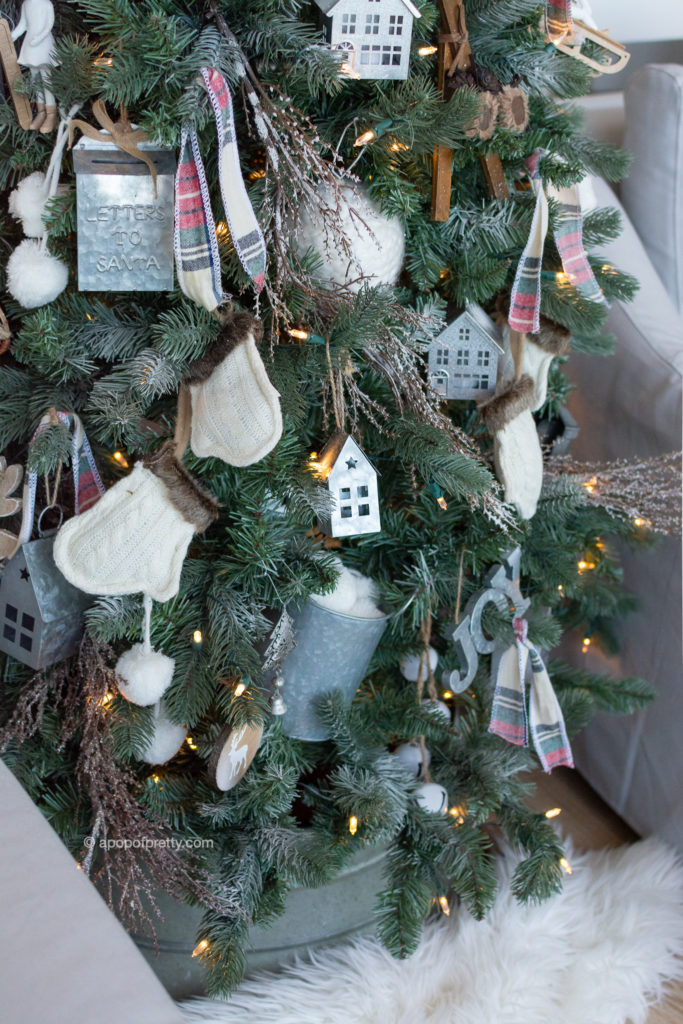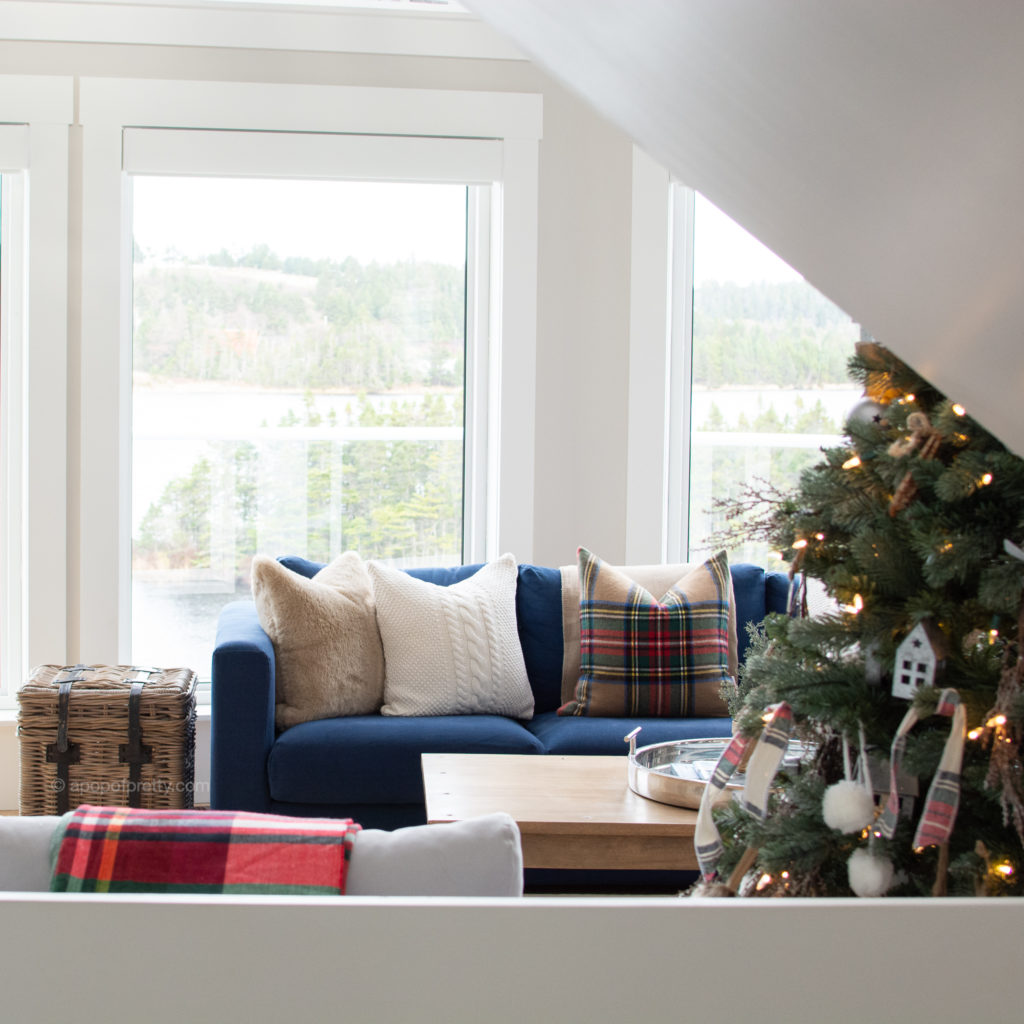 Get the Look
Want to re-create this look? I rounded up some products on Amazon that are similar. (Please note: As an Amazon Associate I earn from qualifying purchases made from shopping links I provide in some blog posts.  However this does not impact the price you pay. For more information, please see my Policies.)
Happy holiday decorating!
Until next time,
K.