This post was most recently updated on January 18th, 2022
In this article: How to make a DIY Christmas gift idea that anyone would love! Did you know that it's so easy to make your own canvas print for about $10? Today, I'll show you how to make an inspirational quote canvas using the free printable in this post. But you'll also learn how to make your own art canvas with just about any style of artwork you desire. They make awesome gifts for the holidays, birthdays or any time of year! I'm also sharing 9 other awesome DIY gift ideas from some my talented blogger friends.
Are you looking for an easy (but oh so lovely) DIY Christmas gift idea? How about if I told you that you could make something cute for under $10? Are you in? Because today I'm going to show you how to make your own canvas art using an inspirational quote. But if you're not into quotes, not to worry. I'll also show you how you can make this DIY Christmas gift with just about any style of artwork. At the end of this article, you'll also find links to 9 other great ideas for making your own Christmas gifts.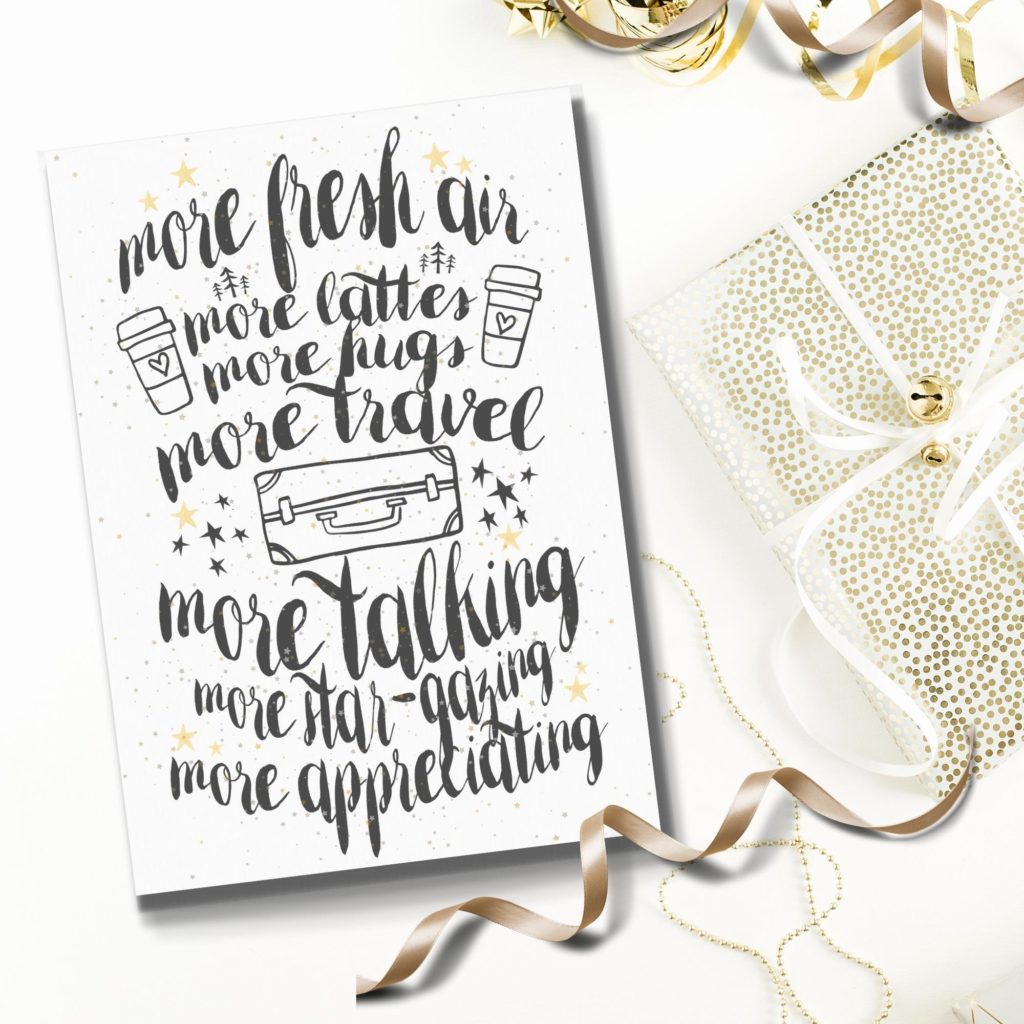 DIY Christmas Gift Idea for Under $10
I love canvas art and photography, and it makes such a great gift. But it can be expensive to purchase, right? Even if you send your own artwork to an online photo shop, you can pay as much as $50 for a 5×7 canvas. And, even then, you need to add tax and shipping. But, I figured out a hack to make your own small canvas art for about $10 a piece. Who doesn't love a good hack? To keep costs down, a good tip is to buy your canvases and supplies in bulk. And then make a bunch of them at once as your cost per DIY Christmas gift will be even lower.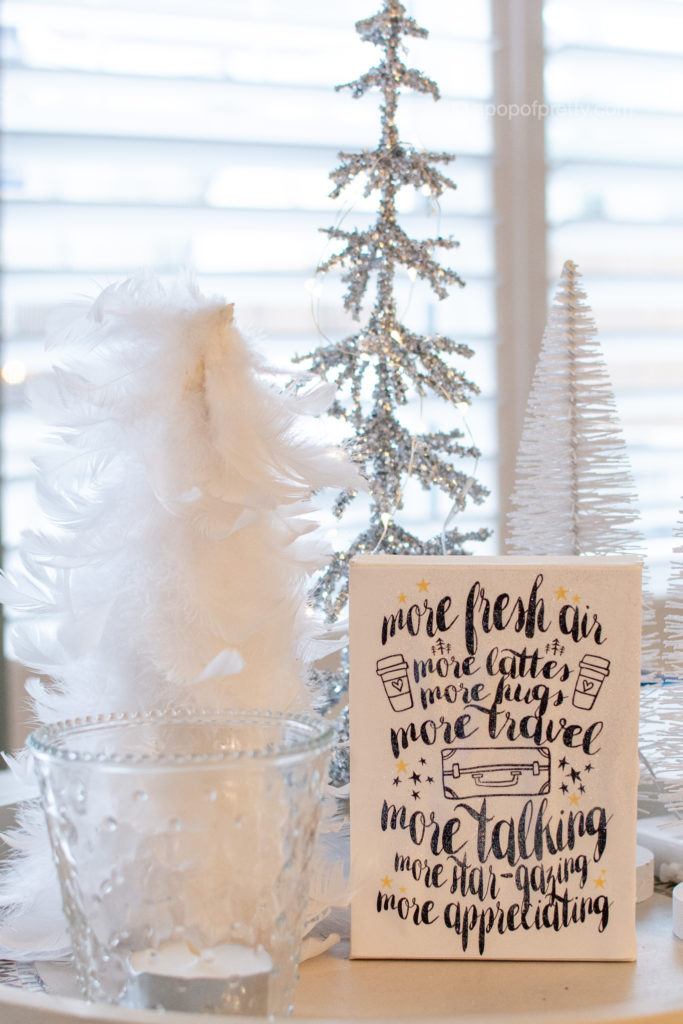 "More of Everything Good"
For this DIY Christmas gift, I'm using a piece of word art that I created a few years ago. But it just seems so fitting for our post-pandemic world! It reads: More fresh air, more lattes, more hugs, more travel, more talking, more star gazing, more appreciating. I don't know about you, but these are all things I learned to value so much more over these past two years. I think it's a sentiment that most of our friends and family can relate to.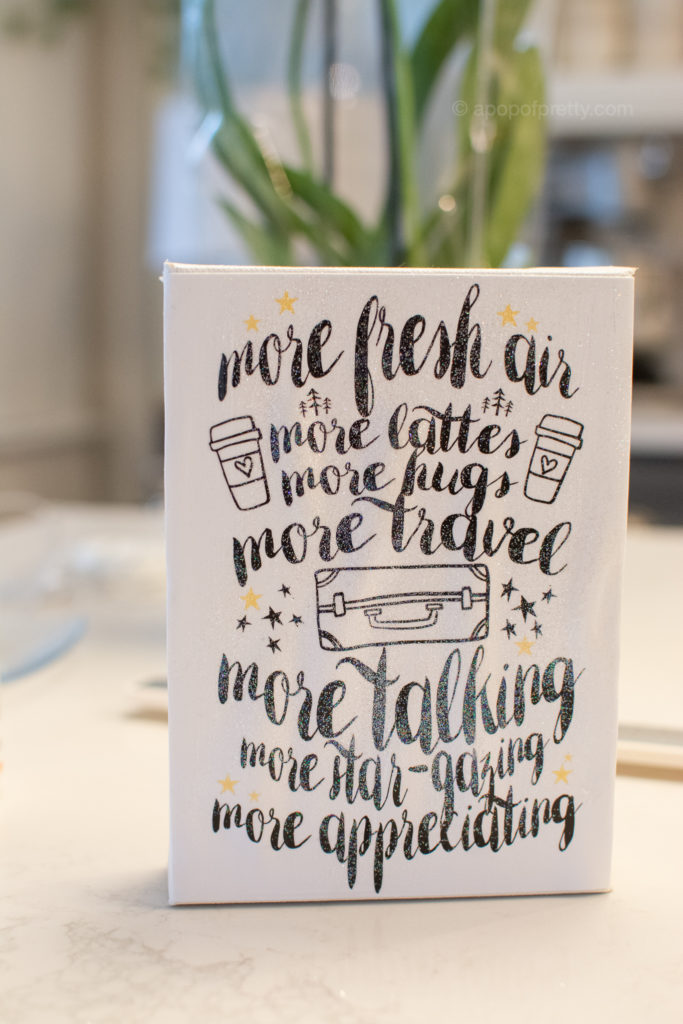 DIY Christmas Gift Supplies
Before you begin, gather a few supplies. If you're a crafter, you might already have these things on hand. Or, you can steal from your kids' art stash, lol. This project makes a great DIY Christmas gift idea, but it's also a perfect DIY birthday gift or teacher gift. I've chosen a 5×7 size because it seems like a good one for a gift. A small piece of art is something that can easily be tucked into a shelf or added to an existing gallery wall. But if you know the gift recipient's art tastes really well, by all means, upsize your canvas.
Supply List
Must Haves
Art canvas, 5×7
Matte photo printer paper (1 sheet)
Modge Podge
Scissors or paper cutter
Foam paint brush
Heavy book – just for weight, won't be used in the project
Optional
Watercolour pastels or markers
Glitter / sparkles
Spray glue adhesive
Mod Podge clear acrylic sealer
Fine grit sandpaper
Equipment
Home Printer (or online print shop)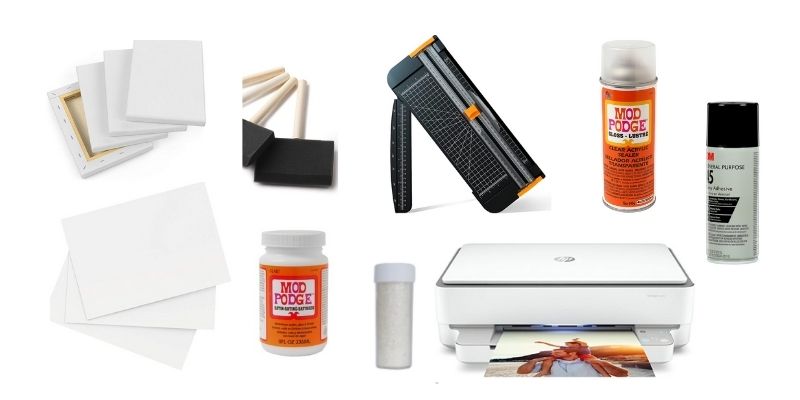 SOURCES: 5×7 canvas / paper cutter/ photo paper / glue spray adhesive / foam brush / glitter / Mod Podge / Mod Podge Sealer / home printer
Instructions: Inspirational Quote Canvas
The instructions for this DIY Christmas gift are so easy that your kids could help out. In these instructions, I'll show you how to make your canvas using the inspirational quote art in the photos. But, if you'd like to find another style of free artwork, hang tight. I'll tell you all about it at the end of the post.
Step One: Download the Artwork
First, download my inspirational quote free printable, "More of Everything Good" below. All you have to do is click the black button below that says download. Once you do this, you'll find the file in your Downloads folder on your device (or wherever you've set your downloads to go.)
Step Two: Print the Artwork
Open the file and then send it to your home printer. (Or if you don't have a home printer, you can send it to a print shop like Staples). You can use regular printer paper in a pinch, but matte photo paper will work better when adhering it to the canvas with Mod Podge.
Check your printer settings to be sure you are printing at 100%. Once it is printed on you'll see that the inspirational quote is centred on the 8×11 page with crop marks for trimming to 5×7 inches.
You can use a black and white printer or a colour printer. If you use black and white (e.g., a laser printer), you might want to use watercolour pastels to add some colour to the piece. For example, you could shade in the hearts on the coffee cups or the suitcase. All up to you!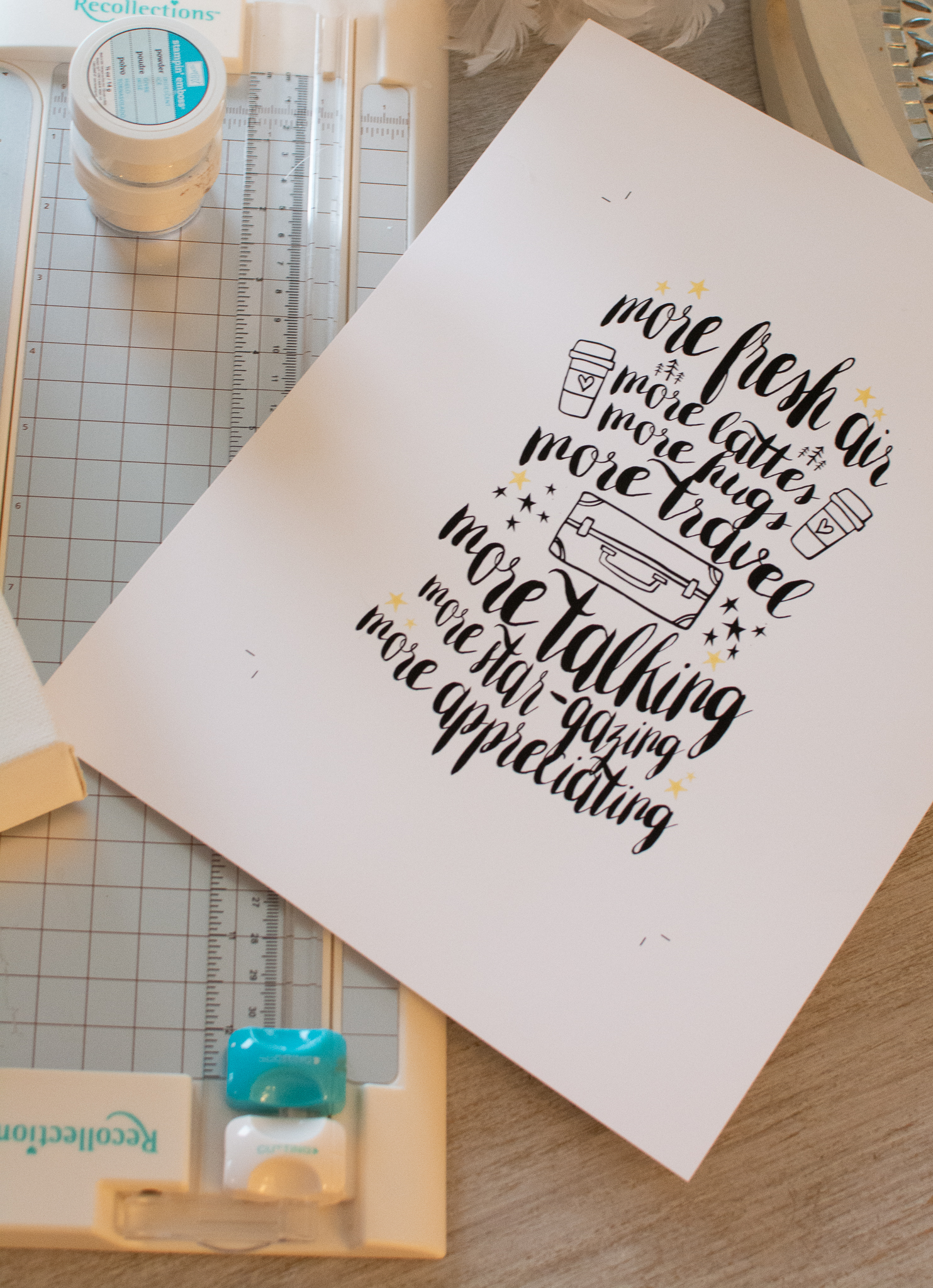 Step Three: Trim the Artwork
Using the crop marks, use a pencil and a ruler to lightly draw guide lines to cut along. Then use a paper cutter (or scissors in a pinch) to cut the art to 5×7 inches.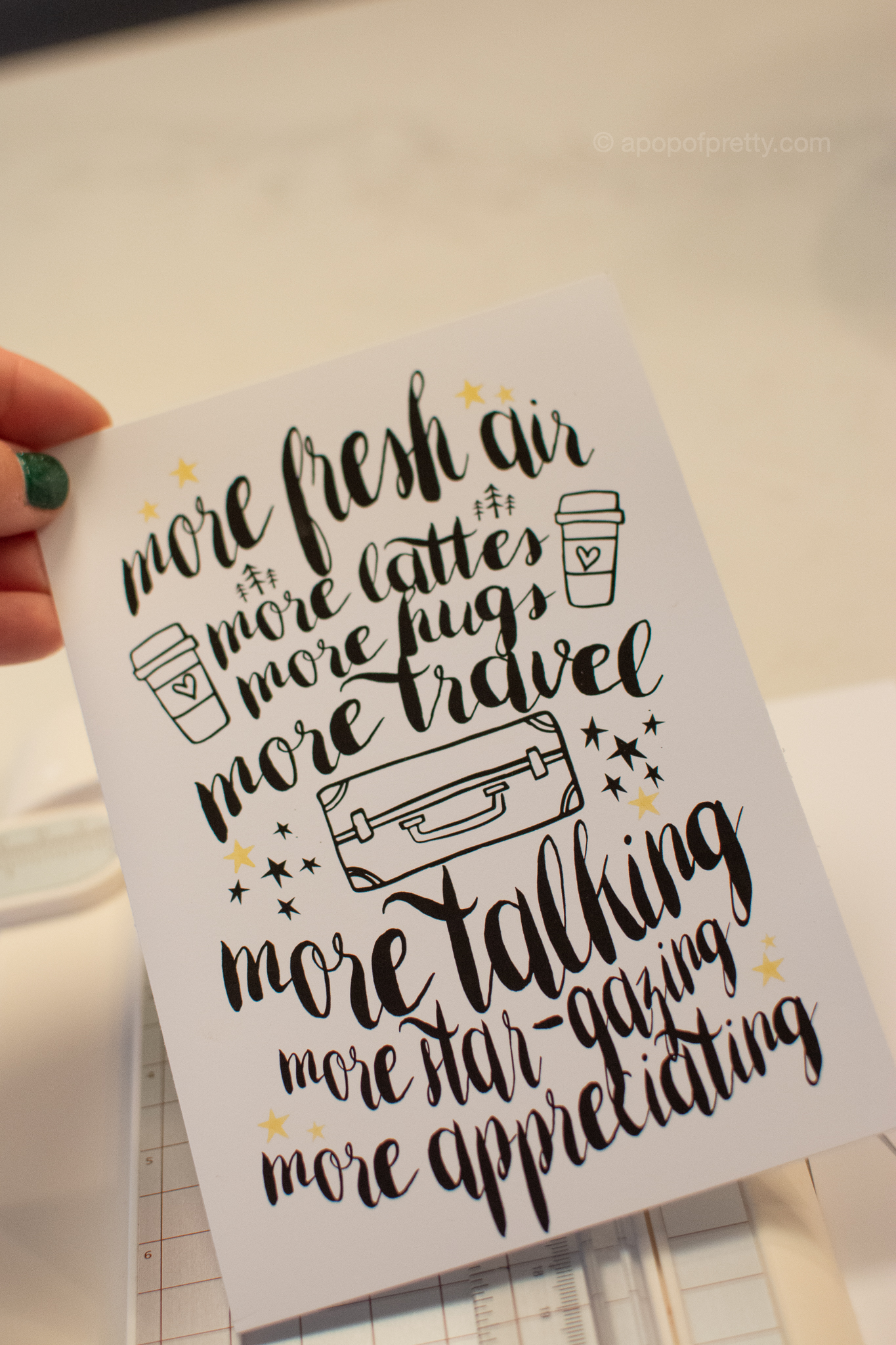 Step 4: Adhere Artwork to Canvas

There are two ways you can adhere the inspirational quote print to the canvas for this DIY Christmas gift. First, you could use Mod Podge as I have done. Or, secondly, you could use a spray glue adhesive.
If you use Mod Podge, the look many look a little more 'handmade' as the there may be a few imperfections in how flat it lays. Personally, I like that look for this particular piece of casual art.
But of you use spray adhesive, the art print will lay completely flat. This might be a better choice if you choose to use an art print (like photography) that is more sophisticated.
Either way, be sure to completely cover the canvas in adhesive (especially the edges) before placing your art print on top.
Place a heavy book on top of the art print for 15-30 minutes to reduce any crinkles or 'dog ears'.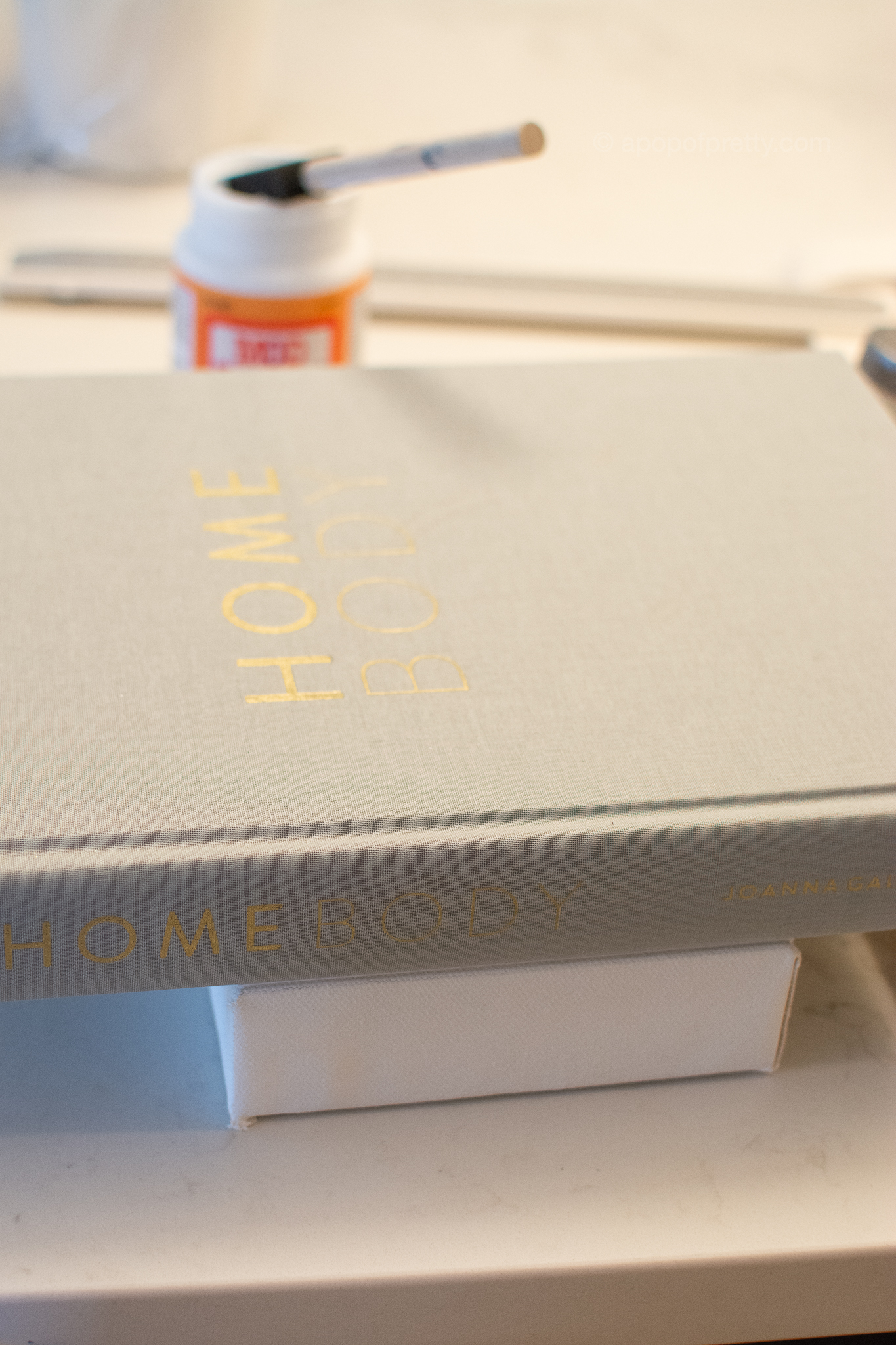 Step 5: Add Mod Podge and sparkles (optional) to top.
Your DIY Christmas gift is almost ready!
One of last steps is to use a foam paint brush to brush a light layer of Mod Podge over the top of the art print. Use brush strokes in one direction, and be sure to place some around the edges where the paper meets the canvas. Mod Podge seals everything together and gives the piece a finished look.
For some extra pizazz, you can also add some glitter or sparkles to your piece while the Mod Podge is wet. I usually use a salt shaker for glitter to help even out the application. I like this effect for this particular piece because of the stars and 'star gazing' reference. But you'll probably skip this step if you are using a different kind of art.
Now set it aside to dry for about 30 minutes. Once it is dry, here;'s a little tip. If you find that the edges of your photo paper are hanging over the edge of the canvas a little too far, you can now use some sandpaper to lightly sand down the edges a little.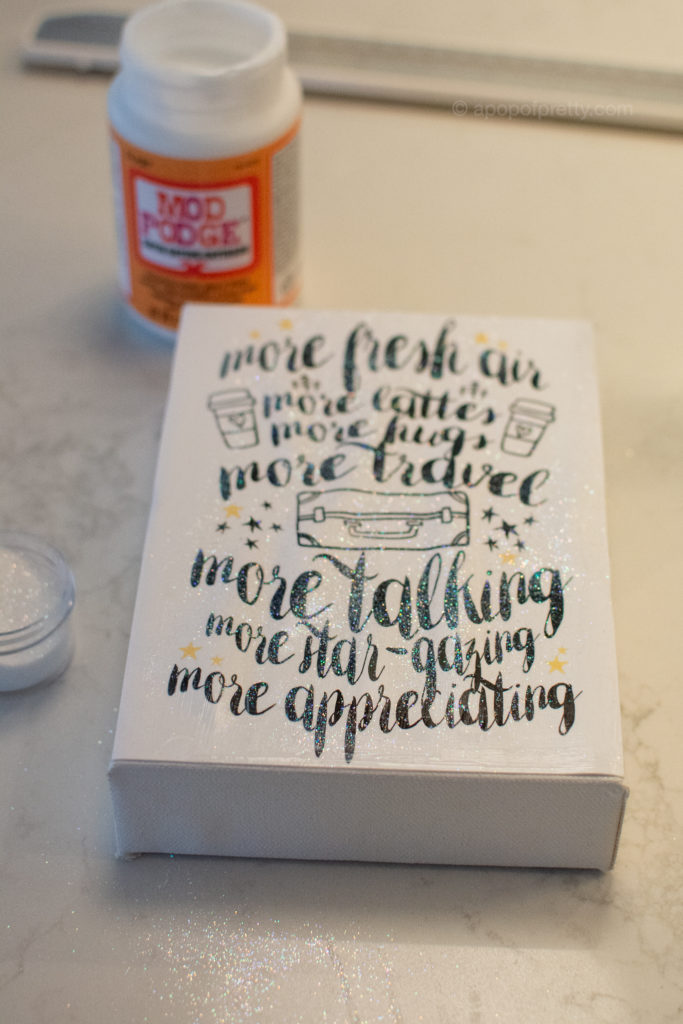 Step 6: Spray top with sealant (optional).
This final step isn't critical but it does give this DIY Christmas gift a nice finish. And, it will also help protect it and give it longevity. Once your inspirational quote canvas is completely dry, spray a light later of Mod Podge Clear Acrylic Sealer on top. Let it dry another 15 min or so, and your DIY canvas art is complete!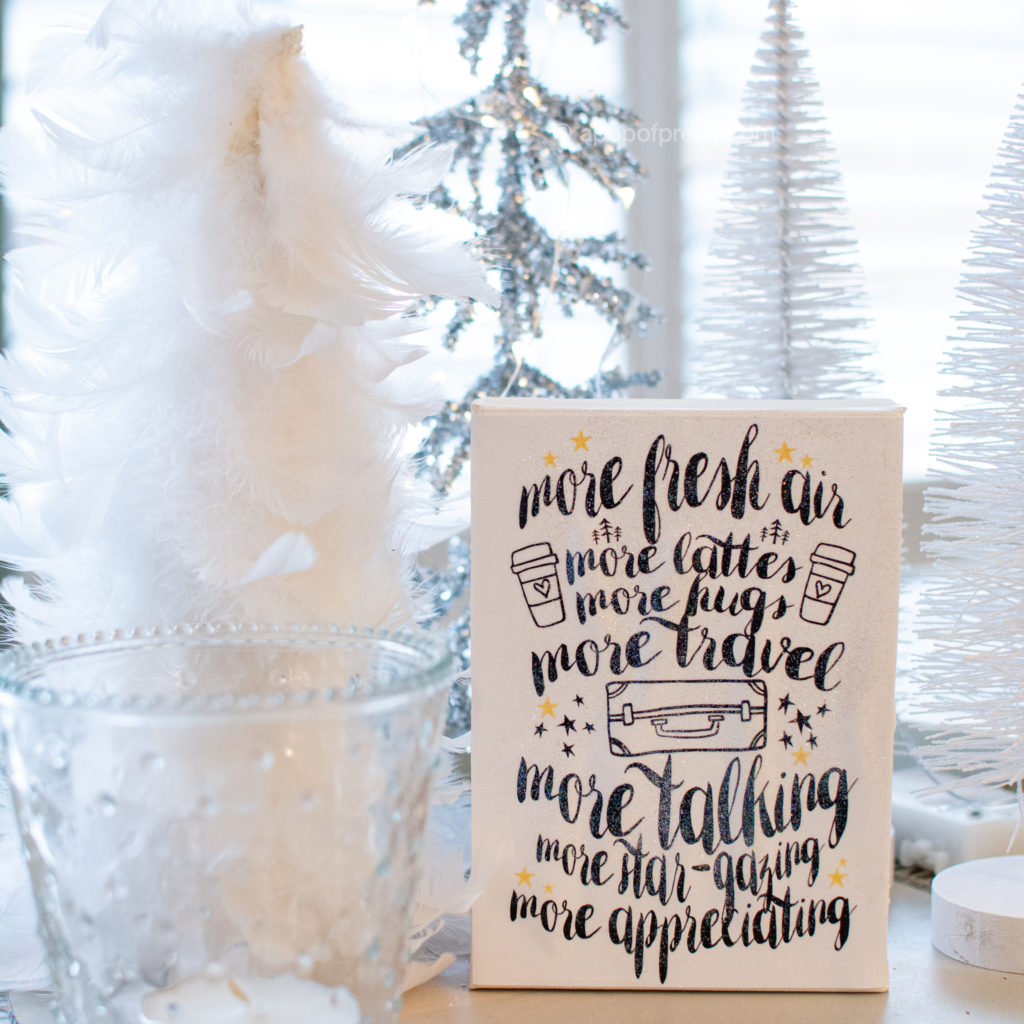 DIY Christmas Gift: Sources for Free Art
Now that you know my hack for making your own DIY canvas art, there's no limit to the style of art canvas you can create as DIY Christmas gift ideas. But where can you find great artwork for free, or a reasonable price?
Search the Web
There is an endless supply of free printable art on the web. Just search Google with "free printable art" + <insert here any style you want>. Many talented bloggers share libraries of free printable art. You'll be amazed at what you'll find. Personally, one of my favourite sources for gorgeous hand painted printable art is Craftberry Bush. Lucy is an artist and her work is beautiful. She offers a great library of free printables that could be used for this DIY Christmas gift project.
Use your own photography or artwork
Of course, you can also use your own photography or artwork. Just print it on good quality photo paper at home and use the method above. Using a photo of your kids would be a great idea for a DIY grandparent gift! Or scan / digitize your kids' artwork and create a canvas masterpiece!
Search my web site
I have some other free printable art on my web site. For example, my Free Printable: Art Summer Abstract Art would be a fun choice as a DIY Christmas gift for anybody who likes modern art. And, I also have a free printable available for coastal lovers who subscribe to my blog. It's a watercolour lighthouse with the inspirational quote, "Light will lead you all the way home." You can access it below.
Looking for More Awesome DIY Holiday Gift Ideas?
This week is my friends and I are sharing our DIY gift ideas just in time for the holidays. You can visit their posts by clicking on the links below the images.
Spiced Mulled Wine Gift with Printable Tags at The Happy Housie
3-Ingredient Candy Cane Sugar Scrub with Printable Tag tatertots and jello
10 DIY Stocking Stuffer Ideas at She Gave it a Go
2022 Desk Calendar at Clean and Scentsible
DIY Clay Coasters at Zevy Joy
Printable Christmas Gift Tags and Gift Wrap Ideas A Pretty Life in the Suburbs
How to Make a DIY Acrylic Keychain at The DIY Mommy
Chocolate Toffee Coconut Cookie Mix Jars at Satori Design for Living
Easy DIY Inspirational Quote Canvas at Pop of Pretty
DIY Hot Chocolate Mix Gift Idea at Life is a Party