This post was most recently updated on September 22nd, 2019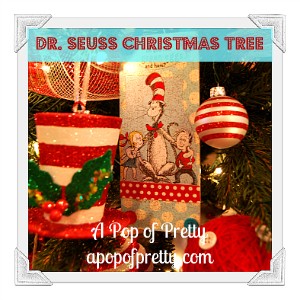 It seems like I've been talking on and on around here lately about my Dr. Seuss Christmas tree decorations…so much so, that I think it deserves to be capitalized: so, from here on in, it shall be The Dr. Seuss Tree.  Well, The Dr. Seuss Tree is finally finished, and I couldn't be happier with it.
I think I mentioned in an earlier post that I was originally inspired last year by Donna's Whoville tree over at Funky Junk.  Gosh how I loved that tree! The first time  I saw it, a light bulb went off, and I knew that I HAD to do a Dr. Seuss-themed tree for my kids' play area this year.  The Funky Junk tree was the idea starter, but I my vision was a little different.  While Donna's tree was chock full of awesome things one might find in the Grinch's lair; I imagined a fun, colorful tree full of whimsical characters, like the Cat in the Hat and Cindy Lou Who.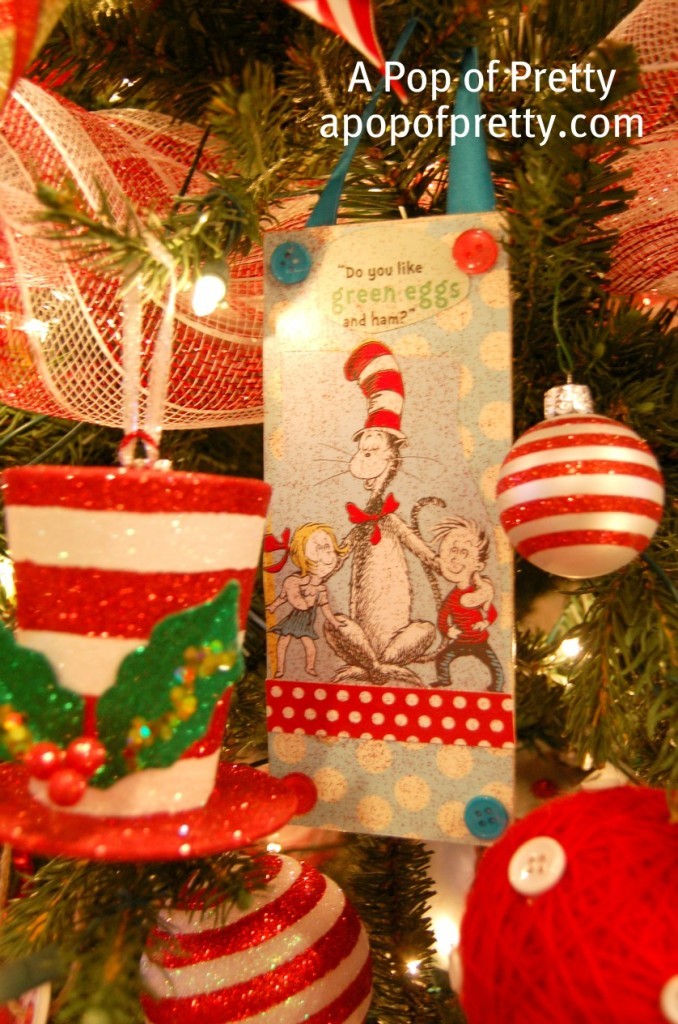 I found it hard to find Dr. Seuss ornaments that weren't crazy expensive, so I decided to make most of the decorations myself.  I figured it would be more special to my kids that way, anyway.  So I've been collecting, and cutting, and pasting, and glittering and mod podging and glue gunning for weeks now.
And, tada!
I present to you…The Dr. Seuss Tree.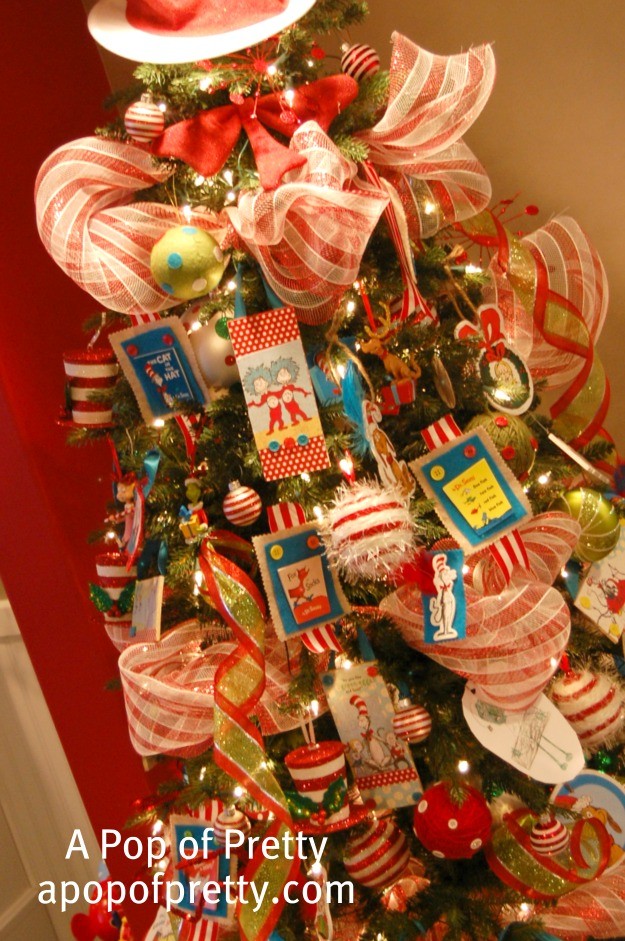 The red and white striped sinamay was such a lucky find!  Thank you Hallmark!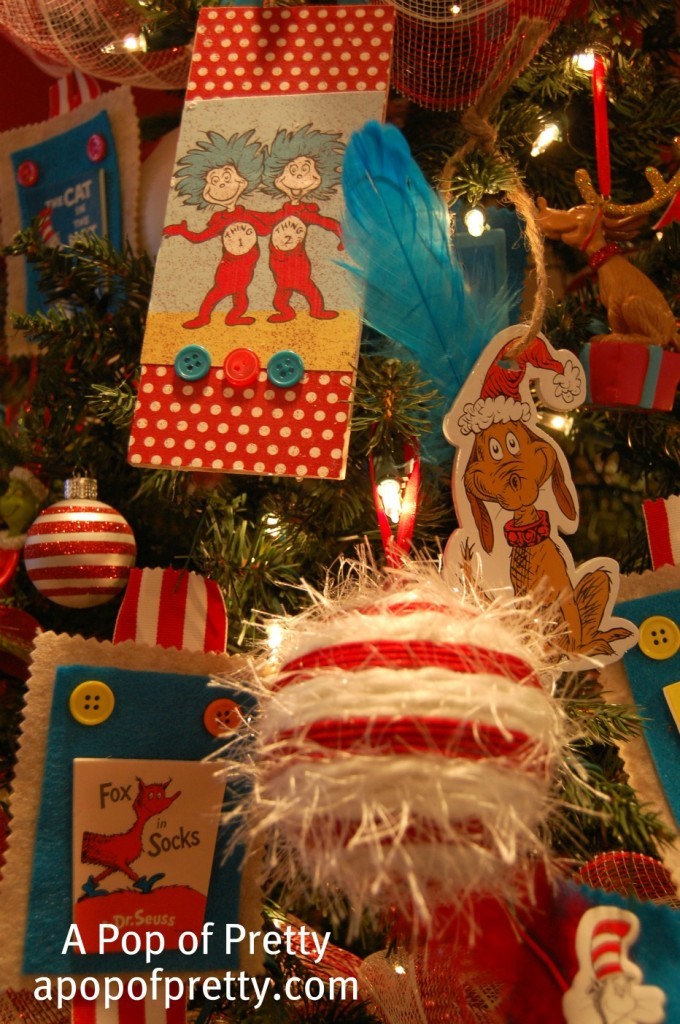 I especially love this  Thing 1 and Thing 2 ornament I made since we have twin boys…
Most of my handmade decorations were made from old books, paper, felt, wood, foamies and mod podge.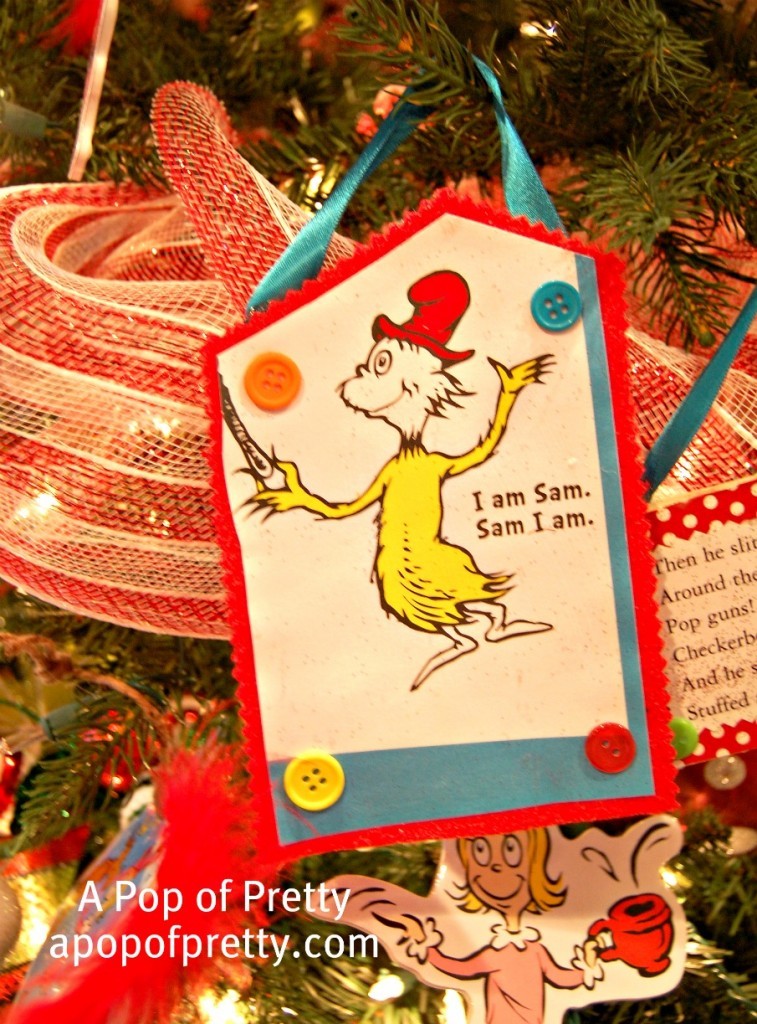 In another stroke of luck, I found these awesome Cat in the Hat like hats at Pier One this year.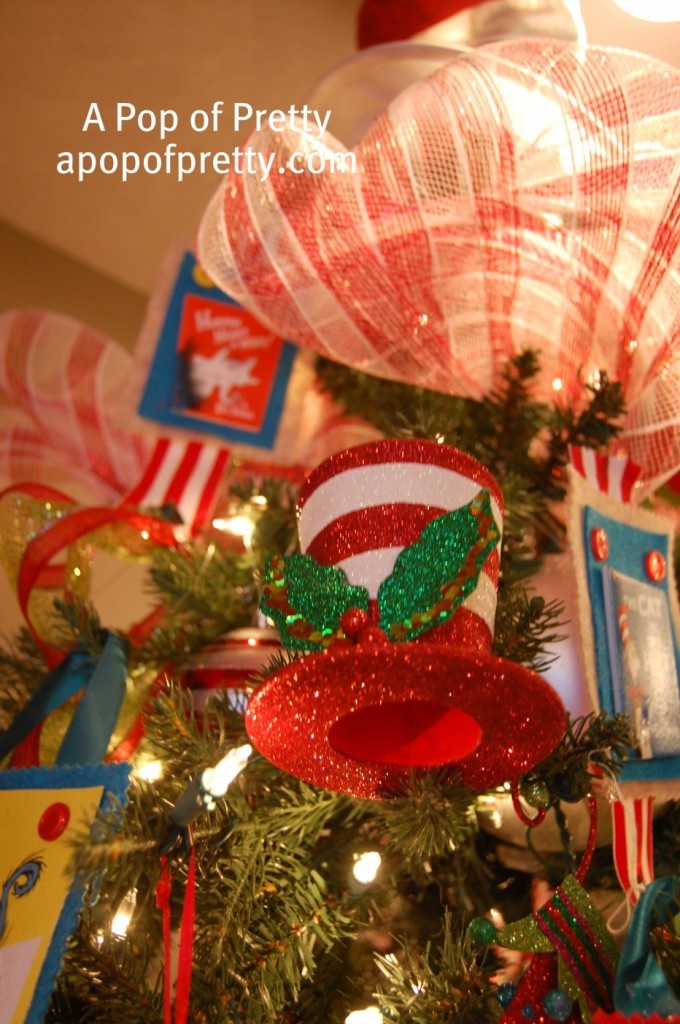 I also splurged on a few collector ornaments like this one of Cindy Lou Who.
We'll just add to our collection over time.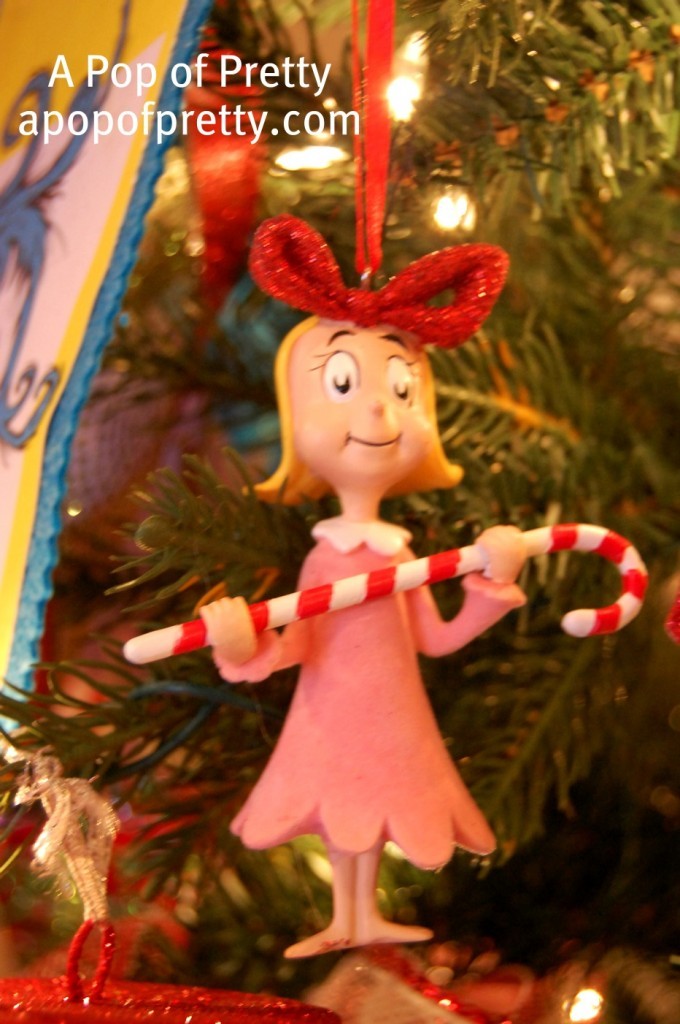 There are about 12 different book cover decorations like this one throughout the tree…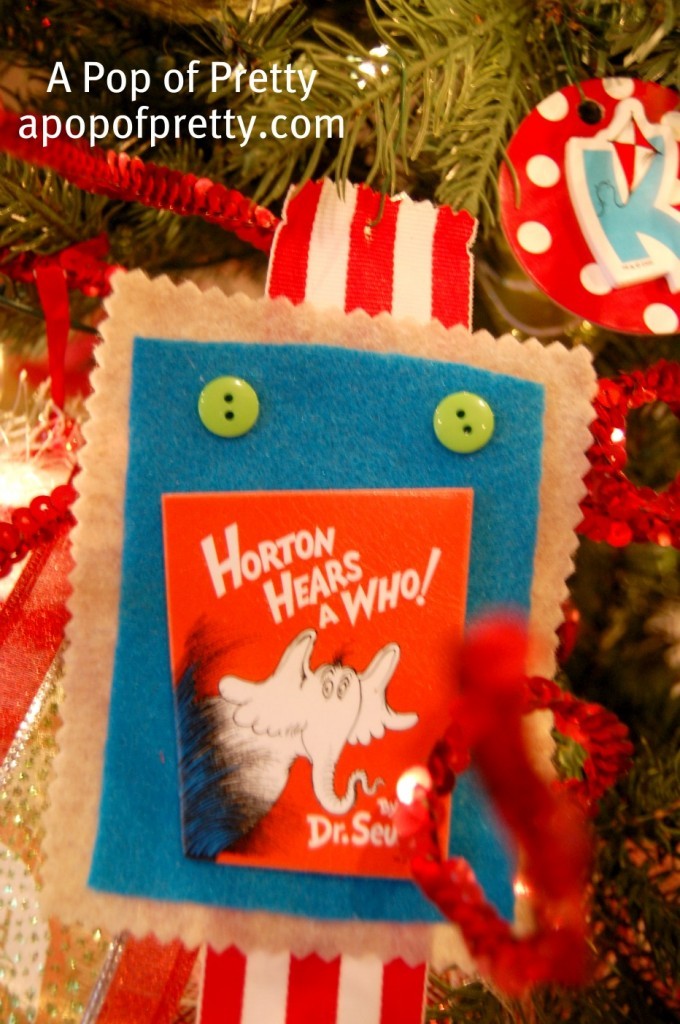 These totally awesome red and white striped furry orbs also came from Pier One.
(Gee, Pier One really had my back this year, didn't they? LOL)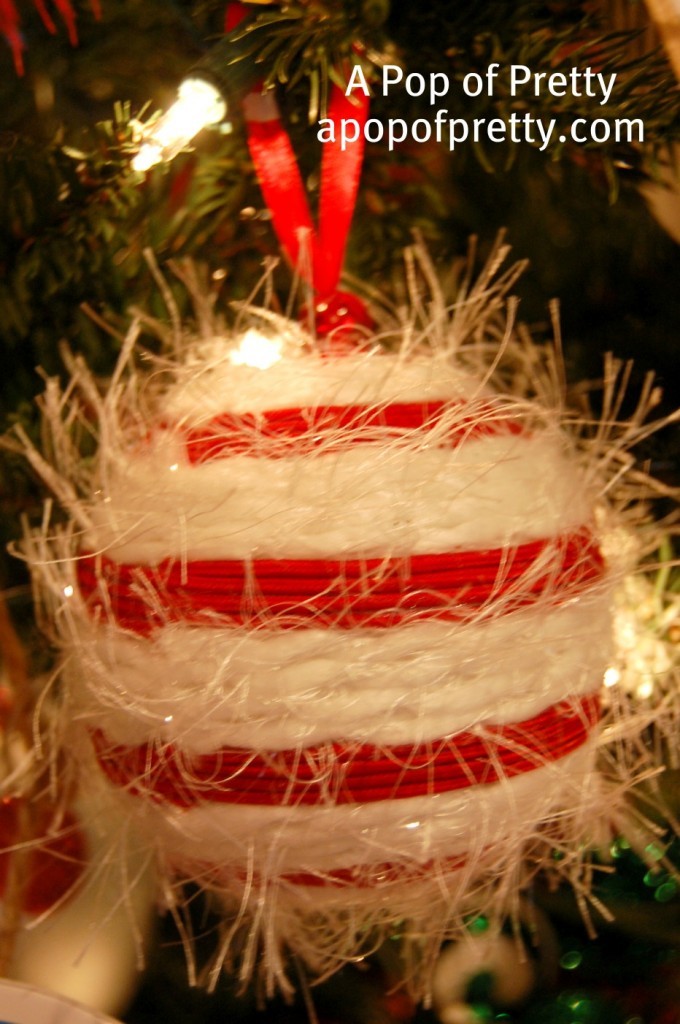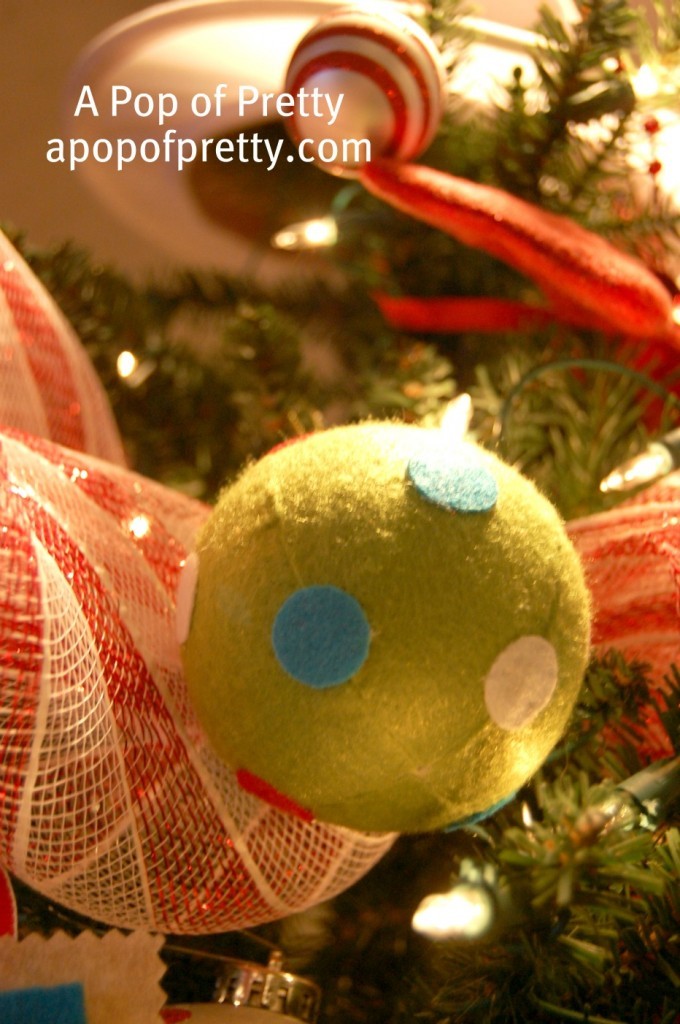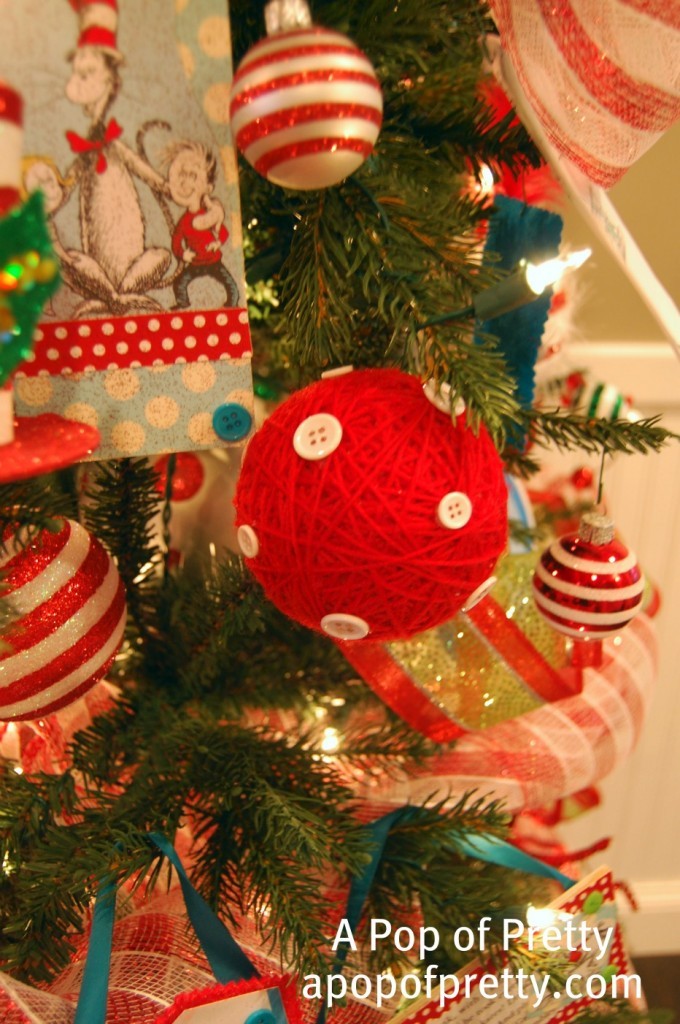 But wanna know the VERY best part?!?
The Dr. Seuss Tree is wearing a hat and bow-tie!
EEEEEK!
(Seriously, people, this tree makes me feel all giddy and kid-like!)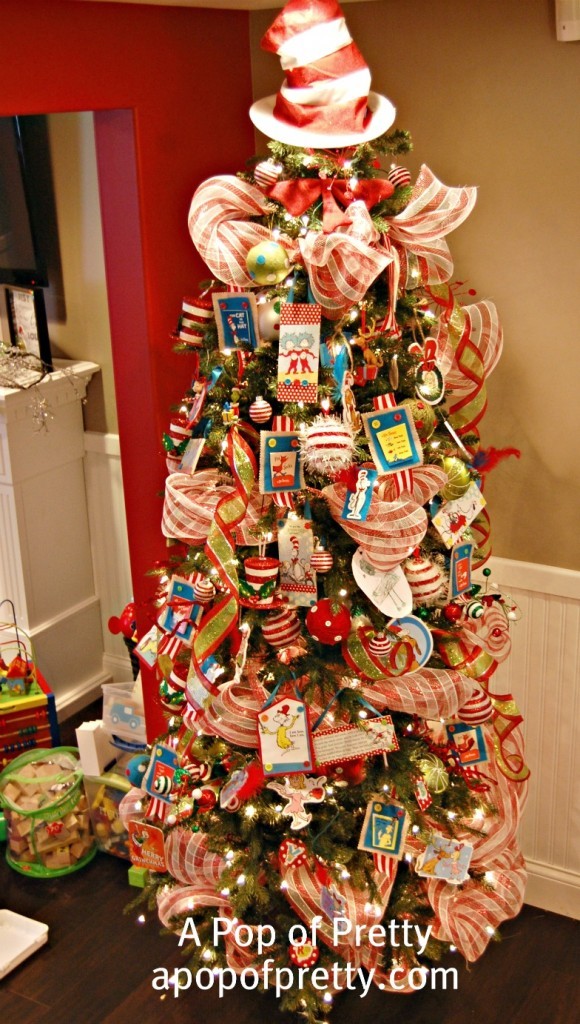 I was on the hunt for a genuine Cat in the Hat hat for this tree for months.
And, guess where I found it?
It was the very last one on the rack in the costume section at FAO Schwartz on my trip to NYC last weekend!
Could anything be more meant to be?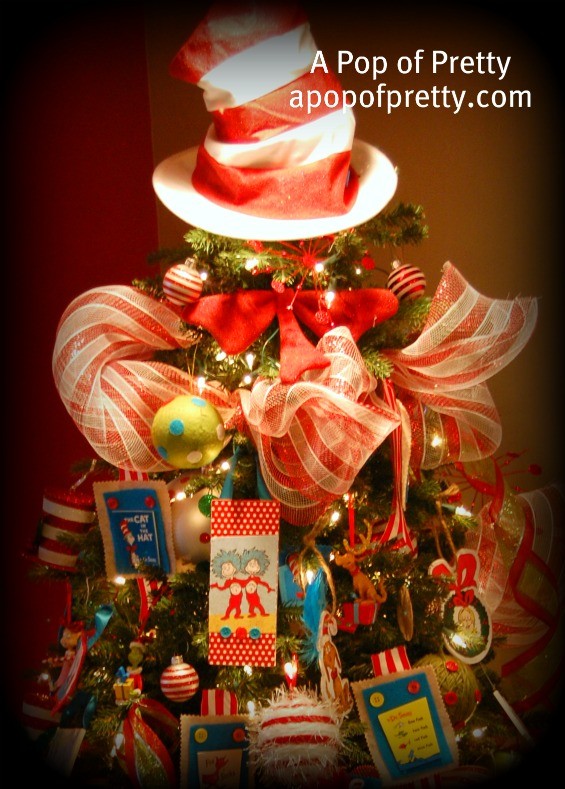 I also made this Grinch word art for my downstairs mantel.  There really are some super lessons in the Grinch.
Now, the big question is…how do I get my own Thing 1 and Thing 2 to keep their hands off a tree that's so very inviting to 2-year old boys??  I guess I'd better enjoy it's glory while it lasts!
Want to know how I made some of these ornaments?  I'll be posting a few follow ups with tutorials in the coming days!  So check back soon!
Until next time, happy decorating!
Kerri
Post-Script #2: The Dr. Seuss Tree was featured at the CSI Project and at Hooked on Houses!

P.S., I linked this post to