This post was most recently updated on September 23rd, 2019
This little ballerina (dance) Christmas tree in my daughter's room is the fourth tree I've decorated over the past week or two! (Catch our red and turquoise Christmas tree here, our mini kitchen tree here and our Dr. Seuss-themed Christmas tree here!)  I LOVED decorating our trees, but I'll be ready to enjoy it all pretty soon.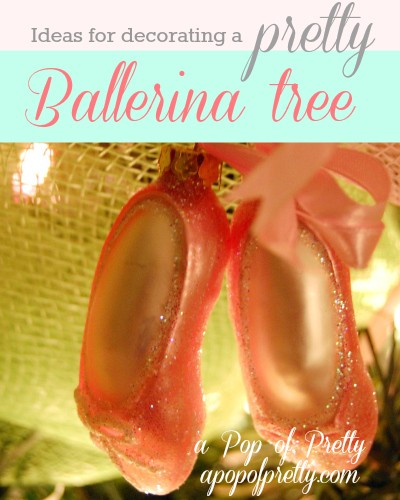 Miss G's ballerina Christmas tree is stuffed full of pretty, girly decorations inspired by her love of dance. If you're thinking of decorating a tree for your own little ballerina or dancer, maybe it will give you some ideas of things to use as decorations.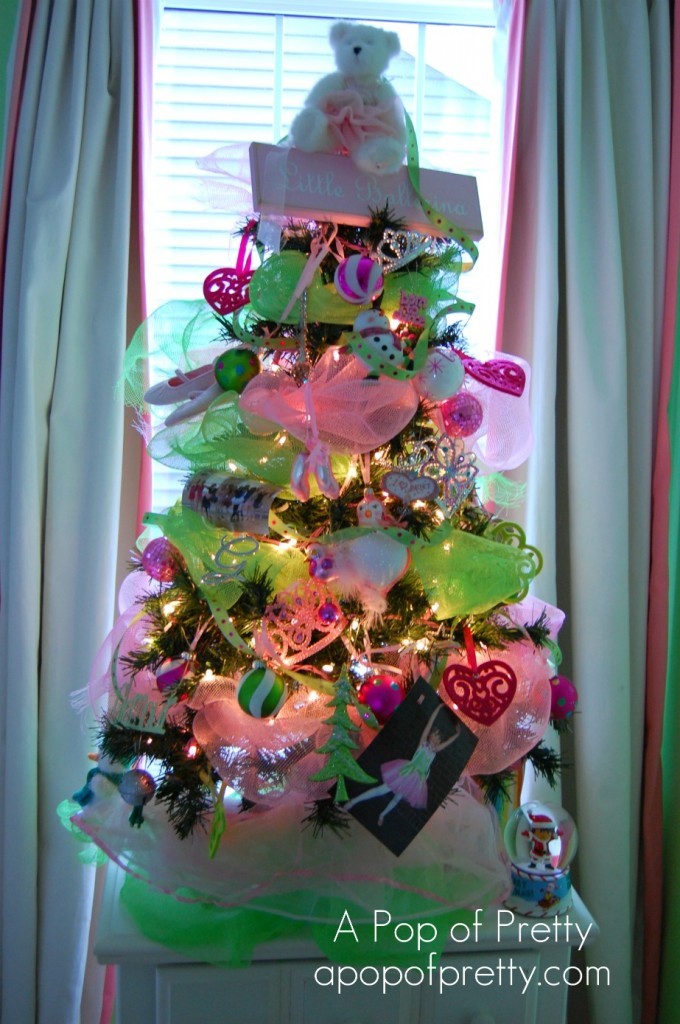 Just like her bedroom, her tree was inspired by her first ballet costume, which hangs as wall decor all year round. (You might want to check out the post "Tutu" Sweet Decor: Using a Ballet Costume as Inspiration).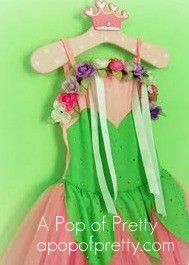 It's all decked out in ballerina attire – from old ballet shoes to tiaras to tutus!  I even put a few photos of my little ballerina in here and there.  The thing that I love about this tree the most is that we can add special things to it year after year, like ballet shoes , costume accessories, and photos.
We've been collecting store-bought ballerina decorations for a few years, like these pretty ballet slippers.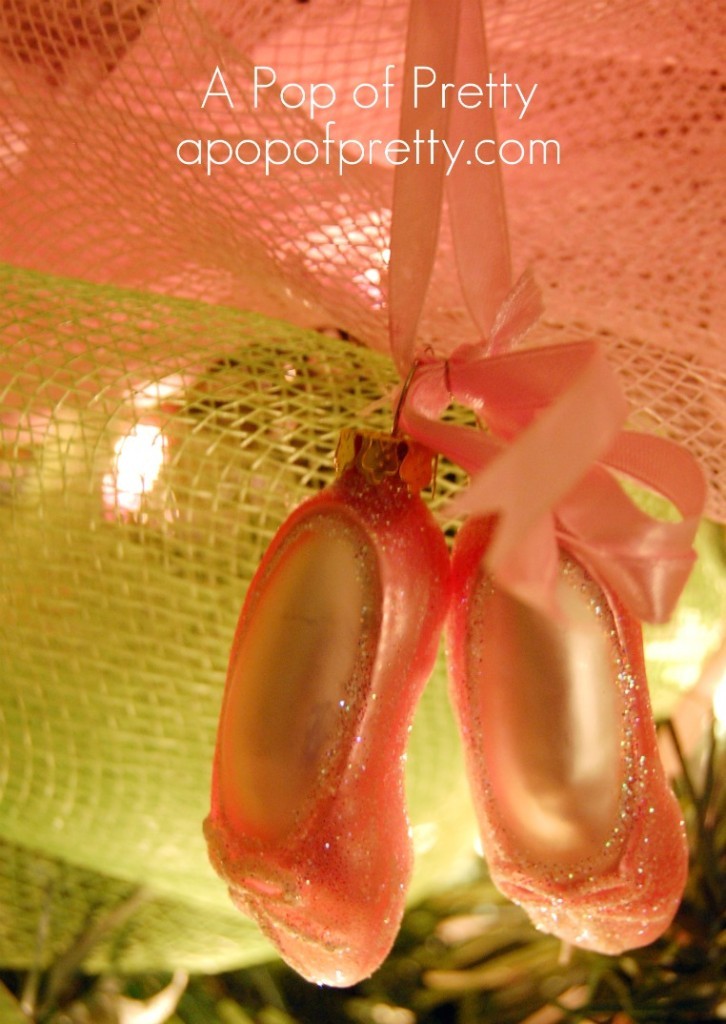 The tree 'skirt' is an actual pink tutu, with green sinamay stuffed underneath.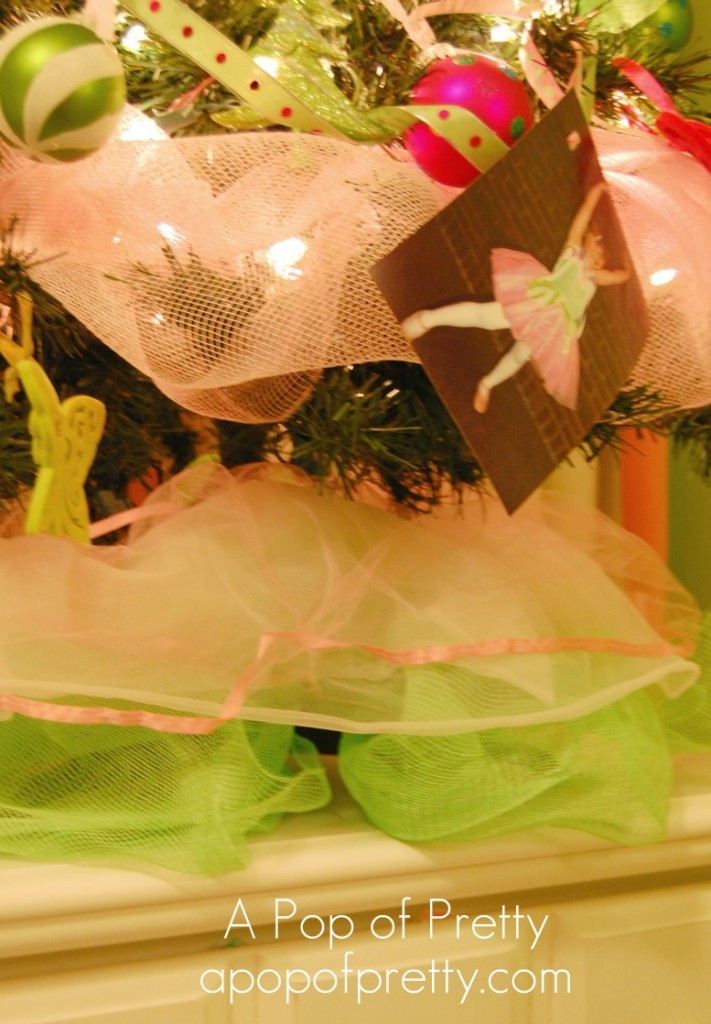 There's lots of her little play tiaras poked in here and there…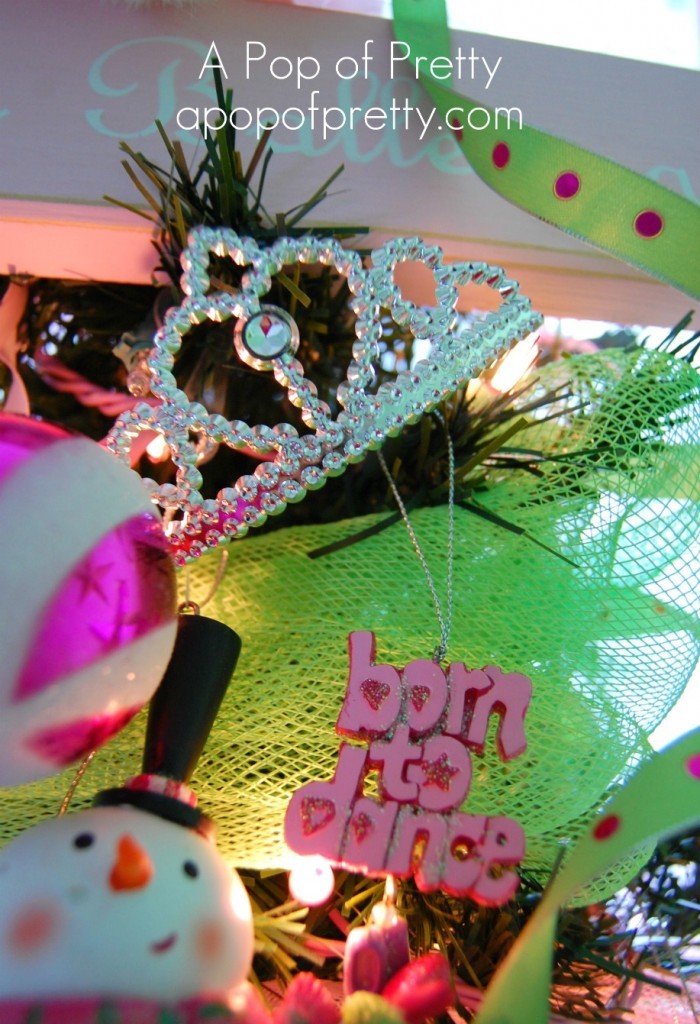 These are her very first 'ballet shoes': Baby Gap slippers in size 0-3 months!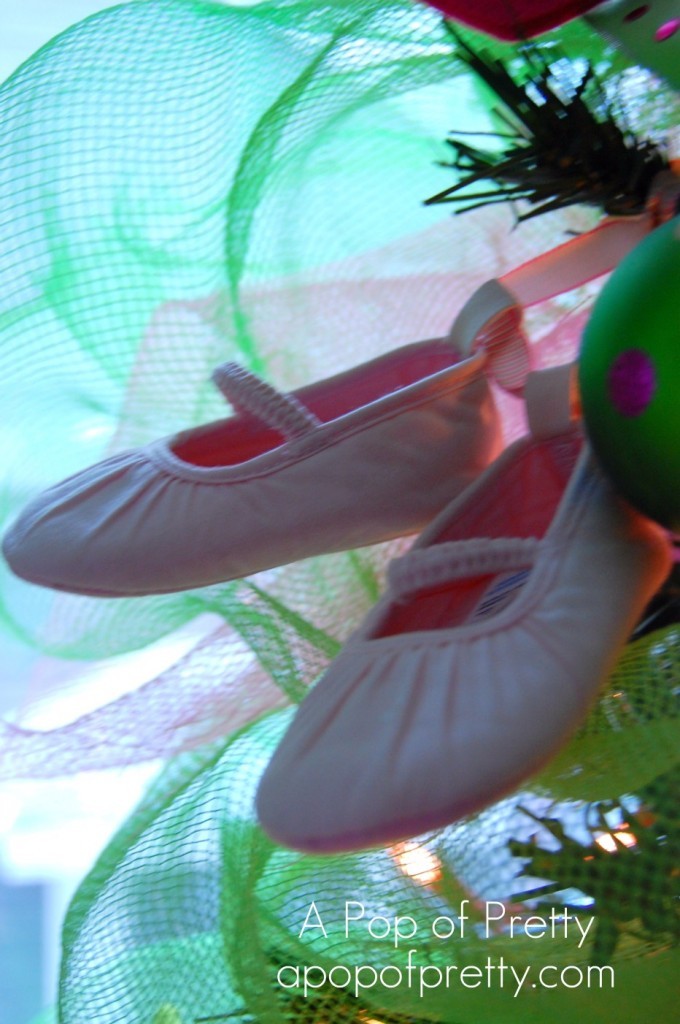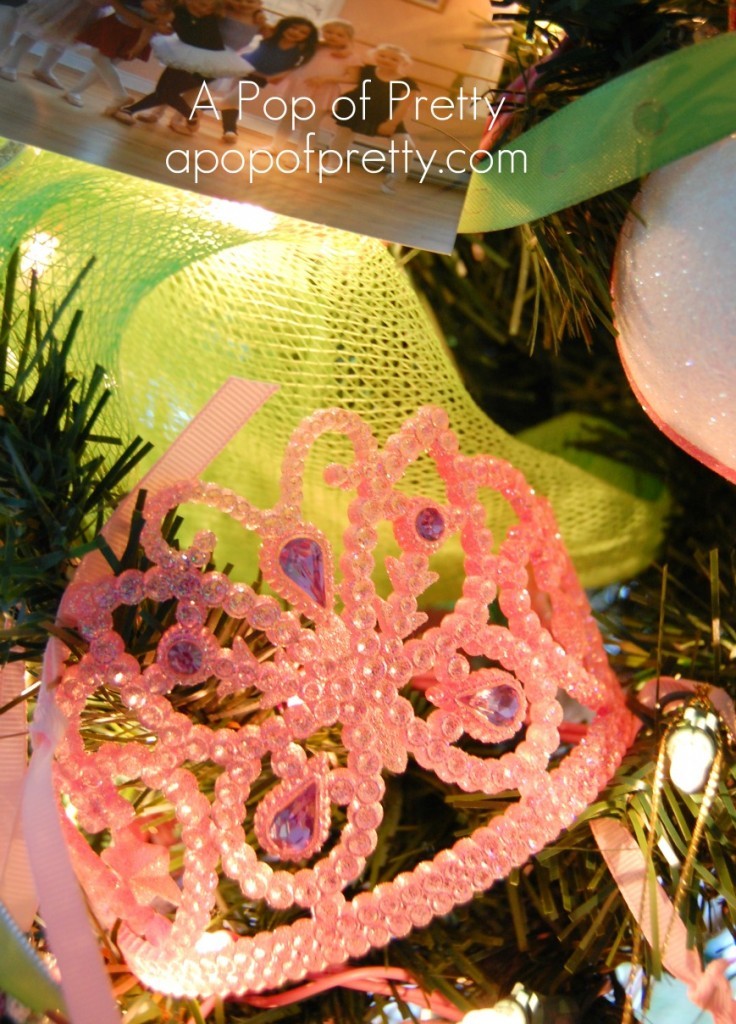 And here's a pair of tattered gold slippers from a ballet recital…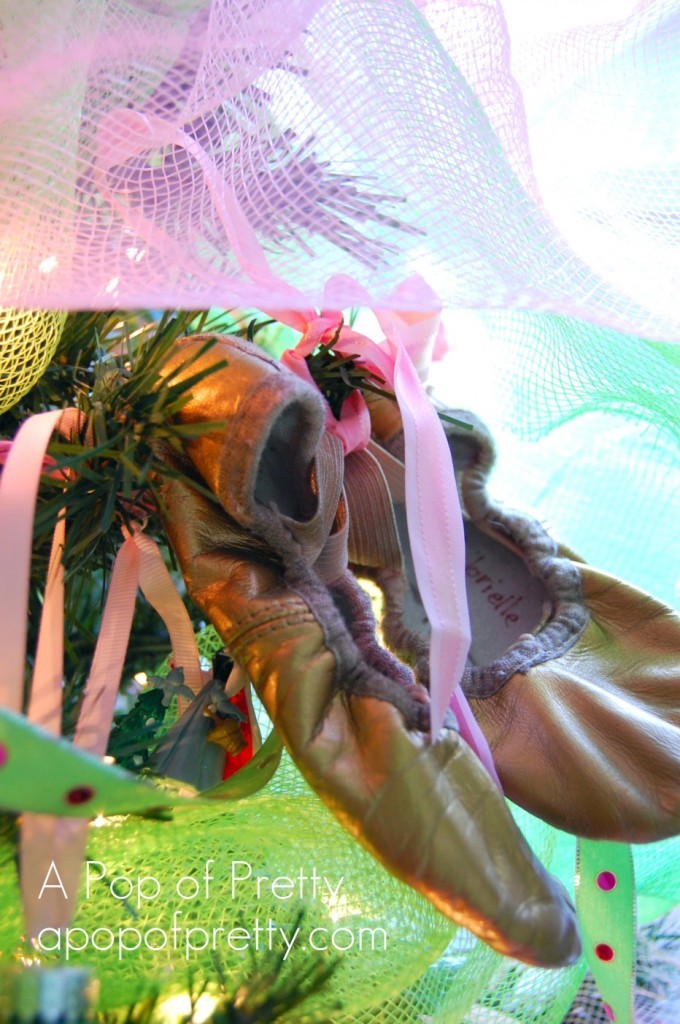 And, some special photos…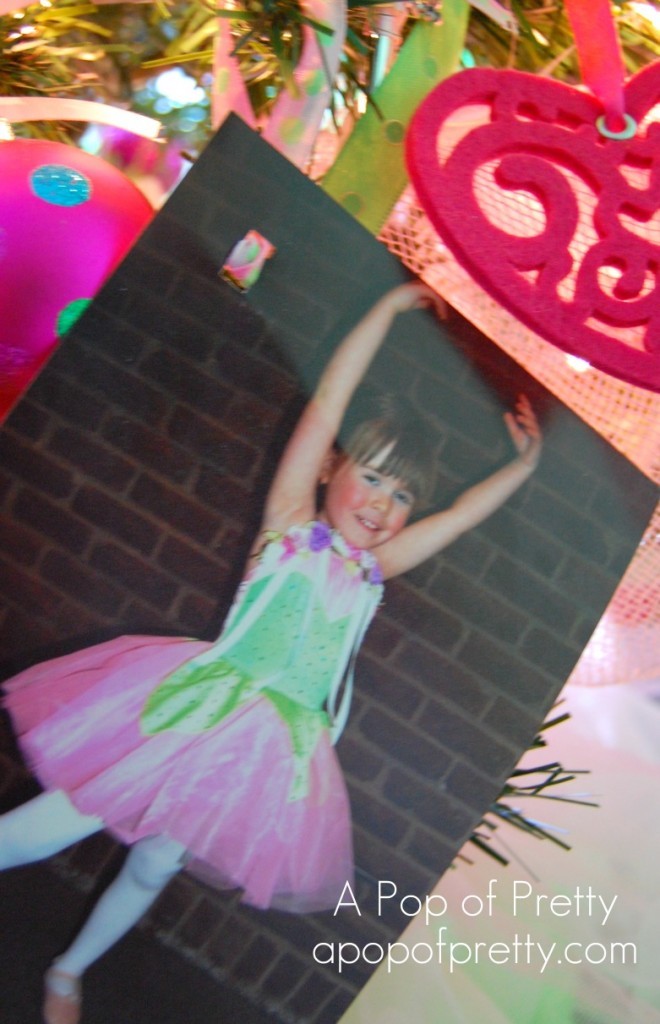 I topped it off with her ballerina bear, and a "Little Ballerina" sign…
We included lots of other Christmas ornaments too, as long as they were pretty glittery and pink!  There's also lots of pretty pink polka dot ribbon wrapped around the tree.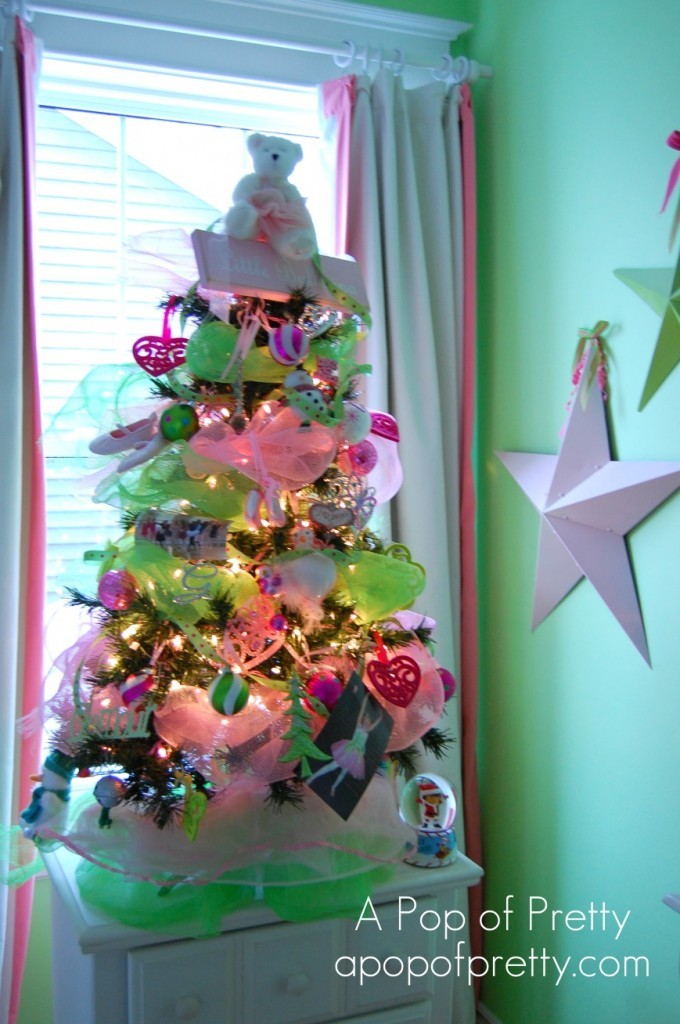 The way it glows at night is especially pretty…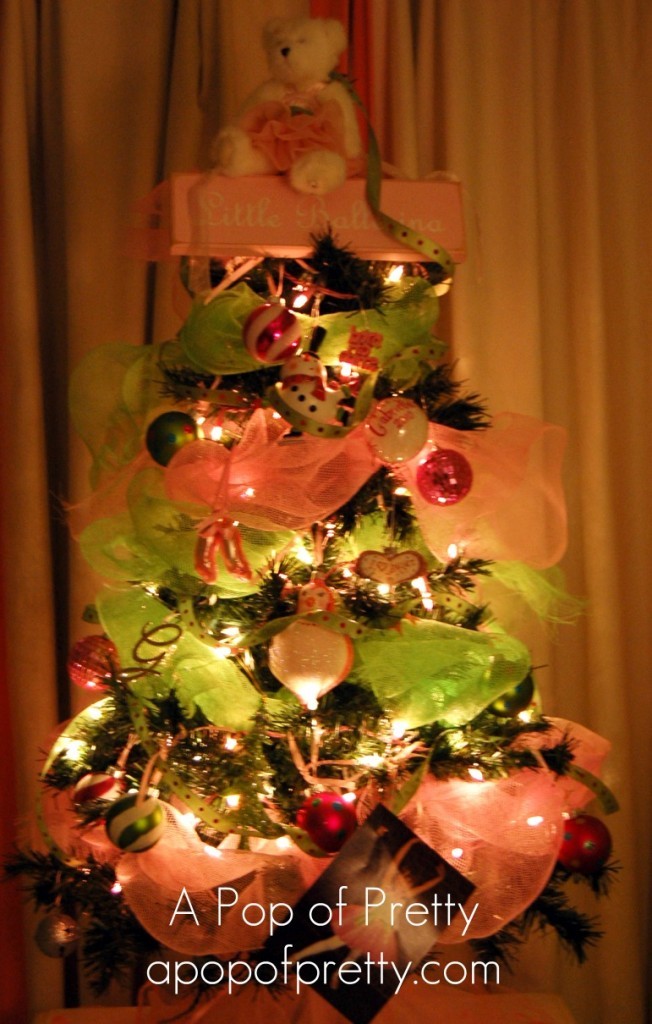 Some ideas for creating your very own ballerina tree:

recital photos
old ballet shoes
costume accessories
a tutu tree-skirt
play tiaras
ballerina or dance-themed store-bought decorations
pink tulle or sinamay
pink ribbon
glittery or blinged-out decorations
dance recital programmes
Hope your final days of preparation before the big day are filled with lots of happy moments.
Until next time,
Kerri
P.S. Better late than never! I'm sharing this post at Thrifty Decor Chick's tree party.