This post was most recently updated on September 23rd, 2019
We painted our living room area with Benjamin Moore Woodlawn Blue this week. OK, so I use the term 'WE' loosely. I enrolled my dad. He's a painter extraordinaire.  Does  taking photos of him painting walls while I sit and drink coffee count as 'WE', lol?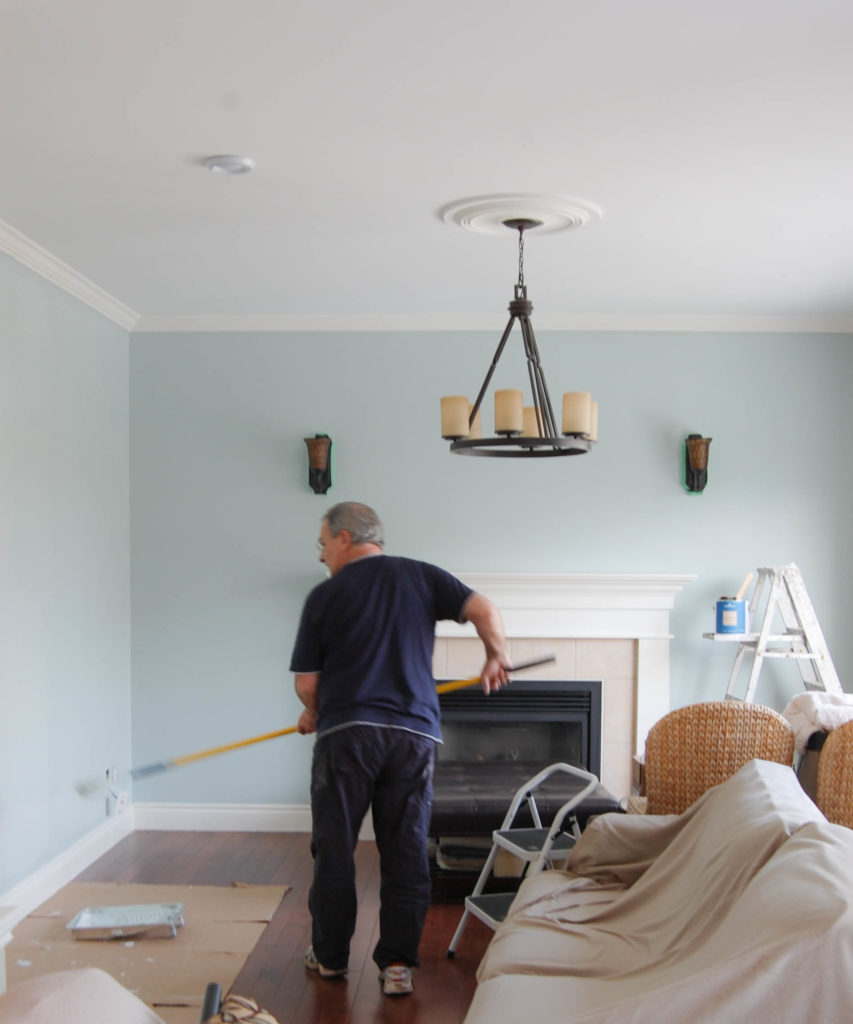 I've had a major crush on Woodlawn Blue (HC-147) by Benjamin Moore for awhile now.  So, when we purchased new living room furniture last summer, I chose it with plans to incorporate Woodlawn Blue on the walls.  Even with the first swipe, I knew I'd made a good choice.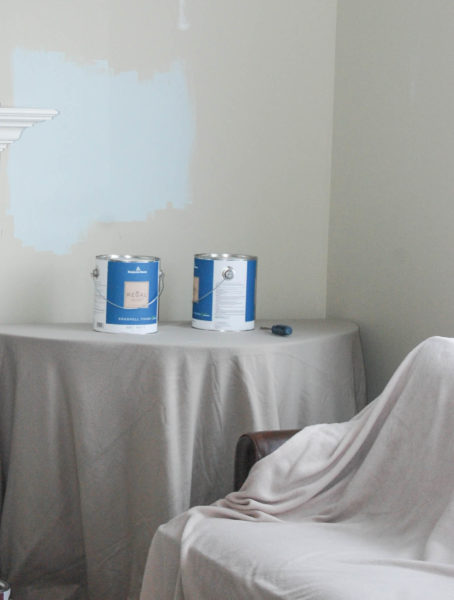 It's been a few days now, and I can't tell you how happy I am with Woodlawn Blue on the walls.  A slight caution: it looks entirely different depending on the time of day.  But that's pretty much like any paint colour, right? In the morning, when this room gets a lot of light, Woodlawn Blue appears more light aqua, and in the evening, it's more grey. But, I'm happy with all its different personalities!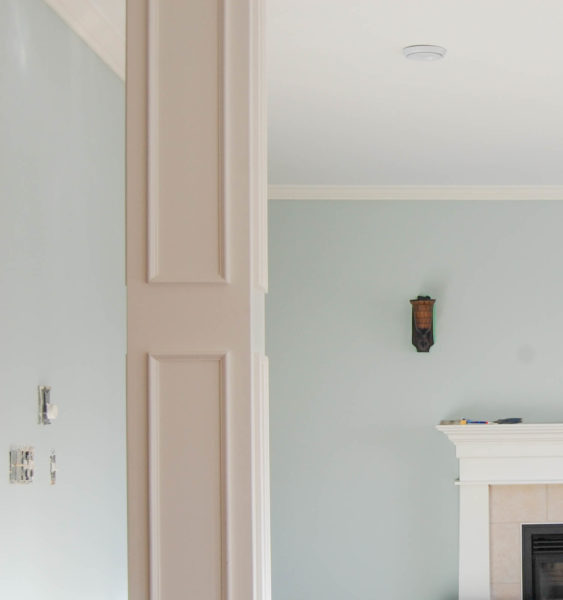 Woodlawn Blue looks amazing in any kind of light. It even makes our hardwood floors look like a deeper shade of brown than our original beige/green (SICO Kalahari Beige) walls did.  The magical powers of paint!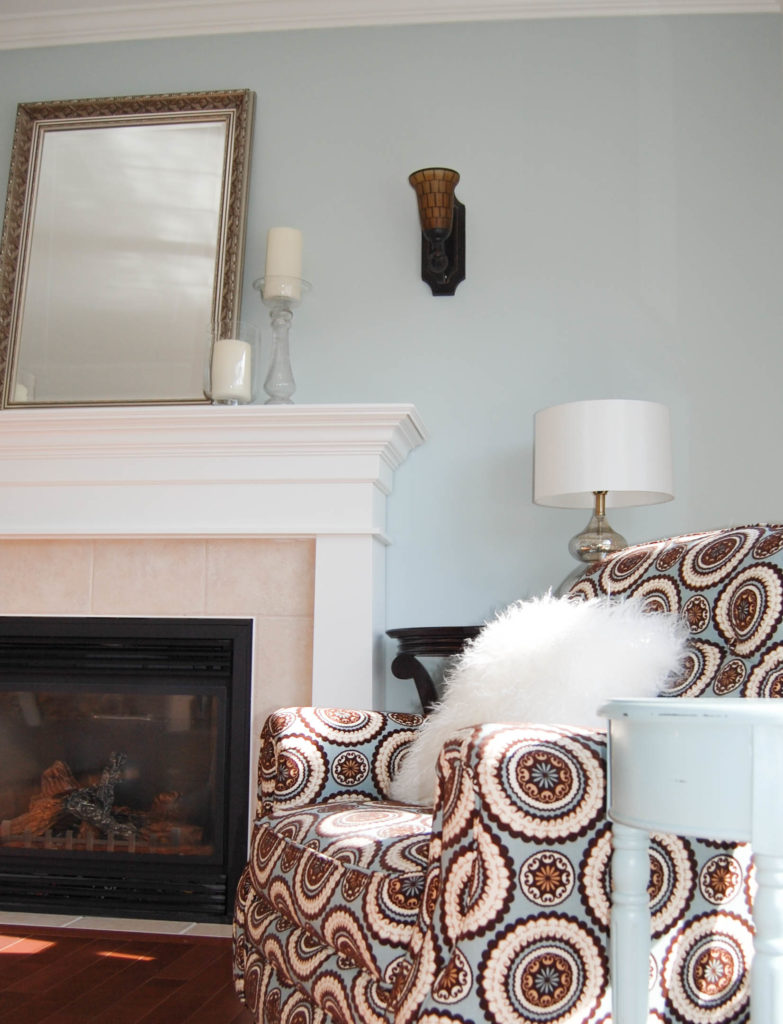 Another bonus…the painting kept our boys entertained for a full hour yesterday.  They adore their "Boppy" (the name all the grandkids call my dad), and I think that watching him 'color the walls' was fascinating.  I'm just hoping that they don't get the same idea, lol.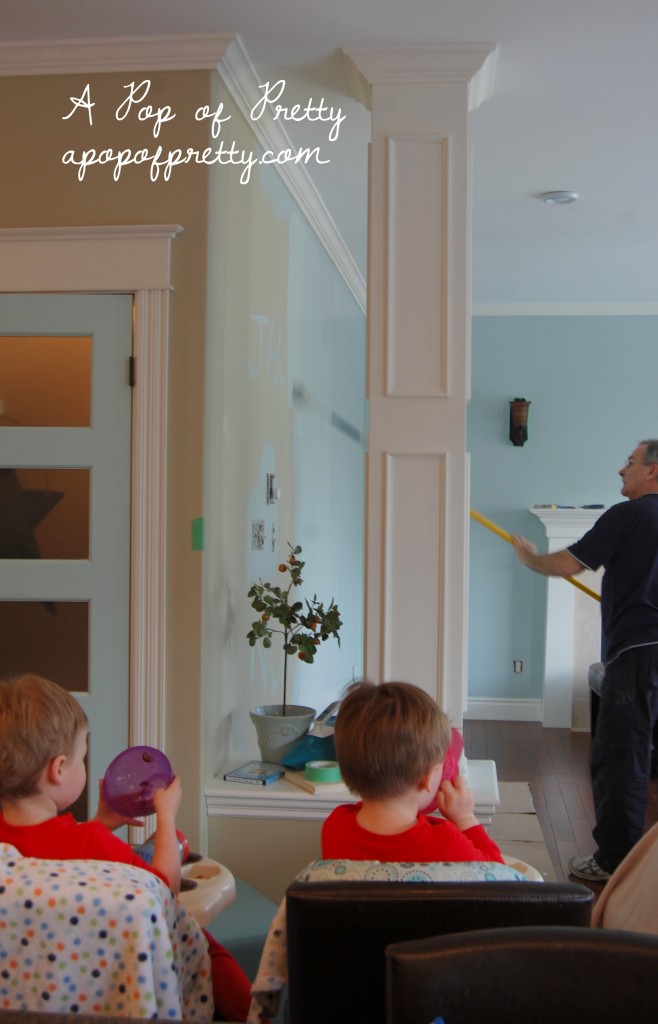 So, Boppy, if you're back re-painting baby scribbles in a month, you only have yourself to blame, lol…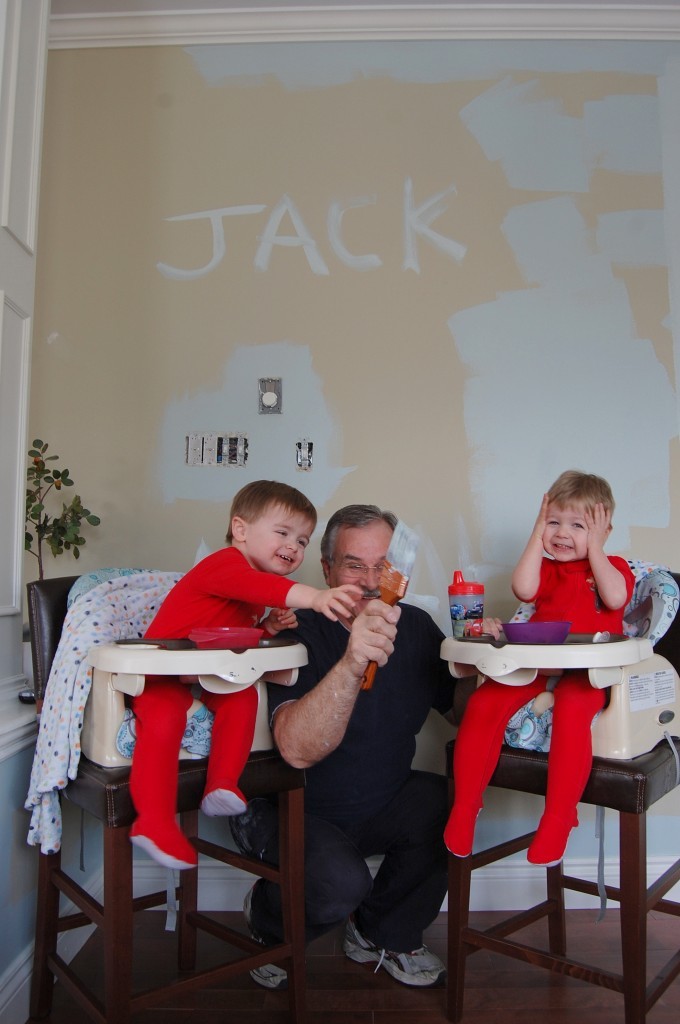 Here's why I'd recommend Woodlawn Blue if you're looking for a great blue paint:
It feels like a neutral when paired with more dramatic colours.
Yet…it's definitely blue!  This might seem obvious, but many pale 'blue' paints pass for being blue by having only the slightest hint of the hue.  If you want blue without going too deep, this is a great choice.
Woodlawn Blue is a true pale to medium blue. Many blues look pale to medium on the paint chip, only to feel overwhelmingly bright or deep on walls.  It's got just enough depth.
It has enough green in it that it won't be mistaken for baby blue or aqua. It's so tough to find a good blue that doesn't feel like a baby boy's nursery!  This is a winner.
It helps tone down any red or orange tones in your hardwood floors or wood accents.
Now that we finished the blue, we're on to the creamy white walls.  (See there's that 'WE' again!)    For those, I chose Navajo White.  Benjamin Moore describes Navajo White as "a timeless shade of creamy white with a generous dose of yellow, navajo white is a reliable choice to warm up cool-hued walls and indoor and outdoor trim".  Let's hope!
Thinking about going blue too?  Here's some other designer favourites from Style at Home: Designer Faves – Blue.
Important – Colors will always appear differently on your computer screen than they do in real life.  They might also look different in my rooms than yours. So make sure you test paint colors in your own spaces before committing to them!
Until next time,
Kerri
NOTE: I originally posted this article in 2012, but updated it in 2018.  Woodlawn Blue is a classic, and is still one of my most recommended paint colours.